Since December 1991, the S&P 500 has gone through 10 distinct periods of order and chaos when measured against the index's trailing-year dividends per share.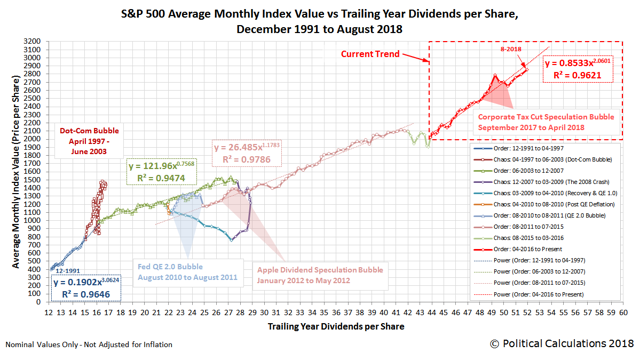 Now for the latest trillion dollar question: Is the current trend, which we're marking from April 2016 onward, made up of one period of order or two?
Better still, is the inflation and deflation of what we've identified as the Corporate Tax Cut Speculative Bubble of September 2017 through April 2018 a simple disruptive event within a longer period of order, like the Apple (NASDAQ:AAPL) Dividend Speculation Bubble of January 2012 through May 2012, or is it a harbinger of a breakdown in order, like the chaotic period that took hold after December 2007?
Which option do you hope is the answer?