Every month, I look at the ISM manufacturing index. I do this because this leading indicator tells us what we can expect in terms of future stock market performances as well as real economic growth like industrial production, new orders, and eventually, GDP growth.
The most recent ISM data shows a strong surge to new multi-year highs while other leading indicators suggested further weakness. Even though I did not expect this surge, I see a confirmation of my growth peak call.
Extra: if you want more information about the usefulness of leading indicators, feel free to read the article I wrote about this very topic.
ISM Just Hit Its Highest Level Since 2004
Before I go any further, let's look at the concluding remarks from my most recent article about leading regional manufacturing surveys.
...I am very sure that economic growth has peaked. And by 'economic growth', I mean leading indicators. I expect that both regional manufacturing surveys as well as the ISM manufacturing index will slightly decline from current levels.

And no, I am not panicking nor am I becoming bearish. I will become bearish if the slowing cycle starts to accelerate to the downside. Until that point, I will stick to my cyclical positions while I also expect inflation to rise even further.
I concluded something I have been talking about over and over again. Economic growth has accelerated since Q1 of 2016 and has slowed over the past few months as the ISM graph below shows. Regional manufacturing surveys did not go anywhere since the first quarter of this year. Neither did the ISM index - until now.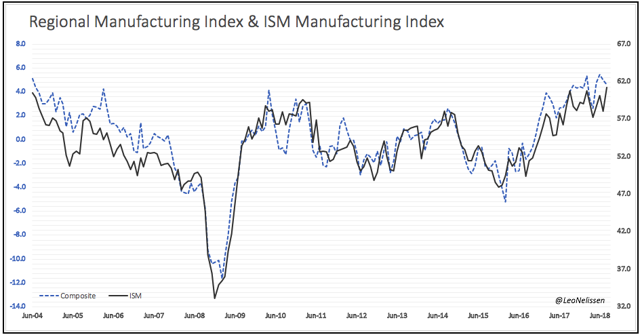 At this point, I am very happy that I always mentioned to refrain from becoming too bearish. I have mentioned this in probably every article about cyclical stocks over the past few months as well as in my most recent stock market outlook. When I started trading in 2010, I was one of those people who get way too excited when they read something about slowing or accelerating data. In 2011, I made the mistake to become bearish as soon as the ISM index had a weaker month.
The graph below shows the 6 months average of the ISM index. We clearly see the beautiful cyclical behavior of economic sentiment. We also see that sentiment often stays at elevated levels for an extended period of time. The graph above also shows this quite clearly.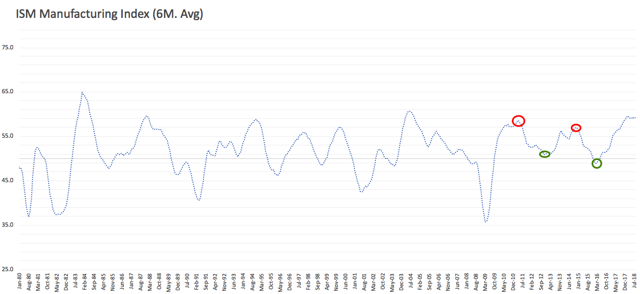 Source: Author's Spreadsheets (Raw Data: ISM)
At this point, it is still extremely unlikely that the 6 months average turns higher. It would be even more likely to get a very slow downtrend until the point when growth starts to accelerate to the downside. Regarding the most recent ISM upswing, it seems that the gap between regional data and the ISM index (first graph of article) has been filled. Going forward, I expect that regional surveys will continue to correctly predict the ISM trend.
That said, let's move over to new orders. New orders jumped to 65.1 from 60.2 in July. New orders did not quite make it to new highs but still support the ISM upswing. Also, note that ISM new orders are exactly at the point where one would expect them when looking at regional new orders.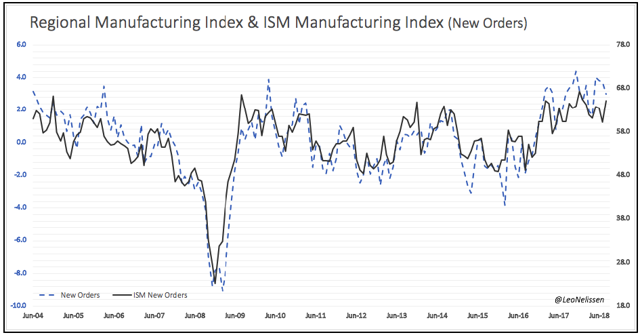 The overview of all data shows that all key indicators soared in August. Note that inventories were outperformed by both new orders and general ISM sentiment. This is a healthy occurrence which generally speaking means that the ISM index is not about to start a sudden deceleration trend. Prices slightly decreased to 72.1 which only means that there is no further acceleration. It does not mean that coincident price indicators like consumer prices are about to see slower growth. ISM prices sentiment is still too high to indicate weakness.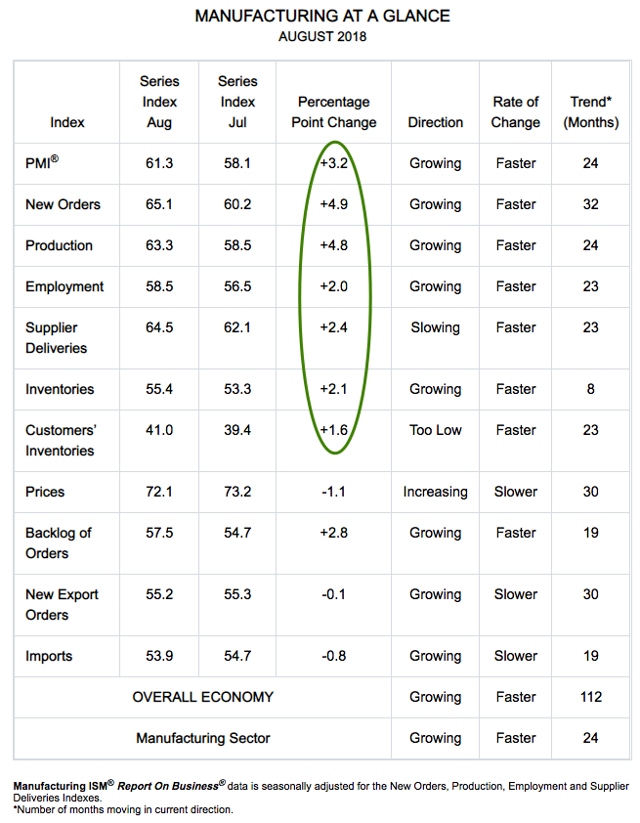 Source: ISM
Furthermore, 16 out of 18 manufacturing industries reported growth in August. Below, you find a few comments from industry insiders. We also see that higher input prices and tariff uncertainties continue to be major factors.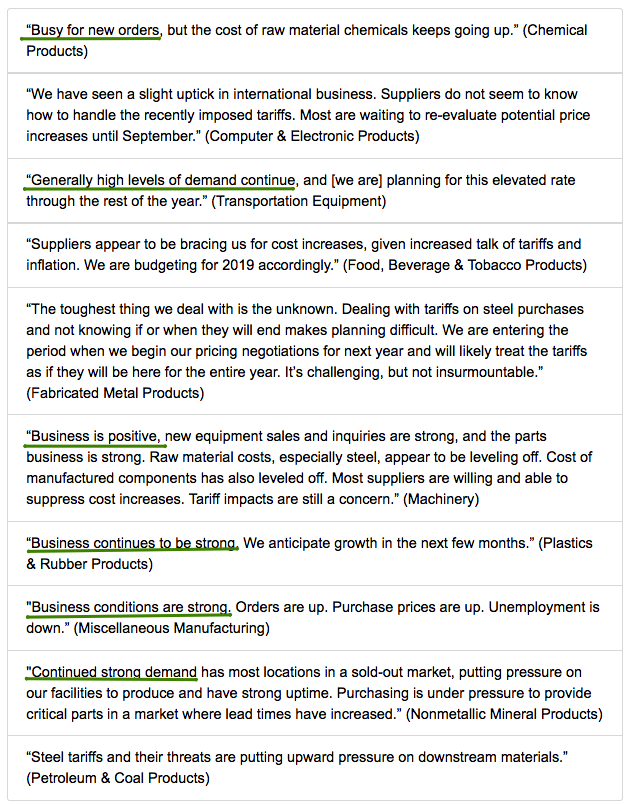 Source: ISM
Takeaway
The ISM manufacturing soared to its highest level since 2004. US economic growth is expected to stay at above average levels for the next few months. Industrial production, new orders, and GDP growth can be expected to further gain momentum. That said, I am still sticking to my call that sentiment is peaking. I expect sentiment to slowly decline over the next few months. However, I am still not turning bearish. I am sticking to my cyclical positions and will only turn bearish if the slowing cycle starts to accelerate to the downside. However, at this point, it would be dangerous to become bearish too fast. This trend can continue longer than most bears can stay solvent so to speak. Especially, given the strong economic sentiment among (almost all) manufacturing industries.
Stay tuned!
Thank you for reading my article. Please let me know what you think of my thesis. Your input is highly appreciated!
Disclosure: I/we have no positions in any stocks mentioned, and no plans to initiate any positions within the next 72 hours. I wrote this article myself, and it expresses my own opinions. I am not receiving compensation for it (other than from Seeking Alpha). I have no business relationship with any company whose stock is mentioned in this article.
Additional disclosure: This article serves the sole purpose of adding value to the research process. Always take care of your own risk management and asset allocation.