When we last wrote about Dream Industrial REIT (OTC:DREUF) it was trading at $10.91 CAD. We then downgraded it to a hold as it had a scintillating run and we expected a breather plus an equity issuance. We specifically concluded
With the current stock now trading at more than 10% of management's assessment of net asset value (NAV), we think an equity raise might be coming. Investors who missed the run might get a better entry point on the secondary offer which we think will happen soon.
Since then DREUF has underperformed its US and Canadian counterparts by a decent margin.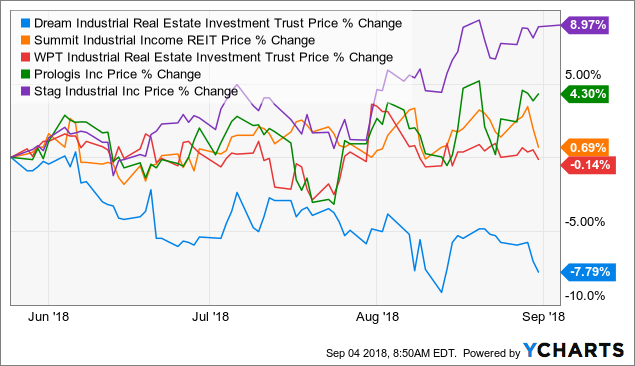 One reason for the underperformance was the equity issuance at a discount to the then current price (but a premium to NAV).
TORONTO, June 29, 2018 DREAM INDUSTRIAL REIT (TSX: DIR.UN, "Dream Industrial" or the "Trust") announced today the closing of its previously announced equity offering of units of the Trust ("Units") at a price of $10.35 per Unit (the "Offering"). The syndicate of underwriters, led by TD Securities Inc., elected to exercise its over-allotment option in full, resulting in a total of 13,915,000 Units being issued today for total gross proceeds of $144,020,250. The Trust intends to use the proceeds from the equity offering to fund acquisitions, to partially fund the redemption of its outstanding 5.25% convertible debentures and for general trust purposes.
Why we like it now
DREUF has cooled down from its scintillating run and now trades very close to its NAV.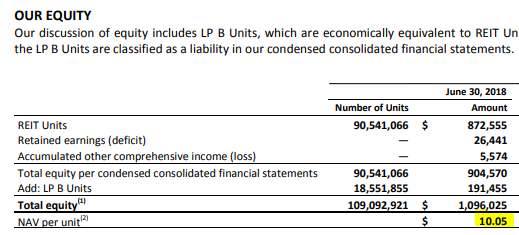 DREUF now sports a 7% yield that is fully covered by funds from operations (FFO) and this yield is the highest in its peer group.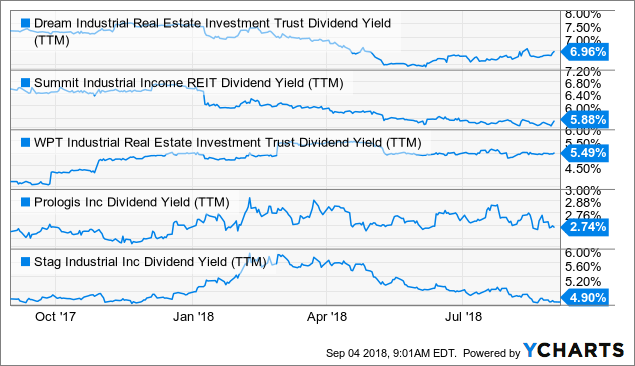 We are seeing a compelling valuation spread open up again versus its Canadian peers...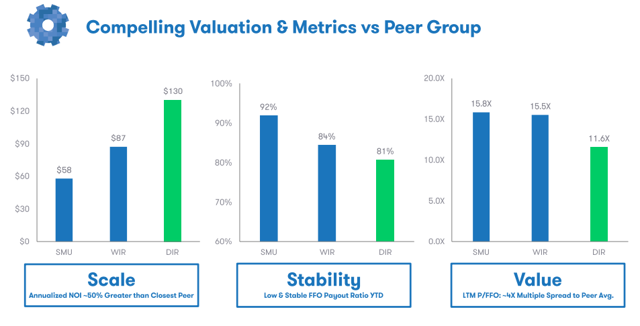 Source: DREUF presentation
as well as its US peers.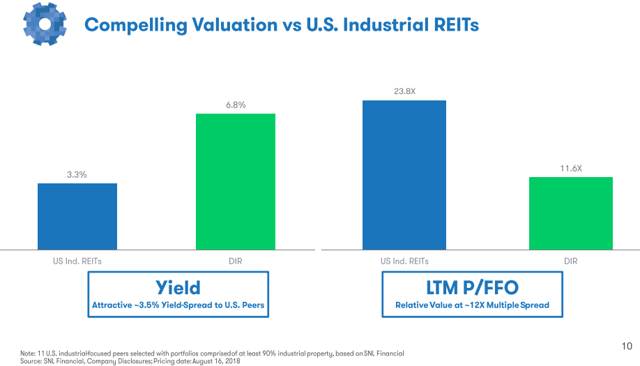 DREUF is unique among its peers in having exposure to both US and Canadian markets.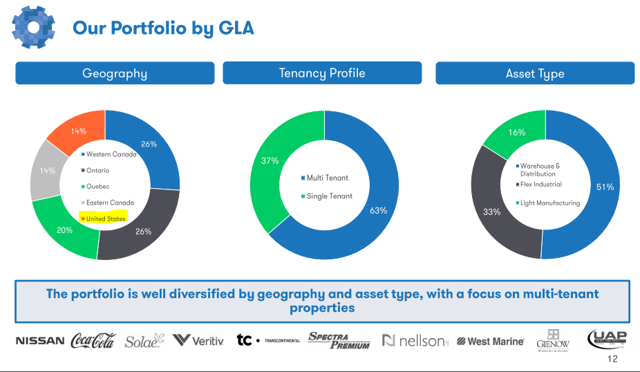 That along with its diversified tenant base and the strong momentum in its leasing make this a compelling buy at this point.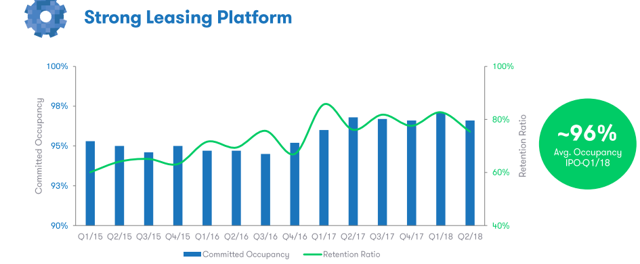 Potential Negatives
The biggest criticism of DREUF's portfolio would probably be its extremely short lease term. With a weighted average lease term (WALT) of 4 years DREUF is definitely on the lower side of lease lengths. Summit Industrial REIT (OTC:SMMCF) for example has a 50% higher WALT at 6 years. Stag Industrial (STAG) has relatively shorter leases and even that exceeds DREUF at 4.7 years. However, we believe this does represent an opportunity as the rolling leases have the best chance for higher rents. Barring an extremely severe recession, we expect e-commerce to at least grow enough from present levels to keep occupancy strong. Canada also had a recession in 2016 and the commercial (not residential) real estate cycle has been reset to a much better level than in US. We are hence fine with this risk but other investors may feel differently.
The other potential negative is DREUF's large exposure to western Canada. The vacancy there is the highest in DREUF's portfolio.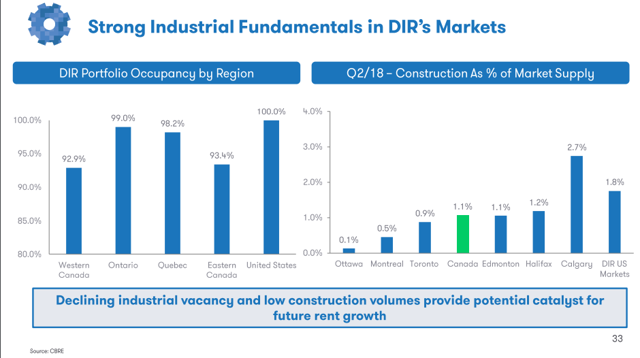 While industrial vacancy rates in Calgary and Edmonton are high, we don't see them anywhere as problematic as the office space (27% & 17% vacancy rates in Calgary & Edmonton respectively) in these two cities. Industrial and distribution tenants are also much less likely to move as their occupied spaces are not as fungible as those for office tenants.
Conclusion
DREUF represents a compelling long term play and is now a top pick from the current price. We are very bullish on oil prices and that does color our view and sees Western Canada issues as less problematic than perhaps the market perceives.
Usually a REIT with such growth prospects would come at a much higher multiple and/or with a much smaller yield. Here the dividend yield itself offers enough to keep us interested with the growth being the icing on a very a fulfilling cake.
For more analysis such as this, along with real-time alerts on income stocks on both sides of the border along with option income ideas, please consider subscribing to our marketplace service Wheel of Fortune.
Disclaimer: Please note that this is not financial advice. It may seem like it, sound like it, but surprisingly, it is not. Investors are expected to do their own due diligence and consult with a professional who knows their objectives and constraints.
Seeking Alpha has changed its policies. Previously "following" someone required a ritualistic commitment and an offering of not less than 4 oxen or 3 breeding horses. Now, all it takes is one click! If you enjoyed this article, please scroll up and click on the "Follow" button next to my name to not miss my future articles. If you did not like this article, please read it again, change your mind and then click on the "Follow" button next to my name to not miss my future articles.
Disclosure: I am/we are long DREUF. I wrote this article myself, and it expresses my own opinions. I am not receiving compensation for it (other than from Seeking Alpha). I have no business relationship with any company whose stock is mentioned in this article.
Editor's Note: This article discusses one or more securities that do not trade on a major U.S. exchange. Please be aware of the risks associated with these stocks.