Market Intro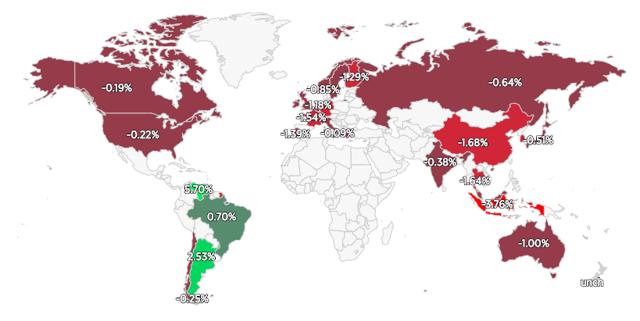 CNBC: 1:45PM EST
US stocks (SPY, DIA, QQQ, IWM) are on the back foot for a second day, arguably following international equities (ACWX) lower. Spot VIX hit a high of 14.3 before regrouping to a mid-thirteen level. In comparison to the majority of the calendar year, 13.5 is a pretty low print, but the more recent action in the index argues that volatility will need to really work its case to earn sustained readings north of 15 or so.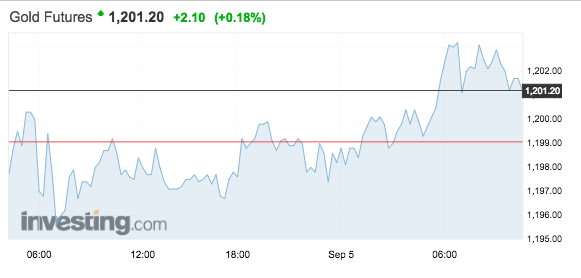 Gold (GLD) has struggled quite a bit this year. The yellow metal is managing to keep above the $1200 mark, but the market is still best characterized as low volatility (the Gold VIX is around 11.5 at present) with a reasonably shallow downward bias.
Thoughts on Volatility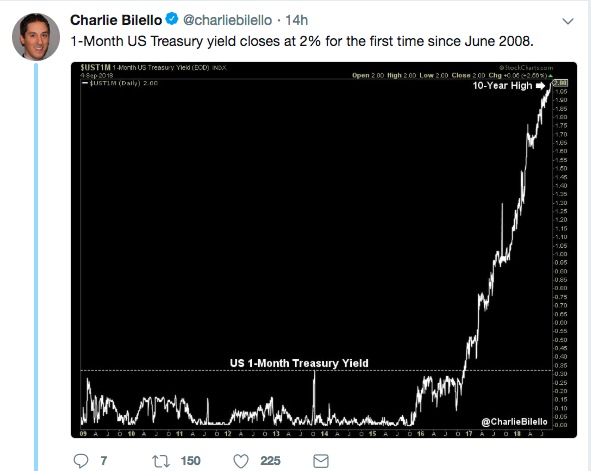 In July 2016, the 30YR UST (TLT) traded at an annual yield of 2.11%. Now we have the one-month Treasury printing at the same level just a bit over two years later. Risk assets have not balked as the yields picked up.
Recall that "TINA" was a principle argument for why to invest in assets such as stocks between 2012 and 2016. The S&P currently offers a 1.75% yield, lower than a one-month T-bill. One wonders what the potential fall-out from "There is no alternative" to "there are plenty of alternatives."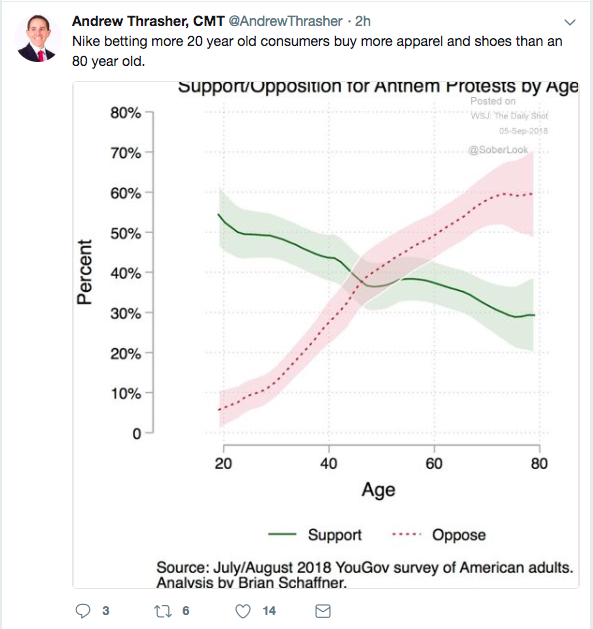 Nike's (NKE) decision to launch an ad campaign featuring activist Colin Kaepernick may well create headaches for the company and its shareholders, but SA contributor Wealth Insights reminds us that it is highly unlikely that the company did not "Just Do It", but rather analyzed the cost-benefit tradeoff.
Companies do make strategic blunders, but my suspicion is that we will see fewer of them with the passage of time as Big Data increasingly aids decision making. Regardless of your view on the matter, perhaps Nike's management team knows its customer base and has made a controversial but savvy move.

The vol market is likely to look at any short-term hiccups through the prism of profit taking rather than grounds for hysteria. As such, drops in the S&P may not find tick-for-tick sympathy in the VX futures (they never do, but my point being less than usual) while markets take on more of a tone of digestion rather than true concern.
Term Structure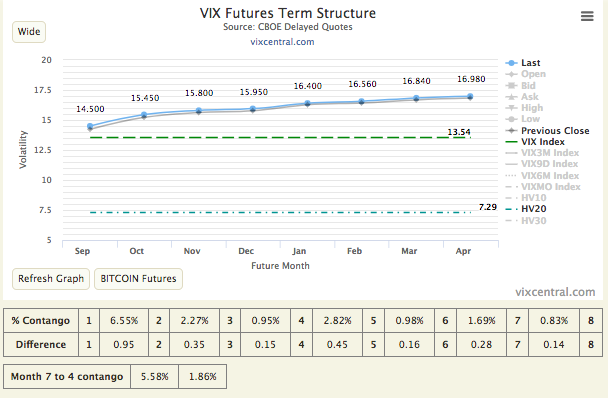 While SPX takes an uncharacteristic stumble, the VX term structure maintains its composure. The HV20, in my opinion, acts like an anchor here, framing investors' collective expectation that whatever issues currently vex the market, they will be resolved cleanly and quickly. In such an environment, it is difficult to nudge VIX much higher than 15 or so, as the gap between realized and implied vol gets too large.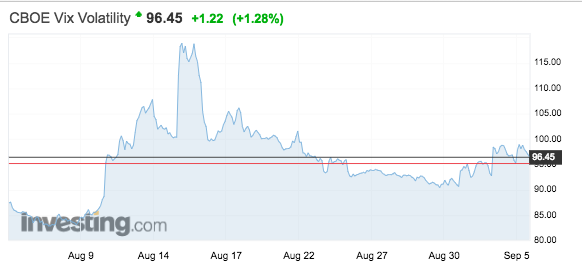 Vol longs (VXX, UVXY, TVIX) need to think carefully about how they want to treat this pop in the volatility of volatility, which is a bit underwhelming at present. Often when the readings on the VIX are very low, the VVIX trades higher due to the fact that large percentage moves happen more often with modest levels. The snake bite of vol calming down so readily after the Turkish lira (TUR) fiasco may have volatility traders overly anxious to sell into any strength here.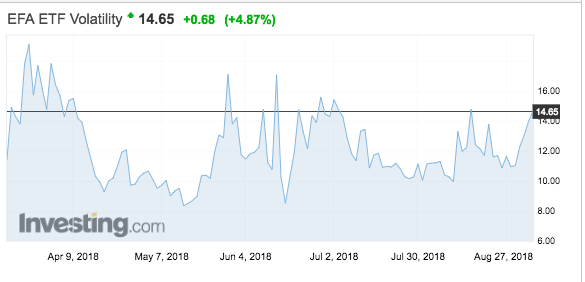 We are finally starting to see international DM (EFA) equity vol pick up. Some of the prints over the past few months have greatly surprised me in light of the macro developments, some brewing directly in Europe (VGK) or South Korea (EWY), which are core components of the index. We may get a healthier dose of two-way trade if DM vol wakes up, making the last three months' strong performance in instruments like SVXY more difficult to attain as we head into the final months of 2018.
Conclusion
If this is your first time reading Market Volatility Bulletin, thanks for giving it a try. If you're a regular, we thank you for your ongoing contributions in the comments section.
Thank you for reading.
Please consider following.
Disclosure: I/we have no positions in any stocks mentioned, and no plans to initiate any positions within the next 72 hours. I wrote this article myself, and it expresses my own opinions. I am not receiving compensation for it (other than from Seeking Alpha). I have no business relationship with any company whose stock is mentioned in this article.
Additional disclosure: I actively trade the futures and options markets, potentially taking multiple positions on any given day, both long and short. I also hold a more traditional portfolio of stocks and bonds that I do not "trade". I do believe the S&P 500 is priced for poor forward-looking returns over a long timeframe, and so my trading activity centers around a negative delta for hedging purposes.