Hormel Foods (HRL) is almost up to $40 a share since announcing its third quarter numbers. We have had this stock on our watch-list for quite some time now but shares remain outside our buy zone. The combination of a pending intermediate top in stocks along with elevated volatility in meat prices should enable us pick up shares cheaper over the next while. We are a buyer at under $34.
In saying this, management cut top line guidance for fiscal 2018 which did not go unnoticed. Top line growth over the past 3 years remains in negative territory when averaged out annually. Hormel is now guiding around $9.5 billion which is well down from the initial $9.9 billion forecast. The drop is due to external factors though such as new tariffs and not internal fundamental issues.
Similar to other companies in this sector, Hormel's profits are at the mercy of commodity prices. The near term fundamentals are weak for pricing power here as the supply of chicken and pork continue to increase. Commodity operating profits actually fell by almost 90% in Q3 due to trade concerns and elevated production levels in the US. However due to how Hormel has been diversifying its products outside commodity products, Q3 earnings also had some bright spots.
Grocery products and international led the way and the refrigerated foods section was able to report flat segment profits due to Hormel's "value added strategy" being able to compensate for the steep fall in pork prices. Sales to China are doing very well on the international front. In fact, I see plenty of runway for growth in international markets for the likes of the Skippy brand due to growing infrastructure and more focus.
Behind the scenes, Hormel continues to double down on its health-friendly labels. Brands such as Jennie-O & Applegate continue to see growth which doesn't look like slowing down soon. Investors need to focus more on the core volume numbers as tariffs, commodity pricing and general industry trends will get ironed out over time. In fact, volumes increased by 5% in Q3 and organic volumes increased by 1%. Here are another few key reasons why we would like to get long this stock on a pullback.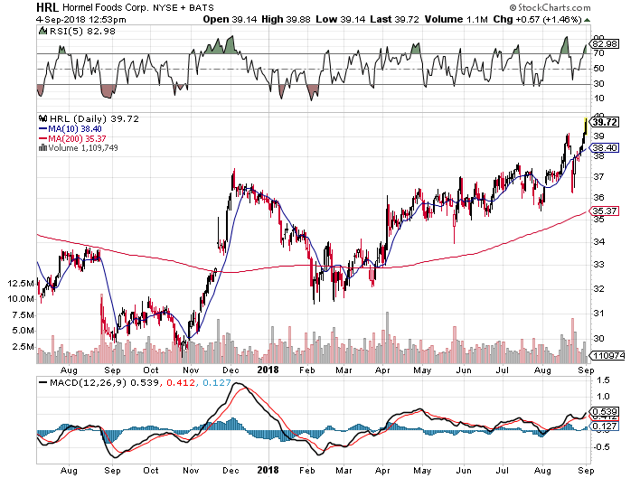 Our portfolio has plenty of "core" holdings where stability (low beta) and dividend growth are prerequisites. As I have stated in past commentary, Hormel has one of the best balance sheets I have seen with respect to how shareholder equity dwarfs any interest bearing debt. Therefore, the decision to sell a pork processing plant shouldn't have come as a surprise. Why? Well although $30 million was received on the transaction, a further $80 million in capex would have been needed to bring the plant up to the standard required by Hormel. The move decreases commodity pricing risk and is line with the policy of the company which is to move away from meat processing.
In fact, if you look at the company's history, Hormel has always pretty much been really conservative in how it spends its money. Debt is always attacked religiously, acquisition spending is very disciplined and remuneration among top positions is aligned heavily to performance. All of these practices speaks volumes for being able to look after shareholders over the long term.
Although the recent spike in shares has sent the dividend yield south of 2%, Hormel continues to grow the pay-out at a healthy double digit clip which is encouraging. In fact, Hormel's dividend growth rate over the past 3 years on average is close to 20% per year. The company is again due to hike in October of this year. Furthermore with the pay-out ratio well under 50%, there is ample room to keep on growing the payout. Hormel's debt to equity ratio is 0.13 and interest coverage ratio is almost 67. This type of base is really impressive considering the company has raised its dividend every year since 1967. Therefore if the brutal commodity pricing dynamics continue or if tariffs even gain traction, Hormel's financials are in such a place that it will still easily be able to grow the dividend yield. This is a big advantage for Hormel shareholders and is a result of management running a extremely tight ship down through the decades.
With an EPS over a trailing twelve month average of $1.74, the current price to earnings ratio comes in at around 22.5. The earnings multiple would drop below 20 if we can get our move down to around the $34 level. Hormel has been through it all before with respect to external factors such as the cyclical nature of input costs and the like. Hormel has always been able to come through. With gross margins well up over the last decade (now over 21%), Hormel should continue to do well over the long term as long as present capital allocation rules are kept in place.
Disclosure: I/we have no positions in any stocks mentioned, but may initiate a long position in HRL over the next 72 hours.
I wrote this article myself, and it expresses my own opinions. I am not receiving compensation for it (other than from Seeking Alpha). I have no business relationship with any company whose stock is mentioned in this article.