Trade tariff concerns have entered the financial market spotlight again this week. The stocks of China and several emerging nations stocks have shown renewed signs of weakness, prompting investors to wonder if the U.S. equity market is vulnerable to trade-related selling pressure. As we'll discuss in today's comments, there is mounting evidence that far from being hurt by a trade war, U.S. businesses – and growth companies in particular – may actually benefit from it.
Before we discuss today's topic, let's briefly review the stock market's latest performance. The month of September started off on a slightly negative note for U.S. equities, with the S&P 500 Index (SPX) closing 0.17% lower on Tuesday while the Nasdaq Composite lost 0.23%. The Dow Jones Industrial Average (DJIA) was down just 0.05% on the first trading day of the month. The real story for this week, though, isn't the U.S. stock market but the emerging markets. Emerging market stocks on average lost around 2% on Tuesday as trade tariff concerns have once again come to the forefront.
Of special significance, the daily graph of the iShares MSCI Emerging Markets ETF (EEM) reflects the continued selling pressure in the stocks of countries which stand the most to lose from a trade war. After an abortive attempt at establishing support above a key immediate-term trend line, the EEM fell below the 15-day moving average on Tuesday and is not far from its August 15 low of $41.51. A test of this yearly low is a good possibility this week, and if this level fails and EEM goes on to make a new low it will almost certainly cause some immediate-term volatility for U.S. equities.
Source: BigCharts
China's stock market has also suffered this summer under the threat of increased trade tariffs on its exports to the U.S. Below is the 2018 performance of China's equity benchmark, the Shanghai Composite Index. The downward slope of Chinese stock prices since the start of this year is clear to see. Many China watchers believe that recent efforts of the country's central bank to stabilize the yuan currency will eventually bolster Chinese equities, which is indeed a possibility. From a technical perspective, a decisive breakout above the 50-day moving average in the Shanghai Composite (below) on a weekly basis would at least give Chinese stocks some breathing room and pave the way for a short-covering rally. Nonetheless, the burden of proof is clearly on the shoulders of the bulls to regain control of the short-term trend which they haven't been able to do since January.
Source: BigCharts
Serving to counter the sanguine view of China's affairs mentioned above is the latest strength in the U.S. dollar. This strength can be seen in the following graph of the dollar index (DXY), which remains above its psychologically significant 50-day moving average heading into September. Unlike the currencies of most developing nations, the dollar actually stands to benefit from a trade war due to its reserve currency status. Moreover, a strengthening dollar increases the purchasing power of domestic consumers and also benefits companies which do most of their business within the U.S.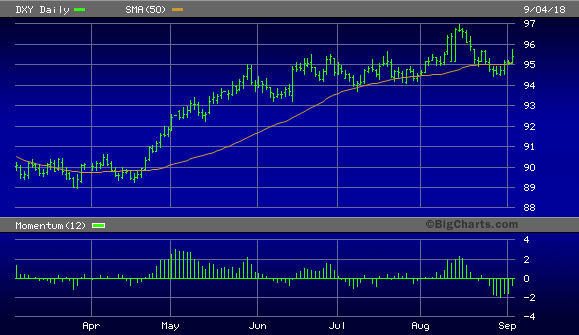 Source: BigCharts
Would a meltdown in China and the emerging markets (EM) necessarily cause U.S. equities to go into meltdown mode? Let's examine the evidence. To date, the bear market in China and EM stocks this summer hasn't had a negative impact on U.S. stocks, especially when measured by the benchmark S&P 500 Index (SPX). The only discernible sign of a negative spillover in the U.S. broad market can be seen in the NYSE Composite Index (NYA), which hasn't yet been able to overcome its January high, unlike the other major averages. It should be noted that the NYSE Composite includes the ADRs of many foreign companies, which is the primary reason for its relative weakness. The NYA has been somewhat impacted by emerging markets volatility, though even this major index has been able to establish a rising trend since April (see chart below).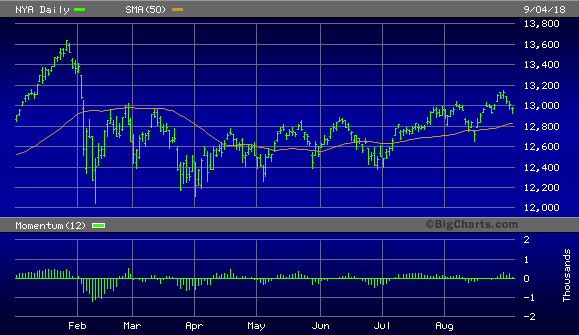 Source: BigCharts
An even better example of how U.S. equities are benefiting from a strong dollar, and despite emerging markets volatility, can be seen in the chart below. The Russell 1000 Growth Index (RLG) has established a clear-cut pattern of higher highs as U.S. growth stocks are leading the bullish charge this summer. Small-cap and mid-cap stocks in the growth category tend to benefit from a strong dollar, especially as companies in this category typically do most of their business in the U.S. Moreover, leadership in the Russell 1000 index has historically been a bullish harbinger for the overall U.S. stock market on an intermediate-term (3-9 month) basis. It's significant that the RLG has been able to push ahead to new highs in recent weeks while trade-related turmoil has increased. This suggests that growth investors aren't too concerned over the impacts of higher tariffs on the U.S. corporate outlook.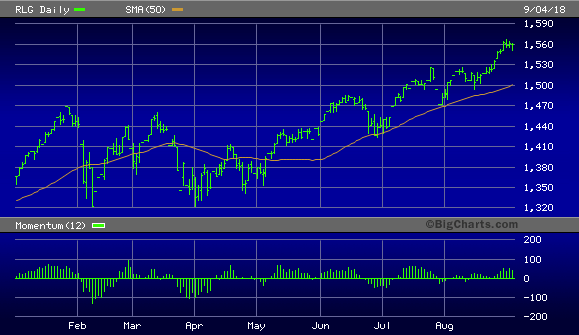 Source: BigCharts
Another point worth considering is that the trade war might actually benefit U.S. companies, particularly small businesses. This point was recently discussed in a thought-provoking piece by the economist, Ed Yardeni. Yardeni emphasized that while small, mid-sized and large companies have all benefited during this year's expansion, small U.S. businesses in particular have been extremely optimistic about the future and have reported the most staffing problems as they struggle to keep up with increased demand. Shown below is a survey conducted by the National Federation of Independent Business (NFIB). As you can see, small business earnings have risen at a feverish pace since last year. Concurrently, small businesses are reporting plans to increase hiring in the foreseeable future as they express confidence that growth will continue despite emerging markets turmoil.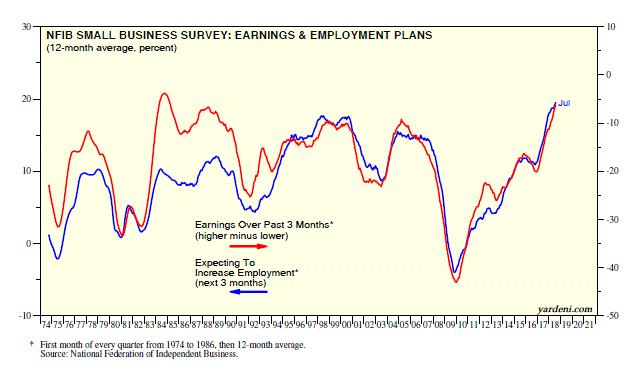 Source: Yardeni Research
Turning our attention to the immediate-term equity market outlook, the positives continue to outpace the negatives from a technical standpoint. All six of the major indices I track (Dow, SPX, NYA, NDX, MID, RUT) remain above their 15-day moving average on a weekly closing basis, which means the immediate-term (1-4 week) trend remains up. More importantly, incremental demand for both NYSE and NASDAQ equities is still rising as measured by the cumulative 52-week new highs and lows on both exchanges. Shown here is the NYSE new highs-new lows trend. I consider this to be the single most important indicator of the demand for stocks, and when it's trending higher it suggests the path of least resistance for equities is also up.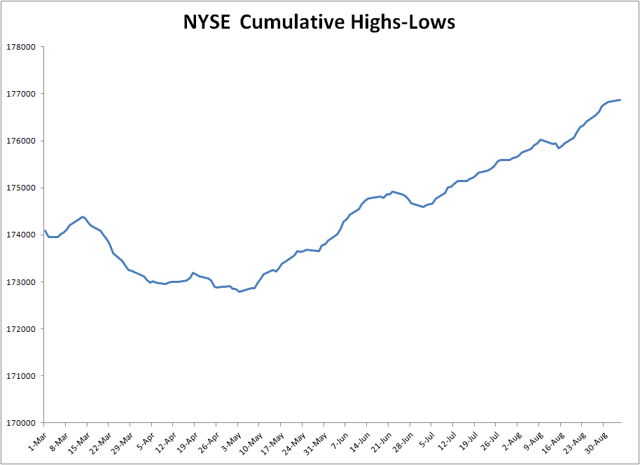 Source: WSJ
In the event that U.S. stocks enter a patch of increased volatility in the coming days, the indicator shown above suggests that the market at least has enough support to prevent a major sell-off. Only if the 52-week high-low differential for the NYSE turns negative will it be time to become more defensive. For now, investors should maintain an optimistic stance on equities.
On a strategic note, investors should also continue to maintain longer-term bullish exposure to the stock market via ETFs and outperforming individual stocks in strong sectors. This includes in particular the retail, transportation, real estate, and tech sectors, which have all shown relative strength versus the S&P 500 Index this summer. I also recommend raising stop losses on existing long-term positions and taking profits in stocks and ETFs which have already had impressive upside moves.
Disclosure: I am/we are long XLK, IYR, IJR. I wrote this article myself, and it expresses my own opinions. I am not receiving compensation for it (other than from Seeking Alpha). I have no business relationship with any company whose stock is mentioned in this article.