The Weather
Last week, the number of total degree-days (TDDs) increased by almost 16% w-o-w, as cooling demand went up – particularly, in the Northeast and Southeast parts of the country. We estimate that total energy demand was no less than 35% above last year's level. Please note that during this time of the year, heating degree-days (HDDs) have almost no effect on natural gas consumption. Cooling degree-days (CDDs) continue to have a disproportionately stronger effect on consumption, and traders should be paying attention to changes in CDDs. Seasonal trend, however, calls for high but declining number of CDDs and for a rising but low number of HDDs.
This week, the weather conditions cooled down. We estimate that the number of CDDs will drop by 7.0% w-o-w in the week ending September 7. However, total energy demand (measured in TDDs) would still be some 20% above last year's level. Next week, weather conditions will cool down even more. The number of CDDs is currently projected to drop by no less than 20% w-o-w for the week ending September 14 (see the chart below).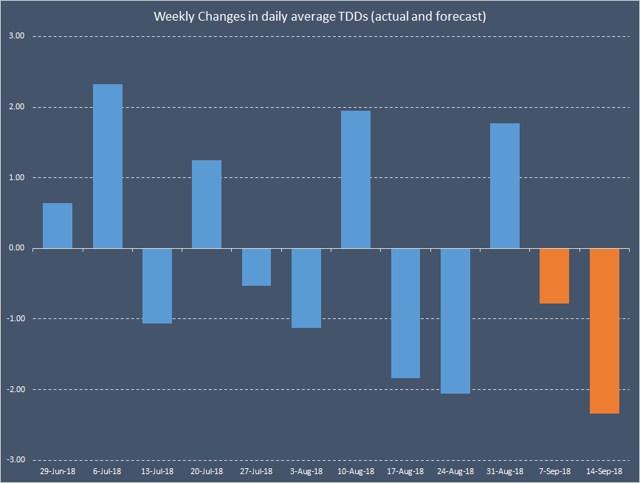 Source: Bluegold Research estimates and calculations
The latest numerical weather prediction models are still showing above normal CDDs and TDDs over the next 5 days (September 5 – 20), but the changes have been very bearish lately. As you can see from the tables below, the weather models first showed sharp bearish changes on Sunday, September 2. Then, more bearish changes appeared on Monday and Tuesday.
Source: Bluegold Research estimates and calculations
* on Sundays and Mondays, 24h change is calculated from Friday's results, but 12h change is calculated from Sunday's results;
We update these tables twice per day every weekday and once per day every Sunday for our subscribers. Consider signing up for our exclusive content if interested (see the link below).
Today's 06z weather models project an average of 9.8 CDDs per day (1.8 above the norm) over the next 15 days (September 5 - September 20), but the change from Tuesday is bearish (24h change is -0.6 in 06z run). Currently, there are no major disagreements between the models. HDDs also impact consumption - especially in residential and commercial sectors, but during September-October, the number of HDDs should remain relatively low. The latest 06z run projects an average of 0.7 HDDs per day over the next 15 days (0.7 below the norm), and the change from Tuesday is bullish, yet minor (24h change is +0.2 in 06z run).
Storage
U.S. Energy Information Administration should report a slightly smaller change in natural gas storage this week compared to the week prior. We anticipate to see an injection of 68 bcf (3 bcf larger than the comparable figure in the ICE's latest report for the EII-U.S. EIA Financial Weekly Index, 3 bcf larger vs. 5-year average and 8 bcf larger than a year ago).
There is currently a double deficit in natural gas inventories – i.e., the amount of natural gas in the underground storage is smaller compared to previous year and also compared to 5-year average. Next two EIA reports are expected to confirm the contraction of 5-year average deficit by a total of 6 bcf and the expansion of annual deficit by a total of 2 bcf.
Further down the road, however, we see larger injections both relative to 5-year average also compared to last year.
Trading Results
Our subscribers know that we started to lean bearish on natural gas from around August 7. We have been building our short positions for several weeks, but most recently, we began reducing our short exposure and rip profits. Below is the list of the most recent 10 trades (click here to see the full list).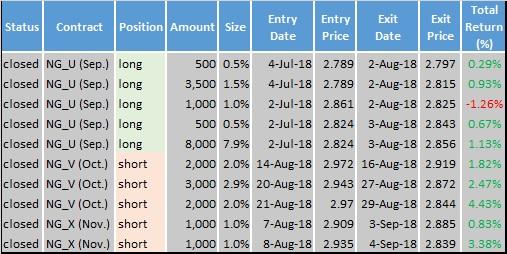 Returns are "unleveraged". If you trade ETNs, equivalent returns would have been 2 or 3 times greater.
We maintain our bearish bias on natural gas, but a technical rebound from 2.814-2.806 is possible - probably towards 2.831 and maybe towards 2.846 and 2.853. We might open a minor long position (simply to hedge our existing short exposure), but we are not recommending going outright long right now. Overall, we will be looking for opportunities to sell the rallies.
Thank you for reading our weekly report. We also write a daily update of our forecast for key natural gas variables: weather, production, consumption, exports, imports and storage. Interested in getting this daily update? Sign up for Natural Gas Fundamentals, our Marketplace service, to get the most critical natural gas data. In addition, every Sunday, we publish three special reports: "Trends in the U.S. Electric Power sector", "Trends in Global LNG Market", "Global Oil Products Inventories".
Disclosure: I/we have no positions in any stocks mentioned, and no plans to initiate any positions within the next 72 hours.
I wrote this article myself, and it expresses my own opinions. I am not receiving compensation for it (other than from Seeking Alpha). I have no business relationship with any company whose stock is mentioned in this article.