So much for the dog days of summer. After the dust settled, August looked more like a street in Pamplona with only the bears gored. Despite continued trade tensions and pockets of market turbulence, US equities went on a tear during our last full month of summer. Aided by stellar corporate earnings, accelerated economic growth, and continued strength in the labor market, the current bull run became the longest in the modern era.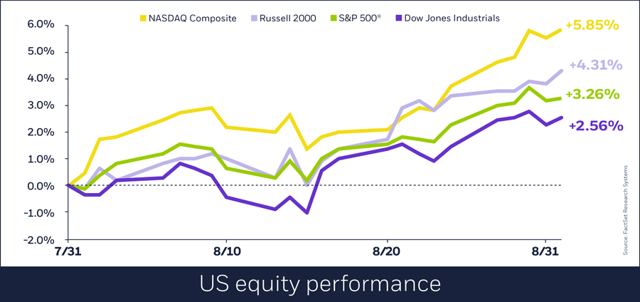 Source: FactSet Research Systems, Aug. 31, 2018
US equities
August marked a return to full-throttle bull market conditions - a classic "risk-on" environment that favored growth companies as a whole, and small- and mid-cap stocks in particular. Equity gains were largely the product of macroeconomic tailwinds and strong corporate earnings. During the most recent earnings season, roughly 80% of S&P 500 constituents posted quarterly results that exceeded consensus analyst estimates.1
Although rattled at times, equity investors seemed to shake off a fresh round of economic one-upsmanship, including billions of dollars in new tariffs between the US and its major trading partners. The escalating trade war is beginning to pinch US manufacturers by increasing the cost of inputs like steel, aluminum, and lumber, although the US-Mexico Trade Agreement could signal some respite from trade tensions. Nonetheless, the S&P 500 and Nasdaq indexes both climbed to record highs in late August, propelled by the strong performance of the information technology, telecom services, and consumer discretionary sectors.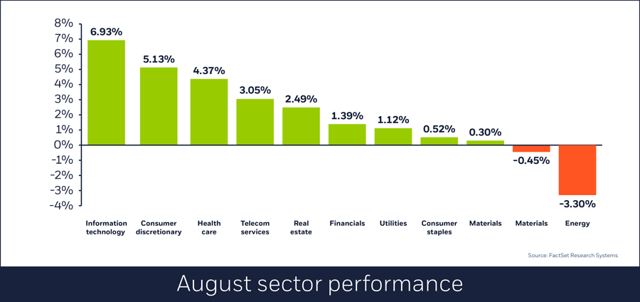 Source: FactSet Research Systems, Aug. 31, 2018
International equities
On the flip side, international equities disappointed in August, with all major international indexes finishing in the red. In Turkey, a rift with the US, combined with weak economic fundamentals - rising inflation, a growing current account deficit, and mounting debt owed to foreign lenders - triggered a selloff in the Turkish lira, which has lost roughly 40% of its value this year.
The financial crisis in Turkey overshadowed positive narratives in a number of emerging markets, including India, which has seen strong equity gains, and Mexico, where the peso was one of the few emerging market currencies to appreciate against the US dollar during the month. While Turkey does not represent a significant portion of international indexes, some market participants fear contagion.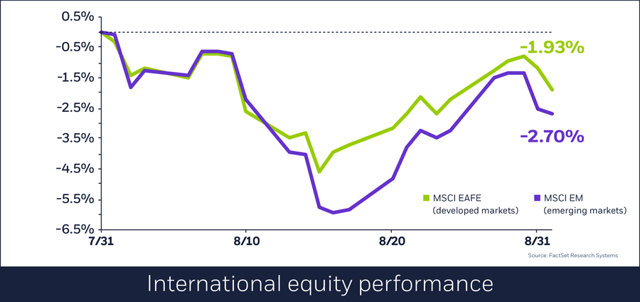 Source: FactSet Research Systems, Aug. 31, 2018
Fixed income
In the fixed income markets, all major segments advanced. Narrowing credit spreads and the strong performance of high-yield bonds underscored improving investor sentiment and a willingness to take on more risk. Still looming in the shadows, however, is the flattening Treasury yield curve. During the month, the spread between the two- and 10-year Treasury notes briefly narrowed to 19 basis points - the lowest level in more than a decade.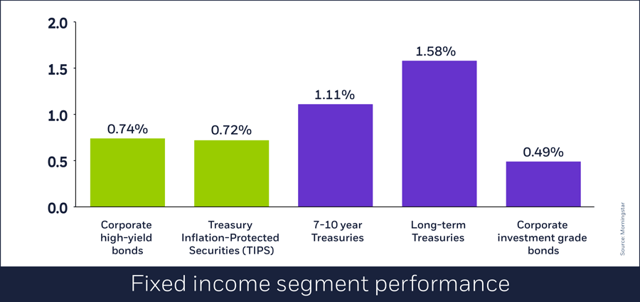 Source: Morningstar, Aug. 31, 2018
Looking ahead
Given the strong state of the US economy and exultations over the historic bull market, it may seem improbable that the markets will lose steam anytime soon. Still, many economists are expecting US growth rates to moderate in 2019, and we have yet to see the full outcome of recently imposed tariffs. To what extent diminished growth expectations and protectionism undermine investor sentiment could play a role in the direction of equities over the balance of the year.
In the meantime, there are a number of themes we'll be paying attention to as we count down to the autumnal equinox:
• International equities - Sure, international stocks have not fared well this year, but they are coming off a solid stretch that resulted in double-digit gains in both 2016 and 2017. While talk of synchronized global growth has tapered, many developed economies continue to expand, and there is plenty of upside in emerging markets. Moreover, the low return correlations between US equities and international stocks witnessed so far in 2018 could make international holdings important ingredients in a diversified portfolio.
• Tariffs and trade - Although useful for political posturing, trade wars can increase the risk of inflation and could put a dent in corporate earnings. As a result, some investors may be eyeing a healthy allocation in defensive holdings, value stocks, and fixed income securities to help mitigate these risks.
• Flattening yield curve - All eyes are on the Treasury yield curve due to the recessionary implications of an inverted shape. Though some have dismissed its significance, history tells us to ignore the signals of a flattening yield curve at one's peril. Shoring up a portfolio's defenses could make sense if the gap between two- and 10-year Treasury narrows further.
Additional considerations
Although we've seen some whipsawing in sector performance, a robust US economy has provided the markets as a whole with considerable momentum. Still, given international trade discord and the likelihood of higher interest rates after the Federal Reserve's next meeting later this month, the markets could turn choppy at a moment's notice.
Further down the road, there are a number of additional cautionary signs to heed, including pockets of weakness in the housing sector and a ballooning federal budget deficit fueled by last year's tax cuts. Sprinkle in November's mid-term elections and the porridge of today's Goldilocks economy could turn into a witch's brew of uncertainty.
Investors may be well-served evaluating their current holdings to make sure they can withstand a range of market conditions. After all, a well-diversified portfolio is perhaps the best defense against shifting market sentiment.
Disclosure: I/we have no positions in any stocks mentioned, and no plans to initiate any positions within the next 72 hours.
I wrote this article myself, and it expresses my own opinions. I am not receiving compensation for it. I have no business relationship with any company whose stock is mentioned in this article.