Company Introductions
Pareteum Corporation (TEUM), Interpace Diagnostics (IDXG), and R1 RCM, Inc. (RCM) are three companies that have attracted my attention as wise, long-term investments due to several factors. Today we will dig into each company's rapid revenue growth, improving profit margins, and their potential to continue to expand for years to come in very large, under-served market places. Pareteum is globally providing mobile networking software and services designed to single-handedly enable connectivity around the world, Interpace Diagnostics delivers cutting-edge mutational analysis that helps risk-stratify for thyroid, pancreatic, and other cancers, and R1 RCM, Inc. provides revenue cycle management solutions to healthcare providers. Clearly all 3 of these companies differ immensely, but what they have in common is they are revolutionizing their industries and they have the opportunity to establish themselves as front-runners in their respective niches.
R1 RCM, Inc.
R1 RCM, Inc. provides end to end commercial infrastructure solutions that create award winning customer experiences for patients at doctors offices, while providing physicians standardized, predictable revenue cycle management solutions. Although many investors are not familiar with RCM, they are the largest, independent end-to-end revenue cycle provider with over $22 billion in contracted net patient revenue. What attracted me most about R1 RCM is the significant healthcare providers they have been rapidly signing and building custom solutions for in 2018. Below are two slides from R1 RCM's Q2 earning calls highlighting large partnerships that greatly advanced their revenues. Let's start with R1's largest customer, Intermountain Healthcare, the Utah-based not-for-profit system of 22 hospitals, 180 clinics, and 1,500 employed physicians. Since 2011 Intermountain Healthcare and R1 RCM have worked hand in hand as Intermountain utilized R1 through a co-managed service model where R1 consulted Intermountain Healthcare's revenue cycle operations team. In late January 2018, R1 RCM and Intermountain signed a 10 year agreement, expanding R1's services to providing all managed revenue cycle operations across both inpatient and preventative care settings. Executive Vice President and CFO Bert Zimmerli of Intermountain Healthcare explained the large transition by stating "As we look toward providing the highest value at the lowest cost, transitioning our revenue cycle operations to R1 is a critical part of this evolution. R1 has proven the value it delivers to the business side of what we do, and the continuous advancements in the company's services and technology allow us to expand our relationship with them". This expansion with R1's largest customer will substantially increase revenues over the next 10 years, but due to the complexities of consultative solutions R1 provides, in the short term we have mostly seen the costs associated with this large deal, as a large part of R1 RCM's 36% Q2 cost increase was developing the technology and commercial infrastructure needed to optimally assist Intermountain Healthcare. R1's initial and continued investment is paying off as they have successfully onboarded 2,300 Intermountain employees as of April 2018. Immediately following Intermountain's onboarding process, R1 onboarded the first wave of Ascension Medical employees in July and plans on onboarding the work performed at centralized locations in early Q4 and into the first half of 2019. Employee transitions for Presence Health were originally scheduled to begin in the third quarter, but with the recent announcement of AMITA, R1 now plans to transition both AMITA and Presence employees (approximately 1800) in early Q4 2018. The annual net patient revenue generated between AMITA, Intermountain, Ascension, and Presense Health is over $10 billion dollars.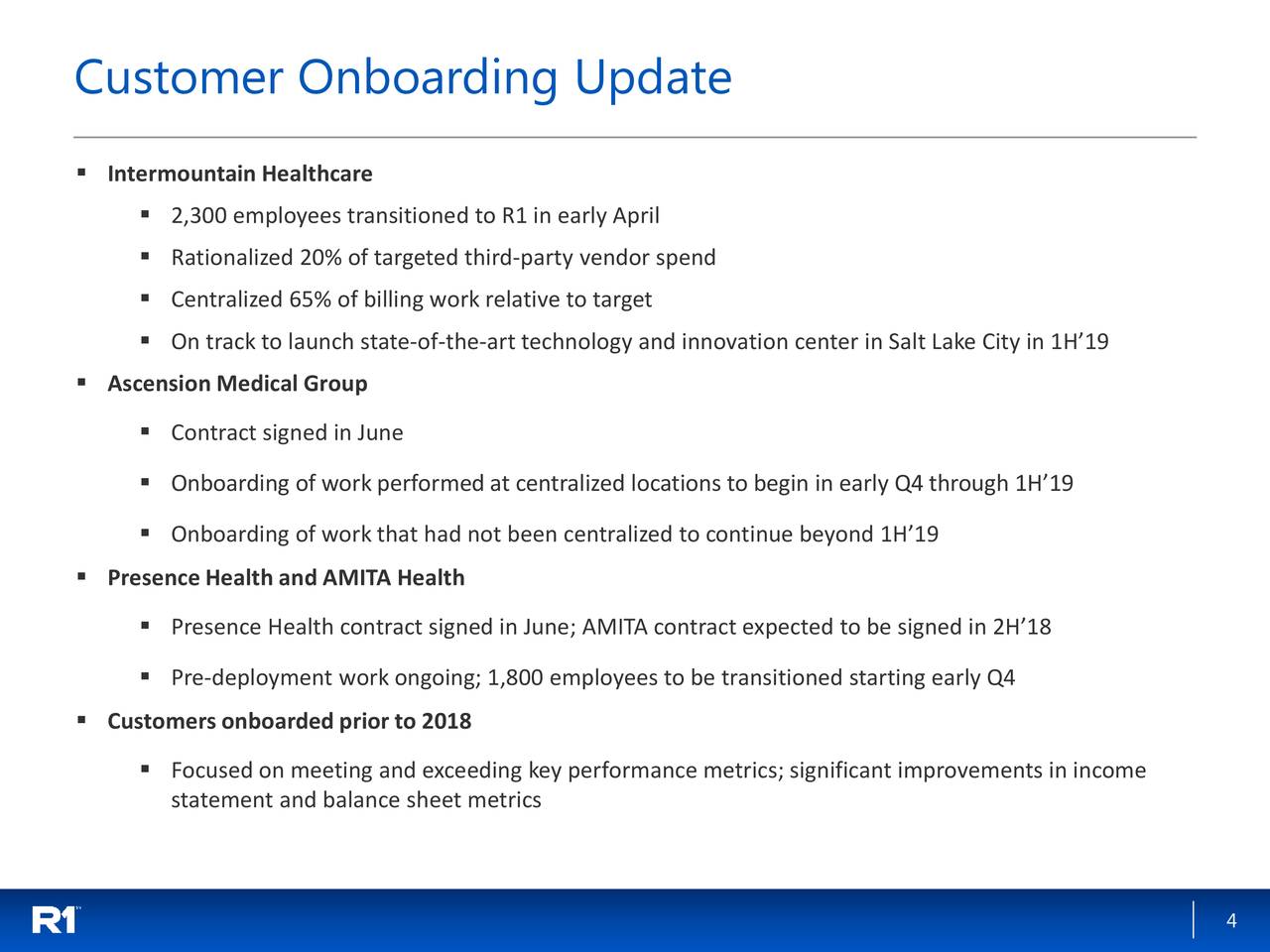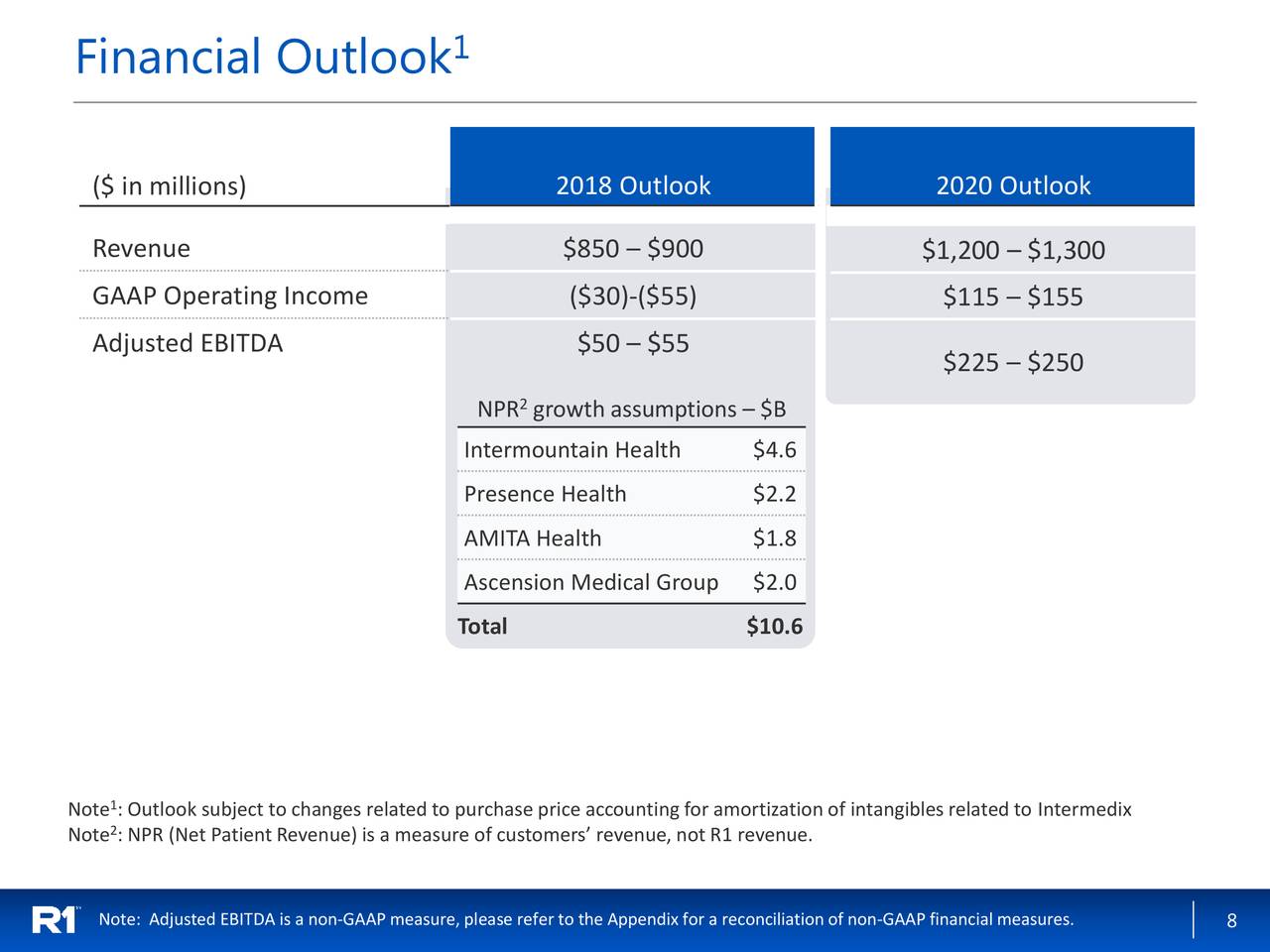 R1 RCM, Inc. Financials
R1 RCM, Inc. increased their revenues 109% in Q2 2018, compared to the same quarter in 2017, largely due to the addition of new customers as well as maintaining current clients. Revenues also increased due to the acquisition of Intermedix, which also provides revenue cycle management and analytics. R1 RCM reiterates their 2018 EBITDA guidance, stating they are still expecting to generate between $50-55 million in adjusted EBITDA, even with incurring part of the AMITA and Presense Health costs already. What provides much excitement for R1 RCM investors is the 2020 company expectations. R1 provided a 2020 guidance in their 2018 Q2 earnings call, calling for up to $1.3 billion in 2020 revenue, $250 million in adjusted EBITDA, and $155 million in GAAP operating income. At this point many readers that are not familiar with R1 RCM, Inc. are probably wondering what's the catch with R1 RCM? The biggest risk lies in the fact that R1 RCM has now accumulated $237 million in net debt and had a net interest expense of $5.9 million in Q2, which they paid off with cash from operations. R1 continues to reiterate that they will begin to pay off their debts using cash from operations beginning in mid 2019, which if they can stay on their guidance path should be possible. Failure to achieve profits by then could result in further debt accumulation and higher interest expenses. R1's greatest strength of providing hands on consultative solutions comes at a premium cost, but as margins continue to improve, synergistic cost savings are realized from the Intermedix acquisition and other partnerships, and economies of scale are built, R1 RCM looks like they are headed for profitability by 2020.
Pareteum Corporation
Pareteum Corporation provides a complete mobility cloud platform, utilizing messaging and security capabilities for the global mobile, mobile virtual network operator, enterprise and IoT markets. Pareteum's Mobile Network Operator customers include Vodafone, the world's second largest mobile operator. Pareteum's Global Software Defined Cloud combines a communication platform as a service software solution with mobile services. Pareteum continues to accumulate media attention for their innovative and disruptive services, most recently being awarded the 2018 Communications Solutions Product of the Year Award from TMC, a global, integrated media company recognized as the voice of the industry.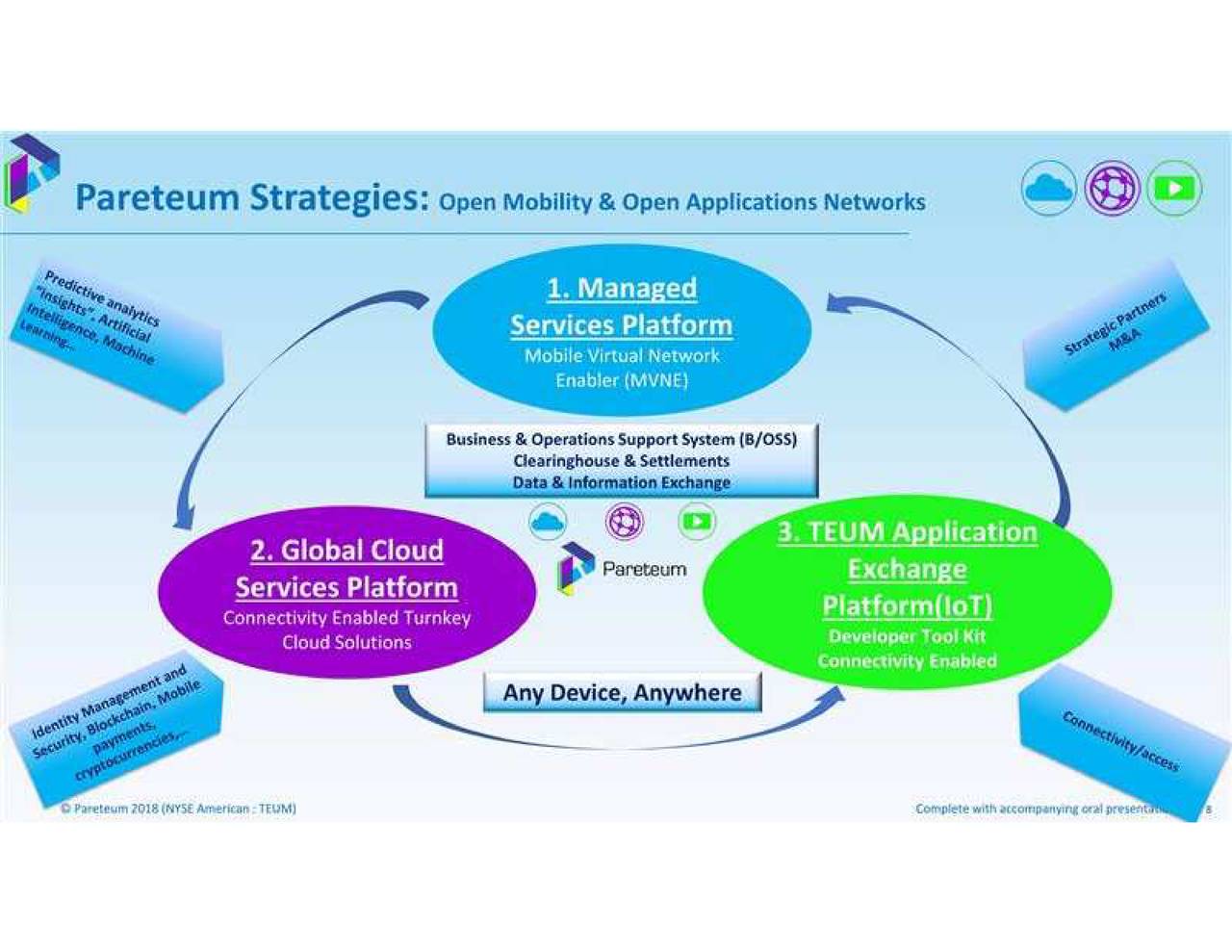 Pareteum, like R1 RCM, has propelled their revenues, customers, employee totals, cost savings, and product/service offerings forward by acquiring Artilium (pending shareholder vote in late September 2018). Pareteum currently has 65 employees, but after the Artilium acquisition their employee headcount will be 150. This should be a fairly continuous transition as Pareteum has worked in a strategic alliance with Artilium, and Artilium's leadership and employees remain in similar or the same roles as before the June acquisition announcement. Principal Executive Officer Robert "Hal" Turner has been very open about mergers and acquisitions playing a role in Pareteum's rapid growth goals, and referenced in the Q2 earnings call that this acquisition started more as a cost synergy based acquisition, but the "marketing wizardry" and sales expertise of Artilium and their market partners have been added synergies as well. Another key alliance was formed with iPass, which provides Pareteum access to 64 million global hotspots worldwide. Principal Executive Officer Hal Turner calls the alliance, "a very important element in our strategy for open mobility, open applications, and networks, and the offering of a fully integrated service offering applications and solutions through our global software defined cloud." This alliance has already lead to revenue expansion, as this allow allowed Pareteum to sign a $2 million supplemental agreement for WiFi services to one of their U.S. wireless internet service providers. Pareteum continues to expand it's business globally, signing new agreements in Q2 spanning the globe from the U.K., U.S., Pan-Europe, Africa, Asia, Mexico, India, and Eastern Europe, with smart city, Internet of Things, mobile virtual networks, gaming, over-the-top, and social media applications. Hal mentioned two of the largest deals closed in Q2 were a $10 million, three year managed services platform that is serving IoT, and MVNO, in the Pacific Asia region and an an $8 million, three year contract with an MVNO in the U.S. Hal gave guidance on the U.S. deal stating that, " that one is going to grow, we believe a lot bigger than $8 million." In their Q2 Proxy, Pareteum also mentions they currently have 12 pending deals, valuated at approximately $49,600,000.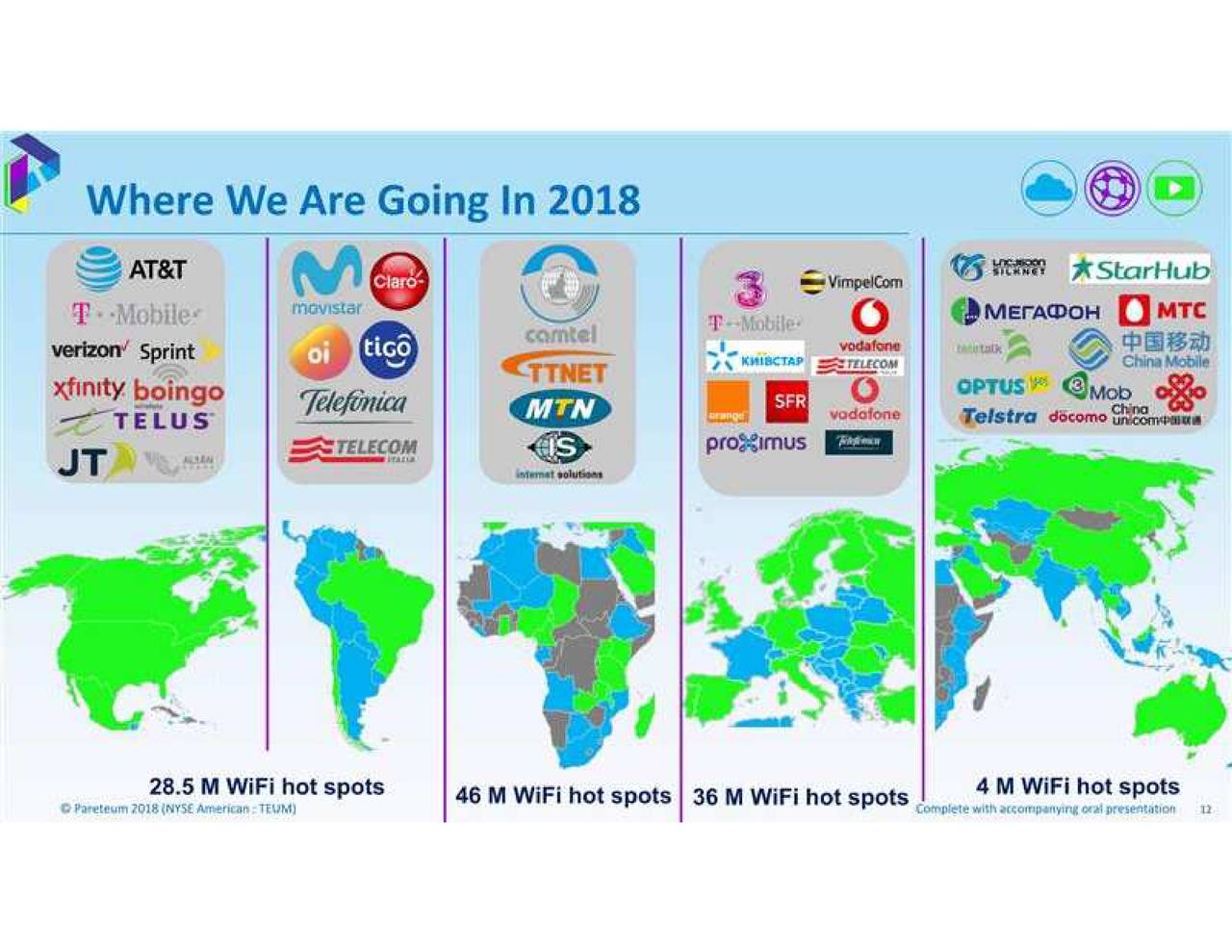 Pareteum Corporation Financials
Principal Executive Officer Hal Turner is a very passionate executive that is very excited about his company's momentum, stating that his team is "on fire". Hal is one of the most vocal executives's I have witnessed, which has been refreshing to get updates on big deals closed, specific guidance, long term guidance, and never a lack of confidence. He is quick to give all of the divisions of his business performance recognition, and highlights each executive's expertise and key strategies. He also provides updates on how they are performing on their KPI's. This comes as no surprise and he makes it well known they are a sales company, with each individual on his team playing their role in branding and sales. Hal said they hire sales people based off of their industry expertise, but just as important their industry relationships. Hal has a lot of pride in Pareteum's revenue/employee of $377,000 which is significantly higher than the SAAS industry average. In the most recent Proxy on Pareteum's website, Hal provided 2022 guidance of a staggering $175.2 million in pro forma revenue and $55.9 million in adjusted EBITDA. That is 12.93 times larger than full year 2017's reported revenue on Pareteum's 2017 annual report. Hal Turner also increased 2018's revenue guidance to 80% higher than 2017's revenues, after Q2's revenue came in 85% higher than the same quarter in 2017. In Q2 Pareteum exceeded wall street's revenue expectations by 22%, doing slightly over $6 million in revenue, but what was even more impressive was the the company achieving their first ever positive net income at $.03 per share compared to wall street's expectations of -$.02 EPS. Including Artilium, Pareteum now boasts 4,213,600 connections, expects to generate $49 million in 2018 pro forma revenue, and expects to create $11.9 million in pro forma adjusted 2018 EBITDA. One of the growing concerns mentioned in the Q & A portion of the Q2 earnings call was how is Pareteum going to handle the ever increasing contractual revenue backlogs, which is now more than $300 million, and how much of the contracts are the actually converting into revenue. CEO Vic Bozzo answered the question stating that they have increased headcount in the back office to handle the increase, but most of the payment collections are being serviced by their fully automated software. In addition to this, Pareteum is collecting contractual revenue backlogs at an impressive 106%.
Interpace Diagnostics
Interpace Diagnostics is a fully integrated commercial and bioinformatics company that provides clinically useful molecular diagnostic tests, related first line assays and pathology services for evaluating risks of several cancers. What I find most attractive about Interpace is their expanding revenues and major traction with insurance providers to reimburse their cutting edge cancer diagnostic tests. Interpace is now covered by 27 Regional Blue Cross/Blue Shield Plans for their ThyGenX and ThyraMIR thyroid cancer detecting tests, compared to just 14 Blue Cross/Blue Shield plans prior to Q2. Also recently, CIGNA, one of the nation's largest health plan providers, agreed to cover ThyraMIR, in addition to ThyGeNEXT. The reason this is so significant to Interpace is insurance reimbursements continue to be the main source of Interpace's revenue. Another step forward for Interpace, is they expanded PancraGEN applications beyond pancreatic cysts to include both biliary strictures and solid pancreatic lesions, which means more revenues as now their test can be utilized more frequently with a wider range of patients. Also due to the 14 day rule for outpatient molecular diagnostic services being eliminated, hospitals should be able to use PancraGEN quicker and more effectively. CEO Jack Stover confirmed in the Q&A portion of the Q2 earnings call that they are seeing growth both in units and in dollars of the PancraGEN, GI franchise, and endocrine franchises as well, so it's nice to know Interpace isn't solely relying on the thyroid cancer franchise to drive results. Besides these revenue generating tests Interpace is excited about the potential of their esophageal cancer franchise. Jack Stover mentioned that the esophageal cancer space is over a $1 billion market opportunity and they are taking the same steps with BarreGEN that they took with thier thyroid franchise to impress insurance providers in order to gain reimbursement status. Interpace is working on their second clinical validity study to support the ability of BarreGEN to identify patients at risk of progression to esophageal cancer, years prior to any visible signs of cancer. I am a little put off that the CEO doesn't provide exact sales volume and revenue numbers for each of their franchises, but as long as the insurance providers reimbursing their tests continues to grow it is something I can easily overlook.
Interpace Diagnostic's Financials
Interpace's revenue grew 43% over the prior year's Q2 revenues and they are showing signs of faster revenue growth as they increased revenues 14% over Q1 2018's numbers. Interpace had a record breaking quarter, generating quarterly revenue of $5.5 Million, surpassing Wall Street's expectations by $500,000. Wall street's expectations were surpassed in earnings per share as well, with diluted net loss per common share of $(0.07) versus $(0.65) for the prior year quarter, an improvement of 89%. Interpace has cash & cash equivalents of $10.1 Million with no long-term debt and they have reaffirmed their guidance of revenues for the year of over $20 Million. CEO Jack Stover reiterated guidance during the Q and A section of Q2's earnings call stating, "the guidance we provided was over $20 million, we didn't identify how much over $20 million. But as we look at the first half of the year being in excess of $10 million, it certainly gives us a lot of confidence that our guidance is supportable." Operating Loss was $(1.9) million for the quarter ended June 30, 2018, compared to an operating loss of $(3.6) million for the second quarter of 2017, so margins continue to improve even with company investments into numerous studies to further validate the effectiveness of their products.
Risk Analysis
This article is far from a comprehensive analysis on each company, so please conduct your own research before investing. I do find each company's 10-K's do provide promising financials and properly highlight risks associated with their business and industries. Seeking Alpha contributor JD Henning did an exceptional job objectively diving into Pareteum Corporation (TEUM) in August, which I would recommend to anyone serious about making an investment in Pareteum. I find both R1 RCM and Pareteum Corporation to be far more transparent in their operations, forecasts, and sales numbers, but at the same time Interpace Diagnostics is a much smaller company with just a sales force of 24 employees and are just now starting to make some major traction with insurance companies. Another risk associated with investing in these companies is all 3 of them have seen large gains in share price in the last few weeks, making them vulnerable to short term price corrections. I personally am not too concerned with this as I see them all as great long-term buys, but for those more risk adverse, there is a chance we could see double digit percentage price correction in the short term. Of course investing in micro cap companies is far more risky than investing in larger, more established companies with better profit margins and cash on hand, but these 3 companies all lay out a plan towards profitability in the near future. There is ample opportunity for these 3 companies to more than triple their share price in the next few years if they maintain the same profit margin improvements and rapid revenue growth, but failure to keep the pace they have set could lead to substantial set backs in share price. Overall I see the risk of these companies to be off-set by the large potential rewards. TEUM, RCM, and IDXG make up over a 1/4 of my entire investing portfolio.
Conclusions
This article was written primarily to inform readers of the exciting prospects of these three growth companies that have a unique opportunity to continue to expand in their disruptive, billion dollar marketplaces. All three of these companies are growing multiple facets of their businesses, have acquired businesses to grow as quickly as possible, they continue to aggressively look for M&A opportunities, and have revenue growth and profit margins improving significantly. For TEUM, there is more demand than ever for international connectivity for both cloud and mobile services, for R1 RCM there is a booming demand for software as a service for faster and more efficient revenue collections, and for Interpace there is an ever increasing demand for more intelligent and accurate cancer detection and risk assessment. These companies have all painted a clear picture of growth for many years to come and I like their chances of being the main players in their billion dollar markets by how well they have performed being the pioneers in disruptive spaces. Another key element I put a lot of weight in when evaluating companies is their customer satisfaction and industry awards for standards of excellence. All 3 of these companies have received honorable accolades this year: Pareteum Corporation won both the Communications Solutions Product of the Year Award and their Pareteum platform won the IoT Evolution award this year. R1 RCM was awarded by Healthcare Financial Management Association the "Peer Reviewed by HFMA" designation and they won the HFMA innovation award for their Patient Experience platform. Interpace was named by CIO Applications as a top-20 company for providing bioinformatic solutions to their customers, with credible peers in that group such as Roche, Qiagen, and Precision Medicine Group. Due to the factors listed above, I believe these companies are the very best positioned micro cap, long-term investments.

Disclosure: I am/we are long RCM, TEUM, IDXG AND PLAN TO ACCUMULATE MORE SHARES ON DIPS.
I wrote this article myself, and it expresses my own opinions. I am not receiving compensation for it (other than from Seeking Alpha). I have no business relationship with any company whose stock is mentioned in this article.
Editor's Note: This article covers one or more microcap stocks. Please be aware of the risks associated with these stocks.