About The Company
Guangshen Railway Company Limited (NYSE: GSH) engages in the railroad passenger and freight transportation business in the People's Republic of China.
The company's passenger transportation services include the operation of Guangzhou-Shenzhen inter-city express trains, long-distance trains, and Guangzhou-Hong Kong city through trains. Its freight transportation services comprise the transportation of full load and single load cargo, containers, bulky and overweight cargo, dangerous cargo, fresh and live cargo, and oversized cargo. The company is also involved in various other rail-related activities, such as railway network usage, transportation-related services, train repair, property management, and more.
As of December 31, 2017, it operated 251 pairs of passenger trains on a daily basis, including 107 pairs of intercity high-speed passenger trains between Guangzhou and Shenzhen, 13 pairs of Hong Kong Through Trains, and 131 pairs of long-distance trains. The company was founded in 1996 and is based in Shenzhen, the People's Republic of China. (Source: Finviz)
Share Information
Shares of GSH have fallen by approximately 40% in 2018 - from a high of roughly $37/share to $22/share. The company's shares are listed as ADRs and are relatively thinly traded on the NYSE with a total of 140.571 million shares outstanding (a number that has remained unchanged for over 10 years).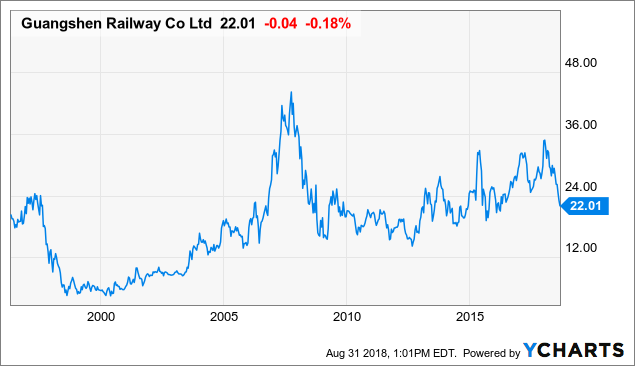 GSH is currently the cheapest stock (in terms of book value) of all the railroads listed in the US, selling for P/B of 0.75.
We believe that the shares have entered undervalued territory with this recent drop, potentially offering a modestly attractive buying opportunity. Here's why:
Financials
GSH has a strong balance sheet with no debt and a current ratio of 1.2 (quick ratio is 1.1). The company has a book value of nearly CNY 29 billion ($4.3 billion; 1 USD = 0.15 CNY), or approximately $30/share. The asset base consists primarily of fixed assets, namely tracks, bridges, service roads, locomotive and rolling stock, buildings, and other for a total of CNY 23.6 billion. (Source: Annual report 2017)
Earnings have been positive each year since the company listed publicly in 1996, averaging CNY 8.65/share ($1.3/share) while revenues have grown by 56% in the last 10 years. However, the capital-intensive nature of the business has caused some more fluctuations in free cash flow, which has averaged CNY 702 million ($0.74/share) since 2008 - giving us a 3.4% free cash flow yield.
| | | | | | | | | | | |
| --- | --- | --- | --- | --- | --- | --- | --- | --- | --- | --- |
| | 2017 | 2016 | 2015 | 2014 | 2013 | 2012 | 2011 | 2010 | 2009 | 2008 |
| Revenue CNY Mil | 18,331 | 17,281 | 15,725 | 14,801 | 15,801 | 15,092 | 14,691 | 13,484 | 12,386 | 11,689 |
| Net Income CNY Mil | 1,015 | 1,158 | 1,071 | 662 | 1,274 | 1,319 | 1,804 | 1,486 | 1,342 | 1,224 |
| Earnings Per Share CNY | 7.00 | 8.00 | 7.50 | 4.50 | 9.00 | 9.50 | 12.50 | 10.50 | 9.50 | 8.50 |
| Shares Mil | 142 | 142 | 142 | 142 | 142 | 142 | 142 | 142 | 142 | 142 |
| Operating Cash Flow CNY Mil | 2,635 | 1,641 | 2,260 | 1,946 | 1,883 | 2,178 | 3,329 | 3,331 | 2,618 | 1,641 |
| CAPEX CNY Mil | -2,273 | -1,974 | -1,292 | -1,000 | -1,377 | -1,836 | -943 | -1,158 | -1,640 | -2,948 |
| Free Cash Flow CNY Mil | 361 | -333 | 967 | 946 | 507 | 342 | 2,386 | 2,173 | 978 | -1,307 |
| Free Cash Flow Per Share CNY | 2.54 | -2.35 | 6.81 | 6.66 | 3.57 | 2.41 | 16.80 | 15.30 | 6.89 | -9.20 |
| Free Cash Flow Per Share USD * | 0.38 | -0.35 | 1.02 | 1.00 | 0.54 | 0.36 | 2.52 | 2.30 | 1.03 | -1.38 |
(Source: Morningstar, * Based on current exchange rate of 1 USD = 0.15 CNY.)
Valuation
As a railroad, GSH has a wide moat. Owning the railroad tracks gives it a durable competitive advantage with high barriers to entry, while cost advantages (specifically with regards to freight transportation, but perhaps also for passenger transportation) and scale efficiency (rail can transport a very large amount of goods at a relatively low labor and fuel costs) further ensure the strong market/industry position of the company.
Since the company has a durable competitive advantage, it would make sense to consider recent and historical earnings (or rather free cash flow) as an indication of future earnings power. However, seeing how GSH doesn't deliver much on average in terms of free cash flow (thereby also limiting the potential for dividend growth; the company has paid dividends annually since listing in 1996 but the amount has stayed relatively flat at around CNY 4/share or $0.6/share), we may conservatively assume future free cash flows of zero and rather turn our focus towards the assets. (Source: Annual report 2017; Note: 1 ADR = 50 H Shares, thus the annual reported dividend of CNY 0.08/share gives CNY 4/share for ADR holders.)
We think it is reasonable to use book value as an approximation for the value of GSH's shares due to the wide moat the company enjoys (thereby ensuring "staying power") and since it doesn't deliver much in terms of earnings. By definition, a company that earns zero with certainty over time will simply maintain its net assets (turning over the assets at cost), giving us book value as a result. That is, we buy the company and simply get back the value of the assets over time at cost - we buy the assets, which we can then safely count on selling at cost in due course of business. Assuming free cash flow of zero then also makes book value a decent approximation for replacement value.
(Contrast this to a company with no moat where we couldn't count on the "staying power;" then we couldn't count on getting back at least the cost of the assets and would have to use liquidation value ("discounted book value") as an estimate for what we'd get when buying the company.)
Based on the above, GSH should be worth at least book value, or $30/share.
Risks
There are few caveats (or "risks") to consider that might justify some discount to book value.
GSH is based in China and is a subsidiary of the state-owned Guangzhou Railway Group Corporation (GRGC), which in turn is a subsidiary of the China Railway Corporation (CRC), a state-owned enterprise which is responsible for administering China's massive national railway system. As such, it has both a large controlling shareholder (GRGC owns 37.12% of GSH) and is subject to a regulatory framework that may impair shareholder rights, returns and value ("over-regulation of railway fares within China and, more recently, increasing labor and maintenance costs" are examples of factors that negatively affect the results and thereby shareholder value). (Source)
Receivables have gone from being approximately 5% of assets in 2013 to nearly 13% of assets in 2017. A significant portion of those receivables (mostly from related parties of GSH and other state-owned railroad/transportation companies) have been outstanding for over a year. Although GSH's auditor (PwC) has said the treatment of the receivables was fair and appropriate, it still goes to show the potential influence of the state and controlling shareholder on the true representation and value of the company's assets. Nevertheless, if we were to exclude all receivables, GSH would still have a book value of over $25/share.
Summary
Overall, GSH delivers little in terms of free cash flow with a dividend yield of nearly 2.5%. Hence, it is reasonable to focus on the value of assets when considering an investment in GSH.
Currently, the company is selling at a more than 25% discount to book value. With a wide moat, due to high barriers to entry stemming from its owning of the railway network along with cost advantages and scale efficiencies, we can reliably count on the "staying power" of the company, thereby making book value a good approximation for intrinsic value.
Since there's little to be gained in terms of earnings, buying GSH may not be the best "buy-and-hold" long-term investment. However, we believe that the market price has fallen a little too far and should correct by rising higher towards $30/share to account for the value that we get in terms of assets.
Seeing how GSH is based in China, has a controlling shareholder and is subject to influence from the state, it is reasonable to apply some discount to the shares. But 25% seems too much for a well-financed company that continuously provides a 2.5% dividend cushion (albeit a modest one), enjoys a durable competitive advantage with barriers to entry and generally delivers positive free cash flow.
It may also be worth noting that passenger and freight volumes have been increasing this year relative to 2017 (source) and the company recently announced that 6-month net profits are up 28.6% this year compared to last. Also, GSH may possibly benefit from the new Chinese environmental policies, since rail provides more efficient means of transportation than trucks and airplanes.
To sum up, with GSH selling for less than the value of its assets, and downside risks very limited in a well-performing business with long-lasting dividend record, it now offers a modestly attractive buying opportunity for investors wanting to take advantage of a potential price correction towards $30/share.
Disclosure: I/we have no positions in any stocks mentioned, but may initiate a long position in GSH over the next 72 hours. I wrote this article myself, and it expresses my own opinions. I am not receiving compensation for it (other than from Seeking Alpha). I have no business relationship with any company whose stock is mentioned in this article.