Introduction
July data ended, and August data started, with very different signals about the economy.
Vehicle sales and residential construction suggest consumer stagnation
On the consumer side, motor vehicle sales for August came in at 16.69 million annualized. That is essentially equal to July's number. July and August are also, bar one month last year, the worst months since the beginning of 2015.
This is important, because vehicles and houses are the two biggest durable goods purchases made by consumers, and they are the first to flag before a recession. Over 10 years ago, in his paper "Housing IS the Business Cycle," Prof. Edward Leamer identified the sequence as: first housing turns, then vehicle sales turn, then consumer nondurables turn.
The below graph shows the order for houses (green), vehicles (blue), and real retail sales ex vehicles (red) for the last 20 years: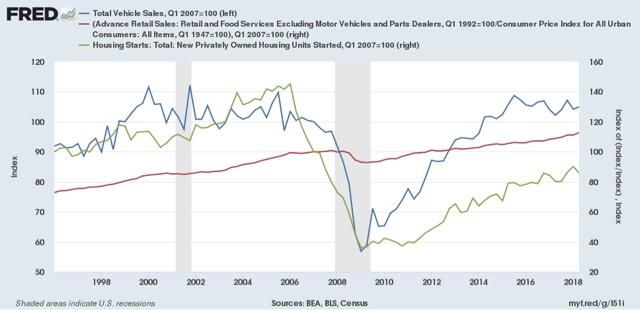 Leamer's order was followed in 1999-2001. In the 2000s expansion, vehicle sales actually peaked slightly before housing, but both well before retail sales ex-motor vehicles. In the current expansion, vehicle sales look like they peaked in early 2015, while housing starts have trudged grindingly higher.
But a close-up on housing (red) and vehicles (blue) for the last 3 years shows that as of July, both were actually lower than during summer 3 years ago: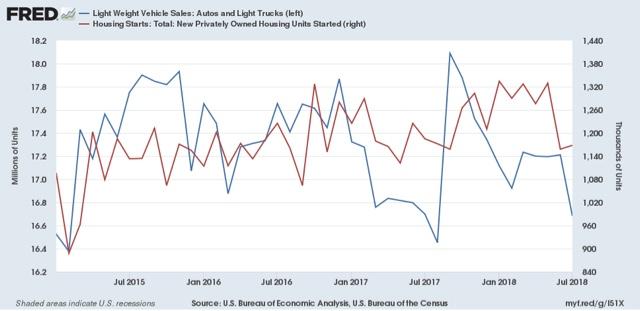 It looks quite clear that motor vehicle sales have peaked for this expansion.
As to housing, July residential construction spending (blue in the graph below), also reported yesterday, continues to show modest but substantially decelerating YoY improvement, much as do single family housing permits (red):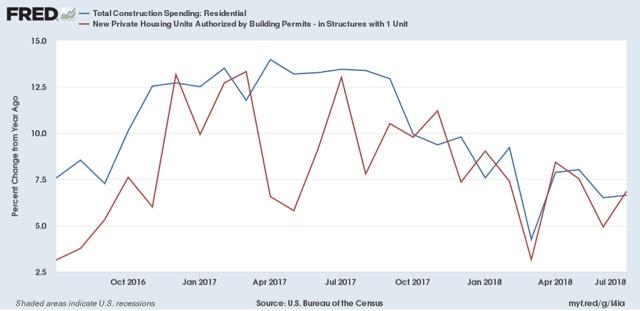 And in absolute levels it is lower than earlier this year: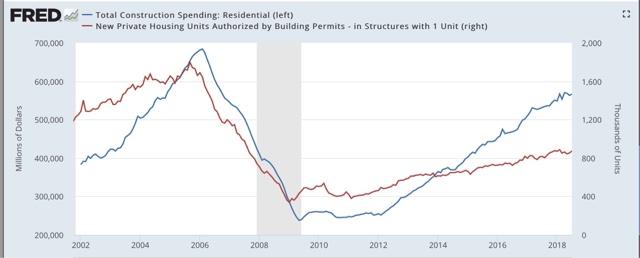 Residential construction spending, while it is not so leading as housing sales, permits, or starts, has the distinct virtue of being the least volatile series of all housing data, so the fact that it may be peaking is quite significant.
Hot Production Comes with a *
But if the consumer shows signs of flagging, yesterday's ISM manufacturing report was, once again, white hot (h/t Briefing.com):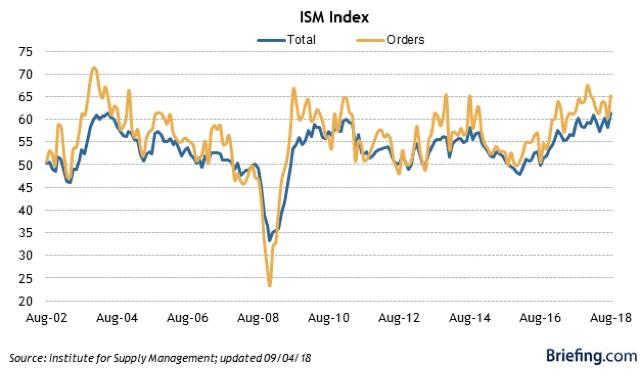 The new orders component of this report is a short leading indicator, so this suggests that production and employment are going to remain quite strong in the next few months.
And now, the * part. I dislike cherry-picking, and prefer to let data speak for itself. But this comment, made by the ISM itself, can't be overlooked for significance:
Respondents are again overwhelmingly concerned about tariff-related activity, including how reciprocal tariffs will impact company revenue and current manufacturing locations. Panelists are actively evaluating how to respond to these business changes, given the uncertainty.
This "overwhelming concern" raises a caution flag that the surge in new orders and production may be evidence of a strategy to rush production now in order to beat the imposition of tariffs in the next few months. If that is the case, then production from the next 6 months may have been moved forward into orders and production now, which would mean there will be an equivalent downdraft over that time.
Conclusion
So, we continue to have deceleration, flatness, or even declines in long leading indicators, and even the admittedly white hot short leading indicator comes with an asterisk.