While economic activity in the U.S. remains expansive, a host of event risks continue to threaten an inversion of the yield curve.
Further signs of economic improvement came Tuesday after the Institute for Supply Management (ISM) said the August PMI rose to 61.3 from 58.1 in July, generally exceeding analysts' expectations by a healthy margin.
The yield on the 10-year U.S. Treasury note was last quoted up around 1.5% at 2.90%, while the 2-year note was around 2.65%, and the 3-month bill was hovering at about 2.09%.
Analysts have noted that when the yield curve inverts (when long-term rates fall below short-term rates), a recession typically ensues. This scenario has included the past two recessions, which occurred in 2001, as well as from 2007 to 2009.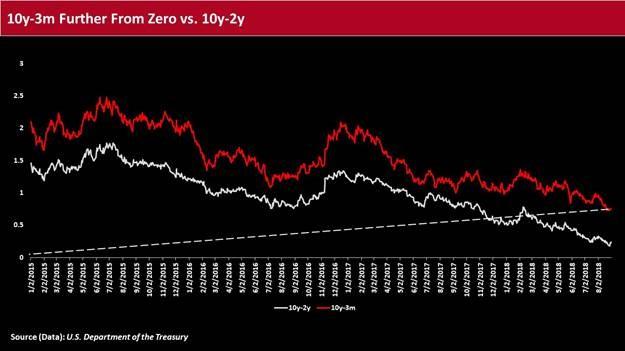 Although market participants widely monitor the difference between the 10-year and 2-year note (10y-2y) yields, researchers Michael Bauer and Thomas Mertens at the Federal Reserve Bank of San Francisco argue that the difference between 10-year and three-month (10y-3m) Treasury rates is "the most useful term spread for forecasting recessions—without any adjustment for an estimate of the underlying term premium."
The latest quotes on the 10y-2y places the term spread at about 25bps, while the 10y-3m is about 81bps apart. The spreads have widened a bit from their tights of 17bps and 73bps, respectively, set in late August. While the 10y-2y has come closer to the zero threshold, the 10y-3m continues to retain a cushion comfortably above that mark.
Recession risk rising, but inversion not imminent
Bauer and Mertens noted that in light of "the evidence on its predictive power for recessions, the recent evolution of the yield curve suggests that recession risk might be rising. Still, the flattening yield curve provides no sign of an impending recession."
While the recent flattening may not suggest an imminent inversion of the yield curve, the effects of quantitative easing (QE) pose additional concerns.
Bauer and Mertens admit that uncertainty over the effects of QE on interest rates, as evident from certain statistical measures, is likely skewed to the downside because they assume a specific underlying model that is itself "highly uncertain." Also, "while a lower term premium contributes to easier financial conditions and therefore stimulates economic activity, this was also the case in the past and at times may have contributed to economic overheating, heightened financial stability risk, and ultimately higher recession risk. There is no clear evidence in the data that 'this time is different' or that forecasters should ignore part of the current yield curve flattening because of the presumed macro-financial effects of QE."
Furthermore, the Federal Reserve Bank researchers added that they did not find "an empirical basis for adjustments based on the term premium, especially in light of uncertainties about the possible effects" of QE.
Neil Azous at Rareview Macro recently highlighted that it is "important to be aware of this new evolution because" nearly all of the Federal Reserve's Open Market Committee (FOMC) members have "historically dismissed the flat level of the yield curve as a function of a 'depressed term premium.'" In its paper, the San Francisco Fed has now "made it clear to the rest of the Fed they cannot use this excuse any longer."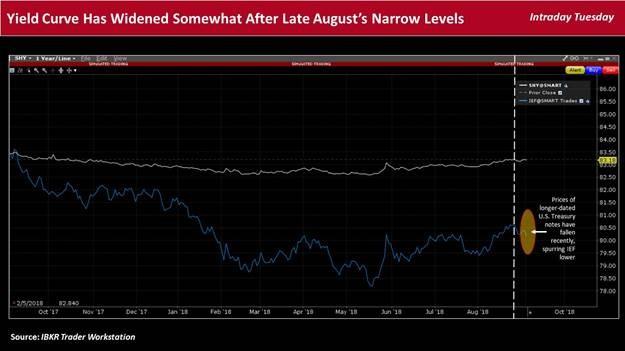 Run-up to the Fed's September meeting
Meanwhile, the Fed has a jam-packed agenda for jawboning ahead of its two-day policy meeting starting September 25.
In the front part of the week ahead, Chicago Fed chief Charles Evans is slated to speak at the Central Bank of Argentina's Money and Banking Conference titled "Dealing with Monetary Policy Normalization."
Also, among other speakers, Minneapolis Fed president Neel Kashkari will conduct a Town Hall in Bozeman, Montana, where he will discuss topics such as big bank regulation and the Fed's recent interest rate decisions, and New York Fed president John Williams will visit Buffalo and Niagara Falls on Thursday and Friday to meet with business leaders, educators, and government officials.
In the interim, market participants have been generally exercising caution amid escalating global trade tensions.
U.S. President Donald Trump, for example, could impose an additional US$200bn in tariffs on Chinese goods before the week is finished, and unease about Canada's inclusion in any updated version of a North American Free Trade Agreement (NAFTA) has yet to be dispelled.
The caution could send investors into safe haven assets such as the 10-year U.S. Treasury note, as the Federal Reserve continues to hike rates in the short-end, suggesting the yield curve could continue its flattening trend.
Against this backdrop, President Trump recently voiced disappointment over the direction of the Fed's path towards normalization and took to Twitter, writing: "The United States should not be penalized because we are doing so well. Tightening now hurts all that we have done. The U.S. should be allowed to recapture what was lost due to illegal currency manipulation and BAD Trade Deals. Debt coming due & we are raising rates – Really?"
[Note: This material was originally published on IBKR Traders' Insight on September 4, 2018.]
The analysis in this material is provided for information only and is not and should not be construed as an offer to sell or the solicitation of an offer to buy any security. To the extent that this material discusses general market activity, industry or sector trends or other broad-based economic or political conditions, it should not be construed as research or investment advice. To the extent that it includes references to specific securities, commodities, currencies, or other instruments, those references do not constitute a recommendation by IB to buy, sell or hold such investments. This material does not and is not intended to take into account the particular financial conditions, investment objectives or requirements of individual customers. Before acting on this material, you should consider whether it is suitable for your particular circumstances and, as necessary, seek professional advice.
Disclosure: I/we have no positions in any stocks mentioned, and no plans to initiate any positions within the next 72 hours. Business relationship disclosure: I am receiving compensation from my employer to produce this material.