By David Wismer
With Labor Day now in the rear-view mirror, most schools are back in session, and fall weather is going to be very welcome in many parts of the U.S.
It has been a brutally hot summer in several regions, including my home base in Connecticut. Sunday's heat index here was 97 degrees, and Monday's was also about 100. Officials at the U.S. Open Tennis Championships in New York City have had to implement an unprecedented Extreme Heat Policy this year to help protect the tournament's players.
But looking forward, cooler temperatures will inevitably be on the way, along with the gorgeous fall foliage here in New England. They both cannot come soon enough for my liking.
With September's arrival, articles in the business press have started to trickle out on the 10th anniversary of the Great Recession. September 2008 might not have technically been its beginning, but a look back at an article from The Wall Street Journal from October 2008 indicates that economic data from that month were a harbinger of what was to come:
"Fears of a deep recession sparked the worst drop in the Dow Jones Industrial Average in 21 years, as retail sales tumbled, demand for commodities sank and bank earnings fell... U.S. retail sales dropped 1.2% during September, the sharpest drop in three years. WSJ's Sudeep Reddy says the decline signals the economy is already in recession and that it is facing a much deeper hit from the credit sector turmoil."
What a difference a decade makes!
Whether one is inclined to fully credit the Trump administration's actions or see this late-cycle recovery as the inevitable result of prior policies, there is no denying that many aspects of recent economic data have been impressive: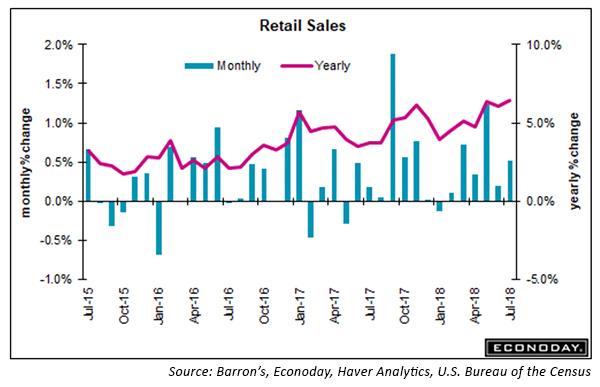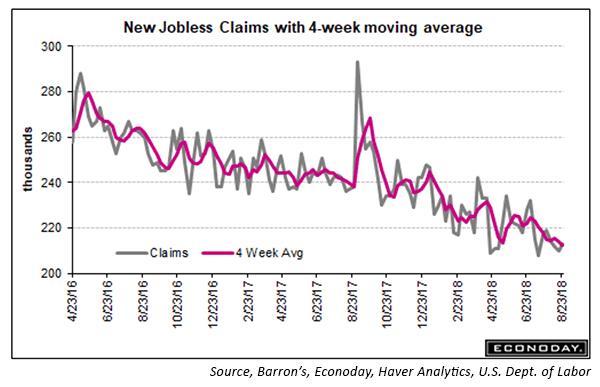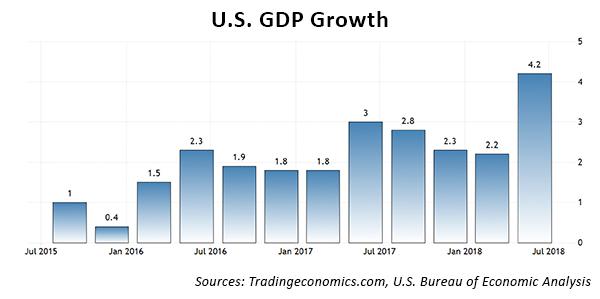 Not all is perfect, of course, and some important economic indicators and reports have had uneven performance this year. Wage and productivity growth continue to disappoint most analysts, the auto industry has been seeing a global slowdown in new vehicle sales, and the U.S. housing market has been inconsistent. Perhaps most troubling, consumer debt is at all-time highs, according to American Banker, and "the personal savings rate dropped to 2.4%, its lowest level since the debt-fueled boom of the mid-2000s."
Additionally, questions abound from many corners on whether recent economic growth is a function of short-term impacts from the tax cuts, business-friendly deregulation, and the continuation of historically low interest rates this late in the business cycle - all factors which may not be duplicated going forward. Barron's noted this weekend, "The Economic Cycle Research Institute's array of indicators point to a 'stealth cyclical slowdown.'"
That said, U.S. equity markets, which common wisdom asserts reflect the outlook for the next six months or longer, seemingly have voted positively on the intermediate term through the end of last week. Major U.S. equity indexes are near all-time highs again, a function of both the broad economic outlook and the strength in U.S. corporate earnings.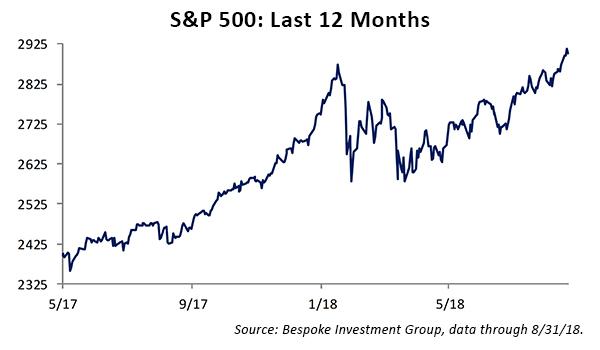 Many articles in this space recently have focused on the wisdom of investors employing dynamically risk-managed strategies as they seek growth in their portfolios.
Why is this so important - even as the U.S. economy seems to be encountering a "green light" in so many areas?
Last week, we explored the "sequence of returns" as one important reason.
Another powerful reason is that no matter how rosy things seem now, history tells us that the next recession and equity bear market is inevitable. It would seem not to be a question of if, but when.
Jason Zweig, an excellent columnist for The Wall Street Journal, wrote recently on behavioral economics and the lessons it holds for all investors. Two of his very good points follow:
"Most investors tend to be unrealistically optimistic, overestimating how likely they are to have good fortune and underestimating how many bad things will happen..."

"Behavioral economists say you should inform your decisions with the base rate, or the best available historical evidence of how likely an outcome is."
According to data from Yardeni Research, every decade since 1920 - with the exception of the 1990s - has had at least one market decline over 20%. Most of those declines were much worse.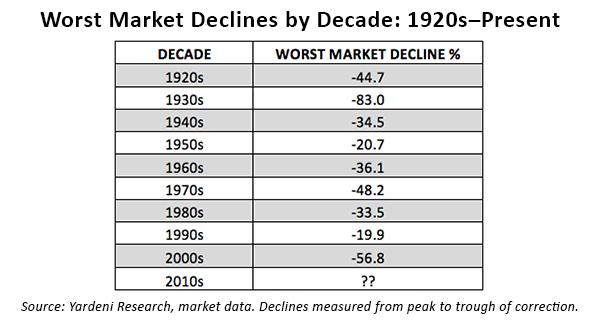 I sincerely hope that the end of this decade and the years that follow will prove to be as benign as the 1990s. However, it seems to make eminent sense to heed the advice from Mr. Zweig - advice that is often written about here - on being mindful of market history. Investors should seek equity growth in good times but employ portfolio strategies capable of mitigating market risk - reacting appropriately when those green lights again turn red.
(Note: The inconvenience of a heat wave is surely minor compared to some of the weather-related issues faced elsewhere in the U.S. this summer and happening right now. Our support and best wishes go out to all those affected.)