Transocean's (NYSE:RIG) purchase of Ocean Rig (NASDAQ:ORIG) will be the most discussed event in the offshore drilling space for weeks to come. The market's reaction to the announcement was negative, but so far did not turn into any kind of a significant sell-off. Here on SA, the commentary was divided: I published a negative piece on the deal, while fellow contributors Daniel Jones and Fun Trading wrote mostly positive reviews of the deal (here and here).
My original opinion on the deal was written right after the news was announced. Now, I had more time to study the deal and I must admit that now I like it even less. In this article, I will provide my reasoning for this thinking. I see no need to take Transocean's comments on the recent conference call and its deal presentation - which are de-facto marketing materials - at face value, and I believe that the move may cap Transocean's upside similar to what happened to Ensco (ESV) after the purchase of Atwood Oceanics.
By this time, everyone interested in Transocean and Ocean Rig have already read the basic details of the deal, so I won't repeat what can be found in the press release announcing the deal and will immediately get to the discussion of the most important parts of the deal.
Financing of the deal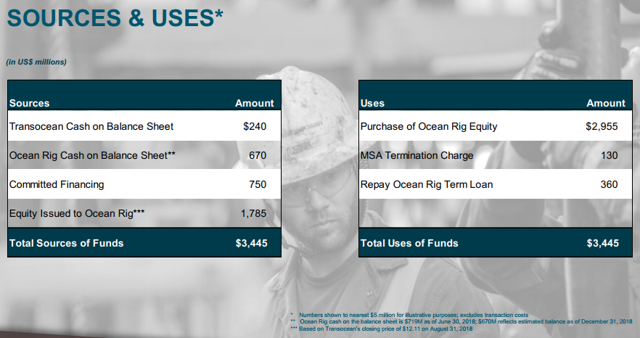 Source: Transocean presentation
To finance the deal, Transocean will be using a mix of cash on the balance sheet, cash on Ocean Rig's balance sheet, external financing, and equity. This "committed financing" part on the slide above simply means new debt (we'll get to this later as Transocean seems to believe that it is able to take as much debt as it wants).
"Equity issued to Ocean Rig" is dilution for current Transocean shareholders. Moving to the right side of the slide, "MSA Termination Charge" is a fee to a company of the former Ocean Rig's CEO, George Economou. His company had a management contract with Ocean Rig and this contract included a termination fee. I originally estimated the fee to be $150 million, and, as we see from the presentation, the fee is $130 million. Can't say this is such good news, but with Ocean Rig, any buyer would have to pay to get rid of George Economou.
So, the transaction involves more dilution for Transocean shareholders and more debt. Typically, shareholders don't like dilution - and have every reason for this stance - but dilution does not have a decisive impact on a company as a business. In turn, debt could have such an impact. In this light, the next thing that I'd like to discuss is Transocean's balance sheet situation.
Balance sheet: debt is piling up
As per Transocean's second-quarter report, the company had $2.5 billion of cash, $1.8 billion of debt due within one year and $7.8 billion of long-term debt at the end of the second quarter. This is a significant amount of debt. Let's look at the maturity schedule:

Source: Transocean's 2Q report
Now, the company is adding $750 million of additional debt to finance the purchase of Ocean Rig. As per Transocean's deal presentation, it does not view liquidity as a big problem: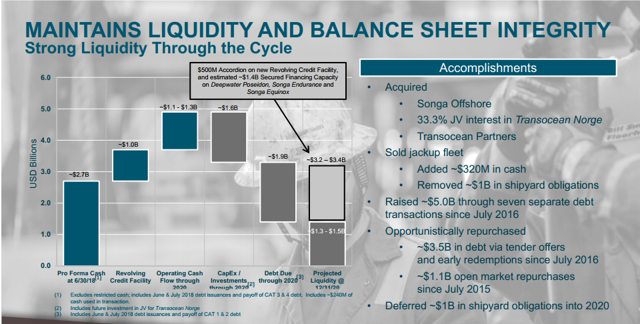 Source: Transocean presentation
Let's look at the slide above in a bit more detail. We see the "revolving credit facility" line increasing the company's liquidity. This is the credit facility that has been negotiated for many months and that Transocean was finally able to get at a reduced size of $1 billion. Based on the slide above, it looks like Transocean intends to draw it in full. This means even more debt.
Also, we see Transocean highlighting the ability to raise $1.4 billion of secured financing on Deepwater Poseidon, Songa Endurance and Songa Equinox. This line has also a "more debt" sign attached to it. At this point, Transocean's debt activity starts reminding former Seadrill (SDRL) a bit. Yes, the maturities are much better spread across the time, but the desire to take debt (along with the dilution of shareholders) amidst the worst downturn in the market history is very, very aggressive to say the least.
Transocean is obviously betting that its high-margin backlog will help it out, but it is obvious that the balance sheet leaves the safe territory. There's nothing critical yet, but it is not a strong balance sheet in the current market environment. Dayrates for ultra-deepwater rigs must rise materially for the company to be comfortable with the level of debt it intends to carry forward.
Strategy: does the company need so many rigs?
Let's first hear what Transocean's CEO, Jeremy Thigpen, had to say on this topic at the very beginning of the conference call: "This proposed transaction should come as no surprise as it is fully consistent with and supports our strategy of high grading our industry-leading fleet of ultra-deepwater and harsh environment floaters without compromising our liquidity position or balance sheet flexibility". I commented on the balance sheet above, now let's look at the fleet.
First, let's inspect Transocean's ultra-deepwater drillships that either have no contract or whose contract ends soon.
Group 1 consists of older rigs: Discoverer Deep Seas, Discoverer Spirit, GSF C.R. Luigs and Discoverer Enterprise. These rigs are non-competitive and will go to scrap, following the steps of older rigs which went to scrap earlier this year.
Group 2 consists of modern rigs that are currently stacked: Deepwater Champion, Discoverer Luanda, Discoverer Americas, and Discoverer Clear Leader.
Group 3 consists of modern rigs whose contracts end soon: Deepwater Invictus (November 2018), Discoverer India (December 2018), Dhirubhai Deepwater KG2 (September 2018).
Group 4 has drillships whose contracts end in 2019: Petrobras 10000 and Dhirubhai Deepwater KG1.
Group 5 has newbuilds: JSPL Drillship TBN 1 and JSPL Drillship TBN 2.
Contract of Dhirubhai Deepwater KG1 and Dhirubhai Deepwater KG2 have options, the contracts of other mentioned ships do not have options.
If we assume that the year 2020 is a year where the utilization of ultra-deepwater drillships has picked up to a point where it is truly reflected in dayrates, Transocean had 11 (!) rigs to offer to the market before the purchase of Ocean Rig (assuming stacked rigs are reactivated and other rigs do not engage in long-term contracts before 2020 to enjoy the potentially higher dayrates that come with the market recovery).
Following the acquisition of Ocean Rig, Transocean will have nine more ultra-deepwater drillships to employ plus two newbuilds. As a reminder, Transocean is not the only drilling company out there and the competition also has modern rigs that will be fighting for the jobs. So, Transocean will have a task to find jobs for 20 rigs.
In my opinion, this is not going to happen. I see cannibalization between the legacy Transocean fleet and the newly acquired Ocean Rig fleet. Due to the purchase of Ocean Rig, several Transocean stacked rigs won't even have a chance to come back to the market. But, I expect that not all Ocean Rig rigs will survive.
Paros seems to be down straight out of the gate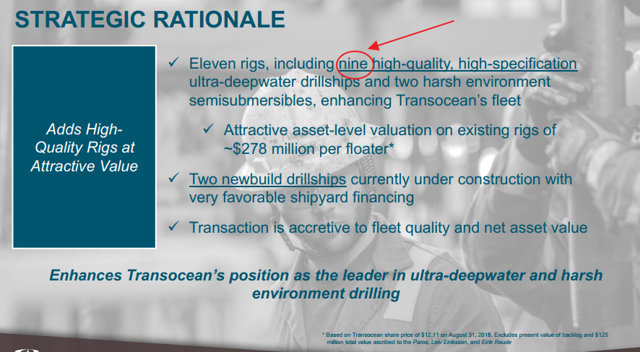 Source: Transocean presentation
The slide above should serve as a vivid reminder why investors should always remember that company presentations are de-facto marketing materials. Let's turn to the conference call once again: "[…] we put a nominal value on the Eiriksson, the Raude, and the Paros. We have not completed a reactivation cost on the Raude and the Paros at this stage".
A reasonable question is - what is wrong with Paros? It should be part of the nine high-quality, high-specification ultra-deepwater drillships. It turns out Paros is not that high-quality as per Transocean's own comments later in the call: "[…] the Paros was previously owned by a Brazilian contractor called Shaheen. And Shaheen went into bankruptcy about six years ago, specifically when a company going to bankruptcy, they are short of liquidity. And if you recall back to the time when this rig changed hands, we actually inspected the rig. And the last year of operation the rig was cashed off. So maintenance was not performed very well. And the extra bankruptcy transaction did not occur on a friendly basis, so some of the key manuals and records and documents that you would typically want to have put the rig are not part of actual asset".
This is a long way to say the rig is scrap. This is not a surprise to those who follow the industry, but I just wanted to highlight how sometimes presentation is different from reality so that investors always come with a critical mind looking at a company's marketing materials.
How about other Ocean Rig's drillships?
As per the company's comments on the conference call, this seems to be the game plan:
Ocean Rig Skyros is on a long-term contract with Total (TOT). Nothing needs to be done here.
Ocean Rig Poseidon is currently working with options until April 2019, so Transocean will have to find a new job for this rig.
Warm-stacked Ocean Rig Corcovado and Ocean Rig Mykonos are top priority in contracting.
Cold-stacked Ocean Rig Athena, Ocean Rig Mylos and Ocean Rig Apollo are primary candidates for reactivation.
Newbuild Ocean Rig Santorini delivery costs $372 million, newbuild Ocean Rig Crete delivery costs are a bit higher than $500 million. Obviously, no decision can now be made on these rigs.
The remaining rigs are the above-mentioned Paros and Ocean Rig Olympia.
It is worth noting that Transocean surprised the world by saying that bringing drillships out of a cold stacking position will cost $25 million. Analysts pressed the management on the number during the earnings call. The answer was that the number is based upon a fairly high-level review of the reactivation and that Transocean will update the market over time when it gets into more details. I'm skeptical of this low number. In this case, time will tell.
Conclusion
The purchase of Ocean Rig puts additional pressure on Transocean's balance sheet. More, it creates a whole armada of rigs that need to be put to work. My opinion is that ultimately, the move will lead to some scrapping of Transocean's modern drillships, causing very material write-offs in the future.
If I were to bet on the number of scrapped modern drillships right now, I'd bet on at least 4-5. I'm not intrigued by the "industry consolidation" argument, but I'll leave this topic for the future as the article is already getting too long and we're all short of time in modern life.
In conclusion, I'd say that I expect the deal to put pressure on Transocean's stock in the near term and also create challenges for Transocean as a business in the future. Transocean is a big company with plenty of backlog and many modern rigs and has a very high durability level which probably encourages management to take risks. In this case, only a truly aggressive recovery will justify the move.