It seems impossible to scan serious news headlines without being reminded how narrow the yield curve and how real the risk of inversion, which can trigger recession and cause the whole house of cards (i.e. equities, bonds, housing) to come crashing down. So is a flat yield curve worth the worry? I want to present some of the mechanics behind, and precedence for, the yield curve dangers so we don't panic until we have a reason to.
It is true, we have the flattest curve since August 2007.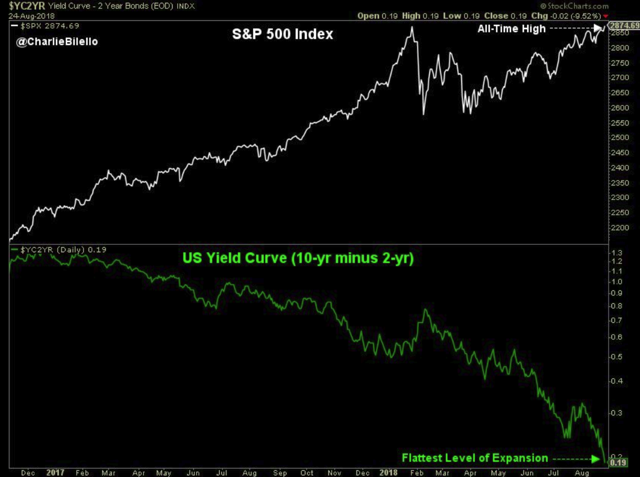 ---
Inverted Yield Curves and Recesssions…a worthy read by Charlie Bilello
On its face, concern about an inverted curve does not seem unwarranted. The last 9 recessions in the US were all preceded by inversion, with 1-year Treasury yields rising above 10-year yields. What is less known than this fact is the lag between the first inversion of the curve and the start of the actual recession – 14 months on average.
Main point of article is that the Fed Funds Rate is still too low to trigger a recession. Having said that, Charlie sums it up best:
In terms of Fed policy, everything about this cycle has been different than prior cycles so there's no reason to expect what happens next to be the same. We could see an inversion at a lower interest rate level, a shorter lead time after inversion, or perhaps no inversion at all. When it comes to markets and the economy, the "rules" are always changing.
---
A Simple Lesson in Yield Curve Inversion – by Jeffrey Miller
The yield curve compares interest rates for a short-term instrument with one of a longer term. While various comparisons could be used, the 2-year and 10-year notes are a common choice. Normally, longer terms command higher rates, so the curve slopes upward.

The Fed controls the short end of the market. This directly relates to Fed Funds but is highly influential on the two-year.

Long-term rates reflect several factors:

The compounding of short-term rates, referred to as the term structure.
Expectations for inflation.
Supply and demand for the underlying instruments

Higher long-term rates frequently reflect inflation and stronger economic growth. Short-term rates, especially when out of the accommodative range, reflect Fed concerns about an overheating economy and incipient inflation. The yield curve inverts when the Fed squashes inflation fears and effectively puts the brakes on the economy.

Right Now?

The long end of the curve does not reflect weak growth; the data show the opposite. The Fed is not worried about inflation.

Please note in 2000, the inversion of the curve was brought about by the drop in long term rates. That drop was the result of the market coming to the conclusion that the FOMC was done raising rates because there were signs of a developing economic slowdown.

Nothing puts a bid in the long end of the curve like the news that the FOMC is done raising rates.
---
So When Should We Worry About The Yield Curve?
Most focus on yield curve flattening/inversion, but it is what happens when it travels out of inversion that really matters: Bull Steepening.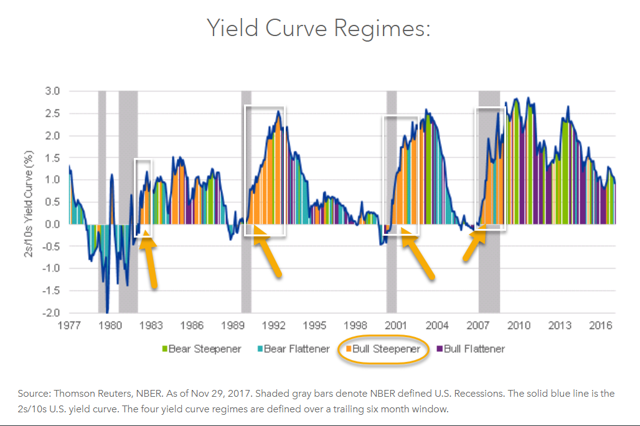 A bull steepener occurs when short-term rates fall faster than longer-term rates as Fed eases monetary policy. This is is not good for equities – see yellow arrows below which correspond with the green highlighted area where equities pulled back during a bull steepener in 2005 and again 2008.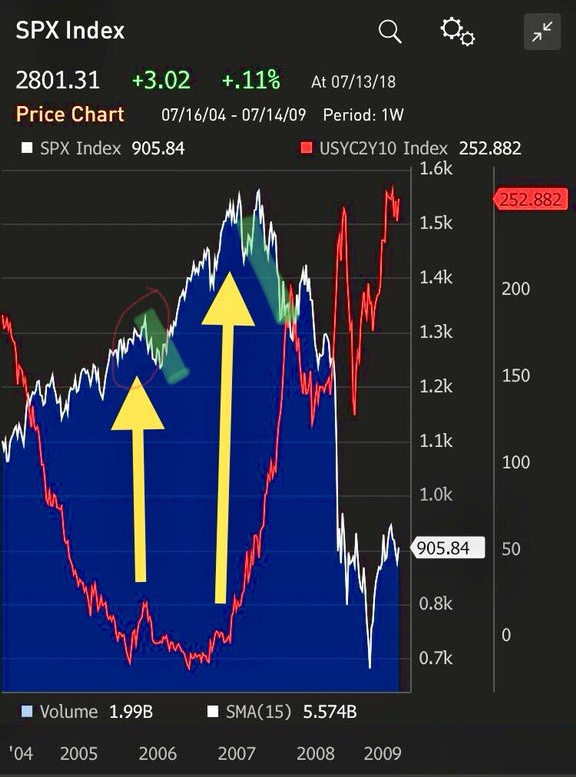 So where are we at in the Yield Curve cycle?
The Federal Reserve previously signaled it would raise rates to 2.5 percent in 2018, 3.0 percent in 2019, and 3.5 percent in 2020. The rate is critical in determining the U.S. economic outlook. Currently we are at 2.0% with two more meetings this year - September and December.
Granted, this analysis is US-centric and does not take into effect the very real affects of global yield curve pressures on our rates. I'm referring in particular to possible global Rate Spikes from Bank of Japan.
Japan is 'twisting' its yield curve. That means a bull steepening in their yields, however small, can drive the USD/JPY lower (Yen higher) as BOJ moves the Japanese bond peg even wider. This can also cause global yields to rise, which could cause bonds (NYSEARCA:TLT) to pull back while USD rises - putting pressure on global equities. Because a higher US Dollar is growth contracting and Emerging Market destructive since so much of their debt is USD denominated. For now, the Fed intonates it will continue to raise the Fed Funds Rate, despite the affect on Emerging Markets from a higher USD.
Summary: The lowest level of Fed Funds Rate we've seen at a prior inversion was 2.94% in 1956. We are at 2.0% yield leading into potentially two more hikes in 2018 and three in 2019. Of course, the Fed can change direction anytime based on inflation, slowing economic growth, emerging market contagion and so on. And that's when we actually need to worry because - to quote Jeffrey Miller again - Nothing puts a bid in the long end of the curve like the news that the FOMC is done raising rates. That's when the Bull Steepener regime reflects the Fed's concern for and response to an impending recession and markets sell-off.
---
Thanks for reading and please consider joining me in the LIVE Trading Room where we work through Value and Momentum trade ideas and set ups every trading day.
Disclosure: I/we have no positions in any stocks mentioned, and no plans to initiate any positions within the next 72 hours. I wrote this article myself, and it expresses my own opinions. I am not receiving compensation for it (other than from Seeking Alpha). I have no business relationship with any company whose stock is mentioned in this article.