Welcome to the August edition of "Monthly Dividend Stock Discounts Worldwide". Contrary to the US edition, this one covers dividend stocks from outside the US with at least 10% discount in the last month. The purpose is to identify potential bargains for dividend investors. As you surely know, a dropping stock price typically means one of two things: either it's an opportunity to get more bang for your buck or it is a warning sign that the company faces serious headwinds and future dividends may be in trouble.
That's why I give you an introduction into the 5 dividend stocks with the highest discounts. The objective is to present an overview about the current situation of the company by checking the most essential aspects by:
Mentioning the earnings and profitability situation of the company,
checking if dividends are endangered by looking at cash flows and optionally debts and assets if necessary, and
calculating fair values based on:

Earnings per share,
operating-cash-flows per share, and
dividends per share.
Which of these fair values to apply depends on the reliability of the underlying metrics and differs for each stock.
In the analysis below, I replaced the relative dividend yield in favor of the more sophisticated fair value calculations mentioned above. In the summary table, the score of the relative dividend is still shown.
Don't expect five in-depth analysis in one article. Instead, I present what I think to be the most important aspects to give you a well-founded idea if it seems worth digging deeper.
The list of international dividend discount stocks considers nearly 300 of the most popular dividend stocks outside the US. To ensure a minimum quality and attractiveness of all stocks, each stock needs to match the same criterion as its US counterparts:
Dividend increase of at least 5 years (dividend contender)
Current dividend yield of at least 2%
Market capitalization of at least 1 billion USD
Important remarks due to the international context
ISIN vs. Symbol
The summary table of the international edition of dividend discounts contains the ISIN (International Securities Identification Number). The ISIN is helpful because it uniquely identifies a given security, while the symbol is a data provider's specific combination of security and exchange. The ISIN allows readers all over the world to quickly find the security and then select the appropriate exchange on their own which may be located outside the US.
Domestic currency vs. US dollar
All discounts are calculated based on the domestic currency of the stock. For European stocks, it's mostly EUR; for Chinese Stocks it may be HKD (Hong Kong dollar) or CNY (China yuan renminbi) and so forth. This procedure excludes the effects of exchange rate fluctuations to the USD, which would be meaningless for investors outside the US.
Similarly, all screenshots and analysis (e.g. earnings per share) are based on the domestic currency to avoid exchange rates blurring the real performance.
Covered regions
Covered regions comprise Canada, Western Europe, China, Japan and Australia. The domestic country of the company is part of the list.
Dividend Stocks Worldwide On Discount
To be up-to-date, discounts of the August edition are calculated from 1st of August to 4th of September. Compared to the US edition, the international discounts are higher. An indicator for weaker performance of stock market outside the US in August.
| Symbol | Isin | Company | Country | Discount % | Years of dividend increase | Yield % | Rel. Div. Yield |
| --- | --- | --- | --- | --- | --- | --- | --- |
| OTCPK:CTTAF | DE0005439004 | Continental AG | Germany | -18.3 | 6 | 2.9 | 20 |
| | FR0000125346 | Ingenico | France | -16.7 | 6 | 2.7 | 90 |
| OTCPK:BAYZF | DE000BAY0017 | Bayer AG | Germany | -16.4 | 8 | 3.5 | 72 |
| OTCPK:IDEXY | ES0148396007 | Inditex | Spain | -12.8 | 7 | 2.1 | 35 |
| OTCPK:VODAF | GB00BH4HKS39 | Vodafone Group | Great Britain | -10.9 | 15 | 8.4 | 100 |
| OTCPK:BTAFF | GB0002875804 | British American Tobacco | Great Britain | -10.5 | 19 | 5.3 | 75 |
| OTC:HOCFF | DE0006070006 | Hochtief AG | Germany | -10.3 | 5 | 2.5 | 23 |
| OTC:AAALF | DE0005408116 | Aareal Bank | Germany | -10.0 | 5 | 7.1 | 59 |
Dividend stocks outside the US with discounts of 10% and more in August 2018.
Continental is German automotive supplier with about 220,000 employees worldwide. After tremendous problems in 2008/2009 originating from a build-up of debts related to an acquisition in 2007 directly followed by the financial crisis, the company became highly profitable and a solid dividend payer:

Continental: Back on track regarding profit and dividend growth
Within the last 5 years, dividends increased by a yearly average of 16%. Yet, after years of recovery and capital gains, the stock price started moving sideways in 2015. After creating a short-lived top in early 2018, the stock price dropped nearly 40%.
Recent capital losses of nearly 40%. Source: TradingView.com
What happened? Bad news is related to Continental's customers in the automotive industry which still fight with the diesel scandal and now face a lurking tariff war initiated by the US.
Then, on 22nd of August, Continental lowered its outlook for revenues from 47 billion EUR to 46 billion EUR and also lowered its estimated operating margin one percent to above 9%. As seen in the earnings chart above, the company is far from crisis mode, and with a payout ratio of 43%, dividends are safely covered by free cash flow. Today's dividend yield of 2.9% represents a local high.
Fair value calculations based on operating cash flow, earnings and dividends range from 161 to 220 EUR for the current (revised) business year. Compared to a stock price of 154 EUR, the stock seems to be clearly undervalued.

Fair value calculations indicate Continental to be undervalued
Ingenico is a French payment processor which lost 16.7% of market capitalization in August. After some hardship from 2002 to 2005, the company managed to enter the path of long-term profit growth.

Ingenico: Solid profit growth for more than 10 years
With 2.8%, the current dividend is close to an historic high and expected to climb to 3.5% in 2020:

Ingenico: Historic, current and estimated dividend yield
Since 2015, the stock price is on decline, having lost about 55% of its market capitalization. The latest chapter of the sell-off was initiated by lowered guidance due to phasing out from Iran related to threatening US sanctions. Yet, the latest massive sell-off can hardly be explained by this alone, which led to numerous speculations that happened behind the scenes, ranging from a big investor losing patience to Amazon (NASDAQ:AMZN) entering the Japanese market to a "conference of experts" ignoring Ingenico's payment solutions.
Fair values for the current business year ending on 31st of December range from 84 to 95 EUR indicating a substantial undervaluation.


Ingenico: Clearly undervalued based on its historical valuation
After the merger with Monsanto, the company should be well-known to most investors. It is this merger which causes massive headaches for the company ranging from a worsening image to a verdict condemning Bayer to pay 289 million USD due to a cancer inflicted by glyphosate produced by Monsanto. The verdict came just days after Bayer finalized the acquisition of Monsanto, which raised fears of investors that now, after the company got German, US jurisdiction is more motivated to claim compensations than ever before.
In August, the stock lost more than 16%. Since April 2015, the company lost 45% of its market capitalization.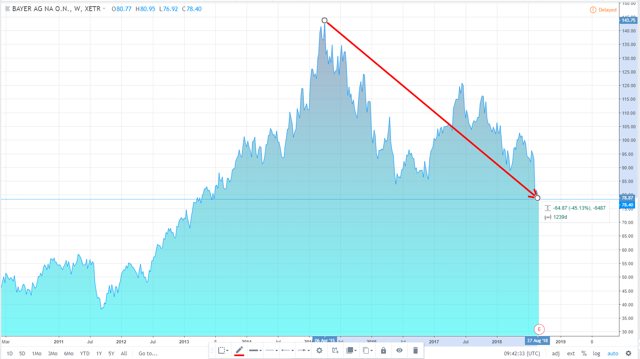 Bayer's stock price on decline. Source: TradingView.com
The declining stock price does not mirror the operational strength of the company and its results. The slight decline of earnings and cash flow in 2016 and 2017 is due to the spin-off of Covestro for 15 billion EUR to finance the acquisition of Monsanto.

Bayer: Solid growth of profits and dividends
The current dividend yield of 3.6% is higher than ever in last 8 years. Dividends increased by an average of 9% in the last 5 years and are expected to be 4.1% in 2020 based on today's stock price.

Bayer: Historic, current and estimated dividend yield
After the merger, Bayer became a new company. Hence, it makes limited sense to apply fair value calculations based on the past. Instead, a discounted cash flow valuation based on detailed assumptions about the new company's future performance should be done which is out of scope in this article.
Inditex is a highly successful fashion retailer located in Spain and increasing its earnings per share by 6.8% within the last 5 years, while dividends increased by nearly 8%.

Yet, the stock price is on retreat since it reached an all-time-high in May 2017, losing about 31%.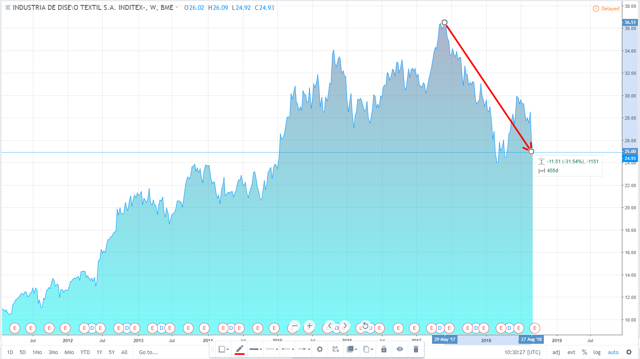 Inditex's stock price on decline. Source: TradingView.com
In most analysis, shrinking margins are mentioned as a major reason for the declining stock price. I don't fully agree. Within the last three and a half years, operating margins shrunk only slightly from 17.65% to 17.04% today, while revenues increased by 40%. Other companies in the industry like L Brands (LB) or Hennes & Mauritz (OTCPK:HNNMY) can only dream of such numbers. I also don't get the point why increased sensitivity to currency fluctuations is one reason for the latest downgrade by Morgan Stanley. Currencies always fluctuate. Sometimes in favor of the company, sometimes against. Should companies be downgraded when entering markets with foreign currency?
Anyway. When profits increase and the stock price drops, a valuation gap may open. How large is it? Based on the estimated earnings and operating cash flows of the current business year ending 31st of January 2019, it is not that large. Both fair values float around 28 EUR which is only a slight undervaluation compared to the current stock price of 25.28 EUR. On the other hand, we faced a clear overvaluation the years before.

Inditex: Overvalued from 2016 to 2018. Slightly undervalued today
The current dividend yield of 2.1% is within the yield Inditex offered investors from 2011 to 2013. Future dividend yields profit from predicted special dividends, also paid in the past, but not taken into account.

Inditex: Historic, current and estimated dividend yield
Vodafone (VOD)
The British telecommunication giant lost 10.9% in August. The stock is popular due to its high dividend with a current yield of 8.4%. Unfortunately, unreliable earnings paired with losses make this stock a modest overall investment experience.

Vodafone: High dividends, but missing long-term profit-growth
Fortunately, since the business year 2017, dividends are covered by free cash flow again. An additional 10.6 billion GBP in cash and cash equivalents compared to 3.5 billion GBP dividend payments increases the probability of further dividend payments on the current level.
Dividends are necessary for long-term investors to make any profits with this stock as the stock price itself shows no sign of long-term growth.

Vodafone: No capital gains in the long run at all
I tend to mistrust companies with such a mixed track record, and I don't consider Vodafone to be an interesting stock for growth investors. Yet, income investors might feel tempted by an amazingly high and fully covered dividend.
Essential fair values are based on operating cash flow and dividends, both indicating a clear undervalued stock with a fair value of 2.30 GBP vs. a stock price of 1.64 GBP for 31st of March 2019 when the current business year ends.

Vodafone: Nicely valued stock for income investors
Dividend rhythm of the top 5 stocks on discount
The dividend rhythm of a company partly depends on the domestic country of the company. The dividend calendar below shows in which month you need to own the stock to claim dividends based on the ex-date (bell symbol) and when dividends get paid based on the payment date (dollar symbol):

Month of ex-date and payment date for each of the top 5 stocks on discount
Conclusion
I presented a list of non-US dividend stocks with highest "discounts" in August and tried to make a first approach if the "top 5" stocks are appropriate for long-term investors regarding long-term profit growth and current valuation. What's your opinion? Are you interested in any of these stocks? Did you even take the chance to "buy the dip"?
Disclosure: I am/we are long INGIF, BTAFF. I wrote this article myself, and it expresses my own opinions. I am not receiving compensation for it (other than from Seeking Alpha). I have no business relationship with any company whose stock is mentioned in this article.
Editor's Note: This article discusses one or more securities that do not trade on a major U.S. exchange. Please be aware of the risks associated with these stocks.