Investment Thesis
Based on the rise in interest rates combined with the return of market volatility during the first half of 2018, REITs had continued to be under an immense amount of pressure. However, two REITs have stood out that have proven to withstand any economic backdrop, and deserve a look for a spot in your DGI portfolio. The two REITs we would like to highlight today is Realty Income (O) and STORE Capital (STOR), which are two major players in the net-lease space. Both stocks have compelling stories, with STOR being the younger counterpart to the seasoned veteran in big O. Based on continued momentum within the retail industry, contrary to popular belief that the sector was struggling, we believe these two REITs are the best selections within the net-lease space. Both companies are incredibly well run and contain high-quality portfolios with a diverse tenant group immune to the threat of e-commerce. Though both stocks have recovered from their lows back in February, we are confident these two will continue to grow earnings and dividends, but only one will earn the top pick.
Let us first start by breaking down each company individually for you. After that, we could look more into how they stack up and who has the upper hand moving forward.
Company Snapshot
STORE Capital Corporation
STORE Capital (STOR) is one of the fastest growing net-lease REITs, having gone public in November 2014 after being founded in 2011. The company targets single tenant operational real estate, or STORE Properties as the company refers to. It is a middle market niche that has been their strategy since the beginning. As of their most recently filed 10-Q, ending 6/30/2018, the company has a real estate portfolio totaling $6.7 billion representing 2,084 property locations leased to 412 customers. Of the $6.7 billion portfolio, 95% is related to commercial real estate properties subject to long-term leases, and the remaining 5% relates to mortgage loans and direct financial receivables.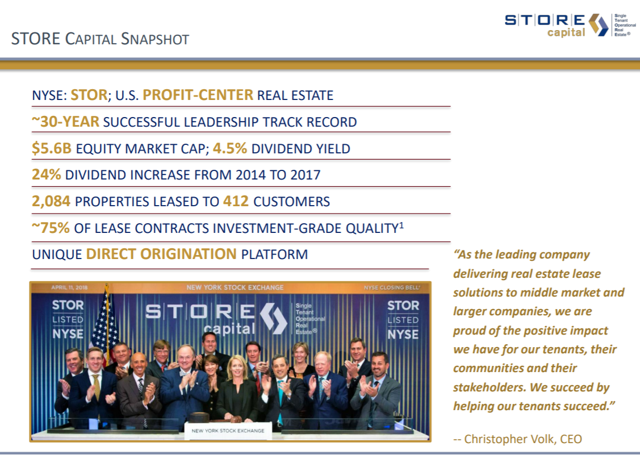 Source: Q2 Investor Presentation
As we mentioned above, what separates STOR from other net-lease REITs is the fact they focus much of their attention on middle market companies who have limited sources to raise capital at favorable terms. As noted in the company's Q2 investor presentation, the median tenant revenue is just $49M, with 72% of STORs tenants having revenues exceeding $50M. Do not be misled by the middle-market strategy, as this does result in some higher risk, know that 75% of the company's leased contracts are investment grade quality.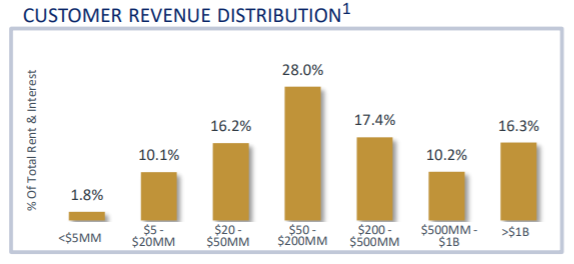 Source: Source: Q2 Investor Presentation
By focusing primarily in this specific niche of middle market tenants, the company has the opportunity to gain higher lease rates, longer term leases, and greatly diversify their portfolio. However, the flip side to all this is more risk. Investors must rely on the company's acquisition team to properly vet each possible customer to ensure no issues arise down the road. This platform is advantageous to tenants as it allows them this option as a favorable alternative to commercial mortgage debt. Tenants would be able to lower their cost of capital by not having their capital tied up in real estate, which is important for middle market companies to grow.

Realty Income Corporation
Realty Income Corporation, also known as "The Monthly Dividend Company", is one of the most widely known REITs in the industry. Realty Income was founded in 1969 and began trading on the NYSE in 1994. The Company is a member of the S&P 500 as well as the S&P High Yield Dividend Aristocrats index for having increased dividends every year for over 20 years. As of June 30, 2018 (Q2-18), the company's portfolio consisted of 5,483 properties located in 49 states and Puerto Rico, leased to 257 tenants. Realty Income has an average remaining lease term spanning 9.3 years. Also during the most recent quarter, the portfolio maintained an occupancy rate of 98.7%, which, if the level remained through the end of the year, would be the highest full year occupancy level since 2006.

Source: Realty Income Investor Relations
Diverse Group of Tenants
STORE Capital has built a defensive portfolio built to last during any economic backdrop. Management has done a fine job diversifying the portfolio with no single tenants accounting for more than 3.3% of base rent revenues. The company is also not heavily invested in retail that is susceptible to the threat of e-commerce, namely Amazon (AMZN), by investing primarily within the service industry, which is the company's primary focus industry. Here is a look at the breakdown of tenants within the different industry groups:
Service: 66%
Retail: 18%
Manufacturing: 16%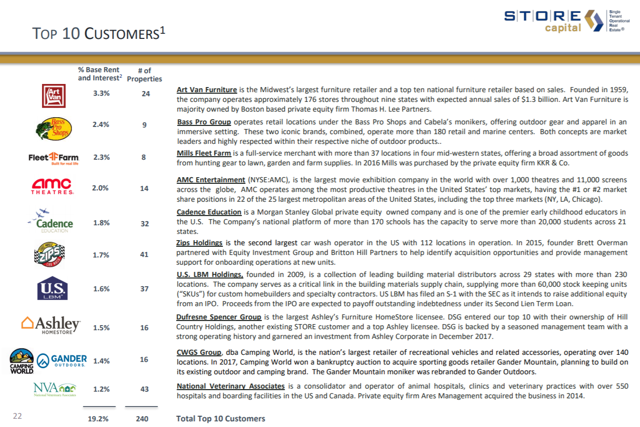 Source: Q2 Investor Presentation
In comparison, Realty Income has a diverse set of tenants of their own, with Walgreens making up 6.6% of base rent in Q2, which is the largest tenant in the portfolio. Many of the top tenants on their list are more well-known and established names. The top 20 tenants, seen below, make up 54% of annualized rental revenue. Of the 20 tenants, 12 are investment grade rated, meaning they have credit ratings of Baa3/BBB- or higher from one of the three major rating agencies (Moody's/S&P/Fitch). The breakdown of tenants within different industry groups is as follows:
Retail: 80.9%
Industrial: 12.7%
Office: 4.3%
Agriculture: 2.1%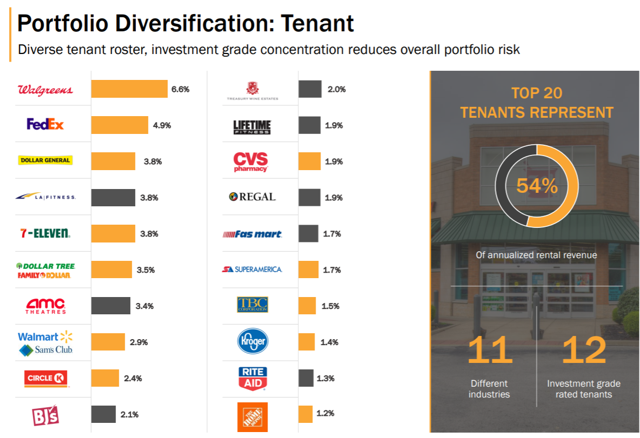 Source: Realty Income Q2 Investor Presentation
As much as news outlets make it out to be, believe it or not, Amazon (AMZN) is actually not taking over the entire retail world. According to the US Census Bureau, e-commerce sales through 2017 accounted for roughly 9% of Total Retail Sales for the year. Is e-commerce gaining traction? Absolutely, and it is the way of the future, but consumers still want to touch and feel certain items, which is a focus area both of these management teams look to invest in. Through the end of 2017 and at the beginning of 2018, much of the retail industry had a black cloud over them, with older/big-box retailers going out of business and the outlook on the industry as a whole was down. However, retail has bounced back, or continued their path of growth as we see it, and as such, both of these REITs have been on a steady incline since the lows in the first quarter of 2018.
One area to see the strength of a company's portfolio is to look at their occupancy levels. Both companies have maintained extremely strong occupancy levels during the "slow down" in retail, which is a testament to the strength of their tenants and portfolio as a whole. Here is a look at both company's occupancy levels through Q2:

Source: Q2 Investor Presentation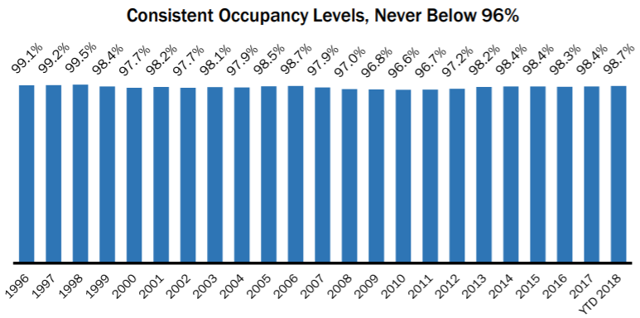 Source: Realty Income Q2 Investor Presentation
When thinking of the net-lease REIT sector, the gold standard has always been Realty Income (O). They have been the leader in the net-lease sector for a number of years now, but STOR is an up and coming star, much like O was in their early years. Some may look at STOR's recent growth metrics the past two years and think management may be managing on a short-term basis, but it is just the opposite. As you can see in the chart below, the lease term for STOR is the longest among numerous large public net-lease REITs, and their average lease escalators of 1.8% is higher than that of O, which is 1.0%.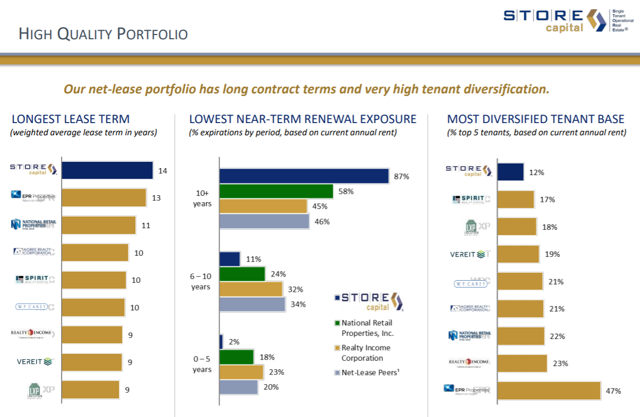 Source: Q2 Investor Presentation
Tale of the Tape: Net-Lease Style
Next, let's take a look more into the numbers and how these two net-lease REITs stack up against each other and their peers. Here is a look based on market cap: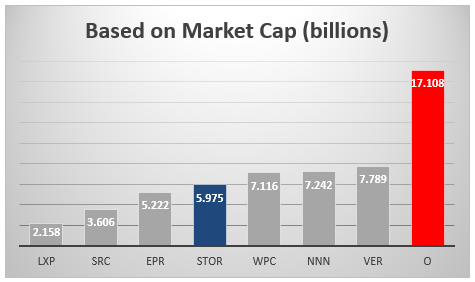 Chart created by author
Next, let's take a look at how the companies individual stock has performed year-to-date: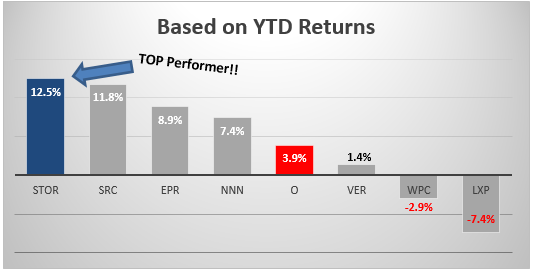 Chart created by author
As you can see in the chart above, the REITs, after being down for all of the first quarter of the year, have rebounded nicely. Realty income was down over 16% in early February and STORE Capital was down over 13% at the same point. Realty income has reached back into positive territory for the year, but STOR has shown strong resilience, increasing 25% off their year-to-date lows. Who ever said REITs are bought solely for their dividend??
STORE Capital has been one of the fastest growing REITs in the industry since going public in November 2014. Through the company's first two years being public, the company grew FFO by 34.5% in 2016 and 23.0% in 2017. Through the first half of the year, STOR has grown FFO by 21%, thus far. During the same period, Realty Income grew FFO by 12.7% and 5.1%, respectively. FFO growth has slowed each of the last five years for O. Being that the company is the gold standard in the net-lease sector, Realty Income has always commanded a premium, but due to the sizable growth from STOR backed by the confidence from the world's most influential investor, Warren Buffett (and his team), this newcomer has begun to command a premium of their own. Let's take a look at where these two REITs stack up with their peers in terms of Price to FFO: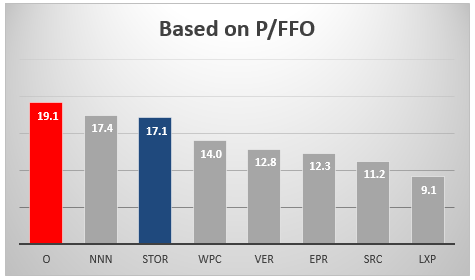 Source: FAST Graphs (chart created by author)
Both REITs are priced about where I would expect in terms of placement on the list. However, both companies appear to be overvalued based on their recent five-year history, or three year history for STOR. Over the last five years, O has traded at an average P/FFO of 17.0x and STOR has traded at an average of 15.5x. Another metric I like to look at when determining whether a REIT is over or undervalued is their dividend yield. Let's take a look at how the two REITs shape up when it comes to dividend yield: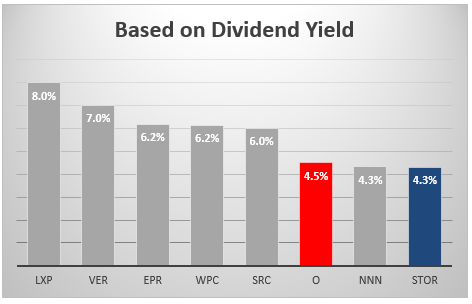 Chart created by author using Yahoo Finance
As you can see, both of our REITs are at the bottom of the chart, but at the same time, I would say the bottom three yields are also the safest dividends of the bunch. However, when compared to recent five-year history (three years for STOR), both REITs have yields well below recent history averages, which is usually a telling sign these REITs are overvalued. Over the last five years, Realty Income has sported an average dividend yield of 5.2%, whereas STOR Capital has sported an average dividend yield of 4.8%.
Based on the couple of valuation metrics we looked at for these two REITs, the overvalued lights appear to be flashing rather bright, which would lead me to believe a better opportunity may be coming. How soon you may ask, I wish I knew, but if I were a betting man, I would say later this month when the Fed announces their next decision on whether or not they will increase rates. The two-increase talk has softened over the last couple of weeks, but I am still under the belief they will increase this month and again in December. If this happens, and if history is any indication, REITs will take a hit and provide you an opportunity to jump in one of these outstanding REITs.
Before we go, let us leave you with each company's FAST Graph chart: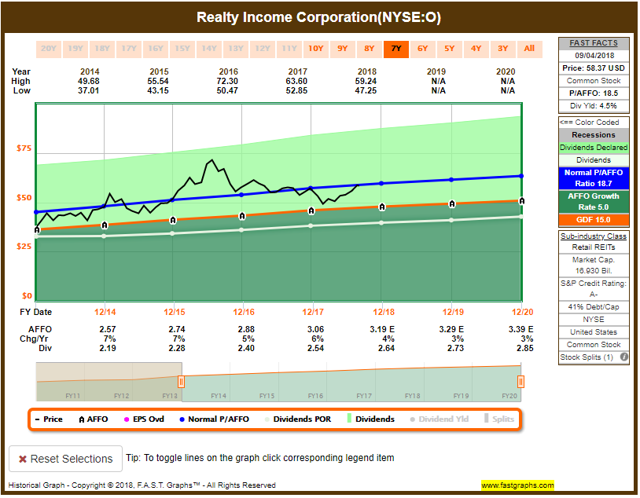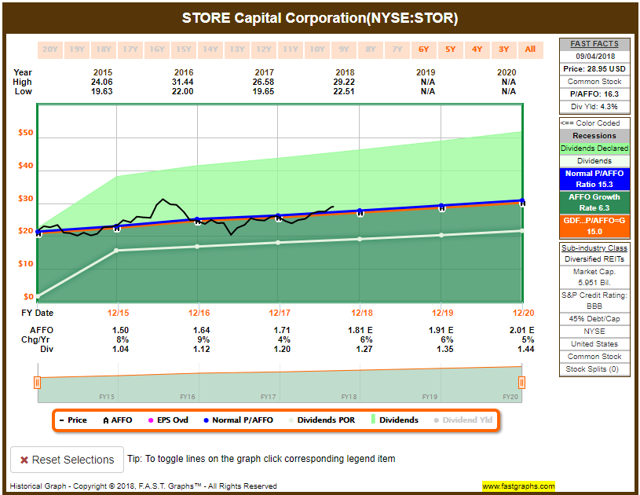 Source: FAST Graphs
Investor Takeaway
As a takeaway for you, today we were able to compare to of the strongest net-lease REITs in the sector. One has been around since the 1969, Realty Income, the other since 2011, STORE Capital. Both companies sport high quality management teams with similar focuses, yet different strategies. Both management teams side towards investment-grade tenants, with 75% of STORE Capitals lease contracts being investment grade, and 51% for Realty Income. STORE Capital tends to focus on investment grade tenants, but much smaller tenants than Realty Income, as STORE is the industry leader for middle market tenants, with median tenant revenue being $49 million. This is evident when you look at the top companies within each portfolio.
Overall, you cannot go wrong with either company. Both companies sport a defensive portfolio molded to perform under any economic backdrop. Currently the economy is continuing to roar ahead, but in the case of a downturn, the companies within the portfolio are still needed. In the unfortunate event of a downturn, we feel more confident in Realty Income's portfolio. However, the growth seen from STORE Capital cannot go unnoticed. The company continues to make quality acquisitions, grow FFO and AFFO, all while increasing their dividend each year now makes for a compelling long-term play, which is why we are siding with STORE Capital at this time. Also, it doesn't hurt that Warren Buffett and his team invested last June and own 9.8% of total shares outstanding. Again, we would look for a better entry point to come later this month after the looming Fed decision. Best of luck everyone!
Note: I hope you all enjoyed the article and found it informative. If you do not currently follow me and would like to be notified of future articles, please hit the "Follow" button above. As always, I look forward to reading your comments below and feel free to leave any feedback. Happy Investing!
Disclosure: I/we have no positions in any stocks mentioned, and no plans to initiate any positions within the next 72 hours.
I wrote this article myself, and it expresses my own opinions. I am not receiving compensation for it (other than from Seeking Alpha). I have no business relationship with any company whose stock is mentioned in this article.