As the search for a bottom continues for gold, the majority of gold's most salient technical factors still weigh against a price reversal in the immediate term. However, there is at least one widely watched, significant indicator which provides a hope for the gold bulls at some in the coming weeks. We'll review this factor, along with the other evidence, in today's commentary.
The price of gold was stable on Wednesday, thanks to a pullback in the U.S. dollar index. December gold futures were 0.11% higher for the day while the spot gold price did considerably better, gaining 0.5% and closing at $1,196. Although gold is nearly 2% above its year-to-date low of $1,184, it has lost 1.5 percent since Aug. 28 as emerging markets volatility and U.S. dollar strength weighs on the yellow metal.
The U.S. dollar index (DXY) stopped short of closing higher again above its 15-day moving average on Wednesday. A higher close in the DXY on Sep. 5 would have technically confirmed a renewed immediate-term breakout signal for the dollar. Instead, the dollar index fell back under its 15-day MA and has essentially trended sideways in recent weeks. However, DXY remains above its widely watched 50-day moving average as can be seen in the following graph. So while its immediate-term (1-4 week) trend remains neutral based on the 15-day MA, its dominant interim trend is still bullish. As long as the dollar index remains above the 50-day MA on a weekly closing basis, the gold price will continue to face stiff headwinds from its currency component.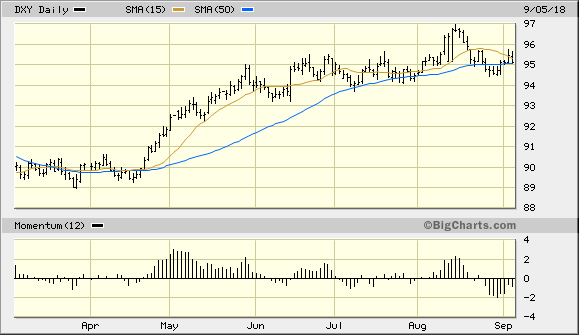 Source: BigCharts
It's also worth mentioning that the dollar/gold ratio is still in a rising trend. This is a relative strength comparison of the dollar's strength versus gold. A rising trend in this ratio means that investors should favor holding dollars over gold. As mentioned in past commentaries, one of the best ways of gauging the dominant interim trend for this ratio is by applying the 30-day moving average to it. As you can see here, the dollar/gold ratio is still above its rising 30-day MA. Until this trend line is decisively broken on a weekly basis, investors should remain defensive on gold and maintain a heavy cash position.
Source: WSJ
Along with the continued strength in the U.S. dollar, weighing on the gold price lately has been a huge outflow of gold from the leading gold exchange-traded funds. The world's largest gold ETF, the SPDR Gold Shares gold ETF (GLD), is still seeing gold liquidations. According to Sharps Pixley, GLD has seen gold outflows amounting to 116 tons of gold, or 13.3%. For the year so far, GLD has experienced an 81 ton net outflow of the yellow metal. Lawrie Williams of Sharps Pixley points out that this is equivalent to about 2.5% of newly mined global production.
The news for gold isn't necessarily all bad, however. Gold's cousin silver has also had a bad year so far, losing 16 percent to date, which is twice the amount of gold's yearly loss. This means that silver is now at its least expensive compared to gold in 10 years. Shown below is a graph of the gold/silver ratio, which illustrates this relationship. Historically, a spike in the gold/silver ratio to current levels has served as a preliminary to a silver price turnaround as fund managers and investors are often attracted to the relative value of cheap silver. This in turn has often served as a precursor for a gold rally as silver typically leads gold after a major low has been established.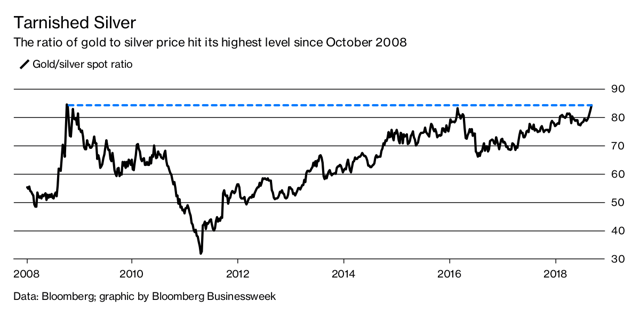 Source: Bloomberg
It's important to remember, though, that even when the gold/silver ratio has hit a similar level in the past it can sometimes take a few weeks before the gold price actually bottoms and commences a rally. Thus, the gold/silver ratio shouldn't be considered as a precision timing indicator. Rather, it should be taken as a "heads-up" warning that gold's downward trend could strongly reverse at some point in the coming weeks. The bottom line is that until the gold price actually confirms a bottom has been established then investors should avoid the temptation to start buying gold at these levels. As long as the dollar remains strong, the gold price can be pushed lower – especially since volatility in emerging markets currencies and equity markets is still a factor supporting the dollar.
Turning our attention to the iShares Gold Trust (IAU), the ETF remains in a downward trend as defined by its relationship to its 15-day moving average. As shown below, IAU hasn't been able to close two days higher above this immediate-term trend line without completely erasing its progress (as it did last week). Thus, the gold ETF hasn't yet confirmed an immediate-term (1-4 week) bottom.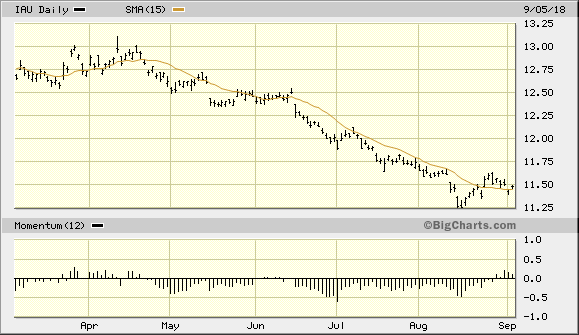 Source: BigCharts
What's more, the 15-day MA is still sloping downward and hasn't managed to reverse its decline. This reflects a measure of downside momentum in the market which hasn't completely dissipated, and this negative force can still potentially weigh on the IAU price in the days ahead. To reiterate my previous statement, until IAU closes above the $11.60 level (its nearest pivotal high) I consider the gold ETF's downward trend to still be intact. A close above $11.60 this week, however, would change this by giving the gold bulls an immediate technical advantage and possibly sparking a short-covering rally.
While a gold short-covering rally could easily ignite at any time in the coming days, I still recommend a defensive posture for now. Before gold can rally on a sustained basis, the U.S. dollar index (DXY) should show additional deterioration by reversing its latest rally and closing under its 50-day moving average. To reiterate my previous statement, the iShares Gold Trust (IAU) must also close above the $11.60 level to complete an immediate-term bottom signal per the rules of my trading discipline before it can be safely purchased. For now I recommend that investors remain in cash.
Disclosure: I/we have no positions in any stocks mentioned, but may initiate a long position in IAU over the next 72 hours.
I wrote this article myself, and it expresses my own opinions. I am not receiving compensation for it (other than from Seeking Alpha). I have no business relationship with any company whose stock is mentioned in this article.