Furniture retailer Restoration Hardware (RH) has been one of the market's biggest winners since early 2017, rising more than 300% during that stretch against a 30% gain for the S&P 500. But, that rally hit a major speed bump recently as second quarter revenue numbers disappointed investors despite a huge earnings beat.
In the big picture, the Q2 revenue miss isn't a big deal. But RH stock had come up very, very fast, and needed perfection in order to maintain its sky-high valuation. Perfection didn't happen in Q2, and RH stock is retreating to a much more sustainable level. We think this correction will persist for a little while longer, until RH stock finds a technical and fundamental bottom around $110 to $120, at which point we expect this sell-off to reverse and RH stock to trend higher in a multi-year window.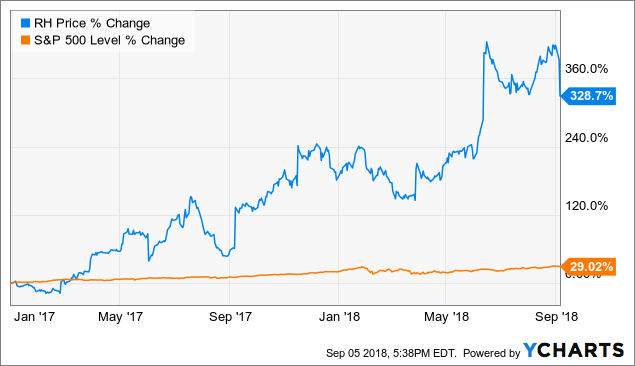 In order to understand where RH stock is going next, we need to first understand how RH stock rallied more than 300% over the past 20 months.
The big rally in RH stock since early 2017 has been fueled by a huge operational turnaround. Namely, the company transitioned its business model from promotional-based to membership-based in 2016, a move that required significant investment but also was supposed to increase margins and bolster customer loyalty in the long run. In addition to that headline shift, Restoration Hardware also underwent other changes in 2016, including reworking the supply chain network, clearing large amounts of inventory, closing distribution centers, redesigning outlet centers, re-conceptualizing home delivery, and launching new top-line growth drivers like RH Modern, RH Teen, RH Hospitality, and a refreshed Source Book.
The sum of these investments weighed on growth and margins in 2016, and profits were cut to next to nothing. But those investments phased out in 2017, and what took their place was big ROI. Revenue growth came back into the picture. Gross and operating margins raced higher. Earnings soared.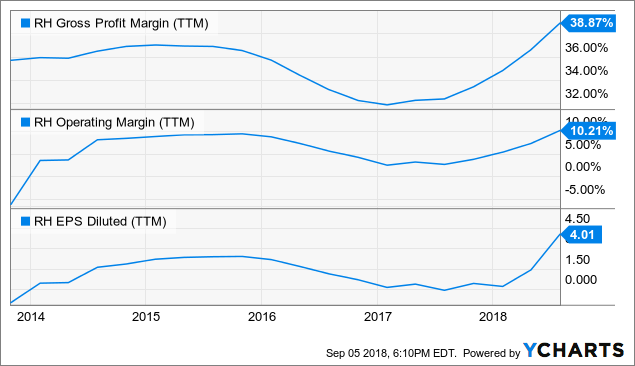 That narrative continues with vigor today, particularly on the margin side of things. In Q2, RH reported comparable sales growth of 5% vs. a 7% lap last year, so comparable sales are up 12% on a two-year stack basis (vs. 10% in Q1). Adjusted gross margins rose 800 basis points to 42.1% thanks to strong full price selling, lower outlet revenues, and streamlined distribution (all the result of 2016 investments). Adjusted operating margins nearly doubled year-over-year to a record 12.3%, driven by robust gross margin expansion and healthy expense leverage. Strong top-line growth plus huge margin expansion led to adjusted earnings more than tripling year-over-year to $2.05 per share.
Overall, it was a great quarter that underscored this company's secular transition from promotional-based retail with lots of low quality sales to membership-based luxury retail with high-quality sales only. Some investors aren't happy with this. Revenues missed the mark in Q2, and the revenue guide was cut as management is emphasizing earnings growth over revenue growth. These weaker-than-expected revenue numbers are why RH stock dropped so much after the Q2 print.
But, in the big picture, management is doing the right thing here. The company has found great success in shifting to the high-end furniture retail market, developing a core and loyal base in that niche, and getting that loyal base to keep coming back and spending more (95% of the core business is driven by members). Sticking to that niche and refusing to sacrifice margins for low-quality sales will inevitably weigh on revenue growth both near and long term. But it will also preserve margins and maximize profits, the sum of which should drive RH stock higher in a multi-year window.
Because of its pivot into the luxury market, and management's commitment to upholding margins and high-quality brand image, we think RH stock is positioned as a multi-year winner in this space. That being said, we do not think that $130 is the price you want to pay for RH stock at the current moment. Instead, we think a more appropriate price for RH stock is the $110 to $120 range.
We feel RH stock is fundamentally supported at those levels. Over the next several years, revenue growth is expected to trend between 8% and 12% while operating margins are expected to expand to the low to mid-teens range. We think 8% revenue growth feels slightly aggressive considering management's focus on earnings growth over revenue growth, but also feel that this focus should drive operating margins towards the high-end of that target (15% or higher). All together, we are modeling for 5%-8% revenue growth and 15%-plus margins over the next five years, leading us to believe that RH can do about $11 in earnings per share in five years, roughly in-line with the current trend of consensus estimates for the next three years.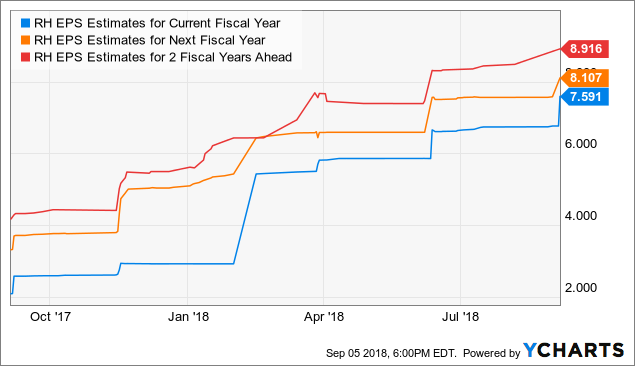 Applying a market-average 16X forward multiple to $11 leads us to a four-year forward price target for RH stock of $176. Discounted back by 10% per year, that equates to a year-end price target of ~$130. Considering we are only halfway through the year, and that we like to buy at discounts to fair value, we think a good fundamentally supported entry for RH stock is in the $110 to $120 range.
We also feel that technicals provide a nice support at those levels. Ever since the big rally in RH stock began in early 2017, the stock has had its fair share of speed bumps. Each time, those speed bumps resulted in a big sell-off which bottomed out around the 200-day moving average. The same thing could happen this time around, and that implies a bottom around $110.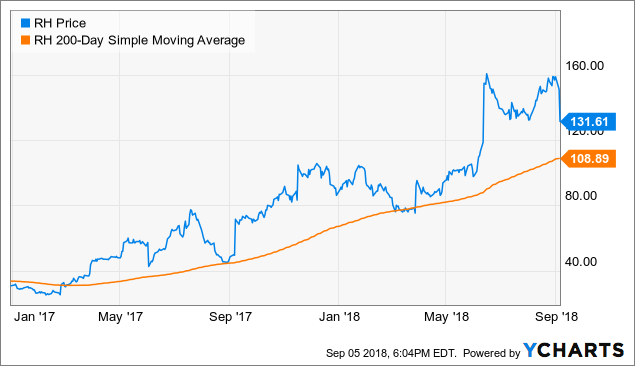 Overall, we are bullish on Restoration Hardware's long-term growth prospects as a membership-based luxury retailer that dominates the high-end niche of the furniture retail market. But, we think that RH stock is slightly overpriced here and now, and believe that this sell-off could last until $110. At that point, however, we would be buyers of RH stock considering its healthy upside potential in a multi-year window.
Disclosure: I/we have no positions in any stocks mentioned, but may initiate a long position in RH over the next 72 hours. I wrote this article myself, and it expresses my own opinions. I am not receiving compensation for it (other than from Seeking Alpha). I have no business relationship with any company whose stock is mentioned in this article.