This article first appeared on Trend Investing on August 2, therefore all data is as of that date.
What is 5G?
5G networks is the next (fifth) generation of mobile (wireless) internet connectivity, offering faster speeds and more reliable connections on smartphones and other devices than ever before. The networks will help power a huge rise in Internet of Things (IoT) technology, providing the infrastructure needed to carry huge amounts of data, allowing for a smarter and more connected world. 5G networks operate on a radio signal under a wireless radio access network (WRAN). For example, Gartner predicts that 20.8 billion devices will be connected to the Internet by 2020, compared to 6.4 billion today.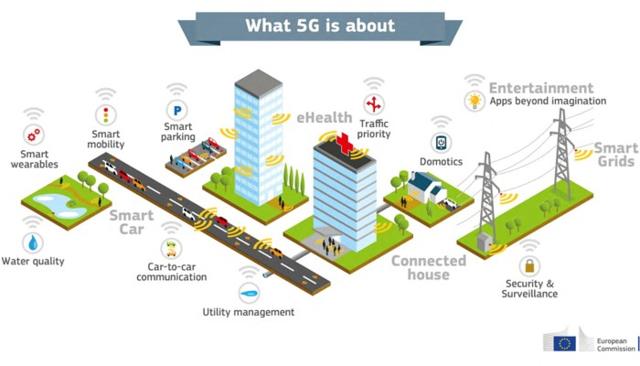 With development well underway, 5G networks are expected to launch across the world by 2020, working alongside existing 4G technology to provide speedier connections that stay online no matter where you are.
Many people may have noticed or heard of 5G networks, but what is it, after all it's only one number higher than 4G. So how much faster is it? Eventually at fully functioning deployment speeds you could download four high-definition 4K movies in a second. Just like flying cars, this is a very near term reality, and internet speeds are about to fly.
Smart cities will demand an advanced digital service infrastructure that can deliver enormous data capacity to service governments, residents and businesses, which can be accessed from anywhere at any time. Expect to see 5G helping to run airports, highways, and railways more efficiently.
5G towers networks will provide an umbrella of internet coverage over our future smart cities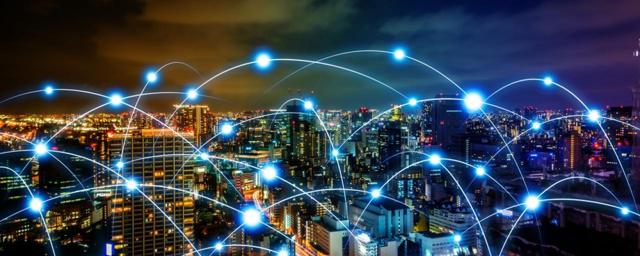 Gizmodo summarizes 5G very well stating:
5G will increase download speeds up to 10 gigabits per second. That means a full HD movie can be downloaded in a matter of seconds. It also will reduce latency significantly (giving people faster load times). In short, it will give wireless broadband the capacity it needs to power thousands of connected devices that will reach our homes and workplaces.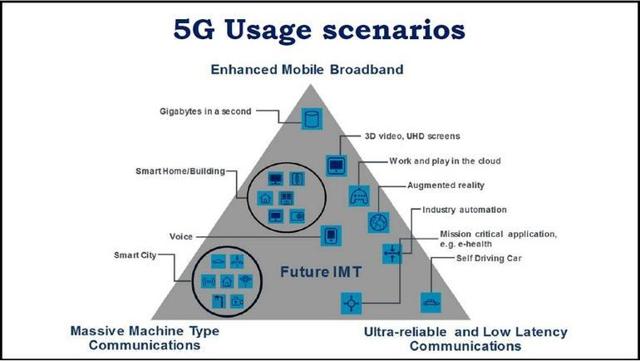 Why did 5G not come earlier?
There are several reasons why 5G did not come earlier. First the technology has evolved which takes time. Also importantly the need was not really there due to the smaller number of connected devices, and hence data transmitted.
Network connectivity relies on an end-to-end IP addressing scheme. Ipv4 uses a 32-bit binary scheme offering around 5 billion IP addresses. That was OK for 4G. As technology advanced Ipv6 was developed. It uses a 128 bit addressing scheme containing over 340,000,000,000,000,000,000,000,000,000,000,000,000 addresses. That should be enough to cover what will be needed with the coming of 5G and the IoT.
When and where is 5G coming?
Back in January, AT&T (T) announced its plans to be the first major network to roll out 5G service to 12 U.S. population centers by the end of the year (2018) - starting with the two in Texas (Dallas and Waco) and Atlanta. AT&T also revealed that next up are Charlotte and Raleigh in North Carolina and Oklahoma.
In order for users to take full advantage of 5G, AT&T also has plans offering devices built specifically for the network. Melissa Arnoldi, President of AT&T technology and operations, said in a statement:
5G will change the way we live, work, and enjoy entertainment. With faster speeds and ultra-low latency, 5G will ultimately deliver and enhance experiences like virtual reality, future driverless cars, immersive 4K video, and more.
The first commercial 5G roll-outs begin this year and next in the United States, South Korea and Japan.
Why is 5G better?
So you may ask, how will this affect me? Big deal, now I can download a movie 10 times faster. It's more than that it will be almost like stepping into a Sci Fi movie, where we now can jump in our electric car and tell the on-board 5G enabled device your destination, and along the way get advised on local attractions, restaurants and bars (yes advertising). You could even make video calls on the way, order the meal before you arrive, or let them know you will be late. 5G will work under an umbrella so that no matter where you are in a closed circuit area you are always online.
5G will be 100x faster than 4G LTE or 10x faster than advanced (broadband) 4G LTE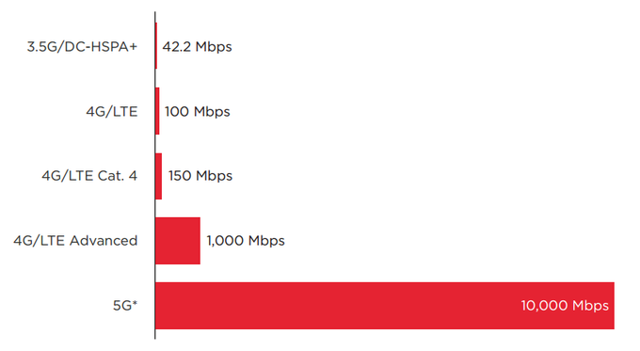 Home service Wifi will become obsolete as now you have speeds faster and more, thus creating an "always online" scenario. This also will mean no more waiting for the installer to arrive as no cables to the home or office are needed - all that's required is your enabled 5G. No more trenches being excavated, no move overhanging network cables, no need for network switches and routers and other expensive infrastructure. All that will be needed is a satellite, fiber, or a 5G tower connecting 5G "umbrellas" across the network .Optical fibers are used to transmit light between the two ends of the fiber, where they permit higher bandwidths (data rates) and longer segment distances than electrical cables (up to 40km). 5G has the additional advantage of not being subject to electrical interference. You can send signals at more than 10 GB per second. Fiber will most likely connect cities to a massive network. This could even reduce the need for expensive satellites.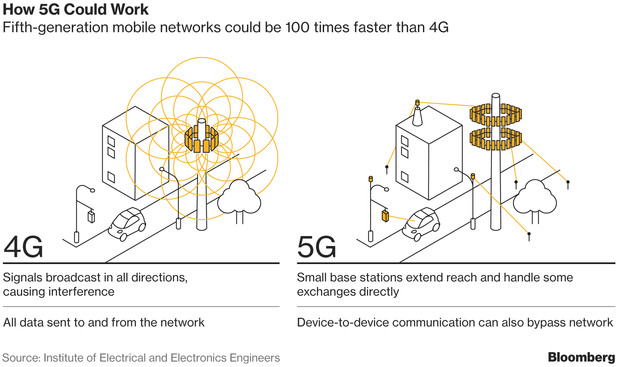 5G will unleash a new era of the Internet of Things (IoT). Smart grids, smart machines, connected robots, and telemedicine, to name a few. Automation is increasing in our daily lives and the need for greater communication speeds is essential for future economic growth. 5G will accelerate this. For example 5G will help balance out power consumption and be invaluable in many industries. Smart manufacturing in smart 5G enabled factories is one obvious example.
Long-term beneficiaries of 5G will be the deployment mobile telcos (in the USA - AT&T, Verizon, T-Mobile/Sprint), and the ISPs that will operate under them. Despite the initial capex telco providers should come to embrace 5G due to its lower energy consumption and maintenance costs. The traditional large desktop PC is becoming obsolete. 5G will accelerate this, but in its place will rise a new generation of "mobile" devices and those that will benefit from the manufacturing of them. Remember we will be all mobile soon as 5G will offer quality connectivity almost everywhere.
Hardware changes
We will see scaled down laptops with 5G enabled sim/chip sets (can transmit and receive), and we will need a huge amount of these chips. Portable streaming smart TVs, next-generation cell phones, portable network modems, and the need for massive storage and data centers. Also the next generation of solid state drives to support those centers.
Autonomous and semi-autonomous Electric vehicles (EVs) and all related items including batteries (and the metals needed).
Software and Apps changes
Medical and monitoring equipment that can be connected, 5G enabled prosthetics, and a new array of apps to serve us on the move - Outside, at home, in the car, and at the office. A home app will run the house and all your devices probably from your 5G connected smartphone or phablet (a tablet with a sim card).
You could almost think of anything that runs on an electrical current can be 5G enabled. It will become more apparent what the new generation of developments will be once we see 5G up and running.
The 5G future could have us living in cities where a closed circuit 5G network would have us driving (or not driving) autonomous cars.....Or even waiting for the driverless bus where we scan our 5G enabled device that automatically withdraws from our account. How we shop also may change with the development of interactive 3D smart apps.
5G will enhance gaming, virtual reality, and augmented reality. High-speed data flow will further open up the world of online entertainment (video streaming etc). All of this will further boost online software (mostly apps) and hardware (VR headsets etc).
Some downsides of 5G
5G telcos are looking at large short-term increases in capex to roll out the 5G network. Many countries have huge investments in network infrastructure and are connecting fiber cabling to the curb, home and business. Will these countries try to withhold the technology and fall behind the rest of the world on the up-take of 5G? Will international trading partners be discouraged to deal with these countries? Also employment in the old infrastructure domain will be greatly reduced. On the positive side, 5G wlll open up greater employment opportunities in software and app development.
5G needs to take advantage of higher radio frequencies, which cover a smaller geographic footprint due to the limited propagation of the radio signals, yet can support much higher data rates. This means 5G networks will require a more dense network of antennas than previously required by 4G. Cities will need to determine how best to accommodate large numbers of 5G transmitters. One idea is to use existing street light poles.
5G transmitters could sit on our street lamp poles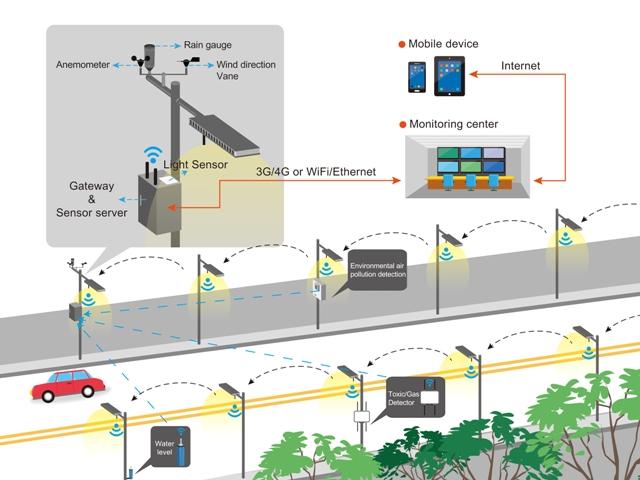 5G forecasts
Global 5G smartphone shipments to grow from 2 million units in 2019 to an impressive 1.5 billion in 2025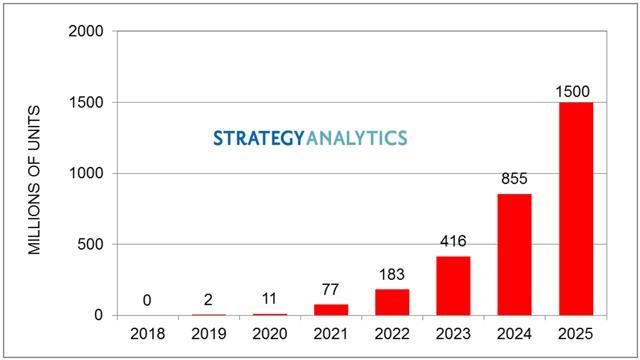 Global 5G network equipment market forecast to grow at a CAGR of 59.3% from 2019 to 2025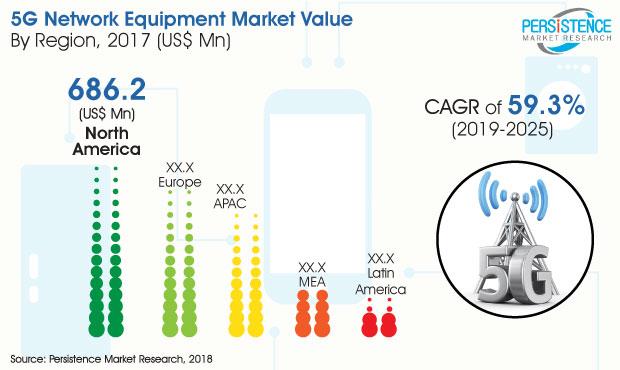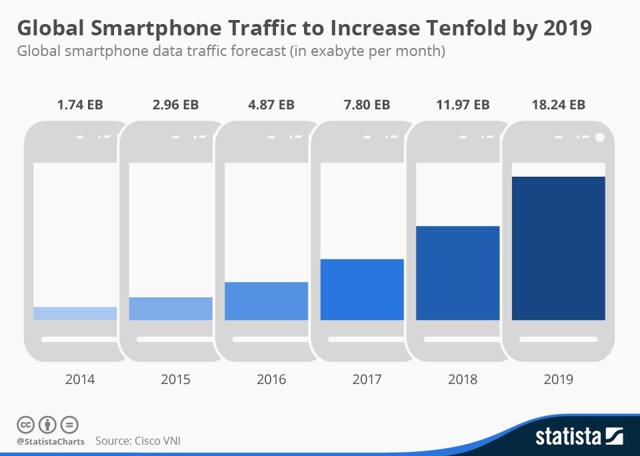 Source: Cisco & Statista
A look at the major 5G players and other companies likely to benefit
Mobile telecom companies
AT&T (T)
AT&T is one of the world's largest communications companies. They provide cable, satellite TV, wireless and broadband services. More importantly AT&T has over 141 million mobile subscribers and over 45 million video subscribers.
AT&T has already started their 5G rollout in the US. AT&T (USA) announced its plans to be the first major network to roll out 5G service to 12 U.S. population centers by the end of the year (2018). AT&T has already been rolling out its so-called "5G Evolution" networks, which are not actually 5G. Instead, these networks use technology from existing LTE Advanced networks. Still, they do offer significantly faster data speeds than AT&T's existing 4G networks. So far, 23 major markets have seen the rollout of "5G Evolution," including the likes of Atlanta, New York, Chicago, Los Angeles, San Francisco, and more.
Finally the merger with entertainment giant Time Warner will add content to AT&T's offerings. Time Warner's entertainment assets include TBS, TNT, HBO and the Warner Brothers movie studio. 5G is emerging as the perfect platform to deliver all of AT&Ts communications and entertainment services.
Verizon Communications (VZ)
Verizon Communications serves more than 150 million wireless customers. The company's wireless network covers 98% of the United States. Verizon added 2.1 million net phones to its customer base in 2017.
Kiplinger states: "The company expects to triple the size of its media business over the next two years by leveraging the digital content and advertising assets it acquired with the purchases of AOL and Yahoo. Adding those to the mix expands Verizon's advertising audiences to 1.3 billion potential viewers. In advance of rolling out 5G, Verizon strengthened its fiber assets last year by acquiring Straight Path and XO Communications. The company successfully trialed 5G in 11 residential markets in 2017 and plans to commercially launch 5G in three to five markets in 2018. Verizon estimates its initial 5G market opportunity at 30 million American households."
The combined T-Mobile/Sprint company is estimated to have more than 126 million mobile customers and ranks as the number three U.S. mobile carrier. T Mobile recently partnered with Nokia (NOK) in a $3.5 billion deal to be supplied with 5G network equipment. T-Mobile plans to start deploying mobile 5G in 2019 with 30 cities named so far, starting with New York, L.A., Dallas, and Las Vegas. T-Mobile plans to cover two thirds of the US by 2021, and 90% by 2024.
Vodafone Group [LSE:VOD] (VOD)
Vodafone Group is a global mobile telecom carrier with 522.8 million mobile customers and 18.8 million fixed broadband customers worldwide (second only to China Mobile).
Vodafone announced that seven cities will become trial areas for Vodafone 5G later this year. The cities in question are Birmingham, Bristol, Cardiff, Glasgow, Liverpool, London and Manchester, and the trials are set to begin between October and December 2018.
Kiplinger states: "Vodafone has partnered with Huawei, Ericsson, Nokia, Qualcomm and Intel (INTC) to research 5G technologies and prepare its networks to transition to the 5G standard. The company recently tested the world's first 4G-to-5G live data call and has additional 5G trials planned across Europe in 2018."
Others
China Mobile (CHL), Singapore Telecom, Nippon Telegraph & Telecom (OTCPK:NTTYY), and Softbank (OTC:SFBTF) OTCPK:SFTBY).
Network equipment supplier (E.g: 5G transmitters)
Huawei
Phys.Org state: The "low-cost Chinese player Huawei has been the biggest winner so far. It has spent heavily on research and development and managed to undermine the position of its rivals with less expensive products. Huawei chief executive Ken Hu said at the congress that his company had signed memorandums of understanding for 5G equipment with 45 operators in Asia, Europe and North America."
Nokia (NOK)
Nokia is well ahead in 5G and provides industry leadership to help operators launch commercial 5G offers.
Just this week Reuters announced: "T-Mobile US agree $3.5 billion deal, world's first big 5G award. T-Mobile US named Nokia to supply it with $3.5 billion in next-generation 5G network gear. Nokia will supply T-Mobile with its AirScale radio access platform along with cloud-connected hardware, software and acceleration services."
Fierce Wireless report that as of March 2018 Nokia has announced 50 5G trials.
Ericsson (ERIC)
Phys.Org quote Ericsson's chief technology officer, Erik Ekudden, at the Mobile World Congress in Barcelona.
"5G is definitely good for us but also for other industries and society." He predicted the technology, which makes it possible to download a full length film in less than a second, would provide up to 35 percent additional growth to service providers. "There is an even bigger upside for other industries. Our own growth will be comparatively modest by comparison," said Ekudden.
Fierce Wireless report that as of March 2018 Ericsson has signed 38 operator agreements for 5G.
5G enabled mobile device (smartphone, phablet, mobile-enabled laptops) suppliers
Samsung Electronics (OTC:SSNLF)
As the global No. 1 smartphone manufacturer Samsung is well positioned to benefit as customers upgrade their smartphone to be able to access 5G. Samsung also will benefit as 5G equipment supplier, and in the future data storage boom.
Global manufacturing state:
Samsung Electronics set the bar in embracing new 5G network technology. Samsung is an attractive equipment vendor for telecommunication companies working to successfully deploy fifth-generation services worldwide." Kim Young-ki also announced that by 2020, "Samsung would aim to control 20% of the global 5G equipment market. And it's important to note that this is a technology that is not undergoing tests, but is set for (imminent) commercialization." Korea anticipates a nationwide 5G network to be in operation by March 2019.
South Korea already successfully led the world with the debut of 5G at the Winter Olympics in Pyeongchang, South Korea. Involved were the South Korean telecom carrier KT Corp. using technology from Intel, Ericsson AB and Samsung Electronics Co.
Apple (AAPL)
Recent reports have suggested that Apple's 2019 iPhone range will be 5G enabled. It's still unclear who will supply the modem for the new 5G Apple iPhone - It may be Intel, Qualcomm or possibly Apple themselves.
In any event there should be little doubt that a new model 5G-enabled iPhone, mobile-enabled iPad, or perhaps even a mobile-enabled laptop will be a huge success for Apple sales. Apple's customers are well known to be prepared to pay up for the latest and best products. 5G enabled Apple devices with 10 fold speed increases should be immensely popular. Additionally Apple's growing Services division also should benefit from 5G.
Others include Huawei, Oppo, Vivo, and Xiaomi.
Modem and Intellectual Property suppliers
Qualcomm (QCOM)
Qualcomm is a world leader in semiconductors and telecommunication equipment. Qualcomm generates the majority of its revenues from chips for smartphones and technology licensing.
Qualcomm claims to have the world's first 5G modem. Qualcomm says the Snapdragon X50 5G modem is capable of download speeds of up to 5 Gbps which is 5x faster than the fastest 4G modem, which also happens to be a Qualcomm modem, the Snapdragon X16.
ZDNet reported in April 2018 that Qualcomm had announced that its Snapdragon X50 modem chipset was chosen by 19 global operators for upcoming mobile 5G trials.
Skyworks Solutions (SWKS)
Skyworks Solutions provides radio frequency chips to enable wireless connectivity in Smartphone's and other devices. This means Skyworks is very well placed to gain as billions of new devices get enabled to receive 5G.
Sky5 is Skyworks unifying platform that will power revolutionary 5G applications. Skyworks plans to release Sky5 enabled chips in late 2018.
Intel (INTC)
Intel also has developed a 5G modem. Their 5G modem works in phones, autonomous vehicles, drones and smart city sensors.
Others include Ericsson (ERIC), Huawei, Nokia and Samsung.
Note: Phone companies such as Apple (AAPL), Samsung, Huawei, and others will benefit from consumers upgrading to better phones to make the most of 5G benefits (more apps, 3D video streaming, virtual reality, etc).
Data-center OEMs
Cisco Systems (CSCO)
Cisco Systems is transitioning its business from traditional switches and router hardware to cloud computing and subscription-based software. Cisco is the largest networking hardware company in the world. The company has completed several major acquisitions in the software space in recent years, most recently Broadsoft, the industry leader in cloud-based call center software. Cisco is involved in many areas including supporting the large scale enterprise network and server providers.
Cisco aims to capture share in the 5G market by offering more flexible software-based alternatives to traditional networking gear. The company is working with more than 20 network operators to launch cloud-based solutions that deliver much of the functionality of 5G on existing equipment without the need for major hardware upgrades. Remember with point-to-point connectivity there will be no need for expensive switches and enterprise routers that Cisco make when a software solution is available.
Cisco is putting rural UK locations first with the lead on 5G Rural First trials, a government-funded testbed which will explore the potential of 5G in rural locations. The project will aim to create a complete end-to-end 5G testbed system, with an overall goal of making sure 5G connectivity is affordable and accessible in rural, often out of the way locations.
Others include DellEMC, Hewlett Packard Enterprise (HPE), IBM (IBM) and Lenovo (OTCPK:LNVGY).
Data-center component suppliers
Intel (INTC)
Intel is best known for providing CPU chips for computers. However Intel also is involved in many other stages such as a data center supplier. Some say Intel has the most complete end-to-end 5G solution.
Others include Qualcomm, Broadcom (AVGO), Advanced Micro Devices (AMD), and Nvidia (NVDA).
Data storage/memory suppliers
Samsung Electronics, Micron technology (MU), SK Hynix (OTC:HXSCL).
The cloud data storage businesses
The top players are Amazon (AMZN) via their Amazon Web Services division, Microsoft (MSFT), IBM (IBM), and Alphabet Google (GOOG) (GOOGL).
Entertainment and social media providers (a secondary beneficiary of more time spent online, and faster download speeds)
Online content providers (entertainment, social media etc) should all benefit from quicker content delivery to any location where you can receive a mobile signal. Video streaming should also boom.
Netflix (NFLX)
Netflix should do well from 5G as customers will now have no issues with slow connection speeds, and can easily watch HD content from almost any location.
Facebook (FB)
Facebook recently bought 5G company Inovi to test out 5G. Facebook doesn't plan to build out a network, but merely to better understand the opportunity. As you would expect Facebook already are developing apps for 5G. Facebook would look to further expand their streaming services such as Facebook Live, especially given 5G's suitability to higher data flows. More use of their platform equates to more advertising dollars.
Others include Google (GOOG) (GOOGL), Tencent (OTCPK:TCEHY), Amazon (AMZN), Alibaba (BABA), JD.Com (JD), Baidu (BIDU), Momo (MOMO), Walt Disney (DIS) and many others.
Note: Amazon also can do well as they have Amazon Prime, as well as their huge online shopping and distribution service.
Cyber Security providers
Cyber security providers that can provide security to our wireless devices will do best.
A sector broad play is the cyber security ETF - ETFMG Prime Cyber Security ETF (HACK).
Further reading
Conclusion
Moving from 4G to 5G will be like moving from a garden hose to a fire hose. The flow of data will essentially no longer be restricted. This means a whole new generation of technologies can develop around our new 5G super highway. For example 5G will make it easier for people to watch ultra HD and 3D video, HD virtual reality, and so much more. 5G also will make room for the thousands of Internet-connected devices entering our everyday "connected" world. It will help create smart cities with the Internet of Things becoming a reality.
The losers will likely be the cable providers, traditional network television, and traditional fixed phoned networks. All will be left stranded by 5G, unless they convert over to becoming content providers on the new 5G network.
The winners will be the first to market 5G telco (noting a large upfront CapEx issue) and infrastructure providers (the 5G transmitter manufacturers), the 5G enabled sim/chip sets (modems) and 5G device makers (5G smartphones and phablets), the data storage companies, the new app makers, and the content/entertainment providers. New industries such as autonomous cars, advanced robotics, and 5G enabled security and monitoring systems, telemedical, advanced military (drones, monitoring etc), smart factories, and others should be the big winners. Gaming, online retailers (via 3D apps etc) and the social media giants also should benefit by an enhanced customer experience and customers spending more time online.
For now I favor the 5G enabled sim/chip sets (modems) IP companies and the existing smartphone leaders that will benefit from customers upgrading.
I'm happy to hear investor views on which companies, and why, will be the biggest winners from 5G. I plan to follow up with an article giving my top five 5G companies.
As usual all comments are welcome.
Editor's Note: This article discusses one or more securities that do not trade on a major U.S. exchange. Please be aware of the risks associated with these stocks.