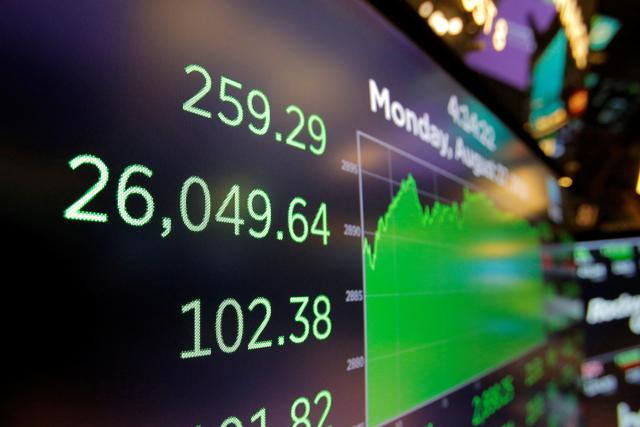 Photo Source: REUTERS/Andrew Kelly. A screen displays the Dow Jones Industrial Average after the closing bell on the floor of the New York Stock Exchange (NYSE) in Manhattan, New York, U.S., August 27, 2018.
For the month 80% of all closed-end funds (CEFs) posted net-asset-value (NAV)-based returns in the black, with 73% of equity CEFs and 85% of fixed income CEFs chalking up returns in the plus column. Strong returns from the likes of Apple and other tech stalwarts helped the Growth CEFs classification (+7.46%) rise to the top of the equity charts for the first month in 14, followed at a distance by Convertible Securities CEFs (+3.07%) and Core CEFs (+1.89%). For the sixth month running domestic taxable bond CEFs posted a plus-side return on average (+0.51%), bettering their municipal bond CEF (+0.14%) and world income CEF (-2.83%) counterparts. The world income CEFs macro-group was dragged down by the performance of Emerging Markets Debt CEFs (-6.30%, July's fixed income universe leader) and Global Income CEFs (-1.21%). In this report we highlight August 2018 CEF performance trends, premiums and discounts, and corporate actions and events.
Disclosure: I/we have no positions in any stocks mentioned, and no plans to initiate any positions within the next 72 hours.