Biopharma company Alnylam Pharmaceuticals (NASDAQ:ALNY) has built a brand on its innovative RNAi therapeutics. ALNY's focus: developing a pipeline of drugs designed to help transform lives of patients with rare diseases. These are the patients facing either limited treatment options- or therapy that is simply inadequate.
Just two years ago, Alnylam landed on Forbes' '100 Most Innovative Growth Companies' list. Founded in 2002, the Massachusetts-based biotech has hooked an $11.7 billion market cap- and rocked 37% year-over-year.
Here, we turn to TipRanks' market data to see how Wall Street's best experts size up ALNY's star potential.
Let's dive right in:
A good way to invest wisely is to follow the 'smart money' moves. We can see that in the latest quarter, hedge funds are quite bullish on this rare drug giant. How confident? Hedge funds boosted their positions in ALNY by a solid 1.4 million shares.
That includes Roberto Mignone of Bridger Management, who lifted his hedge fund firm's position nearly 17%. Worthy of note, Bridger Management is ranked #22 out of over 200 hedge funds we cover on TipRanks.

ALNY's Galactic Opportunity
On the ALNY website, the team proudly says its pipeline stands to help the very patients that "shouldn't have to wait for hope." To the bears that call this pursuit "impossible, impractical, unrealistic," ALNY is "relentless" in this pursuit to change lives.
ALNY's investigational RNAi therapeutics are keyed into diseases with significant unmet medical needs. Specifically, the company puts its pipeline under four umbrellas called Strategic Therapeutic Areas (STArs): genetic medicines, cardio-metabolic diseases, hepatic infectious diseases, and central nervous system (CNS) diseases.
Notably, ALNY was named after Alnilam, a star in Orion's belt. The company has also had other nods at its origin, including an ORION-1 trial evaluating its novel injectable drug Inclisiran. The results: 1) data reveals the drug dials down LDL cholesterol (the "bad" cholesterol) 2) the small interfering RNA (siRNA) inhibitor of PCSK9 likewise scales back levels of a slew of other atherogenic lipoproteins.
August has started off strong for the biotech player. ALNY just won a green light from the FDA for a first-of-its-kind targeted RNA-based therapy to treat polyneuropathy caused by hereditary transthyretin-mediated amyloidosis (hATTR).
Additionally, ALNY's Onpattro (patisiran) infusion scored approval in Europe to treat adults with stage 1 or stage 2 polyneuropathy of hATTR.
How does ALNY's Onpattro infusion work? The drug silences genetic material. It's a therapy based on Nobel Prize-winning science.
"This approval is part of a broader wave of advances that allow us to treat disease by actually targeting the root cause, enabling us to arrest or reverse a condition, rather than only being able to slow its progression or treat its symptoms," explains FDA Commissioner Scott Gottlieb, M.D.
Still, the drug's U.S. label proved narrower than some bulls had anticipated. How does this play out for the biotech company?
Onpattro's Global Peak Sales Reach for $650 Million
Needham analyst Alan Carr (Profile & Recommendations) continues to be bullish on the rare drug giant. Carr writes an upbeat research note, even following Phase 3 data evaluating rival Pfizer (NYSE:PFE) drug tafamidis in transthyretin amyloid cardiomyopathy (ATTR-CM).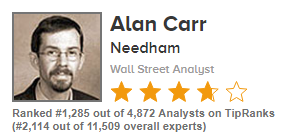 True, Pfizer's study achieved its primary endpoint - reducing a combination of all-cause mortality and cardiovascular-related hospitalizations. That said, Carr explains, "With details now available, it appears that this effect emerges slowly and as a result of only a slowing of disease progression… the drug has a modest to moderate impact on patients, w/ inevitable disease progression."
Carr wagers: "our bias is that Onpattro will still be central to treatment of hATTR-PN and that next-gen TTRsc02 is still in position to be an important option for all ATTR patients," adding that in fact, the rival's moves in ATTR could prove advantageous to ALNY. "We believe Pfizer efforts to build ATTR disease awareness likely to be helpful for Alnylam."
Looking ahead, Carr forecasts Onpattro peak penetrations in the U.S. to hit 8% and in the EU to tap 8.5% by 2023- with worldwide peak sales circling $650 million.
As such, the analyst maintains a Buy rating on ALNY stock with a $152 price target (over 27% upside potential).
Top Analyst Sees 20%+ Upside Ahead (Even with a Price Target Cut)
Cowen analyst Ritu Baral (Profile & Recommendations) got less positive on ALNY. The drug maker's FDA win for Onapttro in hATTR Polyneuropathy was narrower than Baral forecasted.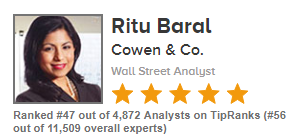 "We are surprised by the lack of inclusion in the label for the prospective cardiac data, and think it will have a modest negative impact on sales potential," explains the analyst.
Baral continues, "…the agency reportedly agrees hATTR is a monogenic multisystem disease, and has communicated ALNY they would like to continue conversations to determine the best path forward for the drug to reach as many patients as possible, potentially expanding the label. ALNY intends to pursue this opportunity, though it remains unclear whether additional studies will have to be involved."
In reaction, the analyst reiterates an Outperform rating on ALNY stock, but lowers her price target from $157 to $147. Nonetheless, this still reflects 23% upside potential in Baral's expectations. Baral remains bullish on ALNY's "thorough marketing strategy" in the grander scheme.
Worthy of note, Baral has an impressive ranking on TipRanks- #47 out of over 4,800 analysts we cover on Wall Street. Baral's track record for betting bullish on ALNY also shines: 33.7% in average profits.
This Top Analyst Bets on Over $1 Billion for Onpattro by 2023
Chardan analyst Gbola Amusa (Profile & Recommendations) – a top #102 ranked analyst on Wall Street – sees robust room for ALNY shares to fly following Onpattro's U.S. victory. Notably, the ALNY management team predicts 10,000 to 15,000 U.S. patients could be candidates for Onpattro.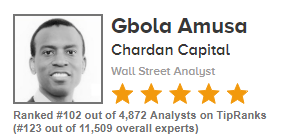 "Onpattro's US label and price are consistent with our model," cheers Amusa, reiterating a Buy rating on ALNY. The analyst believes Alnylam stocks boast a monster 51% upside potential.
"During the conference call on Onpattro's approval, management stated 'where we ended up on the label materialized very late in the review process', and that though the label did not include cardiac data, the company plans to work with the FDA to expand the Onpattro label in the future, potentially after running further studies," highlights Amusa.
Amusa's bet on "a more favorable label for Onpattro in Europe" proved solid. Even before ALNY's Onpattro won approval from the European Commission, Amusa had anticipated the drug was "on track to have cardiac data in its European label."
By 2030, this analyst projects the rare drug giant could unlock $1.77 billion in risk-adjusted sales for Onpattro.
Wall Street Consensus: ALNY Shines as a Strong Biotech Play
Ultimately, Alnylam Pharma has earned a bullish consensus ranking among top analysts on Wall Street: a 'Strong Buy.' Out of 10 analysts polled in the last three months, 9 best-performing analysts are bullish on ALNY stock- with only one bear in sight. Consensus expectations also paint a confident story circling ALNY shares. The 12-month average price target stands at $149.40, marking healthy upside potential of 25% ahead.

See ALNY Price Target and Analyst Rating Details
Disclosure: I/we have no positions in any stocks mentioned, and no plans to initiate any positions within the next 72 hours. I wrote this article myself, and it expresses my own opinions. I am not receiving compensation for it. I have no business relationship with any company whose stock is mentioned in this article.