Introduction
Entering the 10th year of a bull market in what some pundits say is the longest ever, my stock research and search for investments ideas has taken me two places of late: recession proof industries and overseas.
I came across a very interesting a company that, while not in a traditional recession resistant industry, does occupy the higher luxury end of that industry that might perform slightly better in the next downturn. That company is Hyatt Hotels (H).
Hyatt has posted solid growth since its IPO during the Great Recession but is by no means growing like a FAANG stock. Let's then, at take a look at the numbers and see if we can back into an explanation for its current valuation and see if the company ends up in the buy bin or if it requires waiting for a better entry point.
Financial Results
Looking at the past five years, it is clear that the top revenue category of owned or leased hotels revenue has been relatively flat. However, the company has grown its other revenue and management/franchise fee revenue streams as it focuses more and more on that aspect of the business.
Hyatt's franchised hotels earn the company fees upon initial startup of a new property and on an ongoing basis based on a percentage of gross revenue depending on the brand and type of property. This business model has been used in hundreds of industries and has clear advantages like consistent revenue and low capital requirements.
Since IPO and especially recently, the company has worked to shift the balance of their business toward the asset-light, franchised operating model. You can see below that fees have roughly doubled since 2009 but they were coming off of a low base and are still only about 20-25% of revenues.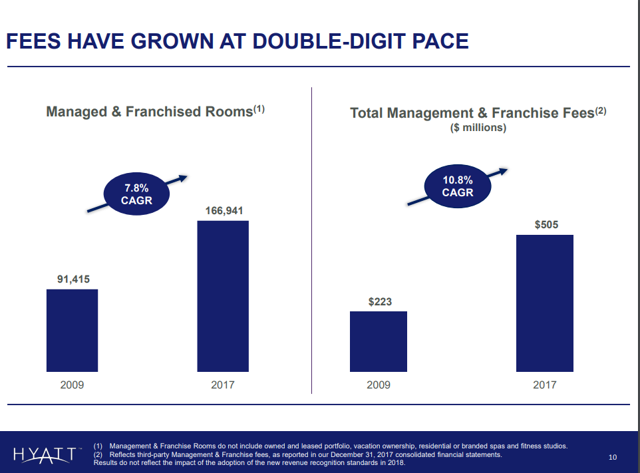 (Source: Hyatt Q2 Investor Presentation)
It looks higher as they have these expense reimbursements that cross over both types of operating models but show up under income and expenses, so I don't really count those.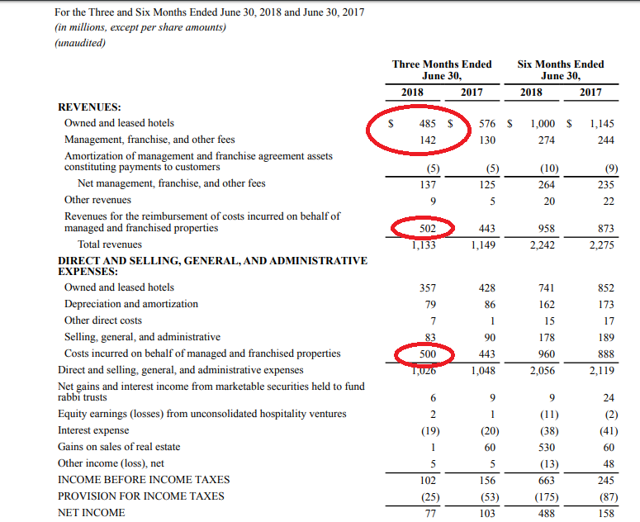 (Source: Hyatt 2017 10k)
In the most recent quarter, Hyatt posted decent results with some modest growth in RevPar(revenue per available room) and room growth(new properties), while the income statement tells a different story mostly due to re-franchising.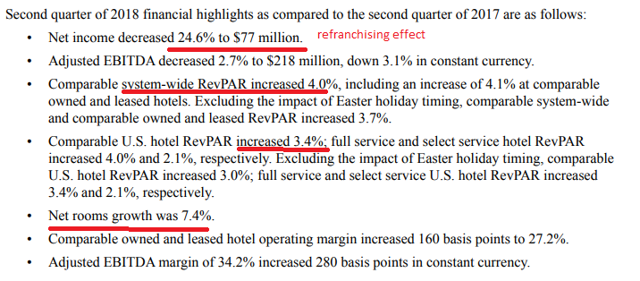 (Source: Hyatt Q2 Investor Presentation)
These results were pretty consistent with the company's longer term forecast. Revpar slightly outperformed. The company expected RevPar in the 1-3% range and posted 4% across their portfolio, with a slightly stronger result of 4.1% as their owned and leased hotels. An early easter holiday compared to last year did boost this slightly.
Hyatt's potential return can be broken down into a components, with its Revpar being one, price, and new rooms being the others. In terms of actual stock return, those elements are added to shareholder expectations expressed as a valuation along with shareholder returns of capital to get the overall stock return. With the numbers shown below for revpar and net room growth in the low single digits, it is hard to forecast anything above a 7-8% max return going forward even with returning over half of free cash flow to shareholders without a large valuation shift.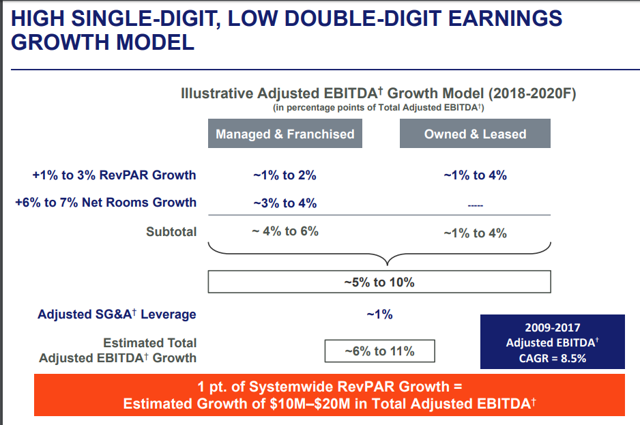 (Source: Hyatt Q2 Investor Presentation)
Looking back longer term, we can see that the company has executed put up slow but steady growth not too dissimilar to their current projections. Results in the first few years after the Great Recession were sluggish but then things started to pick up around 2013.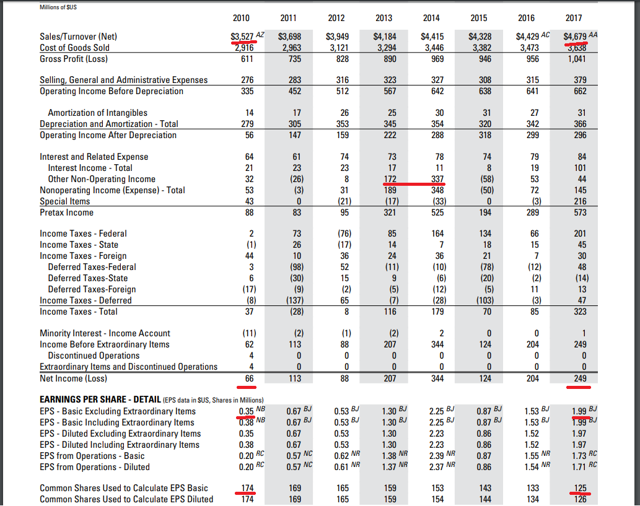 (Source: S&P Capital IQ/Fidelity Analysis)
The company has also been able to meaningfully reduce the outstanding share count above and beyond regular dilution from share awards/compensation. Since 2010 the company has reduced the share count about 28% from 174m to 125m.
While this looks great, its important to note the company has not paid a dividend until this year and even then its dividend is very minor and under a 1% yield, so in terms of total shareholder return the company is very average in my opinion. As we will see in the balance sheet section, the company could have and perhaps should have utilized more debt to accelerate the capital returns, but have chosen not to which makes them a bit of a standout among large publicly traded corporations.
Balance Sheet
Balance sheet and leverage wise the company is in great shape. Most of their assets are tangible and there is only $150m of goodwill represented. That is a minute amount relative to the company's size and is due to the distinct lack of acquisitions since the 2009 IPO. What this shows me is that the company has avoided large risky acquisitions and focused on growing internally. In contrast, if you examine one of Hyatt's main competitors, Mariott(MAR), their balance sheet after their last mega merger you will find 5-10 billion dollars of goodwill and billions more in other intangibles.

Back to Hyatt. Debt and liquidity are strong with a current ratio of 1.3 and and long term debt equal to about 78% of PP&E. This indicates that their real estate assets have some buffer in terms of backstopping their debt, let alone the other assets and future cash flows. There is $2.7b of retained earnings built up over years of profitable results.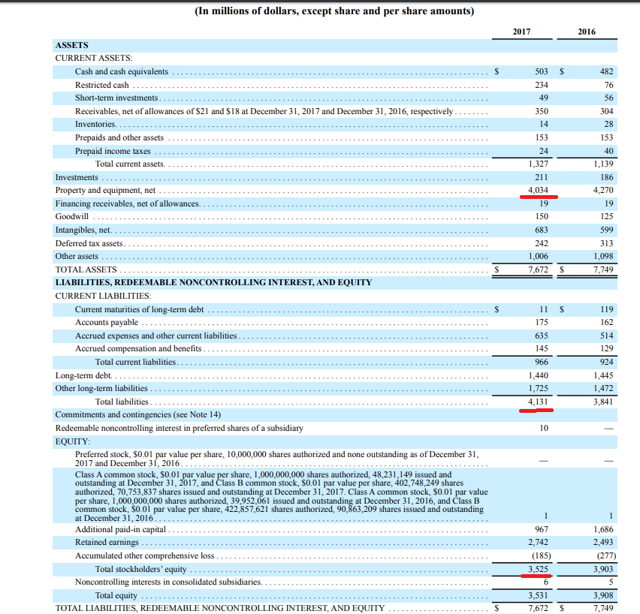 (Source: Hyatt 2017 10k)
The 4 billion P&PE is also worth noting as a potential catalyst. The company is in "net seller" mode, meaning that they intend to recycle and dispose of a chunk of their real estate to realize some profits for shareholders.
This got kicked off earlier this year with 3 hotels and resorts being sold for a combined $1b. These properties were sold at a combined 16x EBITDA multiple, which is very high valuation. I suspect that much of the real estate Hyatt owns and carries on the balance sheet at historical depreciated cost is worth much more.
The company has stated they want to dispose of $1.5b in real estate by 2020 and with that big sale they are well on their way. I think the company can and should dispose of more than $1.5b and this could be an undervalued catalyst for the stocks in the next few years.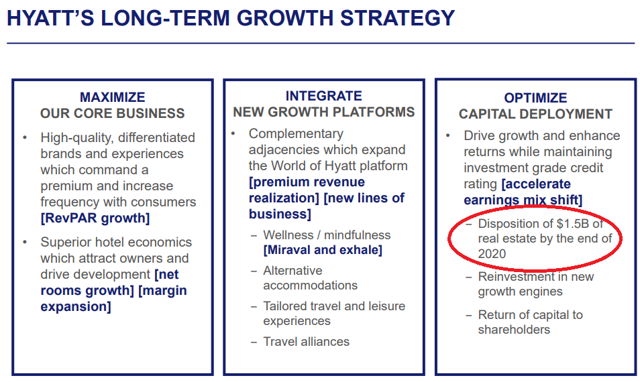 (Source: Hyatt Q2 Investor Presentation)
Other Catalysts
China is just emerging as a new growth driver for Hyatt. The company plans to double their presence there in the next 3 years and is increasing making sure they have a presence where affluent Chinese travel to both within China and the larger region. As a luxury hotel operator, the wealth accrue to China's burgeoning upper classes and how it is spent is of great interest.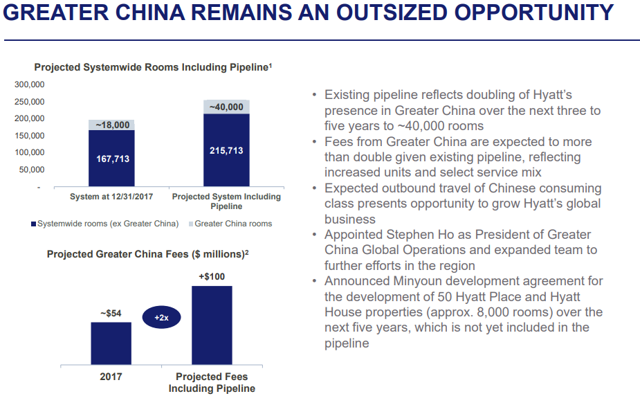 (Source: Hyatt Q2 Investor Presentation)
Longer term catalysts include the increased shareholder value being created by asset sales and a continued shift to an asset light business model. In other sectors and industries these lighter business models have sometimes resulted in higher multiples as cash flows are scene as more consistent and higher margin. McDonald's has largely completed their efforts, for example, to get to almost all of their locations worldwide franchised and in addition to other improvements made, has had their multiple increase as a result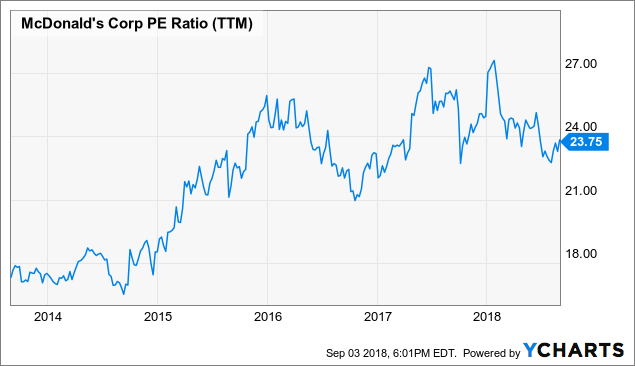 It will be interesting to see if the market can stomach an higher multiple or perhaps it has already gardened this.
Valuation
My favorable take on Hyatt ends with the valuation. I can't simply figure out why the stock trades where it does. The company earned $2 in earnings in 2017 and it might have inflated earnings in 2018 due to the aforementioned asset sales, but on a normalized basis I can't see much more than $2 to $2.50 after accounting for the reduction of shares which will boost EPS.
So then a price of 77 puts the stock at a P/E somewhere in the high 30s. 2 years ago it was trading in the 30s and 40s which is much more reasonable but I fail to see the future earnings power that ends of justifying such a valuation.
EBITDA wise the company trades at 13x, which is not too terribly expensive. Other valuation metrics you might prefer are in between these two, but either way you slice it Hyatt is by no means a value stock.
And its not just limited to Hyatt, other publicly traded operators like Marriott and Hilton trade a very high multiples as well. I searched to see if each one of the common shares was really two common shares under the ticket symbol H but I do not think that's the case.
Many services like whatever provider Fidelity uses for their data has the P/E much lower at 16-17 times which is odd. Those services must be using adjusted non-gaap EPS or are including other types of adjustments.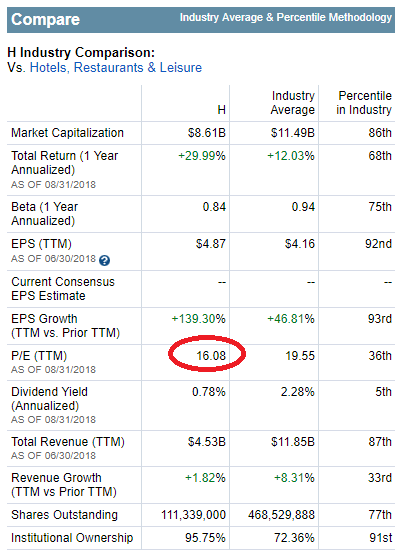 (Source: S&P Capital IQ/Fidelity Analysis)
Conclusion
I really like the business and its clear from reviewing the financials that the company has put up a track record of solid growth and is hitting their growth projections. Changes in the travel sector like the emergence of Airbnb and dominance of online travel site intermediaries does not appear to have a noticeable effect on the company.
Yet, with a very high valuation and just modest growth I am forced to put Hyatt in my bin labeled "good businesses waiting for a lower price". 9-10 years into a bull market, this bin, as you might imagine, is getting full.
Disclosure: I/we have no positions in any stocks mentioned, and no plans to initiate any positions within the next 72 hours. I wrote this article myself, and it expresses my own opinions. I am not receiving compensation for it (other than from Seeking Alpha). I have no business relationship with any company whose stock is mentioned in this article.