U.S. Household Debt Is Not The Problem
Includes:
DDM, DIA, DOG, DXD, EEH, EPS, EQL, FEX, FWDD, HUSV, IVV, IWL, IWM, JHML, JKD, OTPIX, PSQ, QID, QLD, QQEW, QQQ, QQQE, QQXT, RSP, RWM, RYARX, RYRSX, SCAP, SCHX, SDOW, SDS, SFLA, SH, SMLL, SPDN, SPLX, SPUU, SPXE, SPXL, SPXN, SPXS, SPXT, SPXU, SPXV, SPY, SQQQ, SRTY, SSO, SYE, TNA, TQQQ, TWM, TZA, UDOW, UDPIX, UPRO, URTY, UWM, VFINX, VOO, VTWO, VV
by: Mark Bern, CFA
Summary
Traditional measures like total household debt compared to past levels do not tell an accurate story about the current situation.
The U.S. economy has grown since the last peak, so household debt to GDP is much lower and the cost of servicing debt is even less.
Recent adjustments by the U.S. Commerce Department show that the savings rate has been much higher than previously reported leaving consumers in far better condition to spend.
Corporate Debt and the Banking System are in better shape than in 2007.
Stocks are not as overvalued in 2018 as in 2017 since revenues and earnings are growing while companies buying back stock has lowered ratios.  But selectivity is still the key to successful investing.
Household Debt
When we look at charts like the one below, it is easy to become nervous about the implications.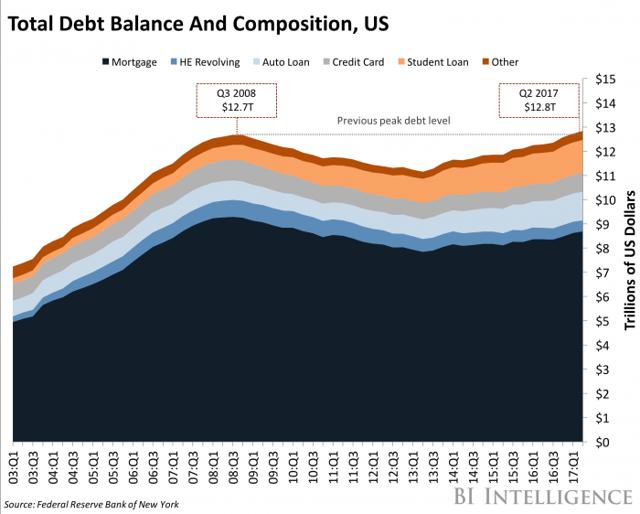 However, that isn't the whole story. The economy has grown since 2007 and household have borrowed at much lower interest rates. The St Louis Fed has a chart that looks more encouraging.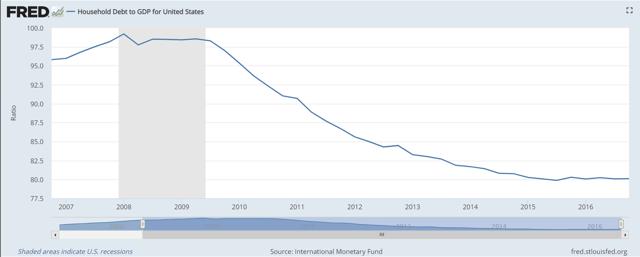 As you can see, household debt compared to GDP (gross domestic product) is much lower. And then, if we drill down some more, we can see that when we measure average interest payments by households relative to income, the picture looks even better.

So, when you read that next story warning about how debt levels are now above levels in 2007 and trying to spread fear and anxiety of a repeat recession that is imminent just pull up these charts again, take a deep breath, and relax. It isn't nearly as bad as it was then.
Corporate Debt
The same can be said about corporate debt. Sure, corporations hold more debt today than in 2007, but the interest rate on that debt is far lower making the cost to service that debt much lower. Interest rates are going higher and the picture will change over time, but there really is no imminent threat posed by the larger debt amounts. It's the cost of debt that matters.
Interest rates will rise some more but will probably remain below the levels of 2007. As corporations need to roll over portions of current debt outstanding, it will cost more. But it will still be cheap from a historical perspective.
The Savings Rate
Another point that has been misunderstood and misreported is the savings rate in the U.S. A recent adjustment to the model adjustment by the Department of Commerce sets the record straight. Instead of a savings rate (as previously misreported) about 3.3%, it is 7.2%.
Bolstering the hypothesis is the fact that the revised saving rate shows virtually no decline since 2013, even though unemployment has fallen by roughly half and home and stock prices have risen sharply.

This contradicts "what was thought to be one of the more reliable regularities in macroeconomics," the so-called wealth effect, said J.P. Morgan Chief U.S. Economist Michael Feroli. The theory holds that consumption rises and saving falls as household wealth climbs. - Wall Street Journal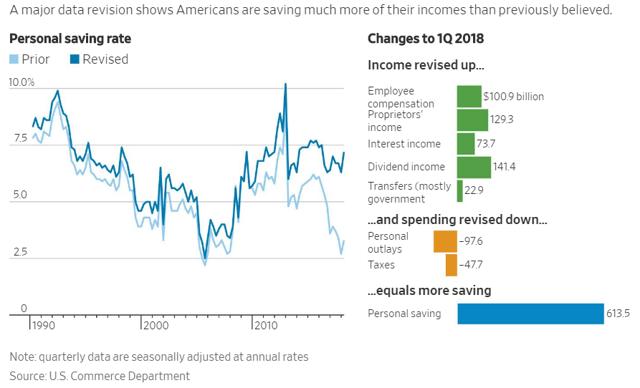 Because of the new data shown above, I am more confident than ever that the U.S. economy will continue to grow. After all, if consumers are in much better shape than previously thought since our economy is heavily reliant upon consumers, then by extension, the economy is in better shape.
And this is not a one-time event. The savings rate has been relatively strong since 2009 and for good reason. People have not forgotten the last two recessions. The Financial Crisis etched into the memories of many Americans what can happen when greed runs wild on Wall Street.
U.S. Banking System
But U.S. banks are in far better financial condition today than they were in 2008 when Lehman crumbled and almost took the entire financial system with it. Banks have been much more careful with underwriting requirements and have paid billions in fines for their mischief. Financial institutions in the U.S. have lowered leverage and increased reserves since 2009. The Federal Reserve reported that:
The nation's largest bank holding companies are strongly capitalized and would be able to lend to households and businesses during a severe global recession."
Selectivity is Key
Companies that have too much debt are always in danger of failing. Poor allocation of resources and excessive debt by managers usually leads to a bad ending. That is why investors should stick with quality companies guided by excellent management that knows how to efficiently allocate capital to generate strong FCF (free cash flow) and consistently superior results. It pays to do the research that enables us to avoid most large losses, especially in today's investing environment.
The rising tide has raised all boats and there are many companies that are overvalued. Selectivity becomes a key to successful investing.
A good example of a company with consistently superior results is Jack Henry (JKHY). Take a look at our quantitative chart below.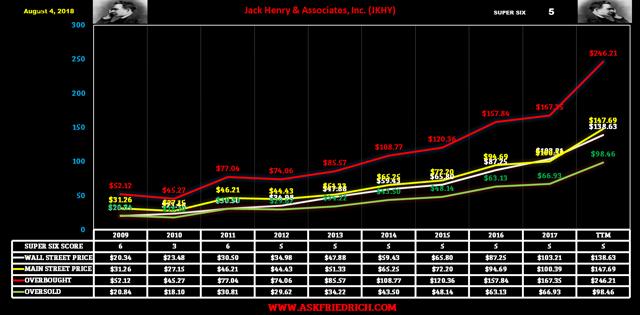 Source: Ask Friedrich
What you should notice is that the white line (Wall Street Price) stays very close to the yellow line (Main Street Price). The Main Street Price is our estimate of fair value. The Wall Street Price is the price at which the stock trades. It is also important to note that the company has a strong record of consistently increasing value over the last ten years. Quality and consistency. Those are the traits we look for in stocks that we want to own.
The price at the end of 2009 was $20.34 (adjusted for dividends) and the price today is $158.44. That works out to a gain of 679% compared to the SPDR S&P 500 ETF (SPY) gain of 158% over the same period. High-quality companies will always beat the average over the long term. Quality plus patience go a long way in defining a successful investment strategy. If you don't agree, you should take a look at our 60-year back test results. The results are stunning!
We believe that companies like Jack Henry will continue to grow and keep the bull market alive.
Disclosure: Mycroft Friedrich and I collaborate on the Marketplace offering, Friedrich Global Research where subscribers can learn how to use our Friedrich algorithm data files and charts (like the one above) to identify the companies with superior growth prospects. We build and manage portfolios that can be followed and mimicked by subscribers. Our Friedrich Final Four model portfolio, begun just over one year ago, performance has bested the S&P 500 index by a factor of almost 4 to 1; as of last Friday, it had gained 65.42% compared to the S&P 500 gain of 16.8% over the same time period even though we remain 16.6% in cash.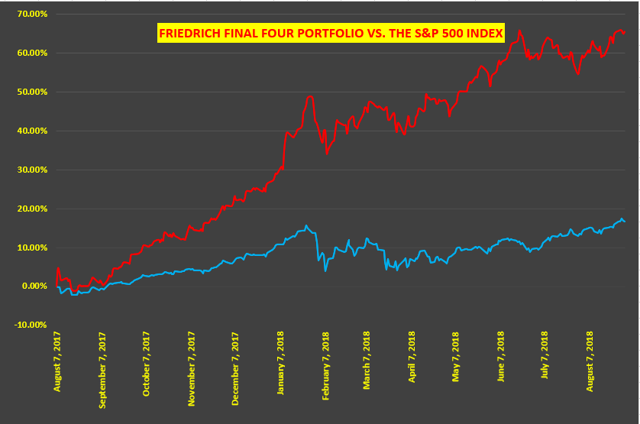 Our latest model portfolio, begun on July 2, 2018, has gained 4.01% since inception but is still 40% in cash. We will continue to add new positions as our algorithm identifies stocks offering a good value, consistency of results, and superior management.
If you have any questions, please feel free to ask them in the comment section below and don't forget to hit the "Follow" button next to my name at the top of this article. For those who would like to learn more about my investment philosophy, please consider reading "How I Created My Own Portfolio Over a Lifetime."
Disclosure: I am/we are long JKHY. I wrote this article myself, and it expresses my own opinions. I am not receiving compensation for it (other than from Seeking Alpha). I have no business relationship with any company whose stock is mentioned in this article.
Additional disclosure: DISCLAIMER: This analysis is not advice to buy or sell this or any stock; it is just pointing out an objective observation of unique patterns that developed from our research. Factual material is obtained from sources believed to be reliable, but the poster is not responsible for any errors or omissions, or for the results of actions taken based on information contained herein. Nothing herein should be construed as an offer to buy or sell securities or to give individual investment advice.