Investing in gold remains one of the most contentious and polarizing discussions amongst investors. Not only is there much debate about what role - if any - gold should play in one's portfolio, there are also significant divergences of opinion about how to best gain exposure to it. It appears much of the discord in this debate results from the fact that people often generalize about the different motives for owning gold as well as the various instruments available to do so, which can lead to a certain amount of confusion.
So, what are the main objectives that investors aim to achieve when taking a position in gold? They typically seek to accomplish one or more of the following:
Own a 'hard' currency as reserve
Create a hedge against extreme drawdowns in risk assets such as equities
Invest in a productive asset involved in the gold production process
In turn, the most commonly-available instruments to achieve these goals are:
Physical gold (e.g. coins or bullion)
Gold mining & royalty/streaming companies
Financial products such as gold exchange-traded funds (ETFs)
It should be quite obvious that the items listed in both categories are very distinct from one another. Yet, how often have you heard investors mix them up in making an argument against gold ownership? For example, it is commonly stated that 'physical gold hasn't outperformed the S&P 500 over time'. That statement is factually true, but it is also somewhat incoherent as a result of this generalization and confusion about the motives for owning gold and various ways to do so.
So let's go through this methodically.
Gold as a 'hard' reserve currency
Prudent financial planning recommends that a portion of one's wealth should be held in reserve, as a safety net to protect against hard times and unexpected events. In order to perform this function properly, wealth should be stowed away in a highly liquid, low-risk asset that acts as an adequate store of value (i.e. which maintains its purchasing power over the long-term). These attributes predominantly point towards currencies. One might make an argument in favor of Treasury Inflation-Protected Securities (OTCPK:TIPS), but there are question marks about whether TIPS are actually free of any counterparty risk, as well as whether the Consumer Price Index (CPI) deflator adequately captures the erosion of purchasing power over time.
So, back to currencies. Of all currencies that exist, many believe that physical gold is the only one that truly meets these prerequisites. It is an extremely liquid asset, with a multi-trillion-dollar global market worth. It is recognized everywhere, and it can be bought and sold anywhere in the world without the need for any financial intermediation. It is no one's liability, and is therefore free of any counterparty or solvency risks. Last, it has adequately acted as a store of value for centuries (with anecdotal evidence suggesting that it has done so for millennia). As shown below, the purchasing power of gold has more than held its own over the long-term (purchasing power of gold is depicted in red, all 3 variables are indexed at 100 in 1930, plotted on a logarithmic scale). So, in order to make it an apples-to-apples comparison, the performance of physical gold should really be measured against other currencies, rather than an equity market index. And that comparisons is largely in favor of gold, as described in our last article on that subject.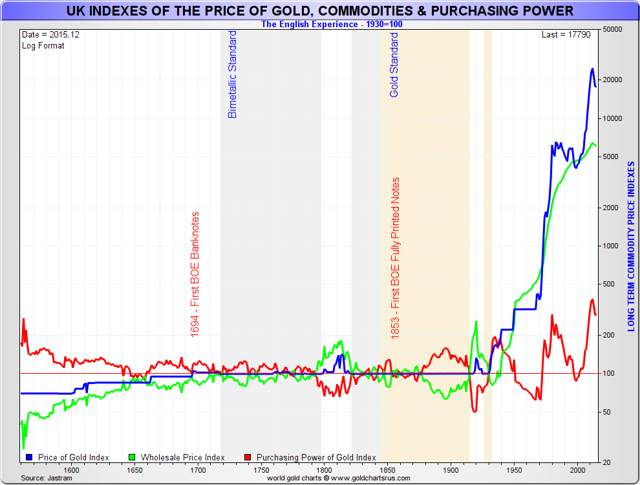 Source: Koos Jansen, Nick Laird (GCRU)
Gold as a potential hedge
Investors have long sought ways to benefit from the upside in risk assets such as equities while limiting downside risk, particularly so-called 'black swan' events (i.e. extreme left-tail risk). As First Eagle Investment Management rightly points out:
Most economic crises are characterized by either inflation or deflation, [and] gold has the rare ability to maintain its real value in both these conditions.
While there are many ways to protect oneself from either inflation or deflation, gold might be the only asset that can effectively protect against both, due to the fact that it is chemically inert and has very few economic applications.
As shown below, the correlation between gold and equities is essentially non-existent over market cycles, which enhances diversification. More importantly, a clear negative correlation exists when equities prices fall meaningfully. All in, including an allocation to gold in a portfolio makes it more diversified and resilient in times of sharp market declines.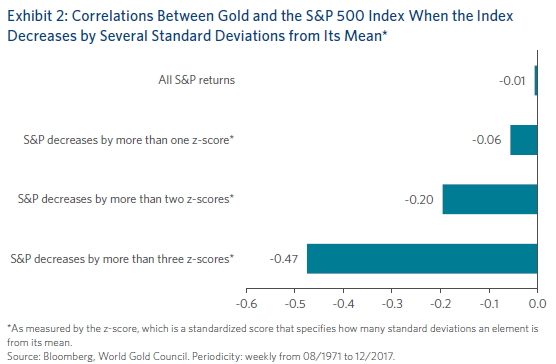 Source: First Eagle Investment Management - A Prudent Defense: Gold as a Counterweight to Equities
Ways to own gold in your portfolio
There are a number of different ways to own gold. The first is to own physical gold (e.g. coins or bullion), which is considered as safest, because the gold is already above ground and is free of any mining risk. As previously mentioned, physical gold is no one's liability, so there is little to no counterparty risk involved. Having said that, many gold investors rightly choose to hold their physical gold outside of the banking system, which involves some costs related to storage and insurance. But overall, logistical considerations and costs can make this a difficult proposition for most investors.
Another option worth considering is gold-mining companies. While gold above ground is the safest way to own gold, investing in gold miners can offer a number of advantages. First, it occasionally offers the opportunity to buy gold 'at a discount', as the valuation of gold mining companies can sometimes be lower than the price of gold, even after accounting for operating and capital costs. Second, established gold miners often pay out a dividend, which effectively represents partial ownership of proven gold reserves with a yield. Third, gold miners offer a way to build some leverage to a physical gold position in a simple, clean, and cost-effective way. Historically, gold stocks are leveraged 2-3x to the price of gold bullion.
Having said that, investing in gold miners also has a number of drawbacks. First, gold miners do not represent a low-risk asset that can be held in reserve the way physical gold can. Their effectiveness as a hedge in a portfolio construct is less straightforward than that of physical gold, oftentimes experiencing a clear lag. The operational and political risks involved are very real and often consequential. Last, it should be noted that most gold miners struggle to earn their cost of capital throughout an economic/commodity cycle.
An alternative to gold-mining companies that strikes us as particularly interesting is gold royalty and streaming companies such as Franco-Nevada Corp. (NYSE:NYSE:FNV). In exchange for an upfront capital investment, royalty and streaming companies own the right to receive a percentage of the mineral production from a mining operation. The main advantage of this business model is that it eliminates the risk of cost inflation, increasing capital expenditures, and other risks that can meaningfully erode profit margins over time. Instead, it is a business model centered on making disciplined capital allocations and capitalizing on the option value of liquidity in the capital-intensive world of gold mining, which can be a very powerful concept. Just ask any Berkshire Hathaway investor! The main benefits of its business model, as stated by Franco-Nevada, are summed up below: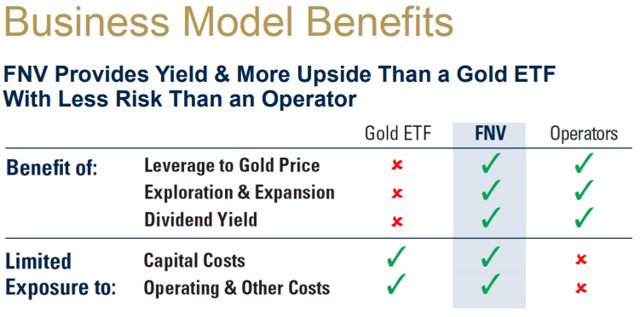 Source: Franco-Nevada Corp. - Investor presentation Sept. 2018
How have these business model benefits translated into total shareholder returns over time and throughout various market environments for Franco-Nevada? Since its IPO in December 2007, Franco-Nevada's share price has outperformed physical gold, gold miners, and the S&P 500, with a compounded annual total return of 17% (up to July 31, 2018). Perhaps more critically, the company has a good, albeit short, track record of being a fairly effective hedge in bear markets while still providing attractive performance in bull markets. Historical performance may not be repeated, but the advantages of the business model should continue to provide leverage to the gold price while limiting downside risk. The company pays a dividend which it has grown every year since its listing, that compensates investors for holding the hedge in a portfolio versus paying for a hedge through fees or storage costs with other gold investment options. Last, Franco-Nevada's operational leverage to the price of gold means that a smaller part of a portfolio is necessary to achieve the same hedging potential as compared to other gold investment options such as bullion.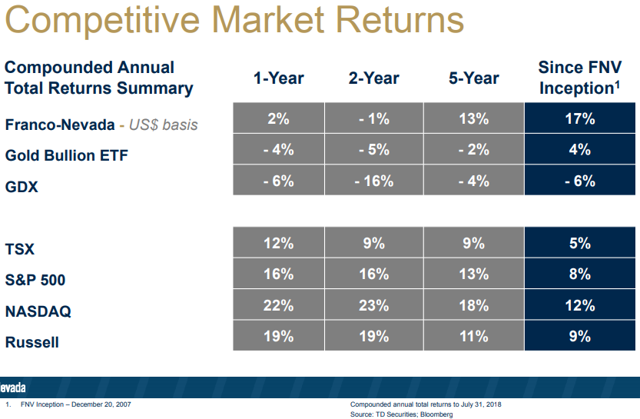 Source: Franco-Nevada Corp. - Investor presentation Sept. 2018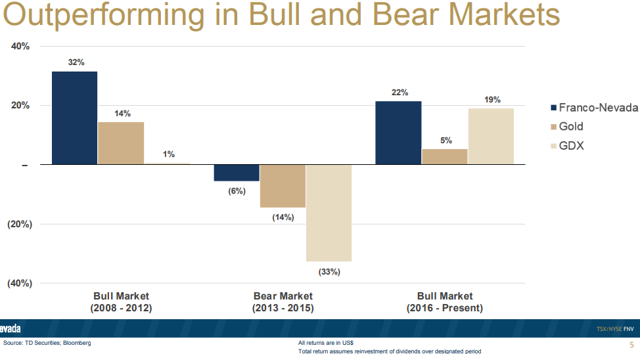 Source: Franco-Nevada Corp. - Investor presentation Sept. 2018
An alternative option that investors can consider is financial products like gold exchange-traded funds (ETFs), such as the SPDR Gold Trust (NYSEARCA:GLD), the world's largest gold ETF. However, such a product may not be appropriate for those wanting to own gold as a reserve currency. First, there is clearly counterparty risk involved, as HSBC Holdings PLC is the underlying custodian. Second, according to the prospectus, one needs to own over 100'000 shares in order to be eligible for physical delivery. Third, there is a risk that not all financial claims on the gold held in this Trust are effectively backed by the physical commodity. Last, similarly to most ETFs, these are fairly recent instruments whose liquidity profile is yet to be tested in various market environments. Having said all that, we clearly recognize the attractiveness of such ETF products as a short-term trading tool to speculate on the price of gold. If investors want a levered hedge through gold mining or royalty stocks, but want to diversify company-specific risk, then an ETF with exposure to several mining companies might be the answer. The largest of such products is the VanEck Vectors Gold Miners ETF (NYSEARCA:GDX), which holds Franco-Nevada as its second-largest position but also diversifies across large gold miners such as Newmont Mining (NYSE:NEM), Barrick Gold (NYSE:ABX), Newcrest Mining (OTCPK:OTCPK:NCMGF), (OTCPK:OTCPK:NCMGY), and Goldcorp (NYSE:GG). Fees should be taken into consideration of course.
Conclusion
As is always the case when undertaking financial investments, it is important to have a clear understanding of one's objectives, as well as the risks involved in the investments under consideration. Oftentimes, it appears that gold investors may be confused about the different objectives of owning gold and various ways to do so. Hopefully, this article has shed some light on this topic. All of the various instruments available to investors have their pros and cons. While larger, more sophisticated investors have the ability to use a combination of all of these instruments in various proportions to achieve their objectives, this may not be feasible for most investors. But if there is one instrument that strikes us as particularly worth of investors' attention, it would be a royalty company like Franco-Nevada Corp., which effectively combines many of the pros and avoid some of the main cons of the various options we've discussed.
This article has focused exclusively on the various objectives of owning gold and the instruments to do so, but it hasn't addressed the important question of whether gold ownership makes sense as of today, given the current investment environment. We invite interested readers to refer to an earlier article of ours that reviews the investment landscape and assesses important considerations like monetary policy & debt, as well as valuation levels.
'In the absence of the gold standard, there is no way to protect savings from confiscation through inflation. There is no safe store of value.' - Alan Greenspan (1966)
Editor's Note: This article discusses one or more securities that do not trade on a major U.S. exchange. Please be aware of the risks associated with these stocks.