Editor's note: Seeking Alpha is proud to welcome Osama Rizvi as a new contributor. It's easy to become a Seeking Alpha contributor and earn money for your best investment ideas. Active contributors also get free access to the SA PRO archive. Click here to find out more »
Oil markets are going through a rough and bumpy ride. While the trade war weighs on prices, the threat of Iranian reaction in the wake of U.S. sanctions makes prices rally now and then. Many observers are calling for $80+ oil in the near future. As such, I contacted Chief Economist at IQI Global Mr. Shan Saeed, who is one of those energy experts who think oil prices can enter three-digit territory.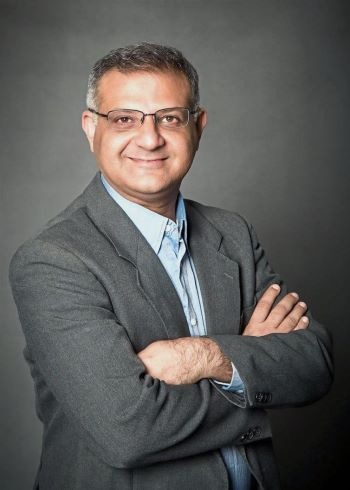 Osama Rizvi: It seems to me that it will be quite difficult for oil to break through $80. Why do you think it will?
Shan Saeed: An asset price inflation in oil is coming very soon in the market, just as happened in 2008. If you think oil is expensive at $75/barrel, then wait for the moment when it reaches three digits - i.e., $100/barrel - in the foreseeable future. Many countries, including India, Japan and Korea, will feel the pain. If you recall energy market history, oil was meandering around $147.17/barrel on July 11, 2008. History might repeat itself. There's no point in groaning, moaning and reeling over the market. Sagacious and sophisticated oil investors have enjoyed the rise of oil prices in 2018 and are sitting quite comfortably in the current scenario.
If you have skin in the game, along with credibility, then you should stay in the energy market. Otherwise, I have advised people to "go fly kites" in order to avoid cardiac arrest from the financial markets. Another thing to keep in mind: China, Russia and Saudi Arabia would be calling the shots in the global energy market - not the U.S.
Declining oil prices pushed many service providers to pull out of their investments, not realizing that oil prices would go higher. According to our market intelligence report, lower oil prices from 2014-17, not enough demand from advance economies and massive layoffs all resulted in capex going down to approximately $500 billion to $700 billion globally in that four-year period. This can be another reason for an increase in future oil prices.
Osama: What can we expect for the second half of 2018 and first half of 2019?
Saeed: In my opinion, $100/barrel is a very pragmatic scenario. What is coming in the energy market? $400/barrel or $100/barrel? Geopolitical risk, sovereign debt risk and tight supply constraint risk would all contribute significantly to the rise of oil prices, giving oil prices a new head to stay on a bullish course. Understanding geography is a real virtue for sophisticated investors. Few straits are becoming very significant for the oil market. There are 124 straits in the world, and out of those only three hold the top slot globally. The amount of oil passing through these three major straits (in millions of barrels per day) is as follows: Hormuz - 19mbpd, Malacca - 16mbpd, and Bab-el-Mandeb - 5mbpd.
Many countries are leveraging from their geographical and strategic position in the overall geographical equation. The Strait of Malacca is the longest strait in the world, stretching 800km, and separates the Malaysian peninsula from Sumatra Island in Indonesia.
Osama: What are the contributing factors to the increase in asset price inflation in oil?
Saeed: I'd say they are as follows:
Geopolitical escapades
Sovereign debt risk
Supply constraints from various oil-producing countries
Volatile dollar outlook
As noted in the IQI Global market intelligence report, we have been monitoring 14-15 commodities since Jan. 1, 2018, and crude oil is in the lead. The major leaders (in the first half of 2018) are being led by oil, out of the 14 commodities tracked by U.S. Global Investors.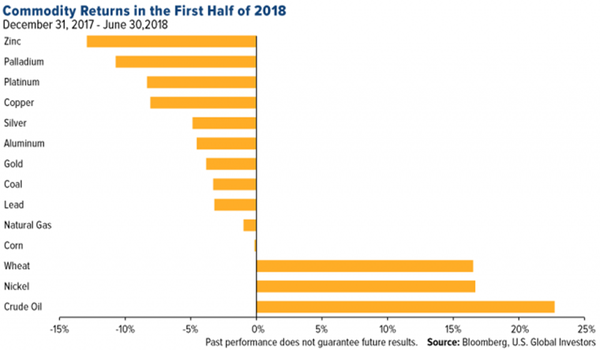 Osama: What are your thoughts on future oil demand?
Saeed: The demand for oil could touch 100 million barrels per day by Q3 2019. Asia accounts for 35% to 40% of the oil demand. The average OPEC delivery to the U.S. in 2016 and 2017 was 3.2 million barrels per day. In Q1/Q2 2018, OPEC supplied 2.7 million barrels per day. In simple mathematic terms, OPEC deliverables are down by 20% to the U.S.
Osama: Do you think there will be any supply constraints from oil producers?
Saeed: In a recent monthly report, OPEC estimated the world's oil demand to 32.05 million barrels per day (bpd) of crude from their member countries in 2019, down 130,000 bpd from last month's forecast. The drop in demand for OPEC crude means there will be less strain on other producers in terms of making up for supply losses in Venezuela and Libya, and potentially in Iran, as renewed U.S. sanctions kick in.
According to IQI Global's market intelligence report, global unplanned oil supply outages totaled 2.3 million bbl/d in June 2018. This is the highest level since May 2017. And as political hostilities increase all over the world, we might expect more unplanned outages.
Osama: The advent of the petroyuan has been a hot topic these days. I think some observers are being very hasty. The dollar isn't going anywhere soon. What's your take on it?
Saeed: Saudi Arabia, Iran, Russia, and Venezuela are making and receiving oil payments in yuan. The petroyuan has become the new global reality. A recent increase has touched 147% (from April to May) on month-to-month basis:

Source: YouTube, Oilprice.com.
Osama: Any advice for investors?
Saeed: The above discussion was in one way or another my suggestions/advise. If we connect the dots, we can see that the trend is certainly bullish. We might see short-term dips due to inventory builds or prices being steered by profit taking, et al. However, in the long run, I see oil entering three-digit territory once again. Shell (NYSE:RDS.A), BP (NYSE:BP) and Chevron (CVX) all posted good profits a month ago. Chances are they will again. Exxon Mobil (XOM) should do the same as well.
The bottom line for investors is as follows: Go long oil since supply constraints are coming in the market. Most investors should think back to 2008 when oil prices touched $147.17/barrel on July 11, 2008. Geopolitical risk pushes oil prices north. Capex is down and this, in combination with the geopolitical risk, might create the perfect mixture for oil prices rallying all the way up to $100.
Note from the author: Please mention any questions in the comment section below, and I will be happy to forward them to Mr. Saeed.
Disclosure: I/we have no positions in any stocks mentioned, and no plans to initiate any positions within the next 72 hours.
I wrote this article myself, and it expresses my own opinions. I am not receiving compensation for it (other than from Seeking Alpha). I have no business relationship with any company whose stock is mentioned in this article.