A few months have passed since Trump started the trade war in June 2018. So it is time to assess the impact and see which route we should take.
In a previous article, I posted a roadmap on what the Trump tariffs would mean to the economy and I would summarize this in the following points:
The price of goods will rise (CPI to increase).
The producers that use these commodities will have a hard time.
GDP growth will slow down.
U.S. dollar will drop.
The first point is the increase in the price of goods, which is measured by the consumer price index (CPI). As you can see in the chart below from FRED, the CPI has been moving up steadily, following a higher capacity utilization rate in the U.S. I believe that capacity utilization will keep moving higher as the trade wars escalate. More and more production will have to be diverted domestically. For example, U.S. steel capacity utilization has risen from 74.6% last year, to 79.8% this month. This will be highly inflationary for the U.S.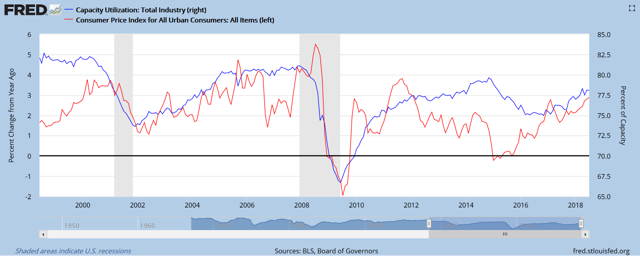 The second point is the drop in earnings from producers that use these higher-priced commodities. Whirlpool (NYSE:WHR), Ford (NYSE:F), General Motors (NYSE:GM) all have reported lower earnings right after Trump imposed tariffs in June. Whirlpool fell 15% after reporting second quarter earnings, Ford's net profit fell by almost half and the stock price has been in a steady decline, and General Motors fell 6.5% after reporting earnings (see charts below from Seeking Alpha). These stocks should be avoided.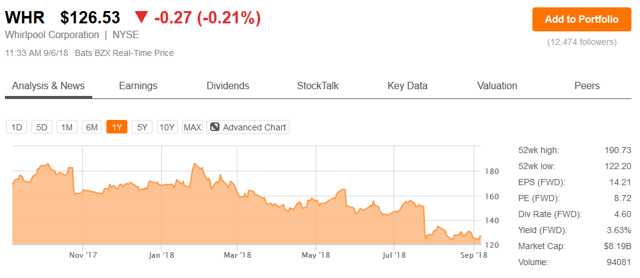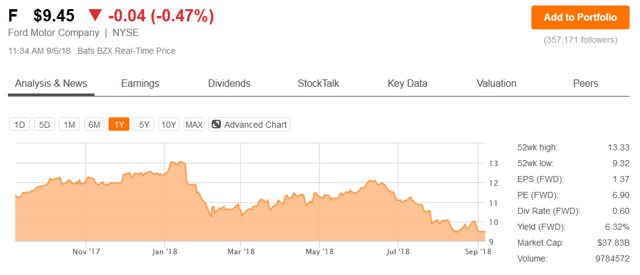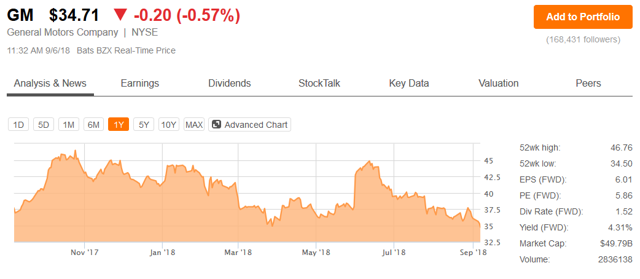 The third point is a drop in GDP growth and this can be predicted by a leading indicator. When the U.S. manufacturing PMI slows down, typically, GDP will go down as well. Currently, we are still seeing a 4% GDP growth, but the PMI has peaked out and is declining now (see chart below from IHS Markit). This will soon lead to a slowing GDP growth.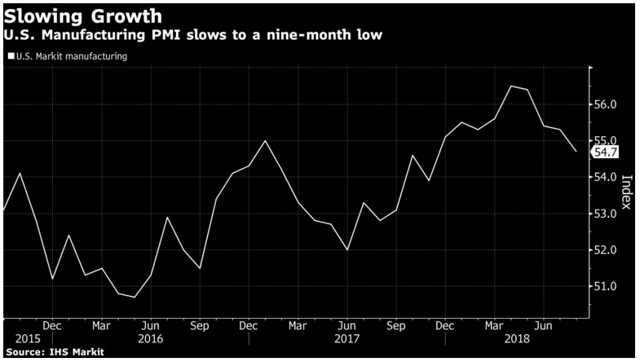 The fourth point is a declining U.S. dollar. We cannot see this happening just yet, but it is flattening out already (see chart below of the U.S. dollar index).

However, there is evidence showing up that the U.S. dollar will start falling. The most important indicator is the trade and budget deficit. Even though Trump imposed tariffs, the trade deficit and especially the budget deficit are still going up (see chart below from FRED).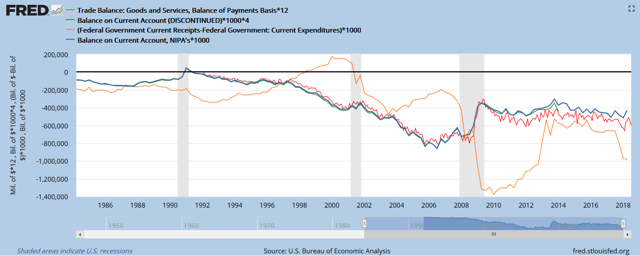 As interest rates keep going up, the twin deficits will continue their rise. We can already see the effects of this in two of my favourite charts: deficit to outlay ratio and interest payments as a percentage of tax revenue (see charts below from FRED). Notice that each time these charts tick up, a recession will follow very soon. The higher deficit to outlay ratio means that the U.S. government is relying more and more on foreign debt to service its spending. The higher interest payments as a percentage of tax revenue are indicating that taxes currently aren't sufficient to cover the higher interest payments. Something has to give.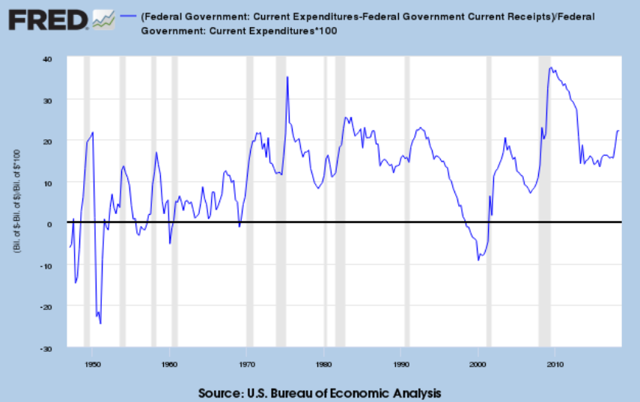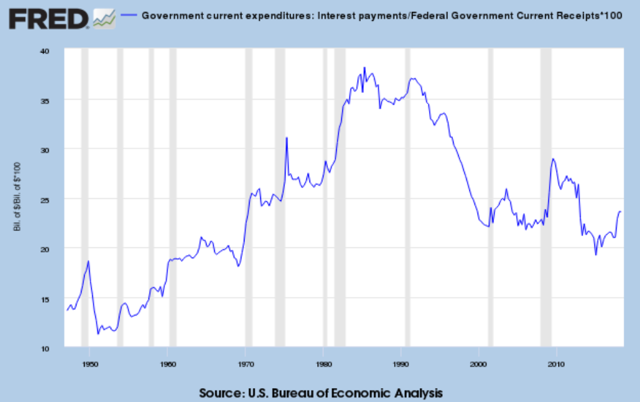 So all of my predictions are now coming to fruition and it will be interesting to see how this will evolve.
To conclude, I want to end with a bonus chart: the leading indicator vs. coincident indicator. As you can see in the chart below, July saw a severe drop in the leading indicator (blue), not surprisingly after the trade war started in June. Soon, this will translate into a drop in the coincident indicator (red), which shows the current economic indicator in the present. Don't tell me I didn't warn you.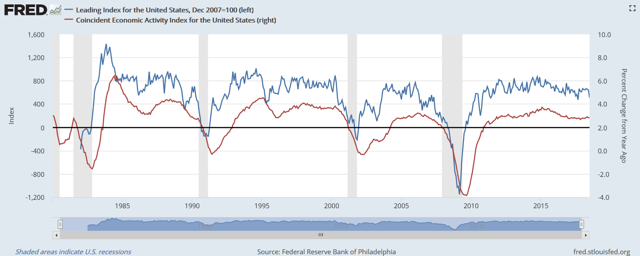 Disclosure: I/we have no positions in any stocks mentioned, and no plans to initiate any positions within the next 72 hours.
I wrote this article myself, and it expresses my own opinions. I am not receiving compensation for it (other than from Seeking Alpha). I have no business relationship with any company whose stock is mentioned in this article.