Much of Baidu's (BIDU) poor share price performance this year has to be pinpointed to the weak performance of Chinese equities in general. The Chinese large cap ETF (FXI) is down over 30% since its January peak as trade tensions persist between the world's two biggest economies.
However, Baidu's strong second quarter results did nothing to change our bullish view. We have been trying to get long this stock for quite a while now but the technicals have remained weak. Fundamentally though, the firm's principal wing (search and news-feed) again delivered in Q2, reporting a 24% top line increase on the back of higher margins (operating margins up to 39%). The performance of this division led the company to report operating income growth of almost 30%.
Forward-looking guidance demonstrated that management feels these trends will not slow down any time soon. However, it is external factors which seem to be affecting the stock at present. One as mentioned is the ongoing trade tensions and another is news that Google (NASDAQ:GOOG) (NASDAQ:GOOGL) is considering re-entering the Chinese market after an exodus in 2010. The project that is being worked on by the Silicon Valley company is called "dragonfly" and we believe this issue has also weighed on Baidu's shares recently.
External issues are almost always less important to the company's internal fundamentals. Why? Well, tech stocks continue to go from strength to strength. We can simply see this from Baidu's enviable earnings record. Furthermore, operating in a market where you are protected whilst also having international markets basically untapped has to be an advantage going forward for Baidu.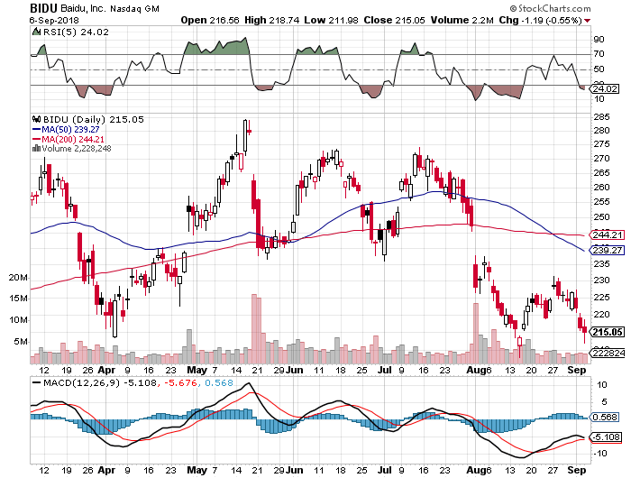 Here is how the key 10-year key financial trends look at present. There has been very little changes made to the share count over the past decade so net profits are on a par with earnings per share. EPS has grown by 40% on average per year over the past 10 years. In 2017 though, it grew by 65%. Revenue has grown by 47% on average per year over the same time-frame but only grew by about 20% in 2017. This sums up Baidu's margin story.
Both operating and gross margins have been falling since '08 but rising over the past 18 months or so due to earnings growth outperforming top line growth. Management cited recently that margin rates will remain confined in the near term due to spending on content and traffic but operating margins are now well over 20% and trending in the right direction, which is something that cannot be said of Alphabet at present.
Artificial intelligence is the one area where Baidu may have an advantage over its peers. Baidu entered this space well before the likes of Alphabet and although it may be a much smaller company, it can collaborate with multiple firms as it is doing presently with Intel (INTC). DuerOS, the firm's AI assistant has now reached 100 million devices, which is very impressive considering the installed base was just half this number a short 6 months ago.
The thing is that DuerOS has the potential to be used in so many applications ranging from smartphone makers to automobile manufacturers. The list is endless here when speaking of any appliance manufacturer. The quality also is undisputed given that the voice assistant can hold more conversations than the likes of Amazon (NASDAQ:AMZN) Alexa.
We have mentioned in previous articles that Baidu's shareholders' equity continues to increase alongside rising earnings. The firm's "return on assets" metric is now up to 9.88%, which is significant given the lows we were at at the tail end of 2016. The longer the share price drops (where we have rising equity, margins and earnings), the more you are going to see this stock get snapped up.
To sum up, the selling in the Chinese equity markets hasn't subsided as it looks for an overstretched yearly cycle low. We will wait for the selling to dissipate and for a swing low to form. The FXI ETF would have to get to almost $44 this month for a monthly swing low to take place. We remain attracted to Baidu's numbers and forward-looking fundamentals. The Google threat we believe is over-pronounced given the protection and support that has always been given to local firms.
Disclosure: I/we have no positions in any stocks mentioned, but may initiate a long position in BIDU over the next 72 hours. I wrote this article myself, and it expresses my own opinions. I am not receiving compensation for it (other than from Seeking Alpha). I have no business relationship with any company whose stock is mentioned in this article.