Welcome to the weekly natural gas storage report edition of Natural Gas Daily!
EIA reported a storage build of 63 Bcf for the week ending August 31. This compares to the +65 Bcf we projected and consensus average of +62 Bcf. The +63 Bcf was 2 Bcf lower than the five-year average of +65 Bcf and 2 Bcf lower than last year's.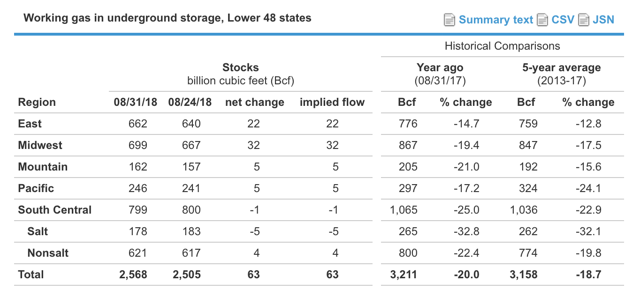 Source: EIA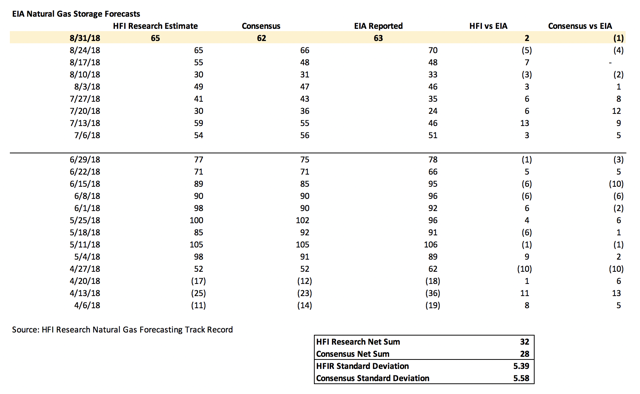 Next Week's Estimate
For the week ending 9/7, we currently have a forecast of +72 Bcf.
EOS increased from last week's 3.385 Tcf to 3.39 Tcf today.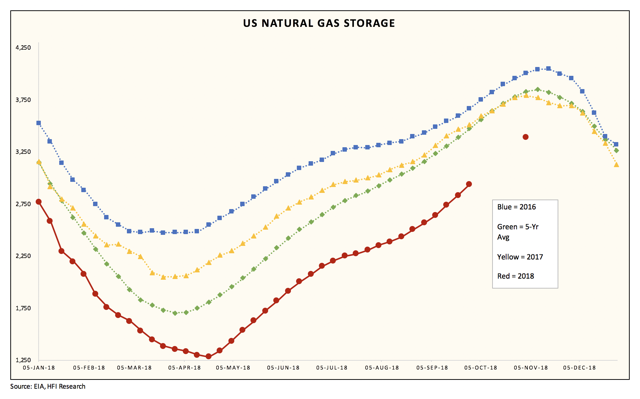 Back to no-man's land... for now
Natural gas prices had a rough week. October contracts fell from over $2.92/MMBtu to just $2.778/MMBtu today. The drop came on the heels of slightly lower CDDs, but predominantly because lower 48 production growth continues to amaze the market: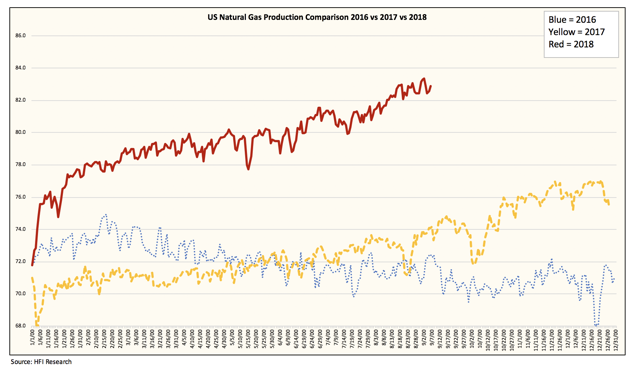 As we wrote to subscribers at the end of August, if lower 48 production averages above ~82.5 Bcf/d in September, natural gas prices will fall below $2.80/MMBtu because the fundamental balance would have loosened even more.
With lower 48 production averaging ~82.9 Bcf/d in September so far, this is even more bearish than we had expected.
In our view, with peak power burn behind us and weather playing less of a rolein the coming weeks, the higher than expected production will continue to weigh on gas prices.
We also can use the current natural gas storage deficit to the five-year average to illustrate this view: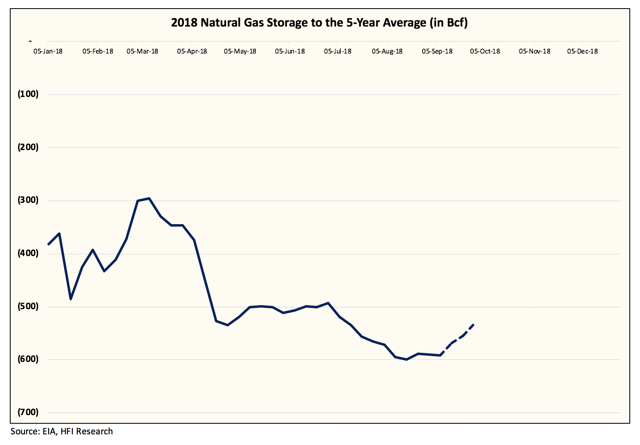 Our injection forecasts going forward indicates that the storage builds will be materially larger than the five-year average resulting in the narrowing deficit depicted in the chart above.
What does this mean for natural gas prices then?
There are currently no bullish catalysts on the horizon. Technically, natural gas also looks to be headed for $2.72/MMBtu (October contracts), and fundamentally, the balance continues to loosen thanks to lower power burn demand: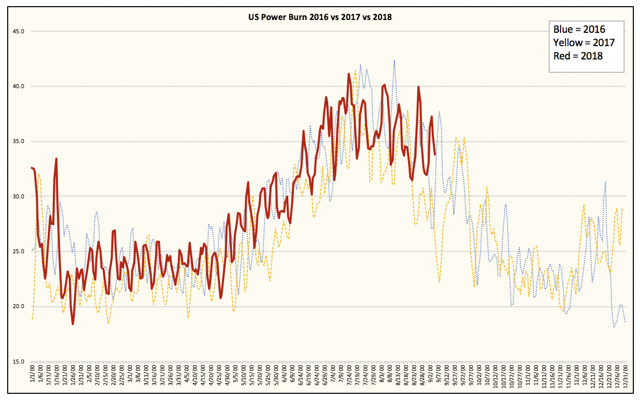 Source: HFI Research
In our view, our next trading bias would be on the long side if the fundamental/weather set-up going forward at least remains neutral. We think if November contracts can get below $2.75/MMBtu, it would be a favorable risk/reward trade to take on.
But for the time being, we see natural gas prices in no-man's land. There's no obvious catalyst to push prices up or down other than the bearish production figure capping prices for the time being.
For readers who are interested in receiving real-time trade alerts along with our exclusive natural gas fundamental, weather, and trader positioning updates, we highly recommend you to give HFI Research Natural Gas a try. You can see here for more info.
Disclosure: I/we have no positions in any stocks mentioned, and no plans to initiate any positions within the next 72 hours.
I wrote this article myself, and it expresses my own opinions. I am not receiving compensation for it (other than from Seeking Alpha). I have no business relationship with any company whose stock is mentioned in this article.