Barnes and Noble's (NYSE:BKS) stock price has been on a roller coaster over the past month. Today was no exception, with shares rebounding smartly, up 16.5%, on takeover rumors. This was after the stock got whacked, on Thursday, after posting weak Q1 2019 results.
Looking at the fundamentals, on the one hand, the bears think the company is in secular decline, unable to innovate and compete in the highly competitive speciality brick-and-mortar space. They point to the "Eastman Kodakesque" negative same-store sales trajectory as their lead witness. Moreover, the recent public pissing match between Barnes and Noble's former CEO and long time Chairman Leo Riggio has escalated and emboldened the bears. On the other hand, the BKS bulls point to the last company standing argument, focus on the low hanging fruit can be plucked when it comes to improving the business (fixing the website, a better in-store experience, expanding the toy business, etc.), and think the business has turnaround potential.
Although I don't have a strong opinion, per se, I am a value investor, and I am more in the bullish camp and think a turnaround is possible. However, I am not super bullish and have mostly opportunistically (and successfully) traded this stock this year.
What makes this story more interesting is that on Thursday night, after the bell, Richard Schottenfeld filed a SC 13 D/A form that he is now long 5,021,610 shares which represents 6.9% of the company.
See here: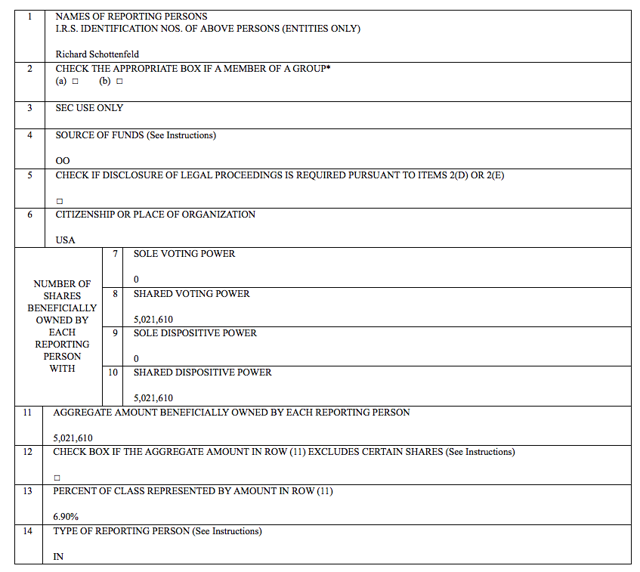 For context, on July 12, 2018, Mr. Schottenfeld filed a 5.68% ownership stake. This was the news that led me back to a long position in Barnes & Noble.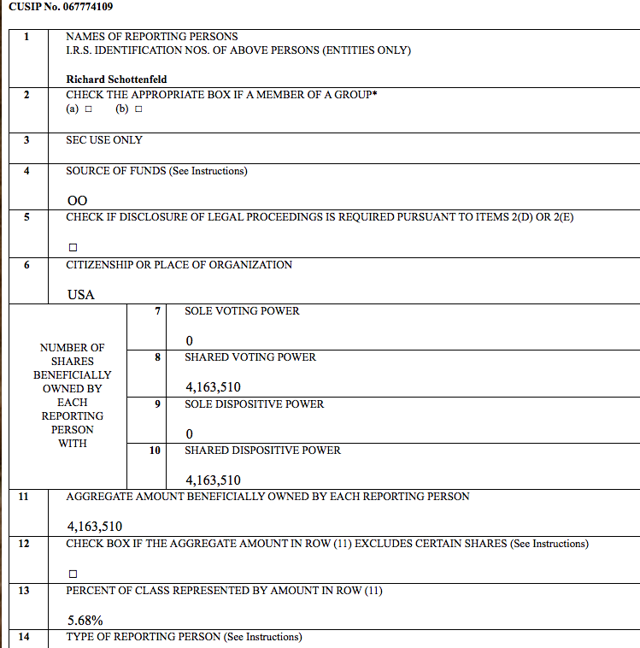 By the way, in the past, Mr. Schottenfeld has been involved with a meaningfully sized position in Barnes & Noble, so he is a strategic investor and he knows both the business and the company (see this article from December 2012).
Incidentally, on Friday morning, BKS trading excitement didn't disappoint. In connection with the increased stake by Mr. Schottenfeld, there was a Bloomberg terminal article, "Barnes & Noble Gets $10/Share Private Value at Gabelli". This was written by Janet Freund, and per Mr. Schottenfeld, Janet suggested that Canadian based Indigo or U.K. based Waterstones might be interested in buying Barnes & Noble.
This news created a nice recovery after yesterday's selloff on disappointing Q1 2019 earnings.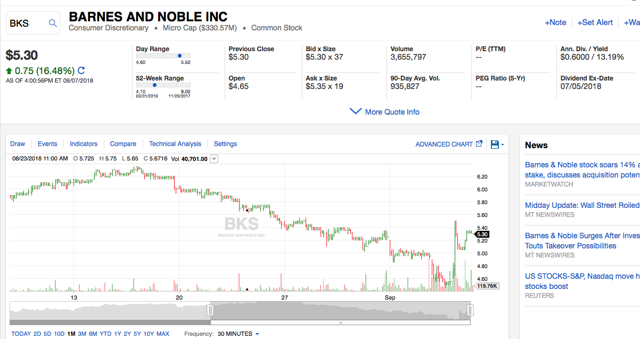 Source: Fidelity
Let's move onto the Q1 2019 Conference Call (see here)
Let's discuss the negative items first and then I want to share a few green shoots.
Negatives
"First quarter EBITDA of $7.7 million decreased $3.5 million as compared to the prior year as the sales decline was substantially mitigated by expense reductions.
Comparable store sales declined 6.1% for the quarter, the steepest declines occurred earlier in the quarter as we rolled out our buy online pickup in store offering calibrated our new store labor model and adjusted our merchandise assortment.
Turning to the balance sheet, we ended the quarter with borrowings of $179 million under our $750 million credit facility. Debt levels will increase next quarter as we build inventory heading into the holiday season. We expect debt to peak early in the fiscal third quarter commensurate with historical trends."
And management put a few caveats around the FY 2019 adjusted EBITDA guidance of $175 million to $200 million.
"Looking ahead, we are still targeting fiscal '19 earnings of $175 million to $200 million. To be clear, this outlook is predicated on the continuation of improving sales trends and positive comps during the holiday period, better gross margins and continued expense reductions. That said, we are confident that we are taking the right steps to drive improved financial performance and deliver value to our shareholders."
Now that we are discussing the likelihood of hitting full year FY 2019 adjusted EBITDA guidance, I want to provide some seasonal context.
However, before readers quickly conclude that missing Q1 2019 adjusted EBITDA estimates somehow rules out hitting full-year FY 2019 guidance, keep in mind that historically, the lion's share of BKS' adjusted EBITDA happens during Q3, the holiday period.
For example, in Q3 FY 2018, BKS' adjusted EBITDA was $137.7 million.
"The consolidated third quarter EBITDA loss was $6.6 million. Excluding nonrecurring charges, third quarter EBITDA would have been $137.7 million as compared to EBITDA of $157.8 million in the prior year."
Full-year FY 2018 adjusted EBITDA guidance was $140 million to $160 million.
"Turning to full year guidance, the company expects comparable store sales to decline in the mid-single digits and consolidated EBITDA to be in the range of $140 million to $160 million, excluding unusual or nonrecurring items."
And just to belabor the point, let's look at FY 2017.
In Q3 FY 2017, adjusted EBITDA was $158 million.
"Third quarter EBITDA decreased $11 million as compared to the prior year as the sales decline was partially mitigated through these expense reductions."
Full year FY 2017 adjusted EBITDA guidance was $180 million to $190 million.
"Given our third quarter results and lower fourth quarter outlook, we now expect consolidated EBITDA in a range of $180 million to $190 million, excluding charges."
Q3 FY 2016, the Adjusted EBITDA was $169 million.
"All right. Thanks again, Andy. Today, I'll provide an overview of our third quarter results along with an update on our strategic initiatives. Our third quarter EBITDA was $169 million, slightly better than a year ago."
So I agree that same-store sales of negative 6.1%, and Q1 2019 adjusted EBITDA of $7.7 million, down by $3.5 million compared to Q1 2018, is an inauspicious start. However, it is really all about Q2 2019 looking better and putting in motion a plausible pathway for recovery. It is too soon to conclude that this business can't show signs of a gaining positive turnaround momentum and deliver strong Q3 2019 quarterly results. In other words, the jury is still out.
In terms of green shoots
Exhibit A
BKS' management described the major technical glitch was the key negative driver for poor Q1 2019 comps.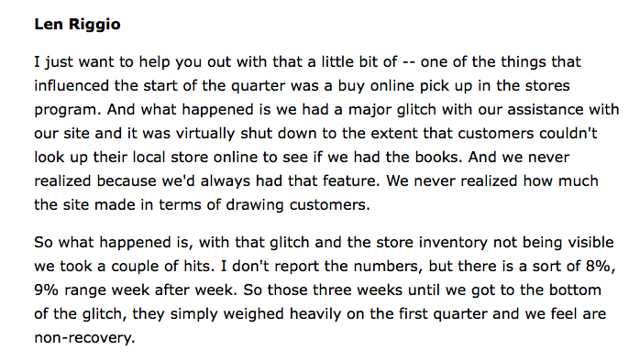 And as the quarter progressed, comps improved sequentially, and August 2018 comps was only down 0.8%. This is a big sequential improvement.
"As we refined our processes, sales trends improved. Comparable store sales sequentially improved each month throughout the quarter declining 7.8% in May, 6.1% in June and 4.5% in July. These favorable trends carried into the second quarter as our comps improved to a decline of 0.8% for August."
Exhibit B
Per Chief Merchant, Tim Mantel, Book Clubs look like a promising strategy to drive traffic.
"Through the Barnes & Noble book club, we've demonstrated that we can drive incremental traffic to our stores, titles selected for a book club are promoted through each of our marketing channels to generate reader interest and to drive a disproportionate market share.

The book clubs have drawn thousands of customers to our stores who've enjoyed discussing great books with their friends and neighbors. We're really looking forward to our next selection an exclusive edition of an absolutely remarkable thing by blogger, podcaster and musician Hank Green."
Exhibit C
A stronger pipeline of what could be popular new books could bode well for Q2 2019 comps.
"As we looked at fall, we expect our business to benefit from a more robust publishing calendar than we had last year. There are big releases to support growing genres like personal growth, current affairs, history and religion. For political junkies, it seems like there's a new book every week this fall including fear, Trump in the White House by Bob Woodward that is getting so much media attention this week.

Nick Sparks, Joni Mitchell and Mitch Albom who don't publish every year will be on shelves by October. Other big titles include Michelle Obama's Becoming a memoir by the former First Lady. John Grissom's The Reckoning, which is his fortieth title and will sure delight his fans and be one of the season's largest fiction books. Fire & Blood which will give George R.R. Martin fans a new appreciation for the dynamic and fascinating history of Westeros."
Exhibit D
With Toys 'R' Us bankrupt and liquidated, BKS has smartly been increasing the kids education toy business. This is a differentiated opportunity and a way to drive traffic.
"Educational Toys and Games is a critical category for Barnes & Noble. In our unique take on the category, smart toys for smart kids of all ages is a source of strength for Barnes & Noble, during the current market share realignment. Earlier this year driven by proprietary consumer insights, we initiated strategic reviews with all the major toy and specialty toy vendors to develop assortment strategies, improve inventory positioning and plan marketing to support the category through awareness of our exciting offering.

We're driving the business digitally and in-stores we are expanding space, adding assortment and improving presentations and time for holiday. All while staying true to our focus on developmental and educational toys; we will have the right educational toys for both kids and the right blogs for all kids."
Dividend
Also, here is the commentary on the dividend. They plan to maintain it for at least another quarter and then they need to evaluate Q3 2019 performance and cash flow.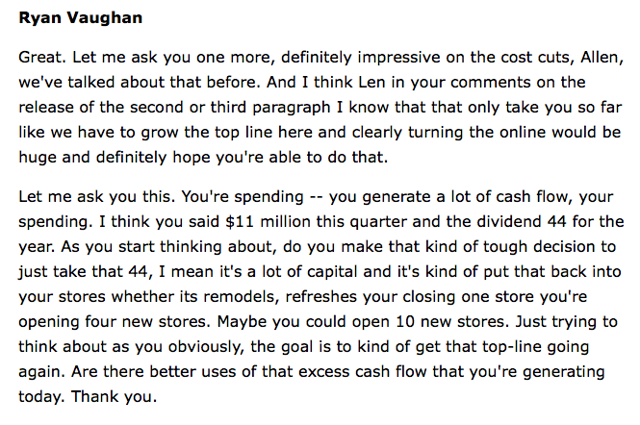 Here is Leo's answer.
"So what we are doing is, we're continuing with the dividend, we have abated our buyback program. We've continued with the dividend and we'll see, I mean I think this holiday season is going to be really, really important to us. While I don't see any reason to cut the dividend at this point, but however, we will have a Board meeting as usual, we approve this every quarter. We'll see where it goes."
And by the way, Leo owns about 8.6 million shares of BKS.

Valuation
With 73 million shares outstanding x $5.30 (Friday's closing price), we are looking at a market capitalization of $387 million. With $179 million drawn on the revolver, we have an EV of $566 million. So if you think BKS can only generate $150 million of FY 2019 adjusted EBITDA, and holding debt constant at the $179 million, and assuming a 4X adjusted EBITDA valuation, this results in the stock being worth $5.76. So not a lot of upside based on those valuation multiples and assumptions.
However, if you are more optimistic and think BKS can turn the corner and can post positive comps, using the low end of the range, at $175 million, and applying a low valuation multiple of 4X adjusted EBITDA, this would result in a $7.14 stock price.
So it depends on where you think FY 2019 adjusted EBITDA land, what multiple you want to assign it in order for you to determine if the current price of $5.30 is under or overvalued.
Also, please note there were 8.5 million shares of BKS sold short, as of August 15, 2018.
Takeaway
Barnes & Noble has become another interesting battleground stock. Both the bears and bull have compelling arguments. Ultimately, though, it is too soon to conclusively tell which side has the better argument. From my vantage point, I have been opportunistically trading BKS shares from the long side. And at present, the combination of Mr. Schottenfeld onboard, a low valuation (if you think $175 million of adjusted EBITDA is possible), and a decent sized short interest have tipped me in the moderately bullish camp.