The latest Commitments of Traders (COT) report showed a big decrease in the long position after three straight weeks of increases. Speculative shorts were not deterred as they added slightly to their own positions. The result was that the speculative net-short position regained all of its decreases from last week and reached a new high.
In silver, the action was much more violent as speculative longs dropped as shorts jumped. Interestingly enough, we saw a large drop in the COMMERCIAL short position as commercial entities covered shorts – bringing the commercial net-short position to the lowest level on COT record (going back to 2006).
We will get more into some of these details, but before that let us give investors a quick overview into the COT report for those who are not familiar with it.
About the COT Report
The COT report is issued by the CFTC every Friday to provide market participants a breakdown of each Tuesday's open interest for markets in which 20 or more traders hold positions equal to or above the reporting levels established by the CFTC. In plain English, this is a report that shows what positions major traders are taking in a number of financial and commodity markets.
Though there is never one report or tool that can give you certainty about where prices are headed in the future, the COT report does allow the small investors a way to see what larger traders are doing and to possibly position their positions accordingly. For example, if there is a large managed money short interest in gold, that is often an indicator that a rally may be coming because the market is overly pessimistic and saturated with shorts - so you may want to take a long position.
The big disadvantage to the COT report is that it is issued on Friday but only contains Tuesday's data - so there is a three-day lag between the report and the actual positioning of traders. This is an eternity by short-term investing standards, and by the time the new report is issued it has already missed a large amount of trading activity.
There are many ways to read the COT report, and there are many analysts that focus specifically on this report (we are not one of them) so we won't claim to be the experts on it. What we focus on in this report is the "Managed Money" positions and total open interest as it gives us an idea of how much interest there is in the gold market and how the short-term players are positioned.
This Week's Gold COT Report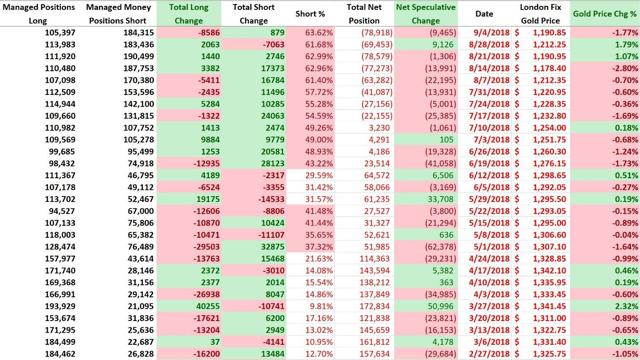 *Gold price data reflects the COT week (Tues-Tues) not a standard week (Mon-Fri)
For the week, speculative longs decreased their positions by 8,586 contracts for the first time in three weeks – more than making up for the rise in long positions. Speculative shorts increased their own short positions by a meager 878 contracts, which suggests most of the drop in gold was due to stale longs who were looking for a jump in gold over the past month which did not happen.
Moving on, the net position of all gold traders can be seen below: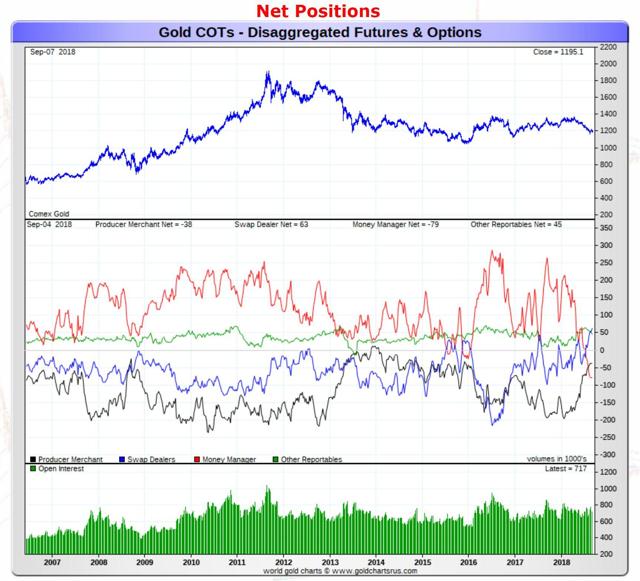 Source: GoldChartsRUS
The red line represents the net speculative gold positions of money managers (the biggest category of speculative trader), and as investors can see, we saw the net position of speculative traders decrease to NEGATIVE 79,000 net speculative long contracts.
As for silver, the week's action looked like the following: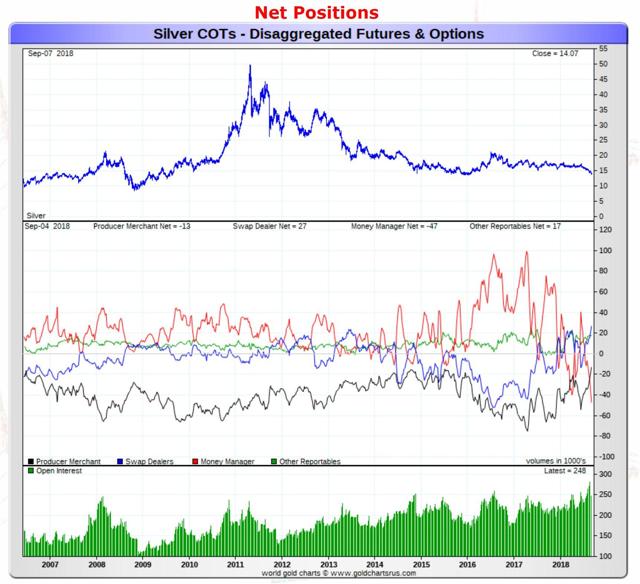 Source: GoldChartsRUS
The red line, which represents the net speculative positions of money managers, showed the net speculative position decreased by around 9,000 contracts in silver. At a negative 47,000 net-long position, silver speculators are the most bearish on silver in the report's history.
Additionally, we saw something we have not seen in a while as silver commercial entities covered a massive 7,641 short contracts.

Source: CFTC
From a contrarian point-of-view, that is a positive thing as Commercial traders are trading on what they see on the physical markets. That means either inventory levels are dropping (thus no need to hold silver short hedges) or they believe the probability of a lower silver price is much lower and they are willing to lose short hedges betting it will not go much lower. These are positive scenarios for investors.
Our Take and What This Means for Investors
Our view is patience is necessary here as both silver and gold make new weekly sentiment lows as speculative traders keep pushing the net-short position lower and lower. Interestingly enough, the central bank of India bought gold for its reserves for the first time in a decade and the Mongolian central bank recently disclosed it purchased 12 tonnes so far in 2018 and it wishes to buy around 22 tonnes for the year. As large buyers of gold, central banks should comfort those investors holding gold longs.
Thus, we remain bullish on both gold and silver despite the bearish sentiment and performance.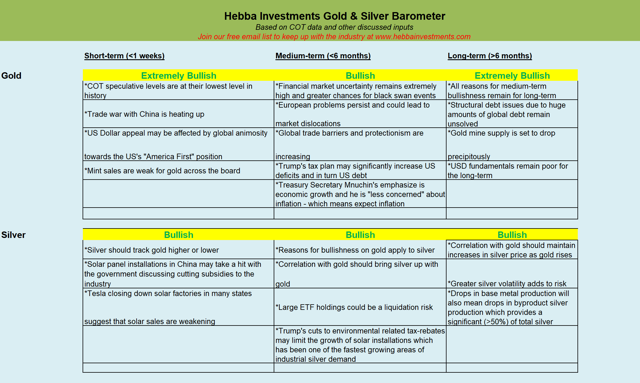 As we said previously, we think it is time for investors to add to their gold positions and silver positions through some of the ETFs (SPDR Gold Trust ETF (NYSEARCA:GLD), iShares Silver Trust ETF (SLV), Sprott Physical Silver Trust (PSLV), and ETFS Physical Swiss Gold Trust ETF (NYSE:SGOL), etc). Additionally, we think investors with a stomach for volatility should consider trading ETF positions for gold and silver miners in anticipation of the leverage they would provide with a gold market reversal.
Disclosure: I am/we are long SGOL, SIVR.
I wrote this article myself, and it expresses my own opinions. I am not receiving compensation for it (other than from Seeking Alpha). I have no business relationship with any company whose stock is mentioned in this article.