Farfetch: IPO Valuation Update
Summary
Farfetch, the UK-based luxury e-commerce company, has updated its IPO filing with an indicated opening price of $15-17 per share.
The company has also indicated its intention of selling 37.5 million shares in the offering, with 7.4 million shares being sold by existing shareholders and the remainder being new issuances.
This structure indicates a massive $600 million IPO that would value Farfetch at $4.56 billion, living up to current market expectations that the company would notch a $5 billion valuation.
This valuation, however, makes Farfetch a relatively expensive company against ~$600 million in expected revenues this fiscal year.
Farfetch (NYSE:FTCH), the London-based e-commerce company that "exists for the love of fashion," has updated its IPO filing with its initial pass at pricing as well as its indicated offering size. With expectations of a giant $600 million IPO - about the same size as DocuSign's (DOCU) $629 million IPO earlier this year - Farfetch's debut in the public market will make waves.
Let's cut to the chase: I think Farfetch's valuation is rather expensive, living up to the expectations that the popular e-commerce company would hit a $5 billion market cap in this IPO. In the international e-commerce space, I'm more inclined to invest in Pinduoduo (PDD) - the market for everyday products, especially when catered to China's population of ~1 billion, is a much larger opportunity than Farfetch's market for luxury fashion. Farfetch's ~60% revenue growth is truly impressive, and its partnership with many leading fashion houses is a huge business moat that's difficult to replicate, but the company's growth simply pales in comparison to Pinduoduo, which in its most recent quarter hit ~26x revenue growth (yes, revenue multiplied by twenty-six times!).
Pinduoduo's rapid growth rate has been one of the main reasons that investors are beginning to back away from the de-facto Chinese e-commerce leader, Alibaba (BABA), though the visionary Jack Ma's retirement certainly doesn't help sentiment either. Like Farfetch, Pinduoduo primarily generates revenues through commission rates (Farfetch commands a ~30% "take rate" from its luxury sellers), and Pinduoduo's gross margin of 77% as of Q2 also trumps Farfetch's gross margin of 53%. The two companies are polar opposites - Pinduoduo sells primarily discounted items like a Costco (COST) of the web that is facing a current investigation for product quality and fakes, while Farfetch caters to the upper end of the market. Yet surprisingly it's the low-cost seller that is actually generating the superior gross margins.
Despite Pinduoduo's strengths, it has largely traded sideways since its IPO and is still flat against its IPO price of $19: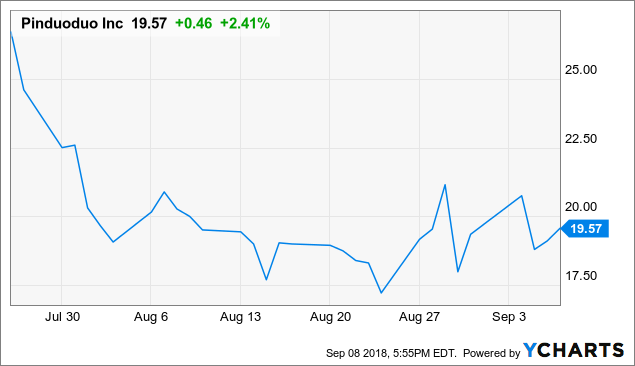 Another major topic for Farfetch is also closely linked to China. One of its primary equity investors is JD.com (JD), whose immense logistics network is a key component of Farfetch's operations. CEO Liu Qiangdong's recent arrest and release has rocked JD shares, which are down ~20% last week alone. With JD.com so heavily integrated into Farfetch, the unrest on that front may spill over into Farfetch as well.
Overall, Farfetch isn't my top pick among e-commerce IPOs. While the company has built an enviable brand, its growth pales in comparison to Chinese counterparts, and its unit economics and ability to scale profitably are also in question.
Valuation update
As previously mentioned, Farfetch intends to sell shares at an initial range of $15 to $17 per share.
As shown in the proposed structure below, Farfetch will issue and tender 30.06 million new shares, while selling shareholders will transfer 7.45 million existing shares:
Figure 1. Farfetch offering structure

Source: Farfetch S-1A filing
In addition to the 37.51 million shares tendered in the IPO, Farfetch is also executing a concurrent private placement with a Saudi Arabian investment firm, Kadi Group. Kadi Group is an existing shareholder and is purchasing a number of shares to maintain its pre-IPO ownership, which at the current pricing midpoint of $16 indicates a private placement worth 1.19 million shares and an additional $19 million raise on top of a $600 million IPO.
Farfetch itself expects to raise $446.5 million in net proceeds from the combined IPO and private placement, not including the proceeds that will accrue to selling shareholders. Farfetch's balance sheet as of the end of June indicates $337 million in cash remaining, so the IPO proceeds will be critical in supporting the company's large burn rate (in the first half of FY18, Farfetch has burned through $118 million in negative free cash flow).
Let's turn our attention to the company's proposed valuation. After giving credit to the shares issued in both the IPO and the Kadi private placement, Farfetch will have 242.4 million Class A shares outstanding and 42.9 million Class B shares outstanding, for a total outstanding float of 285.3 million shares (Class B are super-voting shares, with a 20:1 voting ratio, while holding an equivalent economic interest in the company).
This implies that, at Farfetch's midpoint IPO price of $16 per share, the company will open at a market cap of $4.56 billion. If we give credit to the $337 million of cash on Farfetch's balance sheet as well as the $446.5 million in net proceeds it expects to raise, the company is left with an enterprise value of $3.78 billion.
As noted in my original article, Farfetch has seen its revenue growth decelerate modestly in the first half of 2018 to 55% y/y (down five points from FY17 growth of 60% y/y). If the company manages to hold this growth rate throughout FY18, it will generate $598.2 million of revenues:
Figure 2. Farfetch historical financials

Source: Farfetch S-1A filing
This puts Farfetch's valuation at 6.31x EV/FY18 revenues. This certainly doesn't look too expensive against other fast-growing e-commerce IPOs - Pinduoduo, for example, is trading around 18x forward revenues - but we have to recall the fact that Farfetch's growth is due to slow down. In addition, the fact that the company also accrues revenues from its less-profitable retail operations (two Brown's retail locations in London), which generate a low single-digit percentage of Farfetch's total revenues, also weighs down on its subpar gross margin.
Other established e-commerce companies tend to trade at lower multiples of revenue, with the exception of Alibaba (which has immense profits backing its valuation; the company is currently trading at a muted 21x forward P/E multiple based on analysts' consensus EPS estimate of $7.67 for the following year).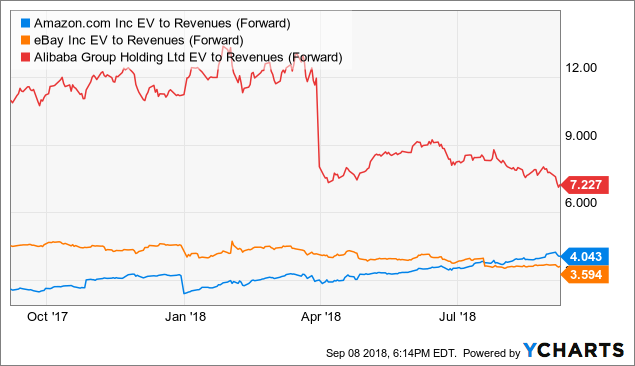 How should investors react?
In my view, Farfetch's premium valuation is rather unwarranted. While it's true that Farfetch fills a noticeable void in the upper-end e-commerce space that has yet to be fully penetrated, we can't help but notice the company's decelerating growth. In addition, Farfetch's take rate - which is the percentage fee that it charges to luxury retailers for selling on its platform - has also fallen 200bps y/y to 31.7% in the first half of 2018, indicating that the company is under pressure to attract continued partnerships in order to chase GMV growth. With this in mind, I find it difficult to believe that Farfetch will be able to scale meaningfully beyond where it is today, much less so on a profitable basis. I'm much more partial to faster-growing Chinese e-commerce plays like Pinduoduo.
This article was written by
With combined experience of covering technology companies on Wall Street and working in Silicon Valley, and serving as an outside adviser to several seed-round startups, Gary Alexander has exposure to many of the themes shaping the industry today. He has been a regular contributor on Seeking Alpha since 2017. He has been quoted in many web publications and his articles are syndicated to company pages in popular trading apps like Robinhood.
Analyst's Disclosure: I/we have no positions in any stocks mentioned, and no plans to initiate any positions within the next 72 hours. I wrote this article myself, and it expresses my own opinions. I am not receiving compensation for it (other than from Seeking Alpha). I have no business relationship with any company whose stock is mentioned in this article.
Seeking Alpha's Disclosure: Past performance is no guarantee of future results. No recommendation or advice is being given as to whether any investment is suitable for a particular investor. Any views or opinions expressed above may not reflect those of Seeking Alpha as a whole. Seeking Alpha is not a licensed securities dealer, broker or US investment adviser or investment bank. Our analysts are third party authors that include both professional investors and individual investors who may not be licensed or certified by any institute or regulatory body.