The August jobs report printed slightly above forecast, at 201,000 new jobs. The consensus estimate had been just 190,000. But Friday's significant revisions to June and July data resulted in 50,000 fewer jobs than had been previously reported for June and July and resulted in average three months job creation dropping to just 185,000 jobs and six months average jobs creation of just 192,000. Both averages are the lowest since November, 2017.
The unemployment rate was 3.9 percent, flat from July, but down 0.5 percentage points from the same period last year. The labor participation rate dropped by 0.2 percentage points to 62.7 percent in August, both month-to-month and from August 2017. The U-6 Unemployment, at 7.4 percent, down 0.1 percentage points from July, and down 2.2 percentage points from July 2017. It is the lowest U-6 number since April, 2001.
August job gains were spread over a wide range of low- and middle- wage occupations. Construction continued to gain jobs, and at a higher rate, which is consistent with the higher pace of home construction discussed below. Jobs creation in the Wholesale Trade, and Transportation and Warehousing sectors both increased. But jobs were lost in information services, durable goods manufacturing, and retail.
Nominal average weekly wages increased by 3.2 percent, year on year, at a rate that is higher than inflation.Analysis:
Details and Outlook
Overall, this was a just fair jobs report, with the good news about increased increase in average weekly wages offset by substantial June and July revisions. The revisions for June and July caused the 3 month and 6 month average jobs creation to dip below 200,000 jobs for the first time since November. That doesn't presage strong growth and we have other concerns for the economy.
We anticipate 2018Q3 and 2018Q4 to print in the range from 2.5 to 3.0 percent, and 2.3 to 2.8 percent, respectively, assuming tensions in the Straits of Hormuz remain stable and Iraq's increasingly polarized domestic political situation does not affect its oil exports.
Let's look at our exclusive jobs creation by average weekly wages for the June jobs report: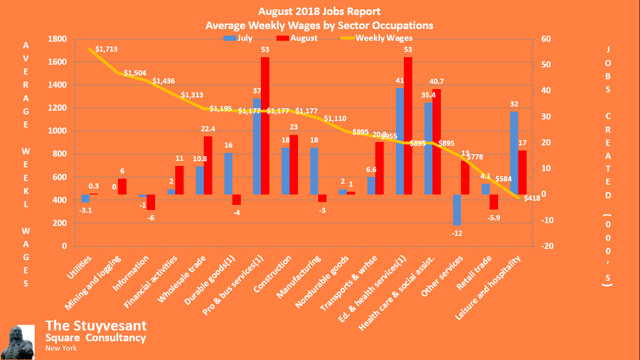 August Jobs Creation by Average Weekly Wage Source: The Stuyvesant Square Consultancy, compiled from BLS Establishment Data for August 2018.
The number of people employed decreased by about 423,000 people and about 469,000 left the workforce. The JOLTS survey for June, the latest available data, showed just a de minimis 3,000 new job openings from May to June, but 537,000 more jobs from June of 2017.
We're disappointed to see the six month jobs creation fall below 200,000, to just 185,000 because of today's revision because its just around the number of jobs
Oil and Geopolitical Concerns
We're heartened to see fuel prices continuing below the $3 per gallon threshold. But gasoline prices remain, on average, 16 percent higher than last year. We hope that they have plateaued with oil prices; but not if they signal weakness in the broader economy.
Additionally with respect to oil, we have increasing concerns about Iraq's deteriorating domestic political situation. While the U.S. takes only a small portion of its oil imports from Iraq, developing economies - particularly India and China - take far more; over 15 percent and around 9 percent, respectively. Other big importers of Iraqi oil include Italy
While oil prices would jump globally if the Iraq exports fall, we have particular concerns about India and the PIGS, where higher petroleum costs - together with stronger euro and dollar vis a vis their currencies - would further impinge those counties' ability to repay dollar- and euro-denominated debt they owe to European and American banks.
We also have considerable concern about Iran's increasing belligerence in the Straits of Hormuz, given present U.S.- Iran tensions of over the latter's nuclear development. Iran's leadership has said that they would cease all flow off oil through the Straits of Hormuz if Iran could not sell oil because of U.S. sanctions.
The U.S. Navy quietly deployed the Essex Amphibious Ready Group (click link to see it's makeup) in July, which is now off the coast of the Saudi peninsula. The Essex ARG, with a contingent of VSTOL (i.e, Harrier) aircraft and Marine expeditionary forces, is a substantial improvement to last month, when there was only the Iwo Jima ARG group in the region. (Iwo Jima is a helicopter carrier.) The Essex ARG can deter without threatening.
Other Monthly Data
June Freight flows data increased, year-on-year, but decreased slightly from June.
We're also heartened that people are taking home more cash from the tax cut, so that debt service will account for a lesser percentage of disposable income. Data released early last month for 2018Q1 started supporting that supposition that we had expected since the tax bill passed.
We note these other developments since the June jobs report:
The Fed's Next Move
We continue to hope that the pace of Federal Reserve interest rate increases will be constrained, though that seems unlikely given the 2018 Q2 GDP report and data today showing wages increasing at 2.9 percent over last year. We think it is a mistake to move rates higher. Doing so may trigger liquidity issues in developing markets because continuing strengthening of the dollar (and the euro) relative to those countries' currencies will further exacerbate those countries' ability to pay their dollar- and euro-denominated debt. It has the ability to cause losses at banks and other financial institutions.
While inflation for personal consumption expenditures, less food and energy, or "Real PCE", has hit the Fed's target of 2 percent, the rate is volatile and averaged 1.9 percent since February. We continue to believe that moves toward normalization should take place more slowly and only after growth had become decidedly more robust. As we have illustrated, the 2018Q2 GDP figure included a lot of "shifting" from and to earlier or later quarters.
We have long held the view that trimmed mean PCE, produced by the Dallas Fed, is a better measure of inflation in the day-to-day costs of most Americans, and - while it is at 2 percent now - it, too, has averaged 1.9 percent since February. The 2 percent rate the Fed has adopted, if increased substantially, and anticipated rate increases, will stifle GDP growth.
Largely tied to that, we continue to be troubled by the yield curve, as we have discussed repeatedly. The 3 Month/10 year curve that we most closely monitor has again slipped; it is now at just 75 bps. We believe it is yet another sign that Fed rate hikes are premature and are outpacing the economy's growth. The Fed mostly affects short-term rates, principally the 3 month.
Moreover, the 10 year yield is again sinking, indicating investors are showing decreased appetite for risk over last month, as signalled by moving toward Treasuries and reducing rates.
While we dogmatically prefer a strong dollar from a high demand for US goods and services, we're inclined to think this surge is mostly attributable to the Fed's interest rate hikes more than demand for U.S. goods and services. We remain unperturbed by the tit-for-tat trade dispute with China and Canada, and by the Trump tariffs. We support the president's more diligent management of trade to defend against cheating and to oppose tariff and non-tariff barriers.
Trade Woes and Wars
We would like to see the president engage America's Asian and European allies to step up to join a "coalition of the willing" to challenge China's decades old unfair trade practices and thefts of intellectual property because the one-on-one dispute will simply trigger mutual retaliation.
While CEOs seem concerned about margins if China manufacturing sites are lost in a trade war, we note that contract producers in most businesses are available in other locations and at lower wages than China and that thefts of intellectual property present a longer-term threat to US businesses. We are bullish on India, and believe it is a much more promising venue for low-wage manufacturing investment over the long-term; however, again, the Fed aggressive rate increases risk a "sudden stop."
In our view, China can't afford a restless - or even a rebellious - populace being unemployed. Its leaders need exports to the U.S. and Europe more than the West needs access to China's markets. Losing American sales in Chinese markets might hurt American and European companies bottom line and anger American farmers; losing Chinese jobs to American tariffs might collapse China's government.
Summary
We're circumspect about the rate of GDP growth reflected by the slightly revised 4.2 percent reported for 2018Q2. We continue to believe it arose largely from stacking up GDP from prior and later quarters, as discussed here.
Today's jobs number will likely increase the Fed's reported pace of rate increases later this month by a quarter point. We're less inclined to predict December because we think the September increase will slow the economy and the rate of job growth. We also think it will pressure large commercial banks with large developing nation and southern European loan portfolios to write down some of those loan portfolios.
We estimate 2018Q3 GDP will print at 2.5 to 3.0, unchanged from last month. In equities, we think these sectors will perform as follows:
Outperform: Consumer discretionaries in the mid- to high-end retail sector; certain leisure and hospitality, trucking on speculation of consolidation and acquisition; the asset-light hospitality sector on speculation of increasing franchisee property values and companies or REITs that own real estate in sectors identified as "opportunity zones" under the Tax Cut and Jobs Creation Act of 2017.

Perform: Consumer staples, energy, utilities, telecom, and materials.

Underperform: Lower-end consumer discretionaries, like dollar stores; Healthcare; financials; technology; and industrials.
Author's note: Our commentaries most often tend to be event-driven. They are mostly written from a public policy, economic, or political/geopolitical perspective. Some are written from a management consulting perspective for companies that we believe to be under-performing and include strategies that we would recommend were the companies our clients. Others discuss new management strategies we believe will fail. This approach lends special value to contrarian investors to uncover potential opportunities in companies that are otherwise in downturn. (Opinions with respect to such companies here, however, assume the company will not change). If you like our perspective, please consider following us by clicking the "Follow" link above.
Disclosure: I/we have no positions in any stocks mentioned, and no plans to initiate any positions within the next 72 hours. I wrote this article myself, and it expresses my own opinions. I am not receiving compensation for it (other than from Seeking Alpha). I have no business relationship with any company whose stock is mentioned in this article.
Additional disclosure: The foregoing is only the author's opinion about a company and its operations, market, and management. or general market and economic conditions. It is not intended as investment advice, and you should not use it for that purpose. You should consult your own personal financial adviser before undertaking any changes to your investment portfolio.