Introduction: A Grand Theory
In this article, I am going to propose my alternative theory on the current stage of the global economic cycle and what this means for the U.S. dollar, commodities, and equity markets. Let me just say right out that even though I am presenting this as a theory, I have client & family portfolios positioned for this, so I have personally moved beyond theory to acceptance. I would like to give a hat tip to Seeking Alpha reader Darp for motivating me to formally publish this view.
To start, let me frame what seems to be the dominant perspective (or narrative) on the markets held by U.S. investors in one sentence:
The U.S. economy is in the latter stages of the current cycle and the U.S. stock market is topping before what will be a bear market in perhaps a year or so.
This view comes with the constant anticipation of the next recession since equities tend to peak out before the recession. In other words, if you wait until the next recession begins, you will have already been too late from an equity risk perspective.
I think there are important forces that this narrative has overlooked and there is actually a different scenario unfolding. This scenario will have a forceful impact on commodities, the U.S. dollar, U.S. equity markets, and quality emerging market equities. The question worth considering is, "What if 2015 was the recession?"
The Impact of China
A lot of thinking on U.S. economic cycles that one hears thrown around on financial media outlets is outdated. By this I mean the global economy has changed drastically and this now has a different effect on the U.S. economy and especially on U.S. multinational corporations which is more relevant to investors.
The U.S. economy is no longer the dominant world economy, yet seasoned U.S. economic commentators continue to treat it as such, possibly misguided by the over-influence of manmade terms that refer to economic powerhouses like China as "emerging" markets. The argument could be made that the U.S. is still the dominant economy because of the size of its bond market and the scope of its currency as the de facto global standard. However, what this argument ignores is that if you consider who is more dominant when it comes to building and designing many real things, the view of the forest becomes entirely different. Perhaps this aspect is more readily visible to us investors who focus more on industrial materials.
The following chart compares the gross domestic product ("GDP") of China and the U.S. on a purchasing power parity ("PPP") basis as their share of the world going back to October 1, 2001: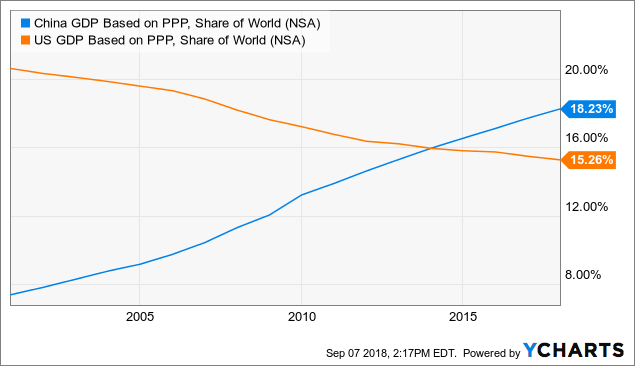 In his excellent book, Destined for War, author Graham Allison provides significant details on the astounding rise of China and the impact it is now having on the global economy, especially compared to the U.S. Allison points out that, if current trends continue, the U.S. share of world GDP will fall to 11% in three decades whereas China's will rise to 30%.
The size of China's economy and the real impact that it is now having on world GDP seems to have quietly crept up on many U.S.-focused economic and market commentators - many of which are still looking through glasses that are 20 to 30 years old. What I think this has meant is that the global economy, now heavily influenced by China to a degree unimaginable just 2 decades ago, actually went through a milder recessionary downturn in 2014-15 but this has not been recognized as such. I attribute this mainly to the resilience of the large-capitalization stock market indexes boosted by a handful of technology stocks. This did show up though in the discussion of an "earnings recession." To some extent, I think the global financial crisis conditioned U.S. investors to expect the worst for its next downturn, so when a far milder outcome was delivered, it came and went almost unnoticed.
From the standpoint of a Chinese equity investor, 2015 was clearly an end-of-cycle type bear market, as evidenced by the following chart: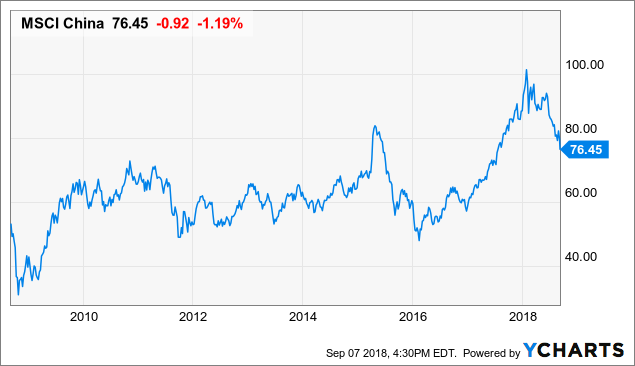 The following chart of regional and global industrial production, from The Wall Street Journal's Daily Shot, highlights the downturn that hit global industrial production in 2014 and 2015 before bottoming in early 2016: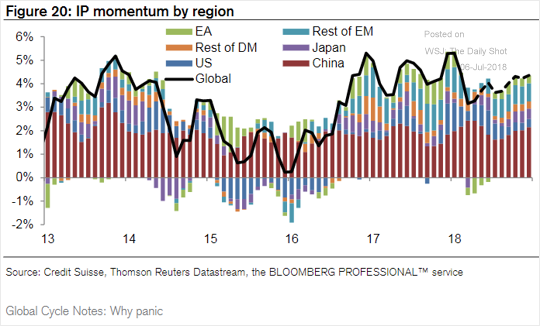 One thing is for sure, if you were invested in building and moving things - commodities, oil, and industrials - in 2014 to 2015 you definitely went through a harsh, "recessionary type" beating. Recalling those days, I had one client that was laid off and another who lost his job. One was employed by Halliburton (HAL) and the other worked in the steel industry. U.S. small-capitalization stocks underwent what could be called a "mild recessionary beating" during that time as shown on the following chart represented by the Russell 2000 and Russell 2000 Growth indices: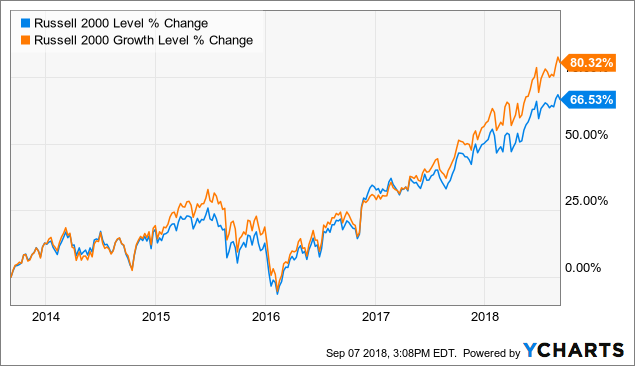 Still scarred by the 2008 collapse, many investors were in the bunker, anticipating something worse in Jan-Feb 2016 but it never materialized. It is now my view that this was when the current global economic cycle began and also the beginning of renewed bull market in U.S. stocks.
The Global Economy and the U.S. Dollar
There is a lot of back and forth about what impacts the U.S. dollar. From a long-term perspective, the dominant factor is an inverse correlation with the global economy. The following chart, which compares annual World GDP growth to the Broad Trade-Weighted Dollar Index, demonstrates this: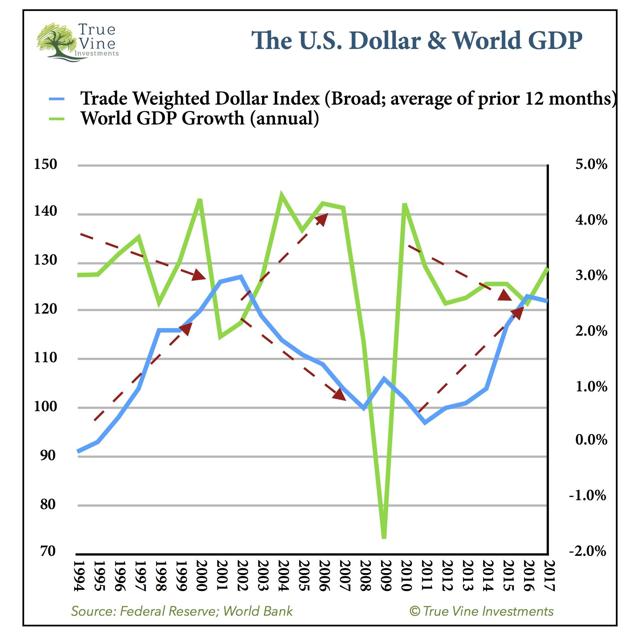 If you ignore the global financial crisis as an outlier, the long-term inverse correlation is clear. In recent decades at least, there has been consistent 7-year cycles where this trend has played out.
The U.S. dollar fell hard in early 2016, then retraced some territory before falling hard again in early 2017. The WisdomTree Bloomberg U.S. Dollar Bullish Fund (USDU) tracks the performance of the Bloomberg Dollar Total Return Index and is a good representation of the U.S. dollar. The following chart reveals this pattern of a longer-term trend down since January 2016: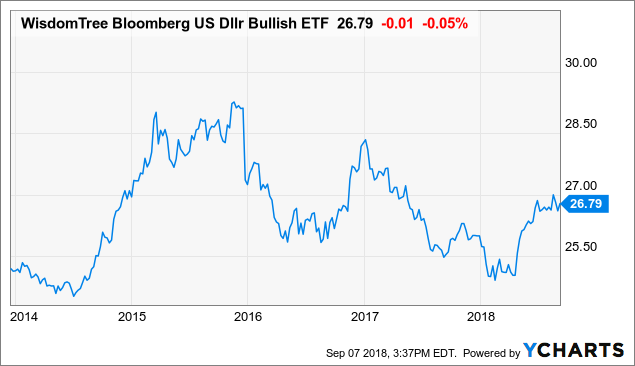 In my mind, the U.S. dollar is a key factor to watch. The dollar headed back down in the context of a strengthening global economy would be a significant reversal. If I am right, the global economy is poised to strengthen from here and the U.S. dollar is getting ready to roll over again to the downside. This will have important implications for all markets, especially commodities and emerging markets.
Looking Forward
It is my view that the global economy is now only midway through an economic cycle that began in January 2016 and, given the now heavier influence of China on global trade, the U.S. stock market may have 3 more years to run with commodities perhaps 4 more years to run as they tend to peak out later than equities.
For many who see U.S. equities as overvalued, this is hard to imagine. However, consider the following long-term monthly log chart of the S&P 500 Index going all the way back to the early 1980s: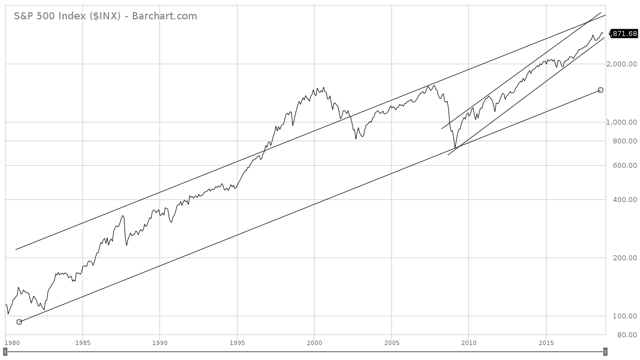 The message I get from this chart, in the context of my broader assertion in this article, is that the U.S. stock market still has another major leg higher. I expect the large capitalization indices to get a boost from a weakening U.S dollar and a strengthening global economy.
Conclusion
Putting this all together, I see my thesis here culminating in the following primary investment trends over the next few years:
Lower U.S. dollar
Renewed strength in commodities and quality developing markets
The outperformance of U.S. large caps versus small caps
Higher interest rates globally
The interesting thing to me right now is that we seem to be at or near the end of a countertrend rally that has gone mostly against these investment themes. I think now is an excellent time to be positioning for a reversal.
Important Disclosure
I am an investment advisor and owner of True Vine Investments, a Registered Investment Advisor in the State of Pennsylvania (U.S.A.). I screen electronic communications from prospective clients in other states to ensure that I do not communicate directly with any prospect in another state where I have not met the registration requirements or do not have an applicable exemption.
Any investment advice or recommendations involving securities referenced in this article is general in nature and geared towards a readership of sophisticated investors. This article does not involve an attempt to effect transactions in a specific security nor constitute specific investment advice to any particular individual. It does not take into account the specific financial situation, investment objectives, or particular needs of any specific person who may read this article. Individual investors are encouraged to independently evaluate specific investments and consult a licensed professional before making any investment decisions.
All data presented by the author is regarded as factual; however, its accuracy is not guaranteed. Investors are encouraged to conduct their own comprehensive analysis.
Positive comments made regarding this article should not be construed by readers to be an endorsement of my abilities to act as an investment advisor.
Industrial Minefinder™
I hope you found this article insightful. It is a topic that I have discussed with subscribers of my Seeking Alpha Marketplace service Industrial Minefinder™. I use fundamental analysis on industrial metals to help determine when and how much to buy of what I think are the best opportunities in the related mining sector.
If you are interested in subscribing to Industrial Minefinder™, you can sample my work by reading my "author's picks" accessible from my Seeking Alpha profile. Do not hesitate to direct message me with any questions you may have.
Disclosure: I/we have no positions in any stocks mentioned, and no plans to initiate any positions within the next 72 hours. I wrote this article myself, and it expresses my own opinions. I am not receiving compensation for it (other than from Seeking Alpha). I have no business relationship with any company whose stock is mentioned in this article.