Breakout Forecast Selections for Week 37:
Market conditions have generated a slight decrease in positive breakout momentum and a strong increase in negative momentum this week. The positive momentum gauge moved lower to 44, down from a value of 65 at the end of last week. The yellow positive momentum conditions signal momentum is holding or weakening.
In Week 34 of last year, the positive momentum gauge set its all-time highest score of 120 since the momentum gauge has been put to use. The all-time low for the positive momentum selection gauge is 8 during week 14 of 2018.
The negative momentum score increased significantly this short trading week to 44 from a low condition of 18 last week. In relative terms, the negative momentum is now higher than positive momentum.
Last published report: Week 36 Breakout Forecast

My momentum gauges are based on the count of the momentum stocks screened as either positive accelerating or negative accelerating stocks based on my research algorithm. The combination of the two different types of momentum categories screened by segments 2 and 6 of my algorithm may help validate the quality of the overall market momentum strength.
Total Return Chart: +92.33%
The Total Return Chart reflects total return of all stocks in the weekly portfolio.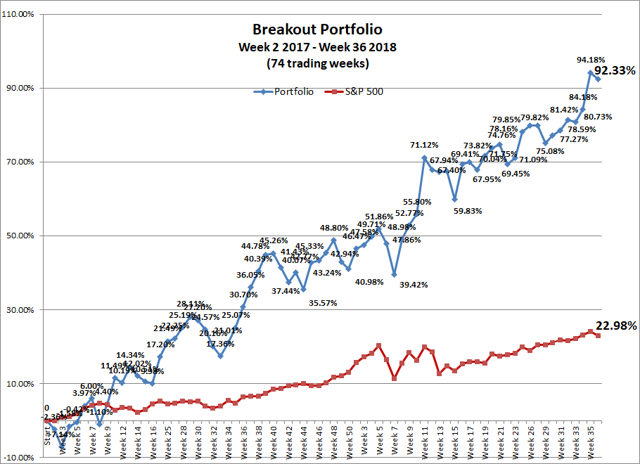 Market fund flow update Sep 7 from ETF.com:
In a relatively short week due to the Labor Day holiday, investors poured a net of $3.24 billion into U.S.-listed ETFs. That's only about a third of the total asset flows seen the week prior.

A look at the top net asset gainers in the past week show that demand was largely split into two asset classes: U.S. equity and U.S. fixed income.
Last week, 3 selections gained over 10% during the short trading week with only SENS holding onto gains of +9.43% through Friday. This week, I have selected 8 breakout stocks from the following sectors: 5 healthcare, 1 conglomerate, 1 services and 1 technology.
The two sampled selections of positive momentum stocks for this week include:
Enzo Biochem (ENZ) - Healthcare / Medical Labs & Research
T2 Biosystems (TTOO) - Healthcare / Medical Labs & Research
Caution: These stocks are not necessarily recommended for long-term buy/hold unless you are comfortable with very large price swings. These are the most volatile selections I offer from among all the different Value & Momentum portfolios.
As I continue to observe, strong momentum events usually last from one to three weeks and may encounter some substantial decline before returning again to positive gains. Proposed entry points for each of the selected stocks are as close to the highlighted prices in yellow on the charts at market open.
Breakout Stock Selections for Week 37
Note: all breakout stocks are selected based on my algorithm to increase the frequency of 10% gains within a very short period of time. Price targets are estimated through an unrelated technical charting process for those who are looking for estimated exit points; however, it is possible the momentum in these selections may move well beyond the initial target.
Sample #1: Enzo Biochem - Healthcare / Medical Labs & Research

Price Target: 5.50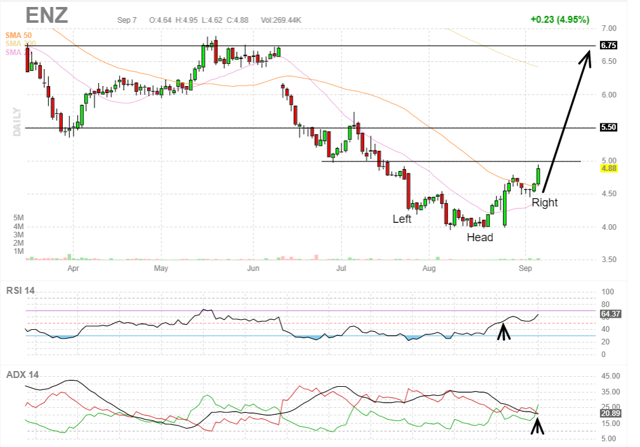 | | |
| --- | --- |
| Sep-05-18 06:50 PM | Top 5 Biotech Stocks for 2018 Investopedia |
| Aug-27-18 08:30 AM | Enzo Biochem to Acquire New Facility for Manufacturing and Distribution to Advance Its Diagnostic and Therapeutic Growth Strategy Business Wire |
Enzo Biochem, Inc., an integrated diagnostic bioscience company, engages in the research, development, manufacture, and marketing of diagnostic and research products based on genetic engineering, biotechnology, and molecular biology. The company operates in three segments: Clinical Labs, Life Sciences, and Therapeutics.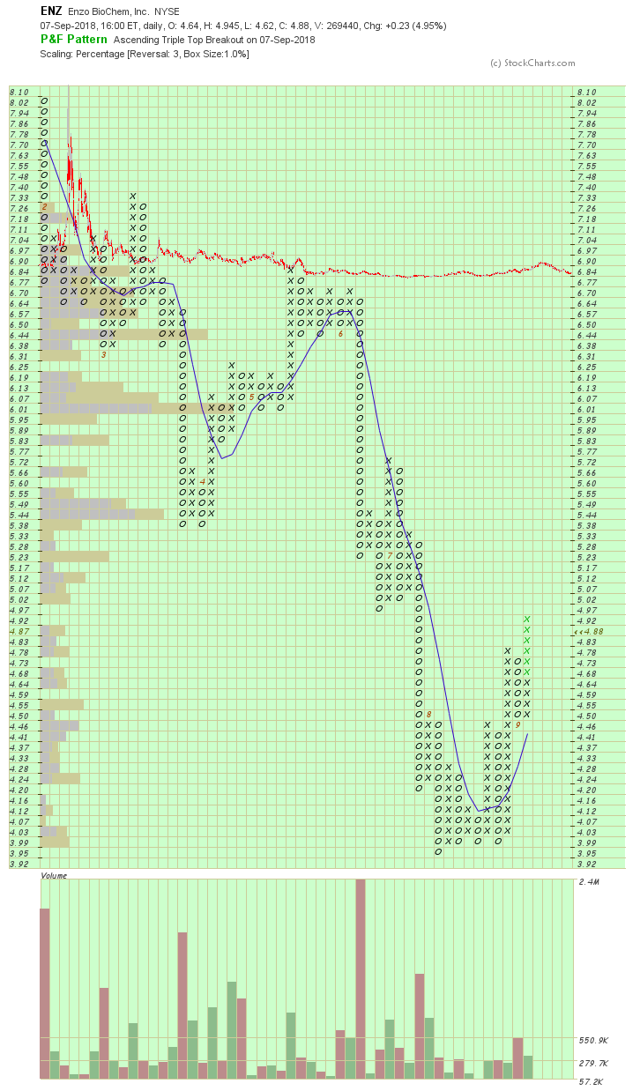 Sample #2: T2 Biosystems - Healthcare / Medical Labs & Research

Price Target: 8.50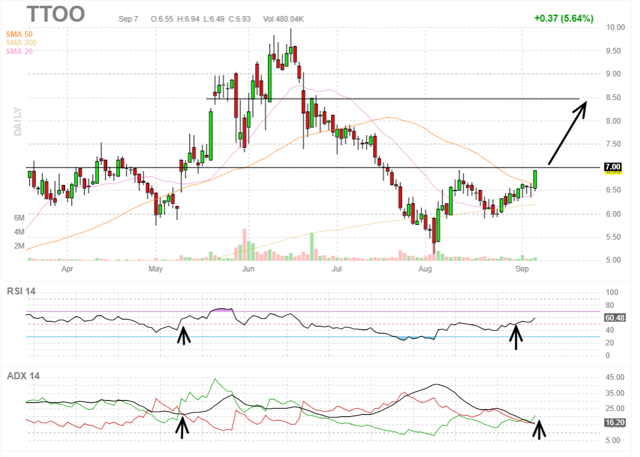 T2 Biosystems, Inc., an in-vitro diagnostics company, develops diagnostic products and product candidates in the United States. It provides T2 Magnetic Resonance platform that enables detection of pathogens, biomarkers, and other abnormalities in various unpurified patient sample types, including whole blood, plasma, serum, saliva, sputum, and urine. The company also offers T2Dx, a bench-top instrument for sepsis, Lyme disease, and other applications, as well as T2Candida panel for the detection of candida species in human whole blood specimens.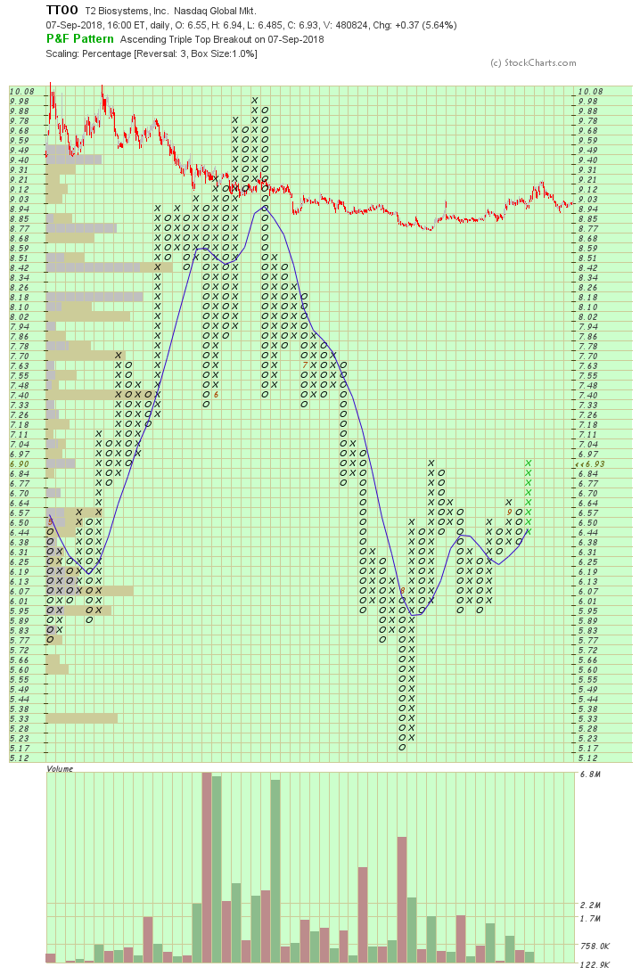 2018 YTD Chart: +51.14%
Cumulative return with 1-Week holding period.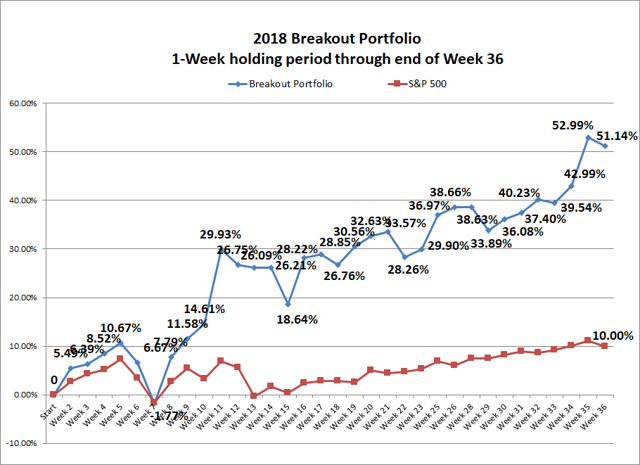 A detailed holding period analysis for Q1 2018 sampled Breakout Stocks is available here for review: Value & Momentum Breakout Stock Returns For Q1 2018
Top Breakout Gainers last four weeks: SHSP +23.57%, INVE +26.67%, HTGM +26.02%, RIBT +14.98%, INFI +14.90%, PXLW +30.17%, CGEN +9.15%, CDMO +15.58%, MEET +14.71%, MNOV +11.39%.
Long-Term Portfolio Returns
As a reminder of the other longer term portfolios being tracked and updated regularly with portfolio spreadsheets listed in the Tools section, here are the returns through Week 36.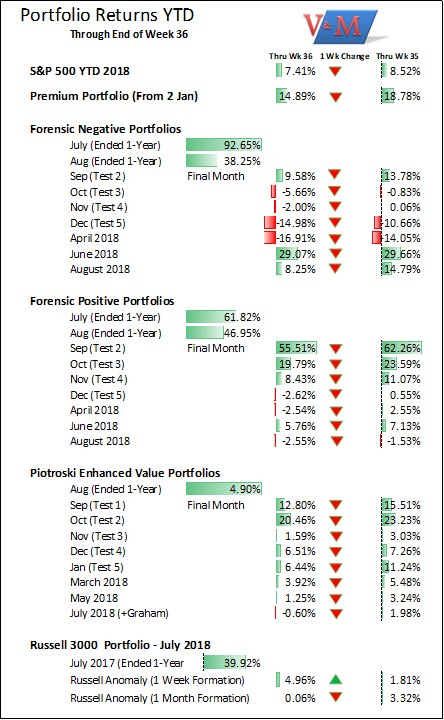 Click the "Follow" button at the top of the page to enjoy free updates and select real-time alerts if you want timely updates on the latest stocks and portfolios I offer that are outperforming the S&P 500 in each of their respective time periods.
Be sure to check out my many other free articles here.
To subscribe to Value and Momentum Breakouts, click on the link here.
I think these breakout stocks will serve you well in Week 37 and beyond. I hope you all do well with these stocks and always diversify to minimize some of the market risks.
All the very best and have a great week of trading!
JD Henning, PhD, MBA, CFE, CAMS
Editor's Note: This article covers one or more microcap stocks. Please be aware of the risks associated with these stocks.