It was a rough start to the school year all over the market. MLPs and U.S. midstream corporations outperformed a weak broad market and held up much better than energy stocks. But after the last few weeks, languishing midstream stock performance was still a disappointment. The broad midstream index (AMNA) was in line with the S&P 500, dragged down by heavy Canadian exposure that underperformed.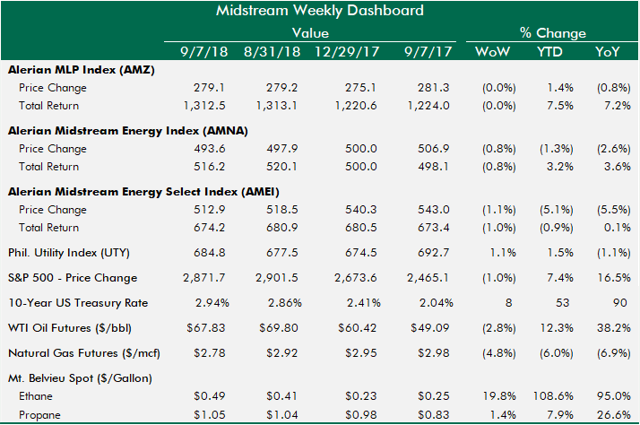 Midstream did have positive intra-day reversals in 3 of 4 days this week, especially and Wednesday when the MLP Index went from down 1.2% and finished up 0.4%. That resilience is encouraging, something to hang our hats on this weekend. When commodity prices and stocks aren't selling off, midstream may see that support result in more sustained positive price action. No harm done this week, though, and there's always next week.
High FID-elity
The major Gulf Coast storm that developed last weekend and threatened to wreak havoc on Gulf Coast supply and supply chains petered by the start of the week, which took some of the tightness out of the oil market this week.
Light NGL prices were up in contrast to lower oil and natural gas prices, which bodes well for NGL value chain players, especially those with fractionation facilities. EPD obliged this week, announcing final investment decision (FID) on its 10th fractionation train. FIDs were all the rage this week. Another two Permian pipelines, one gas and one oil, plus EPD's announcement.
"Must be Burt Reynolds or Something" - Happy Gilmore
Burt Reynolds died this week. Given my age, my first exposure to Burt Reynolds was 1993's "Cop and a Half." Of the 100 or so films he was in and the 60 or so that he starred in, Cop and a Half had to be one of his worst. A buddy cop movie with Burt opposite a young boy. It was after the success of Kindergarten Cop in 1990, and apparently was originally supposed to star Kurt Russell and Macaulay Culkin. It was such a bad idea, they re-made it as a TV movie in 2017 starring Lou Diamond Phillips and a girl.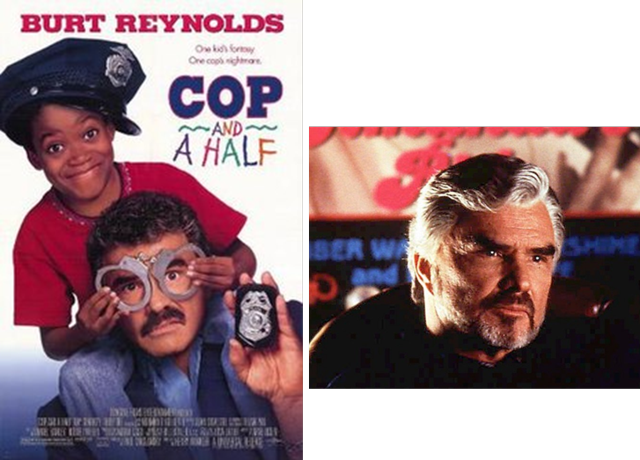 As I grew up, I got to enjoy the wizened older version of Burt in Boogie Nights (…and Striptease). Eventually, of course, I caught up on the older stuff, like Deliverance and the Longest Yard. But for me, Burt Reynolds was almost a caricature, an icon whose name was synonymous with my dad's kind of 1970s cool. On Saturday Night Live, Norm MacDonald's send up on Celebrity Jeopardy captured that perfectly.
Before the news of Burt broke, I started a lively Twitter conversation using quotes from a different star of a different Longest Yard, Adam Sandler, to portray aspects of the MLP and midstream market. It was a lot of fun. Many were from "Billy Madison" (1995), a film about a man child who goes back to school and successfully grows up the second time around, after working through a bad case of loser denial.
It may seem like a stretch to connect these two stars of the two "The Longest Yard" films to midstream. But when the market opens next week, and midstream stocks give it another shot, hopefully the outcome is more like Billy Madison's second trip through school and less like Cop and a Half's bad re-boot.
Winners & Losers
ENLK's strength since its earnings continued this week, perhaps helped by participation in the big conference in New York this week, which WES likely benefitted from as well. BPL was another strong performer, as expectations continue to increase that BPL's strategic review will have a positive resolution. CEQP also traded up. On the downside, NBLX's poor performance continues as it seems to be the primary whipping boy in midstream for potential Colorado election results.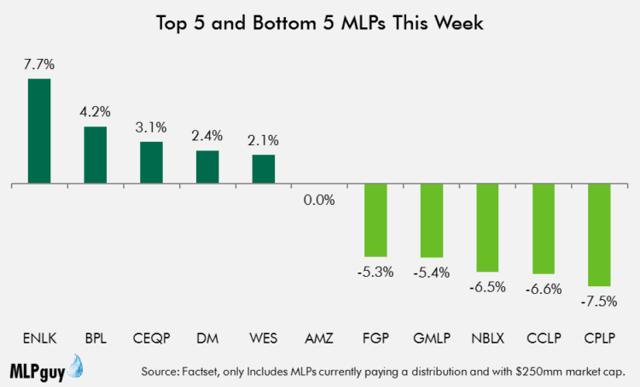 No repeats week over week among positive and negative performers. On the YTD leaderboard, ENLK replaced PAA in the top 5, CQP climbed a few spots, and CEQP is still way out in front. On the bottom 5, no movement week over week, despite DM's top 5 performance.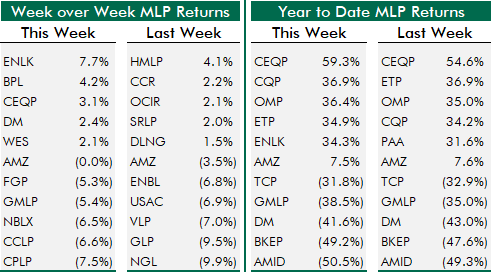 General Partners & Midstream Corporations
The general partner and midstream corp group underperformed MLPs this week. ENLC and WGP traded up like their subsidiaries, and KMI's heavy news flow sparked some interest there. On the downside, PAGP and WMB, perhaps on a knee-jerk reaction to Permian pipeline FIDs done away from them.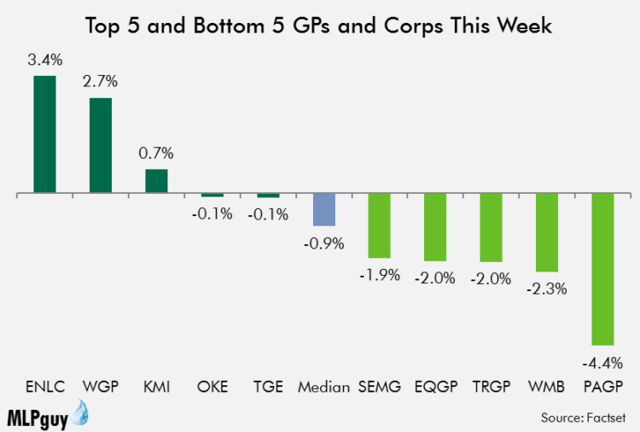 ENLC went from close to the bottom to the top this week. KMI repeated near the top. On the YTD leaderboard, OKE still leads and was flat, while each of the other top 5 sold off. Among the biggest YTD losers, EQGP broke through -20%, and WMB replaced ENLC in the bottom 5.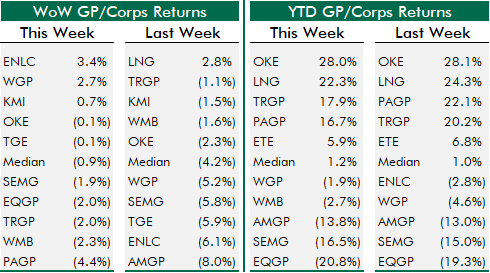 Canadian Midstream Corporations
Each Canadian midstream stock was negative in USD terms this week. ENB's positive news on its Line 3 replacement project from late last week (agreement with tribes, extension of right of way term) seemed to help it outperform this week. Within the group, the stocks with assets primarily in-basin in Canada underperformed, which makes sense given the recent news of another delay in Trans Mountain Expansion Project. Those with more diverse asset bases (ENB, TRP) outperformed. But again, none of them were up, because the USD overpowered the group.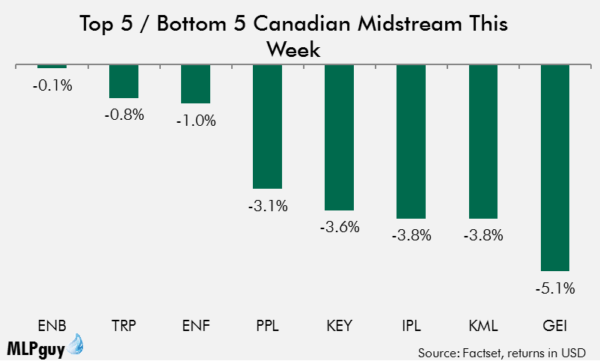 The winners and losers basically flipped from last week within the group, with ENB and TRP going from last to first, while KML went from first to close to last this week. On the YTD leaderboard, just two of the group are positive YTD and the worst performers are down double-digits. The range of performance within Canada is tighter than the universe of stocks in the U.S.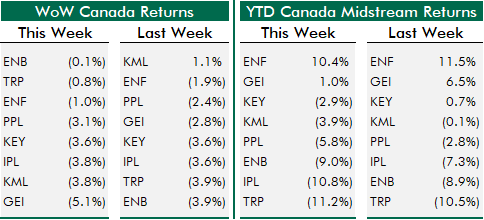 News of the (Midstream) World
As mentioned above, it was FID week in midstream. Two new pipelines and a fractionator announced plans to move forward.

Capital Markets
Growth Projects / M&A
Other