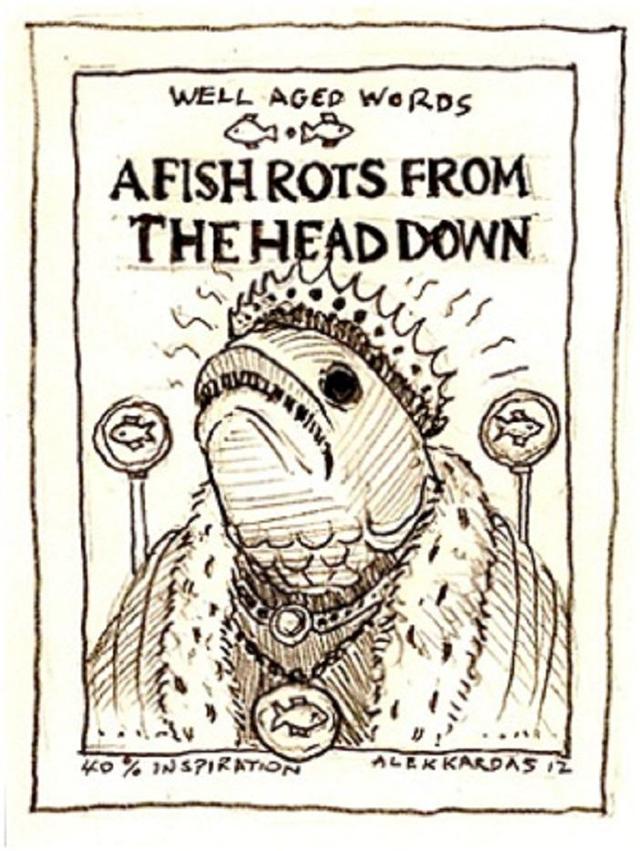 Behavioral factors involving the use of technical research and investor sentiment signals result in a disciplined portfolio that is less susceptible to biases. The benefit here is to focus primarily on momentum, money flows and moving averages. They separate short-term liquidity needs from long-term capital appreciation and have longer time horizons, reducing volatility concerns in both areas. It's important to mention the leading fund in ETFG's Quant Behavioral scores Invesco DWA Technology Momentum ETF (PTF). Utilizing the look-through analysis on the Holdings file, one would observe that the constituents in PTF show reliance on fewer high-conviction investments, avoiding the global mush prevalent in many portfolios like SPDR S&P 500 ETF Trust (SPY).
You study the markets week after week for years on end and one of two things is likely to happen. Either you get so caught up in the inconsequential details that you miss broader themes, or you focus so much on the macro picture that you miss signals that seem unimportant. We're not immune to that, we've spent so much time focusing on the hot sectors on our ETFG Behavioral list that we've ignored a major trend in the types of funds on it, specifically momentum funds from Invesco. You're likely thinking "Big whoop. Funds in hot categories that rely on momentum are doing well? Shouldn't that always be the case?"
Well yes, but these aren't just any funds, six of the nine funds on our list as of September 7th are from Invesco and rely on indexes from the legendary technicians at Dorsey Wright & Associates (DWA). The fact that so many of them representing a wide variety of different sectors and styles appeared on our list at the same time, not to mention their unique construction, tell us a lot about the underlying make-up of the latest leg of the rally. But the appearance of these funds is only one data point among the many that we've been discussing lately, and most are focused on one thing, the increasingly narrow breadth in the market as a handful of large stocks continue to pull the market higher. There's no hard and fast rule for judging these things, but the bull market could find itself in serious trouble if only a handful of stocks continue to push higher from here.
First, there's the percentage of S&P 500 stocks above their 50- and 200-day moving averages where you can see that while the latest rally has increased the percentage above their 50-day, the percentage above their 200-day remains significantly below the prior peaks at the beginning of 2018 despite the long summer rally. And even then, those prior peaks in the percentage above their 200-day in 2018 themselves never quite reached the peaks of 2014, showing how this rally continues to have a narrow focus with fewer stocks pulling the market higher.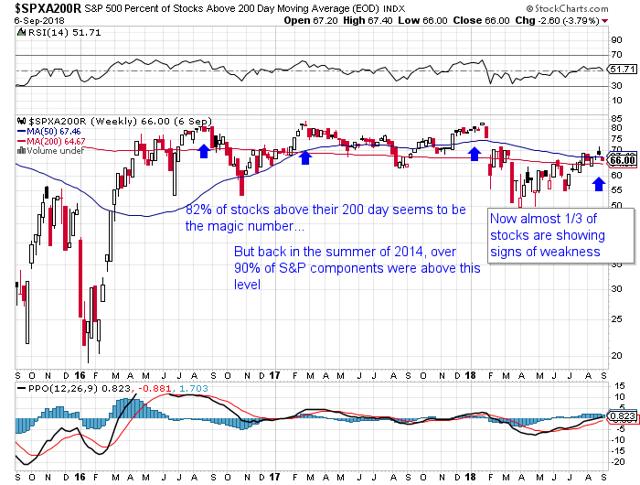 Then we looked at the over 186 S&P components below their 200-day moving averages and found a few consistent patterns. First, more than half of materials and consumer names in the index along with nearly half of all industrial stocks are below their 200-day with their average market caps significantly below the sector averages. At the other end of the spectrum, you'll find just a quarter of healthcare names are below that key technical level, and while the number of tech companies below their 200-day is roughly in line with the broad market, their average market cap is significantly higher than the rest of our troubled names. That's largely due to a handful of troubled names like Facebook (FB) and IBM; in fact, the median market cap of our weak tech performers is only $20 billion and consists largely of semiconductor stocks.

An even easier way to visualize this is to study the recent relationship between the granddaddy of all ETFs, the SPDR S&P 500 ETF Trust (SPY) and its equal-weighted equivalent, Invesco S&P 500® Equal Weight ETF (NYSEARCA:RSP) Same stocks, different weightings and over a long enough time frame like say ten years, largely identical returns with SPY up 11.16% to 11.6% for RSP, but the year-to-year returns will fluctuate depending on whether smaller stocks are outperforming like in 2009 through 2010 or 2016. But despite the strong rally, there's been a noticeable case of large-cap fever as RSP lagged behind SPY by almost 300 bps in 2017 and now again in 2018. While that's to be expected for market-cap weighted indexes like the S&P, things have started to reach "surreal" proportions.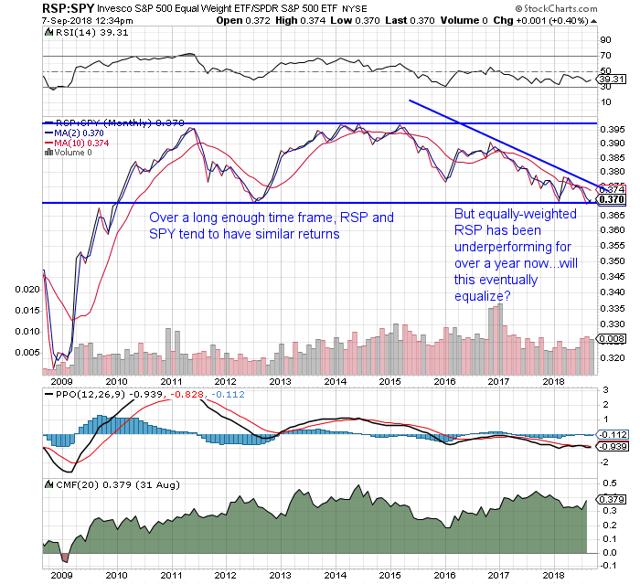 There is no denying that certain stocks have gotten to be richly priced, we now have two with a market cap above $1 trillion, but we're more concerned with how concentrated the market has gotten at the top and with a distinct tech feel. Apple (NASDAQ:AAPL) alone makes up more than 4.5% of the S&P 500 while Microsoft (MSFT) and Amazon (AMZN) each make up more than 3%. Add that to the other top 10 S&P 500 components and just over 20% of the markets value is held in just a handful of names. Finding historical comparisons isn't easy, but one data point from S&P we found shows the percentage concentrated in the top five S&P 500 components is back above 15.1%, a level not seen since the last tech bubble burst in 2001 (See S&P Commentary).
So how does this relate to the momentum funds on our behavioral list? At first, we were impressed both by the sponsor and the range of products, thinking maybe the tide was beginning to turn with broader participation. The momentum funds are from a wide variety of sectors (healthcare, technology, utilities and energy) and styles. Fortunately for us, the funds follow a strategy that's easy to follow with their benchmarks linked to a "proprietary" version of the classic relative strength index to help identify which names have the intermediate and long-term momentum needed to outperform their peers in the near term.
RSI might be a common technical indicator, but these funds aren't your daddy's sector funds. Instead of focusing on stocks in a specific index like State Street's (NYSE:STT) SPDR series, DWA looks at the 2000 largest components of the NASDAQ and then relies on their own industry classification system along with their RSI methodology to build out their "technical leaders sentiment indexes." Taking that focus on momentum a step further, they then weight the individual stocks by their RSI score rather than by market cap, allowing smaller names a much larger role in the portfolio. Finally, momentum may be known to persist but for how long is anyone's guess, so the funds are reconstituted quarterly, meaning they have much higher turnover than other sector funds. In summary, instead of a relatively static portfolio of well-known names weighted by how well they've performed in the past (market cap weighting), we have a concentrated portfolio of hot performers who DWA assumes will stay hot in the near term. Smaller funds focused on smaller names, maybe the tide was turning for small-cap stocks?
Not so fast, first look at the long-term history of these funds where the track record is somewhat mixed with a handful being persistent underperformers, making the fact so many of them have been catching fire lately very interesting. Consider the Invesco DWA Technology Momentum ETF, at one point up almost 30% YTD compared to 20% for the Technology Select Sector SPDR (XLK) and up close to 40% in just the last year. Why focus on the last year? Because before that, the fund has been behind the curve, outperforming XLK only twice in this bull market, in 2013 and 2018, and leading to a three-year annualized return almost 500 bps under that of the broader tech sector. Not that impressive for a fund focused on buying the hottest names in a hot sector.
The likely culprit is that high turnover, as quarterly rebalances give you a chance to buy strong performers, but the ability to add smaller names means buying volatility as well with the fund potentially acquiring already strong performers that fail to continue outperforming. Currently, only 5 of its 42 holdings have been in the portfolio since before 2016 with another 28 names having joined the portfolio in 2018, 13 in just the most recent quarterly reallocation. Surely that's why the fund has caught fire lately, right? Probably not, but it might help explain why the fund's behavioral score has been rising.
In fact, if you were going to take PTF apart to figure out what's made it work so well in 2018, you'd see that the fund is really like two portfolios in one. First, there are all those smaller names that helped PTF clobber the competition in August, with it up over 13% and more than twice the return of XLK. A large part of that was thanks to some of those positions the fund added just in July like Twilio (TWLO), up over 39% and Everbridge (EVBG), up over 33% in just one month! Strong showings like that absolutely boost performance, especially in a fund where small cap names can have much larger weightings, but momentum can be a cruel mistress, easy to study. But hard to capture and it goes both ways.
What all those smaller names are really doing is helping drive up the short interest with the current score for PTF in the top decile compared to its past history despite a marked decline in early August. Currently, it's the technical score measuring price momentum that's driving PTF's strong showing in our behavioral reports. With tech stocks coming under serious pressure this week, we're curious if they might wind pulling PTF right back down to earth. Some of PTF's strongest performers like GrubHub (GRUB) have been hit especially hard in the last few days, causing the fund to lag behind larger peer XLK.
What really drives the returns at PTF are 40% of the current portfolio is locked into large and mega-cap names with another quarter in mid-caps, some of which have been in the portfolio for years. What's the number one holding? Would you believe Apple (AAPL)? What about Nvidia (NVDA) or Amphenol (APH)? All three have been in the fund for over a year, along with Paycom (PAYC), Adobe (ADBE) and Intuit (INTU) they make up over 25% of the fund. That's right, the real power behind the performance throne at PTF over the last year are the same names that have been driving the bull market for so long they make up an uncomfortably large portion of it!
The question to consider is how much longer that can realistically continue for. Only one stock (Facebook (FB), to no one's surprise) in the top 20 S&P components is currently below both its 50- and 200-day moving averages compared to more than a 1/3rd of the next 90 stocks whose combined market cap equals the top 20. There's no hard and fast rule that says being above a certain level portends certain doom, but the current path of this bull market is in doubt if more stocks can't pull their own weight.
Disclosure: I/we have no positions in any stocks mentioned, and no plans to initiate any positions within the next 72 hours. I wrote this article myself, and it expresses my own opinions. I am not receiving compensation for it (other than from Seeking Alpha). I have no business relationship with any company whose stock is mentioned in this article.
Additional disclosure: This material is not intended as an offer or solicitation for the purchase or sale of any security or other financial instrument. Securities, financial instruments or strategies mentioned herein may not be suitable for all investors. Any opinions expressed herein are given in good faith, are subject to change without notice, and are only correct as of the stated date of their issue. Prices, values, or income from any securities or investments mentioned in this report may fall against the interests of the investor and the investor may get back less than the amount invested. Where an investment is described as being likely to yield income, please note that the amount of income that the investor will receive from such an investment may fluctuate. Where an investment or security is denominated in a different currency to the investor's currency of reference, changes in rates of exchange may have an adverse effect on the value, price or income of or from that investment to the investor.