August Jobs Report - Quite Good, Except For One Thing
Sep. 10, 2018 5:00 AM ET
SPY, QQQ, DIA, IWM, VOO, SH, SDS, TZA, TNA, IVV, SSO, TQQQ, SPXU, UPRO, SPXL, RSP, CRF, SQQQ, SPXS, PSQ, VFINX, USA, QID, QLD, UDOW, DOG, DXD, UWM, SDOW, SCHX, ZTR, DDM, TWM, URTY, VV, RWM, EPS, SRTY, VTWO, QQQE, QQEW, FEX, ILCB, BXUB, EQL, SPLX, EEH, SPSM, SPUU, QQXT, BXUC, SFLA-OLD, IWL, SPDN, SPXE, SPXT, FWDD, EDOW, OTPIX, SYE, JHML, PPLC, SMLL, UDPIX, GSEW, SPXV, EQWS, ESGL, HUSV, RYARX, SPXN, CHGX, DMRL, YPS, SCAP, USSD, DUSA, USMC, USWD, BIBL, OMFS, PMOM, RYRSX
3 Comments
Summary
The jobs report beat expectations by posting a headline number of 201k against expectations of 191k.
Average hourly earnings increased by more than expectations, lending some support to the narrative about the tight labor market.
We continue to see job creation in relatively high-paying sectors of the economy, which is certainly a good thing.
Involuntary part-time workers are now at the lowest level with 2007, which is also a very good sign when it comes to job creation.
The labor force participation rate actually declined month over month, which is a drag on the economy and casts some doubt on the official numbers.
Members of our private investing community, Energy Profits in Dividends, get our best ideas and insights. Get started today >>
It is hard to believe that another month has passed since my last analysis of a BLS jobs report, but alas, here we are. On Friday morning, the Bureau of Labor Statistics released the August 2018 Employment Situation Summary. The actual numbers certainly surprised economists, with payrolls coming in at 201k against expectations of 191k and average hourly earnings rising by 0.4% month over month against expectations of 0.2%. While we are certainly seeing some signals that the U.S. economy has indeed been improving in what is now the second-longest economic expansion since the Great Depression, everything is certainly not perfect here. It was overall a good report though.
As just mentioned, total nonfarm payroll employment increased by 201,000 in August 2008, which beat expectations of 191,000. While this was certainly a good number, it was far from the best one that we have seen during the current economic expansion.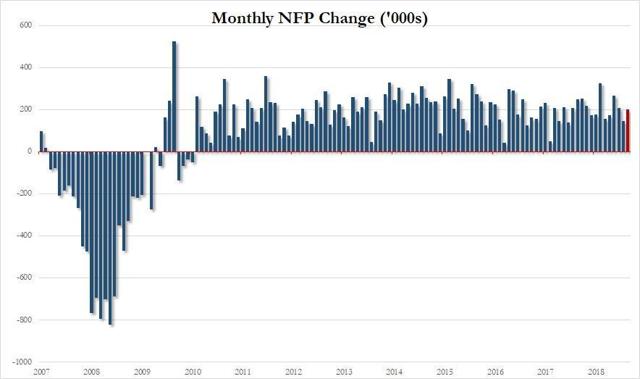 (Source: Zero Hedge)
As is often the case though, the Bureau of Labor Statistics was forced to revise the job prints for the months of June and July downward. The month of June was changed from 248,000 to 208,000 and the month of July was changed from 157,000 to 147,000. The net result of these changes was to reduce the number of jobs created in the last two months by 50,000 compared to what was previously reported. I must admit, sometimes I wonder if the BLS deliberately overcounts the job numbers, only to revise them downward after people have stopped paying attention. Such a practice would make the economy look better than it really is, as media headlines and the like typically only focus on the official numbers from the most recent month.
For the overwhelming majority of the current economic recovery, the bulk of the jobs created were relatively low-wage positions that are unable to support a middle-class lifestyle. However, that has not been the case for most of this year, and it was not the case in the August 2018 report. Here are the job gains and losses by industry during the month of August:
Industry Sector
M/M

Jobs Change

Job Changes YTD
Business & Professional Services
+53,000
+519,000
Healthcare
+33,000
+301,000
Wholesale Trade
+22,000
+99,000
Transportation & Warehousing
+20,000
+173,000
Mining
+6,000
unspecified
Construction
+23,000
+297,000
Manufacturing
-3,000
+294,000
As we can see here, the largest single job-creating sector during the month of August was Business & Professional services. This is a relatively well-paying sector that is certainly capable of providing workers with a relatively comfortable middle-class lifestyle and, most importantly, provide them with some discretionary spending power. When we consider just how important consumer spending is to multiple sectors of the economy, we can see why this is a positive thing for the broader economy. We also see a few other sectors creating relatively solid-paying jobs, including healthcare and mining.
The fact that high-wage industries created a significant number of jobs in the month of August could certainly be one reason why the economy saw strong growth in average hourly earnings. As already mentioned, average hourly earnings increased by 0.4% month over month, significantly beating the expectations of economists. This brings the year-over-year growth rate to 2.9%, which is the highest level since 2009.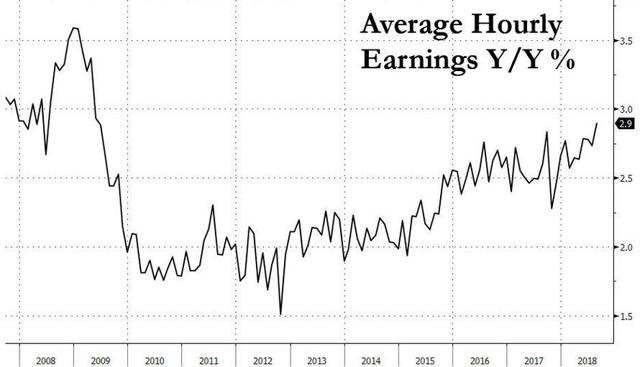 (Source: Zero Hedge)
This is certainly a positive sign, and it does lend support to the statement that we have been hearing about a worker shortage. As a general rule, when businesses are having trouble finding workers, they begin to increase wages in order to attract workers away from other firms. Thus, we might be seeing the early stages of this beginning to happen, as well as the fact that high-wage industries continue to add jobs.
Another problem that has been plaguing the American economy ever since the recovery started back in 2009 is the number of involuntary part-time workers. These are defined as workers that are currently working in part-time positions but would prefer full-time work. The reason why they are working part-time is simply because there are not enough full-time positions in the economy. Fortunately, we have seen a steady decline in the number of people in this category over the course of the economic recovery, with a massive decline in the month of August: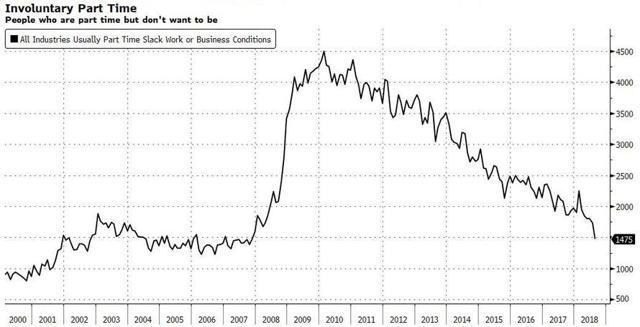 (Source: Zero Hedge)
As we can see here, the number of involuntary part-time workers has now fallen all the way down to 2007 levels. This is certainly a sign that the jobs market is improving, as more and more part-time workers are able to migrate into much better-paying, full-time positions. This increases the spending power of the American consumer, which should be overall beneficial for corporate profits and lends support for the tight labor market narrative.
As I mentioned in the introduction, not everything is perfect here. Without a doubt, the biggest disappointment in this report was the labor force participation rate, which fell 0.2% month over month to 62.7%.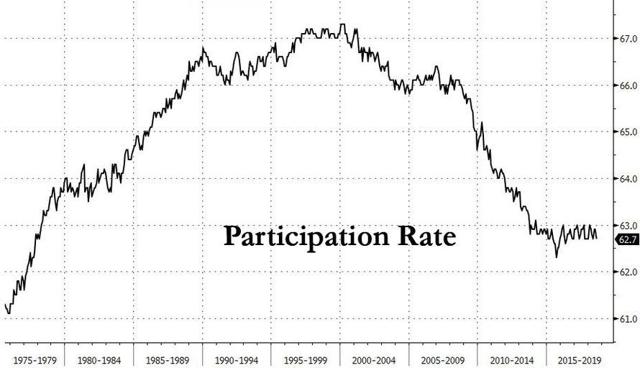 (Source: Zero Hedge)
The labor force participation rate is in some ways a better measure of the actual employment situation in the United States than the official unemployment rate, because it does not exclude discouraged workers from the figures. Rather, the labor force participation rate is the percentage of the working-age population that is either employed or actively looking for work. As we can see from the chart above, the sale is currently well below where it was both prior to and during the most recent recession. While some people may be voluntarily leaving the labor force due to all of the new stock market wealth that has been created over the past eight or nine years, this is unlikely to explain all of the reason why this rate remains stubbornly low. This certainly casts some doubt on the tight labor market narrative, as we would expect people to begin looking for work in large numbers should there really be a shortage of workers. That has not been happening, however. Instead, the proportion of the population that is considered to be outside of the labor force actually increased over the past month.
The fact that such a large percentage of the working-age population is not in the labor force also means that the economy is not performing at its peak capacity. That is simply because the people who are outside of the labor force are not contributing their productive capabilities to creating value in the economy.
It also stands to reason that at some point, people who are not currently in the labor force may re-enter it. This would have the effect of suppressing wage growth, as the supply of workers would increase relative to the demand for them. That does not seem to be a likely event in the near term, however.
This article was written by
In-depth Research on underfollowed dividend stocks with 7%+ yields
Power Hedge is an independent stock research and analysis firm with a passion for macro- and microeconomic analysis. Power Hedge focuses our research primarily on dividend-paying, international companies of all sizes with sustainable competitive advantages. Power Hedge is neither a permabear nor a permabull. However, we believe that, given the current structural problems in the United States, the best investment opportunities may lie elsewhere in the world. The firm's strategy is primarily buy and hold, but will stray from that strategy on occasion. Our ideal holding period is forever, however we realize that both internal and external forces can impact an investment. For this reason, we believe that it is vital to keep a close eye on all of your investments. We do not believe in changing an investment based on short-term market swings.

Traditionally, we have not always responded to comments but in order to improve the quality of our research, comments will be reviewed and we will respond to issues regarding errors or omissions. This does not include our premium service, "Energy Profits In Dividends" which is available from the Seeking Alpha Marketplace. This service does include detailed discussions with our team both on the reports themselves and in a private forum.
Analyst's Disclosure: I/we have no positions in any stocks mentioned, and no plans to initiate any positions within the next 72 hours. I wrote this article myself, and it expresses my own opinions. I am not receiving compensation for it (other than from Seeking Alpha). I have no business relationship with any company whose stock is mentioned in this article.
Seeking Alpha's Disclosure: Past performance is no guarantee of future results. No recommendation or advice is being given as to whether any investment is suitable for a particular investor. Any views or opinions expressed above may not reflect those of Seeking Alpha as a whole. Seeking Alpha is not a licensed securities dealer, broker or US investment adviser or investment bank. Our analysts are third party authors that include both professional investors and individual investors who may not be licensed or certified by any institute or regulatory body.