While US stocks clock new market highs, emerging markets (EMs) wallow in turmoil with contagion backdrafts triggering a rash of selling, which now has pushed the category across the bear divide. A common thread weaving through this disparate grouping of economies is a toxic brew of rising US interest rates, a strong dollar, falling industrial metals prices (priced in dollars), the rising market value of tariffs on international trade, and the growing shortage of dollars as the Fed unwinds its balance sheet. All of this has come together with myriad local flavors to wreak both economic and financial havoc on the EM (green line) space with little relief in sight (see Figure 1 below).
The financial mix has laid bare the usual financially suspect countries, all with overt dependencies on foreign underwriting of current account deficits and short-term corporate borrowing needs in varying degrees. South Africa (orange line), Turkey (purple line) and Argentina (black line) have provided copious amounts of red and copy ink over the course of the year, with sagging output, soaring interest rates, weakening currencies, credit downgrades, rising bond yields, stunted economic forward growth projections, and reduced consumer purchasing power. All of this has sent international capital flows scurrying for safe harbor vehicles. US assets, such as Treasuries (blue dotted line) and the S&P 500 (green area), have been particular beneficiaries of these shifting international capital flows. This international capital flow into US assets is one of the main ingredients driving US bourses despite growing headwinds from the increasing dollar value of tariffs on international trade (see Figure 1 below).
Figure 1: iShares MSCI Emerging Markets (EEM), iShares MSCI South Africa (EZA), iShares MSCI Turkey (TUR), Global X MSCI Argentina (ARGT) and 10-Year U.S. Treasury Notes against the S&P 500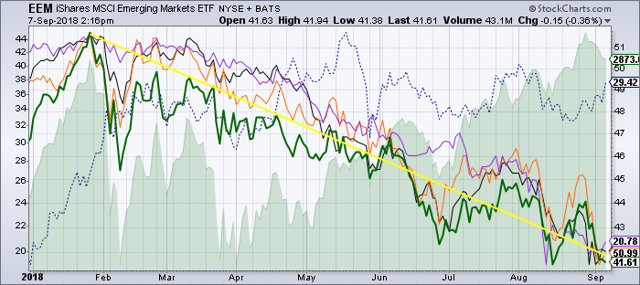 South African (orange line) output has officially slipped into recession with the rand falling more than 2% against the dollar. Agriculture, trade and manufacturing all slid negative through the end of the second quarter while revisions to the first-quarter statistics posted deeper declines than originally reported. While recent pledges of billions in Chinese investment capital under that country's Forum for China-Africa Cooperation appear in the offing, uncertainty regarding ownership of mining interests, a recent constitutional change allowing the expropriation of land without compensation, and the nationalization of central bank shares combined to send international capital flows heading for the exits (see Figure 1 above).
As the Turkish (purple line) lira plumbs new lows and the president's son-in-law finance minister beats a hasty but all-too-familiar path to European capitals in search of any remaining morsels of support, one cannot help being overcome by yet another nagging tug of déjà vu. Headline inflation hit 17.90% YOY through the end of August, a 2.30% increase on July. Producer prices soared 32% through August. In this light, the Trump administration's punitive steel and aluminum tariffs seem to be but an extension of Murphy's law of what could possibly go wrong will. Turkey's central bank stunned investors by refusing to defend the lira after the currency had lost about a quarter of its value against the dollar last month. Investors openly questioned the very independence of the country's central bank in wake of repeated presidential outbursts that characterized high interest rates as the bane of all evil. The investor outcry prompted the central bank to issue an unprecedented press release, assuring investors that they would take all necessary steps to support price stability. Currency crises beget banking crises that don't respect national borders - as the European Central Bank knows well. While Qatar threw the country a multi-billion-dollar life vest, Spanish and Italian banks are being closely monitored for any tell-tale signs of contagion. Little wonder that risk premium on Italian sovereign debt is on the rise against its German counterpart (see Figure 1 above).
In Argentina (black line), the peso has lost almost 50% of its value against the dollar through the end of August. In an attempt at halting the tailspin, Argentina's central bank raised the country's benchmark lending rate to 60%, up from July's 45%. Headline inflation for the month actually fell to 24.9%, down slightly from July's 25.1%. A $50 billion standby loan is quickly being negotiated with the International Monetary Fund. Argentina is already in receipt of a $15 billion emergency IMF credit line from an agreement forged in June. Concerns over the ability of the country to pay off the line appear to remain. The new program further complicates that equation (see Figure 1 above).
Figure 2: iShares MSCI Emerging Markets, iShares Malaysia (EWM), Van Eck Vectors Russia (RSX), iShares MSCI Indonesia (EIDO), iShares MSCI South Korea (HEWY), iShares MSCI Taiwan (EWT) against the S&P 500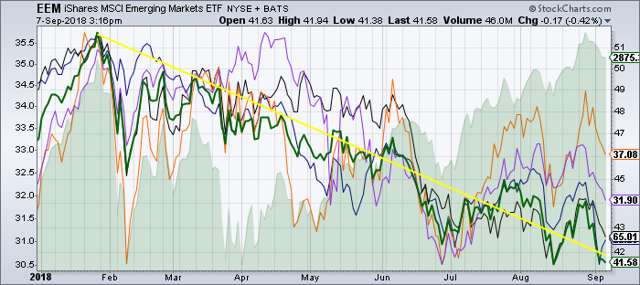 Export-dependent Asian economies are also vulnerable to the whims of international capital flows to meet short-term debt requirements. A significant portion of US-bound finished goods and raw materials traverse Indonesia, Malaysia (purple line), South Korea (black line), Thailand, Indonesia (orange line), Taiwan (blue line), Cambodia and Vietnam, as well as China. It is a testament to the breadth and reach of global supply chains, not to mention just how much of the world's integrated economy is now embroiled in the US-China trade tensions that are about to come to a slow boil (see Figure 2 above).
Sanction-plagued Russia (red line) also makes the list where the ruble has been under pressure for most of the month. While inflation has been checked by an attentive central bank to levels last seen in Soviet times, economic growth has likely been the main victim of its oversight. Energy sales abroad remain Russia's overwhelming revenue source and will continue to remain as such for the foreseeable future. Brent oil prices are on the rise in anticipation of US sanctions on Iranian oil that are expected to go online in November. Global markets will struggle to replace an estimated 2 million barrels of daily production lost in the exercise, which portends a possible easing of Russia's current economic squeeze (see Figure 2 above).
Figure 3: iShares MSCI Emerging Markets ETF, China against the S&P 500. China: MSCI Emerging Markets Ratio (bottom frame)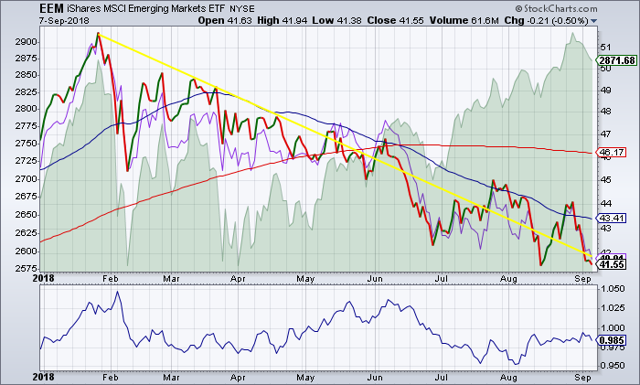 The iShares MSCI Emerging Markets ETF (green line) dropped sharply in January's market correction, falling well below its 50-day trading average (blue line, upper frame) into correction territory before staging a rather quick recovery in mid-February that pushed the issue above its 50-day trading average only to skip again below the average by mid-March where the issue has largely languished year to date. These market moves are important as many retail investors gain exposure to the EM space through broad-based baskets of algorithmic traded equity positions, rather than on a country-by-country or a stock-by-stock basis. This means triggered programmed trading thresholds to the downside blanket the category as a whole. It was only in the beginning weeks of May when EEM fell below its 200-day trading average (red line, upper frame), again falling sharply in the first week of June as the two averages crossed on the way down. Two attempts to the upside came in the closing days of July and again a month later only to sputter out sharply as the correction turned outright bearish through Friday's market close. In a ratio with EEM (bottom frame), China (FXI) marched down a long declining road from the beginning of June when the 25% tariff on $50 billion in Chinese goods went online. Recovering some of its lost ground against the index, China returned to the trough etched out the preceding month only to match July's recovery before trading sideways for the rest of the month. September saw the ratio once again turn to the downside in anticipation of an additional $200 billion in tariffed Chinese goods going live, possibly as early as next week (see Figure 3 above).
It goes without saying that investors of all stripes have become more than concerned with the weakness in the EM space. Many have walked away licking investment losses, some outsized losses, in recent months. US monetary policy, and indirectly the role of the dollar in world currency markets, necessarily plays a title role in the financial and economic ebb and flow of the EM space. Of course, countries with currency pegs to the dollar sacrifice a good deal of economic sovereignty in the process, particularly in periods of rising US interest rates with little recourse. While the peso's direct peg with the US dollar ended in 2001, Argentina's central bank has tended to keep monetary policy loosely aligned with that of the Fed. Most recently, this has sent the country's interest rates to 60% through the end of August. The country's bond yields largely kept in sync despite the peso losing almost 50% of its value YTD. Countries like South Africa, Turkey and Brazil, more closely tied to export markets with goods and services priced in dollars and/or euros, mostly let their currencies absorb the pounding of US interest rate hikes wafting across national divides. As local currency loses value, current account deficits can shrink dramatically - even flip to the black. In Argentina, where export markets figure less in national accounts, current account deficits respond proportionately - narrowing but not disappearing. Austerity comes quickly, particularly on commodities priced in dollars, like energy and imported food. Economic growth stalls.
China has taken a somewhat different tack in the current EM slide. In July, the People's Bank of China (PBOC) encouraged consumer spending by pumping RMB500 billion into the financial system to offset the impact of an emerging trade war with the US. The PBOC used its medium-term facility that was created in 2014 to provide state banks with liquidity for loans up to 12 months in duration, the short side of the yield curve. In June, the PBOC also reduced the level of level of reserves required to be on deposit, allowing more liquidity into the greater economy in the form of loans. The PBOC has yet to intervene in the Forex markets to prop up the renminbi in world currency markets. As a consequence, the renminbi is down 5.44% through Friday's market close (7 Sept.) to RMB6.8448. Breaching the psychologically important RMB7 threshold to the dollar was close to becoming reality with a brief spike to RMB6.9348 on the 15 August before dropping back slightly with the closing bell.
The PBOC's response to date is in sharp contrast to that of the 2015-16 time frame where, once again, Chinese economic growth had measurably slowed. The PBOC suddenly devalued the renminbi unannounced in August of that year. By the end of the year, the PBOC had dramatically reduced the renminbi's peg to the US dollar, opting for a wider peg against 13 of its major trading partners, including the US dollar, effectively reducing the weight of the dollar's pull on the renminbi. The Chinese central bank also spent over a trillion dollars defending the currency in the ensuing months and years.
Xi Jinping's most trusted economic advisor, Liu He, is credited with the policy of starting the process of reining in the country's $12 trillion debt market which continues to weigh heavily on the greater economy. In the decennial anniversary year of Lehman's demise that brought the world's credit markets to an eerie halt, it was Liu who convinced Xi that the country's debt-to-GDP ratio at 270% was a growing threat to the country's national security. China's systematically important banks as a percentage of GDP are bigger than those of the US. The size of the country's undercapitalized banking tops 310% of GDP or 387% if the shadow banking sector is included. Reining in China's infatuation with credit-fueled growth will be a long and drawn-out process by any measure.
Meanwhile, the Shanghai Composite is down just over 19% on the year through Friday's market close. The Hong Kong's Hang Seng is down just under 12% over the same period. Tencent (OTCPK:TCEHY), the Hang Seng's most valuable stock, is down 24% on the year as Beijing reins in the video game powerhouse with intrusive regulatory oversight that forced the company to program automatic time limits on underage children playing many of its games. Still, Chinese bourses are tiny slices of the overall economy. Listed companies are famously prone to structural problems that run the gamut from high debt to poor disclosure to weak governance. Tencent also happens to be EEM's largest holding. Investor sentiment and expectations, rather than actual corporate margin hits, have largely driven Chinese equity declines YTD.
The actual economic impact from tariff regimes on both sides of the Pacific, not to mention throughout the EM space, will begin to show up in balance sheet calculations in the coming quarters. Predicting the future is always hard and historical parallels are equally dicey. That said, historical patterns offer up heuristic morsels of insight. On the eve of the Bush steel tariffs in March 2002, US primary metal workers numbered 602,000 workers. By January 2004, after the Bush steel tariffs were quietly lifted in December 2003, primary metal workers had fallen to 462,500. Fast forward to August 2018, US primary metal workers had dropped to 381,500. Of course, some of these job losses came from offshoring, while others were lost to automation, economies of scale, or other alternatives. Many of these jobs once lost never came back. Variations on these themes will likely play out again over the course of time as companies adjust their current production schedules to known and unknown supply chain disruptions and market distortions moving forward. Meanwhile, the USTR has evidently identified another $267 billion in targeted Chinese goods on top of the 25% tariffs on the $200 billion already identified that could go live as early as next week. With the public comment period ending this past Thursday and now faced with the task of compiling over 4,000 comments, simple logistics should push a USTR decision at least the three weeks it took to place the first trade tariff round in August.
Meanwhile, the prospects for resolving US-China trade tensions continue to fade while the EM space searches for a bottom in the murky mess.