Anadarko Petroleum (NYSE:APC), is picking up where it left off last quarter, continuing its strong momentum in the DJ and Delaware Basins, where the company expects to yield more than 13% year-over-year production growth, and at least a 19% rate of return on invested capital.
The company has finished building out the vital infrastructure that will be needed to accommodate surging production growth through their Regional Oil Treating Facilities (ROTF), and is also using longer laterals to boost efficiencies like Pioneer Drilling (PXD), which is contrary to what Whiting Petroleum (WLL) just reported.
Inflation should not be a major risk going forward, the company stated, but lack of takeaway capacity could delay completions for some players in the industry, which can have an adverse effect on APC's stock price as the baby gets thrown out with the bathwater. As a result, APC shares deserve to be bought on dips, as long as investors can bury their heads in the sand and ignore the negative headlines that seem, at this point, highly transitory.
Infrastructure Build-Out Complete
We already discussed APC's infrastructure build-out plans last quarter, which should have a dramatic effect on their differentials and takeaway capacity.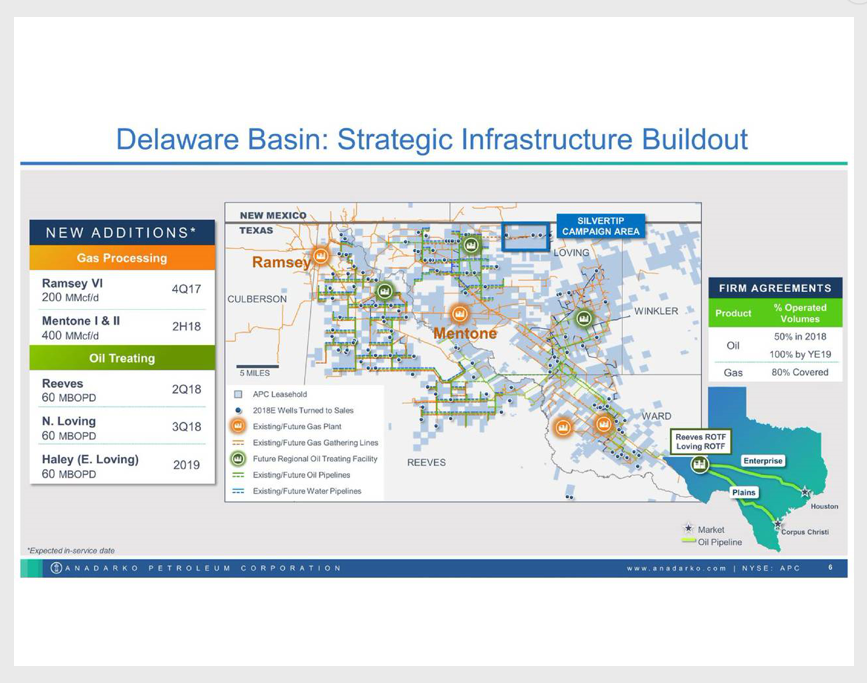 Source: Anadarko Petroleum
The advantage of the ROTFs are the way they are constructed:
The process is made possible by APC's new tankless strategy, which involves operating pads without storage tanks on-site. Instead, through the more than 200 miles of piping strategically laid throughout the region, hydrocarbons will be taken directly from the well head to the ROTF, eliminating the need for storage tanks on site, which have higher costs and carbon emissions. In addition, as carbon emissions are reduced by piping oil and gas below ground, regulatory risks are also greatly diminished.
So, now that both, Reeves and North Loving Regional Oil Treating Facilities are commissioned, Anadarko can focus on its drilling and completions activity more closely, and worry less about delays in completions that can occur due to having lack of takeaway capacity.
Higher Costs Of Longer Laterals in DJ Offset By Higher Production Rates
Anadarko continues to link together contiguous acreage in the DJ Basin that allows for longer laterals and higher working interest wells that, in return, should enable better production and returns. Longer laterals are a growing trend in the oil & gas industry since they save on costs and boost production.
It is important to note, however, that longer laterals cost more upfront, because of the expensive equipment that is required to drill the laterals and the higher clean-up costs that are associated with completions, since those take longer to finish.
Unfortunately, as you work through this, the longer laterals do take a little bit longer to clean up. And so, when you think about that in addition to the timing of getting those wells to sales and then their cleanup process through sales, we've seen a little bit of impact to our production as a result of that. But the overall returns we should get from those opportunities are better.
This is why Whiting Petroleum may prefer shorter, one-mile laterals because the clean-up times are less. However, drillers would rather go with three-mile laterals over one-mile laterals since production is essentially tripled, and costs remain lumped into one sum.
Wells with longer laterals cost about $10 million, currently, for Anadarko to drill and complete, with $3 million being about the average costs per lateral mile. But, when the company reaches full manufacturing mode, especially now that their ROTFs are fully online, costs to drill and complete a well could fall to as low as $8 million, which is highly competitive with the industry.
In the end, it just makes more sense to send drilling and completion equipment to one place, and produce bigger wells there on pads, rather than sending crews and equipment to different places at the same time, and produce smaller wells.
For the record, APC is planning on flexing down in the DJ by dropping their number of completion crews there down from three to two, in order to step up their presence in the Permian, where they are seeing increased performance. This move should allow production in the Delaware to offset lost volumes in the DJ.
On top of this development, APC announced that they would be going with their Gen 2 completion styles for the foreseeable future, which uses more water, proppant, and closer spacing per well. This completion style certainly differs from Whiting's, who is using 30% less proppant and water per well, and falls more in line with what Pioneer Natural Resources is doing with their Gen 3.0+ completions, which is using more sand, but less water.
Clearly, no well is the same, and requires a different approach to drilling and completing. But, the overall trend of the industry seems to be going in the direction of more sand and less water, which reduces costs (less water and cheaper, brown sand) and boosts production (sand can boost production by 30% or more, especially with a proppant transport system).
Financials Strong
APC reported revenues of $3.29 billion, with net income coming in at $29 million. We already analyzed Anadarko Petroleum's financials in the last article, including their balance sheet and income statement, which were deemed to be sound, especially if more debt could be retired. Well, right on cue, APC announced this quarter that they would be able to reduce debt by another $500 million.
So, this is just one example of the many positive steps taken by the company that should deleverage the company more, and lead to better financing on debt in the future.
In combination to paying down debt, the company is expanding their buyback program from the current $3 billion, to $4 billion, which sends strong signals to the marketplace about APC bullishness for their company's future.
Risks
Inflation has been an issue surfacing as of late since E&Ps are starting to see some meaningful price appreciation in certain areas of the supply chain, most notably with labor headcount costs, stimulation/fleet services (which are flattening), and steel products, which are being negatively affected by tariffs.
However, these areas where inflation is being felt are being offset by other areas where deflation is occurring, such as with proppant supply. Sourcing proppant and using trucks can make up for as much as 10% of a total well's cost by taking away the extra $50/ton that is required to transport the volumes via rail. Also, as more brown supply comes online, "pricing should decline" another 5%-10% over the next few quarters until takeaway capacity comes back online.
So, overall, even though inflation is rising in some areas, deflation is also being seen in other areas, which balances out MOST inflation risks currently seen.
How To Play Anadarko
Anadarko is showing a prime entry point to get long on shares. The stock is consolidating sideways along the 200-day moving average and is allowing the nine-day moving average to come down and catch up with the stock.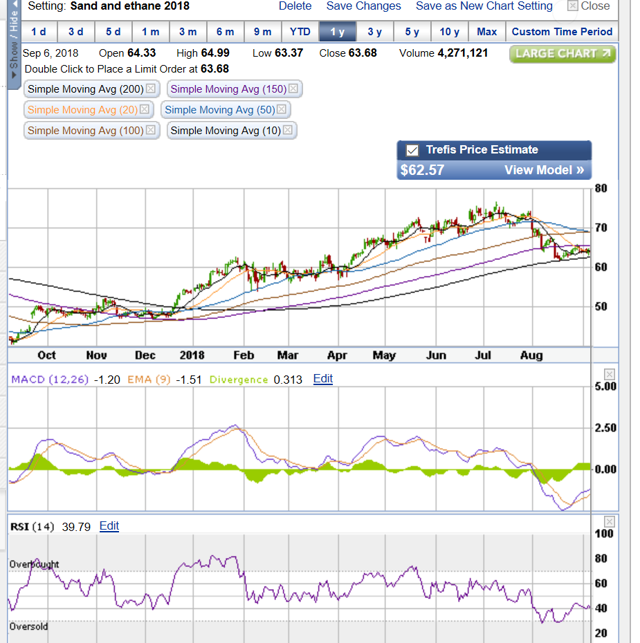 Source: E*TRADE
This consolidation sideways, which is also coming off of oversold levels and saw a cross up on its MACD, is setting up for a high probability golden cross, where the nine-day moving average crosses up through the 20-day moving average.
If this move occurs, look for $70 to be the next resistance point. However, if the stock breaks below the 200-day moving average (where stop losses should be placed), all bets are off, and $60 should become the next floor to re-enter the stock at since that was structural support in the past.
Conclusion
Anadarko is continuing on its strong momentum built in the previous quarter, reporting strong production growth due to the longer laterals and completions designs that are helping boost results. In addition, with the commissioning of its second ROTF, APC should have sufficient takeaway capacity in place to support their increase in volumes expected each quarter, which lowers differentials.
Delays in completion activity are not affecting APC in any major way, it seems because they are not as dependent on takeaway capacity coming online as other E&Ps in the area due to their ROTFs. So, the pullback seen in their shares to the 200-day moving average, which seems to be caused by fears that the industry may see a slowdown in completions, looks to be nothing more than a simple buying opportunity for investors.