What A Wonderful World
The Dow ETF (DIA) has not closed (on a total return basis) below its 200-day moving average since March 2016, the longest streak in its history.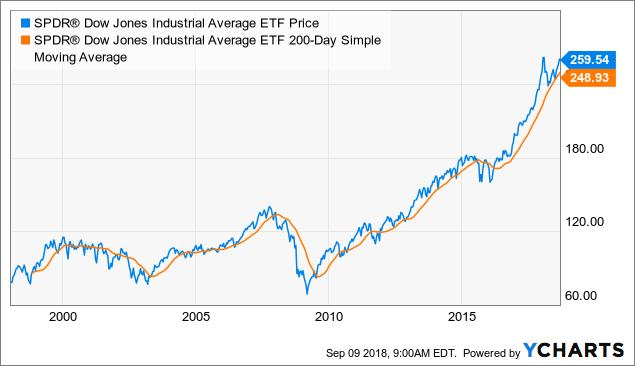 None of the previous record-similar streaks in nowhere near the current streak we're in.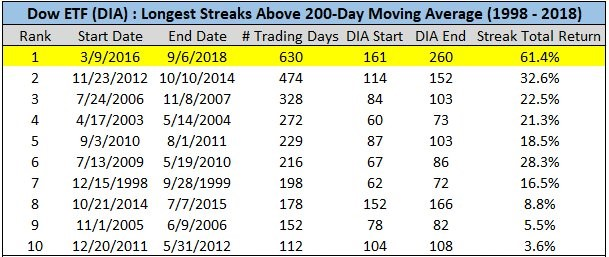 Using the lyrics of Louis Armstrong beautiful song, we are offering you here a ride around the world to see if things are as wonderful as the US markets suggest. Spoiler alert: Not so much.
I see trees of green...
Market Cap (billions), 4 largest companies in the world (3/9/09 - Today):
Combined: $327B >>> $3.67T; over 1000% gain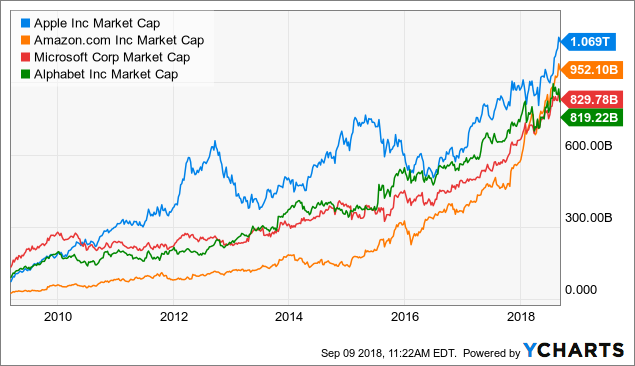 Wage growth in the US just hit their best level since the financial crisis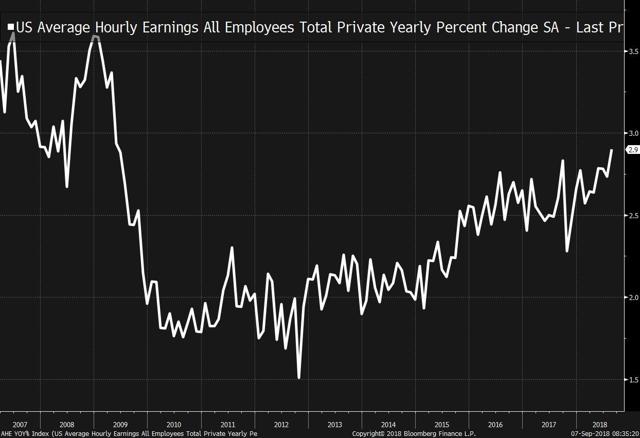 Inflation seems ready to jump higher
The Fed continues to reduce the size of its balance sheet. Over the past week, the Fed balance sheet is down another $11B and taking into consideration how strong the economy/jobs/wage/inflation look like - they must keep pushing rates higher
In case the above chart isn't clear enough, here's another one that shows how the Fed, (not so) slowly but (certainly) surely, shift things around
It's not wonder then that the 1-month Libor rate to 3-year US Treasury Yield had their highest weekly close since 2008.
By the way, while the US 2-Year Treasury Yields hits 2.7%, its highest level since July 2008, there are 15 countries around the world that still have negative 2-year yields.
Following the strong NFP numbers last Friday, a hike in September in now priced at 99.8% probability. Probability of another hike in December (to 2.25%-2.50%) is now 77.6%. That would be the 9th hike since the Fed started the normalization process in December 2015.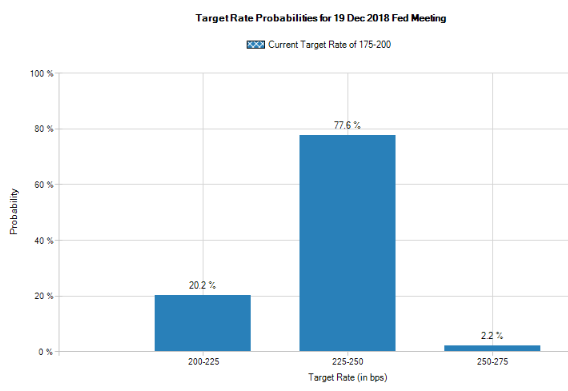 Red roses too...
(We are mostly focusing on the "Red" here rather than on the "Roses"..)
At the low as $252.25 last Friday (9/7/2018), Tesla (TSLA) traded 35% below the post "funding secured" high of $387.46 (8/7/2018)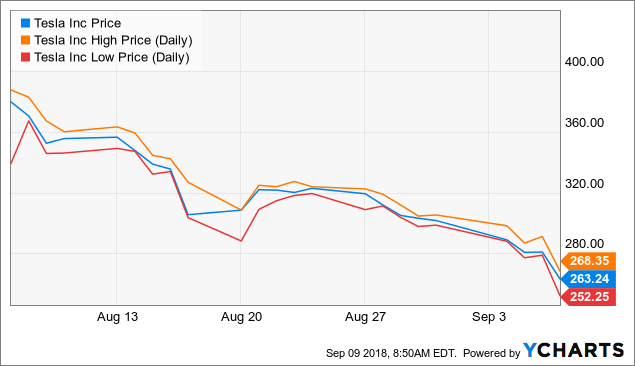 MSCI Argentina ETF (ARGT) hits a 19-month low, down 30% year-to-date and 35% from its January high.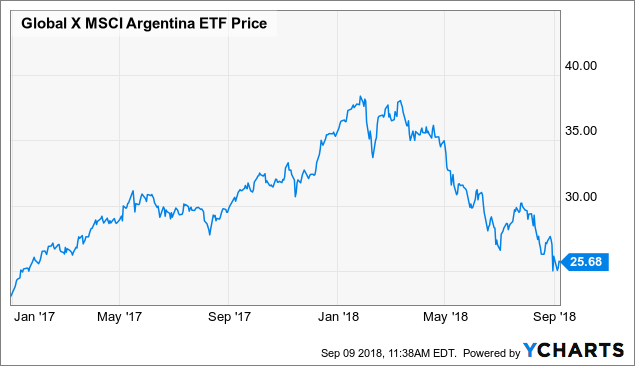 Indonesian equities (EIDO) hit a 27-month low, down 23% year-to-date and 29% from their January high.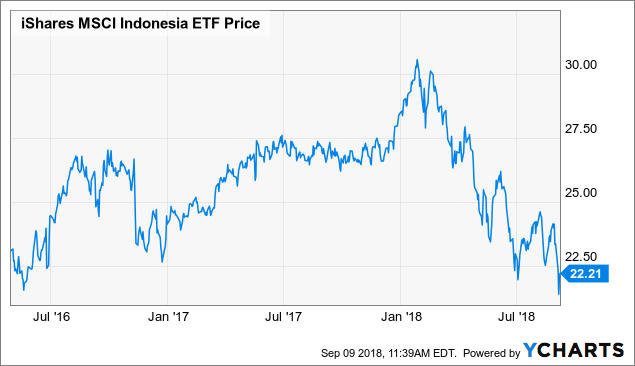 Facebook (FB) closes at its lowest level since April, down over 8% YTD and over 25% from its all-time high in July.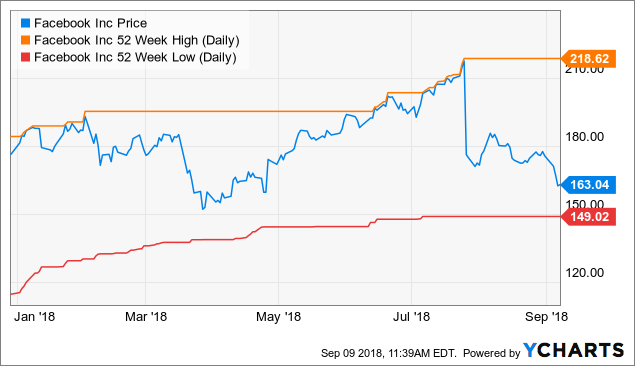 Social Media ETF (SOCL) closes at a 10-month low, under-performing the S&P 500 ETF (NYSEARCA:SPY) by a circa 24% margin over the past 6 months.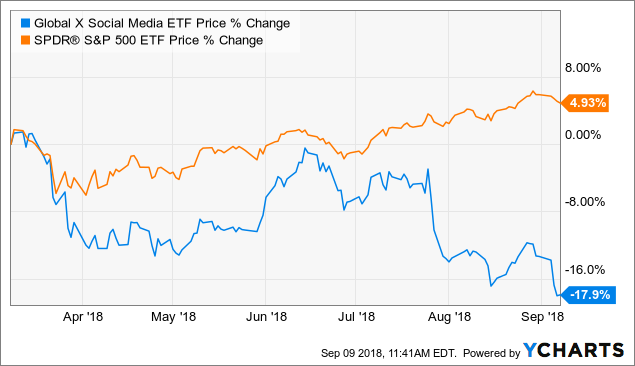 US trade deficit with China just hit a record high; not the best (political) timing I guess...
How the trade war may end? Consider this:
China trade surplus with US: $31BN
China total trade surplus: $27.9BN
China would be running a trade deficit if the US is excluded
European banks are so weak (performance wise) relative to the market. At some point this will be the best thing to buy but not now!!!
Some keep on saying that I pick on Spain for nothing...
Traditional-historical ties to Latin America are making Spanish banks (BBVA, SAN) very exposed and very vulnerable.
The Turkish recent collapse is a misfortune, but only the icing on the cake. The bread and butter (Latin America, Spain itself and Europe as a whole) is the main problem.
With the local currencies in Argentina, Brazil, Turkey, Russia, South Africa losing 20%-70% this year (and with China and India not too far behind), it's enough to think only about the currency exchange effects that play a major role in here, let alone the state of the economies.
No matter how you look at it, Emerging Markets: Far (EAST) From Being Out Of The Woods/Wounds!
After two bearish articles, I promised that I'll give Italy a rest...
After all, Starbucks (SBUX) just opened its first store in Milan last week so the country deserve a break (from me) or a frappuccino (from them)...
Nonetheless, I won't have a clean conscious without mentioning what Carlo Cottarelli - a former IMF director as well as Italy's former prime minister designate - told CNBC:
Ok, I've said it.
Russian 10-year bond yields are above 9% for the first time since May 2016.
So much so, that Russian bond yields climbed above South Africa's for the first time since oil collapsed more than two years ago
I see them bloom for me and you...
(Some bloom, some gloom...)
Gold Miners ETF (GDX) hits a 30-month low. Since its inception in 2006 it is down 48% (on a total return basis) versus a gain of 186% for the S&P 500 (SPY).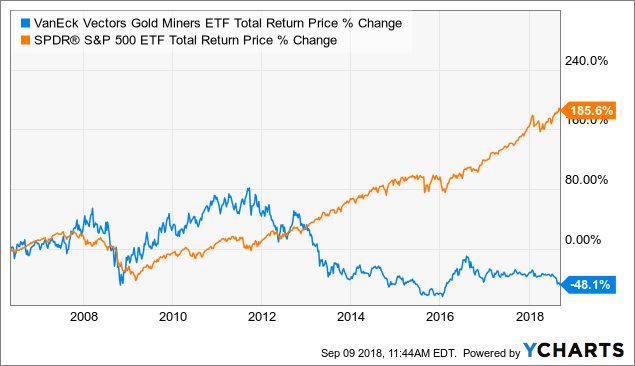 US Internet Stocks (FDN) are up 28% YTD while Chinese Internet Stocks (KWEB) are down 19%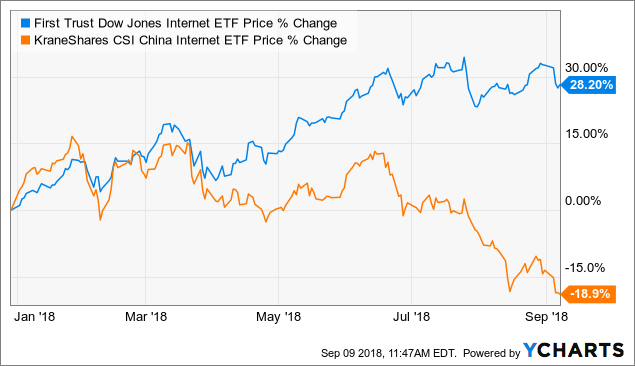 Over the last 18 months, the German DAX is roughly flat while the S&P 500 (SPY) is up 25% and the Nasdaq 100 (QQQ) is up 40%
Deutsche Bank's (DB) Torsten Slok just said that "The risks of overheating and higher rates continue to be much higher than the risk of a recession"
However, even in Germany things start cracking...
And I think to myself what a wonderful world
US Equities had a minor pullback last week and are now 1% below their all-time high. For comparison, the average country ETF is 25% below its all-time high
US equities outperforming every country ETF around the world in 2018
2018 Total Returns (in USD), based on MSCI Equity ETFs (for countries). Guess who is leading the way? Guess who is closing the list? No surprises, either way...
US (SPY): +9%
Mexico (EWW): +1%
France (EWQ): -2%
India (PIN): -3%
Canada (EWC): -4%
Japan (EWJ): -5%
Australia (EWA): -6%
UK (EWU): -6%
Russia (ERUS): -8%
Italy (EWI): -8%
Germany (EWG): -9%
China (FXI): -10%
South Korea (EWY): -13%
Brazil (EWZ): -18%
Indonesia (EIDO): -20%
South Africa (EZA): -26%
Argentina (ARGT): -27%
Turkey (TUR): -51%
Bottom line: The US Rule The World
Nonetheless, bear in mind that:
1. Will This Time Be Different? I Strongly Doubt That. So Should You!
2. It's All In The Numbers And The Numbers Never Lie
Author's note: Blog Posts notifications are only being sent to those who follow an author at real time. In order to receive notifications regarding both articles and blog posts that we publish regularly at real time you must ensure that you're (not only) following us (but also doing so) at real time. In order to follow us at real time go to Author Email Alerts, where the list of all the authors you follow appear, and make sure that "get e-mail alerts" is ticked on!


The Wheel of FORTUNE's monthly review for July is now available (August soon...). Check it out while our free trial is still on!
TWoF is one of SA Marketplace's most comprehensive services. We view our service as a "supermarket of ideas" with an emphasis on risk management and risk-adjusted returns.
We cover all asset-classes: commons, preferreds, public debts, baby bonds, options, currencies and commodities.
With Trapping Value on-board, you're getting two leading authors for the price of one.
Before committing to the service on a long-term basis, take advantage of the free trial - allowing for a two-week, free of charge, first-hand experience.
Disclosure: I/we have no positions in any stocks mentioned, and no plans to initiate any positions within the next 72 hours. I wrote this article myself, and it expresses my own opinions. I am not receiving compensation for it (other than from Seeking Alpha). I have no business relationship with any company whose stock is mentioned in this article.
Editor's Note: This article covers one or more microcap stocks. Please be aware of the risks associated with these stocks.