Global healthcare index and Rx sales overview
Sentiment over the US Healthcare sector remains favorable. The S&P500 MSCI Healthcare Index trades at 4.1x P/B on a forward basis (vs. 3.9x in the previous month), outperforming the S&P500 which trades at 3.3x forward P/B. In Japan, sentiment remains mostly unchanged from the previous month, with the MSCI Japan Healthcare Index trading at 2.6x forward P/B, the same as August. The global outlook is similar to the US, the MSCI World Healthcare Index trades at 3.5x forward P/B (vs. the average of 3.4x seen in the previous month). The 1.1x premium over the MSCI World Index, which trades at 2.4x, is maintained. The top 13 global pharmas' average market cap increased 11% MoM, from USD146bn (or KRW160tn) to USD162bn (or KRW178tn). Major global pharmas' combined prescription amount rose 16% YoY to USD18.4bn in July. At hospitals, the prescription for immunosuppressants as a percentage of total prescription rose from 16.4% in June to 17.7% in July.
The time that takes to pass the US FDA review is now significantly shorter than before, and the number of approvals is very high, which helps to boost sentiment. In 1H18 alone, Aimovig (episodic migraine treatment), Krintafel (treatment for Plasmodium vivax malaria), and Orilissa (treatment for moderate to severe pain associated with endometriosis) received US FDA approval, and other new drugs are likely to be released before the end of the year. 1) BAN2401, an Alzheimer's drug co-developed by Biogen (BIIB) and Eisai (OTCPK:ESALY), produced positive results from its phase II trials. 2) The phase III trials for Pfizer's (NYSE:PFE) degenerative arthritis drug Tanezumab have been successful. 3) The clinical trials for the combined therapy for cancer immunotherapy have increased, notably Merck's (NYSE:MRK) Keytruda. The Global Healthcare Index multiple should remain strong as we believe momentum from new drugs is intact.
Healthcare sector price performance overview
The relaxation of the accounting rules over how pharmas/bio companies book their R&D spending should help reduce uncertainties. The Financial Services Commission is working on setting accounting standards for pharmas/bio companies, and it is likely that the costs of phase I and II trials will appear as an expense. As of Aug 31, 196 healthcare companies' combined market cap stood at KRW179tn, up 2.3% from July's KRW174tn. Bio companies' share of total market cap showed the sharpest rise, from 14.9% to 15.9%, thanks to clarification over how the accounting of R&D costs appear. The sector is trading at an average of 5.1x forward P/B, higher than the 4.8x P/B seen in the previous month. The multiple is higher than the US (4.1x) and global average (3.5x), but we believe it will keep up as we expect the momentum from overseas expansion and out-licensing deals to be more fully recognized in 2H18. Korea's medical equipment exports rose 16.1% YoY to USD219mn (or KRW241bn) in July, faster than the 7.6% YoY growth seen in June 2018 and 1.9% YoY growth in July 2017. The share of US-bound exports was 19% and China-bound exports 14.7%, similar to their annual averages.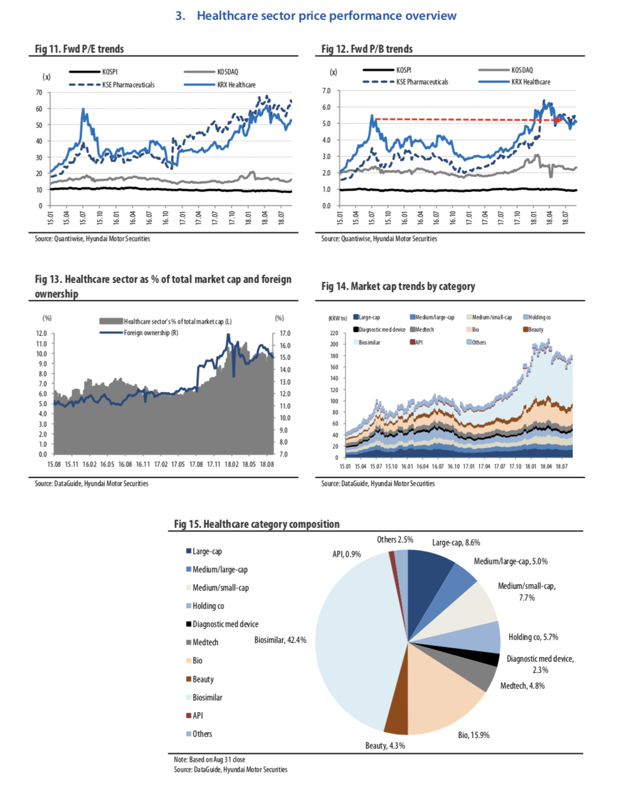 Disclosure: I/we have no positions in any stocks mentioned, and no plans to initiate any positions within the next 72 hours. I wrote this article myself, and it expresses my own opinions. I am not receiving compensation for it (other than from Seeking Alpha). I have no business relationship with any company whose stock is mentioned in this article.
Editor's Note: This article discusses one or more securities that do not trade on a major U.S. exchange. Please be aware of the risks associated with these stocks.