Market Intro

CNBC: 11:04 EST
Suffice it to say, markets are rather calmer today than they were 10 years ago when Lehman was collapsing. CNBC has a piece detailing that since that time, US stocks as measured by the S&P Total Return (SPY) are up about 11%. Slow and steady won the race!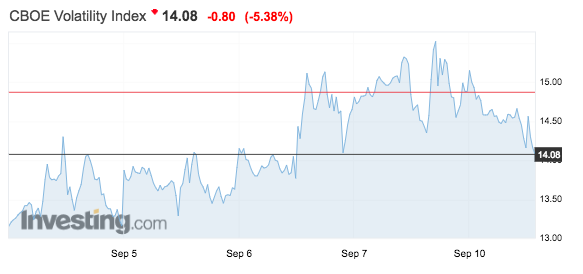 US volatility is on the wane to start the new week out. The popular index looks primed to test out a 13-handle. With just over a week left on the September VX contract, the front end of the term structure should move more and more along with the vagaries of spot VIX.
Thoughts on Volatility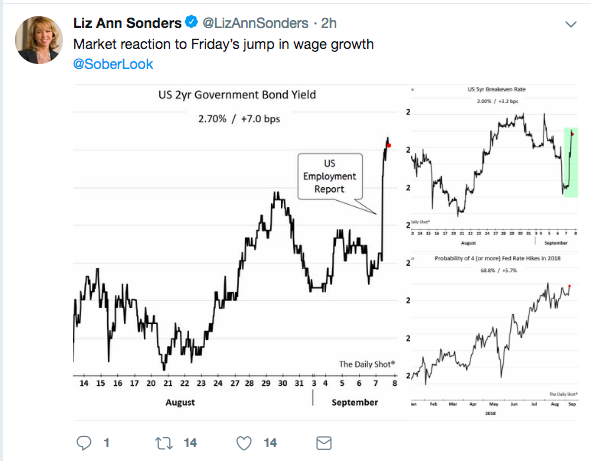 Liz Ann Sonders reposted on the market response to the jobs number (specifically wage growth: .4% month-over-month, and outside the consensus range).
The graphic on the left is the 2-YR Treasury yield, top right is US 5-Yr Breakeven rate, and bottom left is probability of four or more Fed rate hikes in calendar 2018. The bond market is whiffing inflation and taking note, and countercyclical policy may well entail several hikes in response to this development.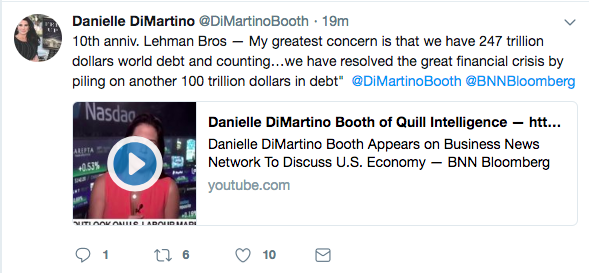 I enjoy the work of Danielle DiMartino Booth. She does raise a strong point above in that we essentially handled the last financial crisis by piling on a great deal more debt, mostly at the public level.
I do not expect this to negatively impact global markets all at once; I do believe that while these kicking-the-can fiscal and monetary exercise have demonstrated plausibility for success, we truly are not out of the woods yet.
We need total global debt-to-GDP to decelerate.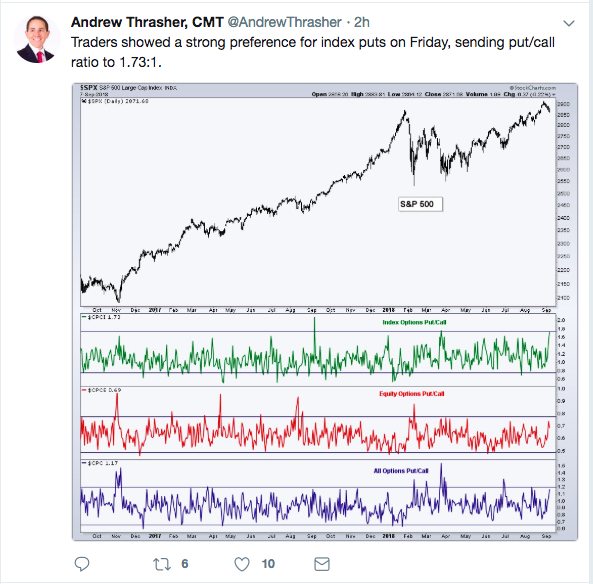 Now remember, for every buyer there is a seller. But the level of interest in OTM puts on the SPX looks to be meaningfully higher than that for OTM calls.
Nobody has a crystal ball, and that goes for options traders as well. But the blue series at the bottom of Mr. Thrasher's graphic demonstrates that we are certainly on the high end for relative interest between these two segments of the options market.
Term Structure

MarketChameleon: ACWX
The ACWX (MSCI ex US) is seeing a pickup in volatility: this is market cap weighted international equity volatility we're looking at. Option volume is unfortunately terrible on this product, and so I wouldn't read too deeply into the specific values of ACWX vol. On the other hand, international vol is on the rise.
Ascribe it to trade disagreements, or individual country blowouts, or whatever you like. If international vol trends higher, I believe that it will be difficult for the US volatility term structure to maintain its "normal" shape.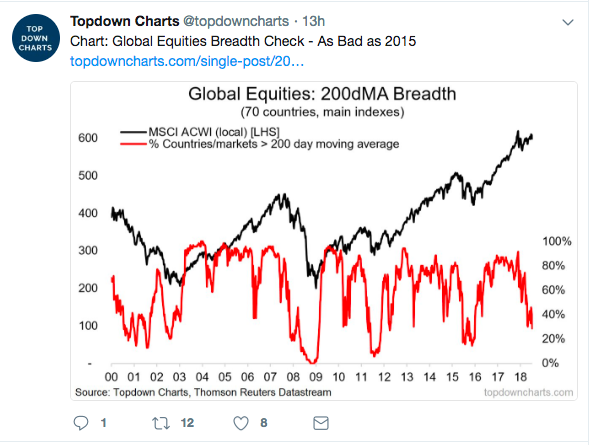 Top-Down charts points out that global equities themselves are within shooting distance of all-time highs (ACWI, in black). But the breadth is very low, meaning that a relatively small slice of names holds up the price action as we know it. Recall that losses on the inverse-vol ETPs (SVXY, ZIV) occurred quite suddenly.
The day-to-day action still favors a short-vol position, as US equities digest news as it comes. But there are storm clouds gathering in some of the global market internals.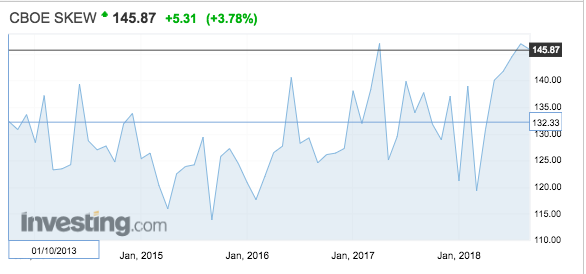 The CBOE Skew Index is printing near its all-time highs, something that it has been keen on for much of the year. OTM puts are very bid relative to OTM calls as measured by this index, which signals a higher-than-usual chance of a sucker punch on US equities.
Such a development would likely benefit long-vol positions (VXX, UVXY, TVIX), but the position needs to be well managed as roll yield at present acts as a tailwind for vol shorts.
Conclusion
If this is your first time reading Market Volatility Bulletin, thanks for giving it a try. If you're a regular, we thank you for your ongoing contributions in the comments section.

Great Swami posits in a comment left on the prior MVB that perhaps election season is what really has the markets on edge. My first blush was to think this was off, given that it seems that US vol is following international vol higher rather than the other way around.
Renegotiation of trade agreements has been a major theme - maybe the major theme - of 2018. As such, it could make sense then that international markets have even more sensitivity to US elections than the US markets themselves.
Thank you for reading.
Please consider following.
Disclosure: I/we have no positions in any stocks mentioned, and no plans to initiate any positions within the next 72 hours. I wrote this article myself, and it expresses my own opinions. I am not receiving compensation for it (other than from Seeking Alpha). I have no business relationship with any company whose stock is mentioned in this article.
Additional disclosure: I actively trade the futures and options markets, potentially taking multiple positions on any given day, both long and short. I also hold a more traditional portfolio of stocks and bonds that I do not "trade". I do believe the S&P 500 is priced for poor forward-looking returns over a long timeframe, and so my trading activity centers around a negative delta for hedging purposes.