With the S&P 500 Index (SPX) up 7% for the year, many investors are becoming complacent and expect the high returns of recent years to continue indefinitely. But with volatility risk increasing due to emerging markets turmoil and the U.S.-China trade war, a growing number of major institutions are questioning this assumption. In today's comments, we'll address this concern and review a recent report from Goldman Sachs which points to a period of potentially lower returns ahead for U.S. equities. The weight of evidence, however, continues to show that the market is in strong hands and should maintain its upward trajectory into 2019.
Last week, a well-known investment bank released a report which raised more than a few eyebrows among investors, bulls and bears alike. The timing of the report increased its credibility as many participants have recently expressed concerns that the U.S. stock market has rallied for too long without a significant correction and is therefore vulnerable to a steep pullback.
According to a Sept. 4 report from Goldman Sachs, the stock market is becoming vulnerable to a slowdown. That's the conclusion of the report's leading analyst Peter Oppenheimer, who told MarketWatch that while the investment bank isn't predicting an outright bear market, there is a high likelihood that the equity market will soon slow down and experience a period of lower returns. That conclusion is based in part on Goldman's bull-bear indicator, which is comprised of five market-related variables.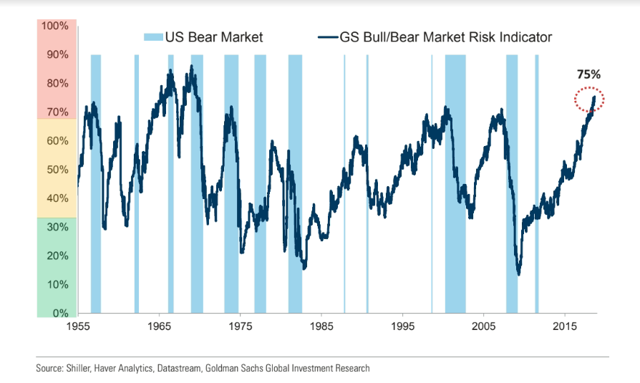 Source: BigCharts
According to Goldman's bull-bear indicator, the chances of Wall Street experiencing a bear market is at its greatest in over 40 years. According to Oppenheimer, whenever the bull-bear indicator reaches such elevated levels, the market's five-year annualized total return has diminished. The report cautioned investors to lower their expectations for equity market returns in the years ahead.
Could Goldman be right about the market's high potential for lower returns in the years ahead? Given that the major U.S. averages have experienced gains of between 300% and 520% since 2009, a decrease in the market's rate of ascent is hardly a bold prediction. But is it not equally possible that the stock market haven't fully discounted the stimulative effect of last year's tax cuts and the regulatory overhaul of the last two years? And is it also possible that hot money inflows from the emerging markets will continue to support the U.S. equity market in the coming year?
In what is arguably one of the best summaries of the aforementioned supporting factors for a continued bull market, Dr. Ed Yardeni has highlighted several considerations that many Wall Street analysts have overlooked. In his latest blog he reviews six of the most salient factors which could combine to produce a continued boom for the equity market and the U.S. economy. The upshot of his reasoning is that deregulation and tax cuts could unleash the "animal spirits" of business owners and investors, in turn leading to even higher corporate earnings. Moreover, says Yardeni, if more manufacturing jobs return to the U.S. due to a benign tax and regulatory regime, and assuming the increased pace of technological innovation continues, then why shouldn't investors expect a continuation of the bull market?
Another problem which has been a cause of consternation for analysts is the turmoil in the emerging markets. Many of them question how much longer stocks can continue to shrug off the EM weakness without sharing in the pain. While many investors continue to fear the bear's return as the emerging markets remain weak, it would do well to keep in mind that none of the major signs which have historically preceded a bear market are currently visible. Among these signs are deteriorating market breadth and a serious loss of the stock market's internal momentum. Instead of weak or lagging breadth, we see that most indicators of the market's internal condition are still in good shape. Consider the NYSE advance-decline (A-D) line, which is still in a rising trend and shows no signs of serious selling pressure on the Big Board. Bear markets of past years have been preceded by a declining trend in the A-D line as informed investors began unloading equities weeks or months prior to the plunge in the major averages.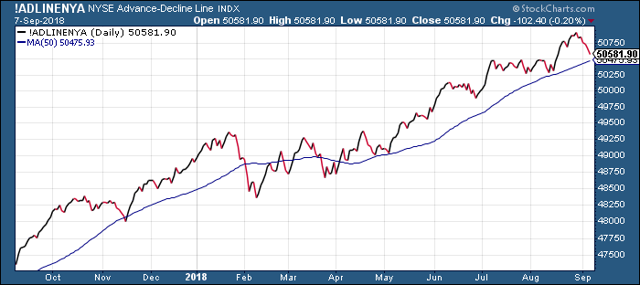 Source: StockCharts
Also confirming the market's intermediate-term bullish trend is the NYSE upside-downside volume indicator. This indicator, which measures rising minus declining volume on a cumulative basis, hasn't yet diverged lower against the prevailing path of the major averages. Until it does, investors should refrain from turning bearish on the intermediate-term outlook.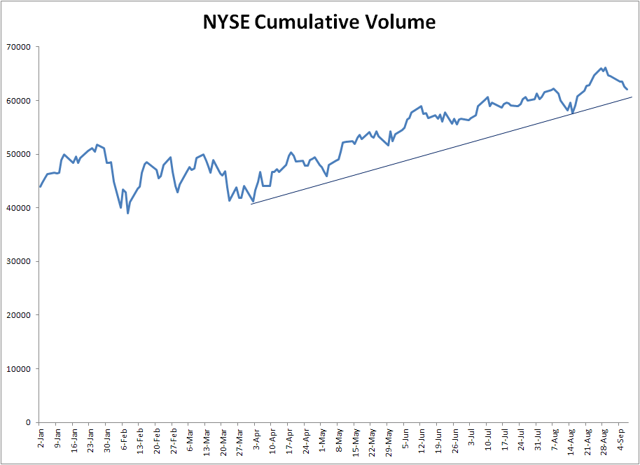 Source: WSJ
Most importantly in my view is the cumulative path of the NYSE 52-week new highs and lows. The new highs and lows provide an excellent measure of the overall incremental demand for equities. As long as this indicator continues its rising trend, investors aren't justified in assuming a bearish posture.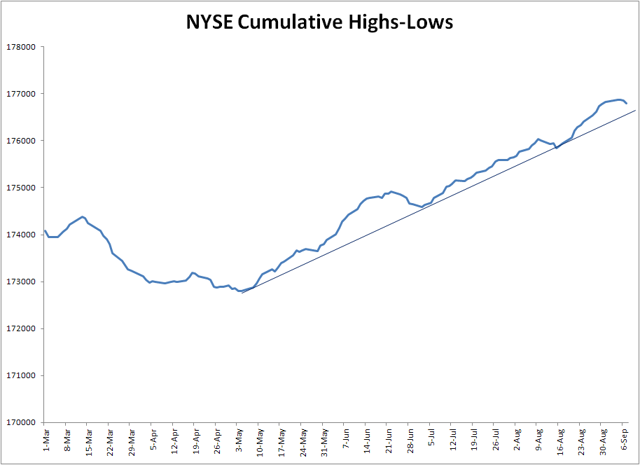 Source: WSJ
Until the indicators mentioned here show definite signs of deteriorating investors aren't warranted in assuming a worst case scenario. Furthermore, as long as the cumulative new highs-new lows indicator remains in a rising trend, investors should instead continue to lean bullish on the intermediate-term (3-9 month) outlook for U.S. equities.
Turning our attention to the immediate-term (1-4 week) outlook, it should be noted that my immediate-term trend indicator has turned negative as of Sept. 7. This indicator is comprised of six major indices – the Dow, S&P 400 and 500, NYSE Composite, Russell 2000, and the Nasdaq 100. As long as a majority of the six indices remain above the 15-day moving average on a weekly closing basis the stock market's immediate-term trend is assumed to be strong. However, five of the six major indices – including the Nasdaq 100 Index (NDX) – closed under the 15-day moving average last week. Accordingly, this jeopardizes the immediate uptrend for the major indices at least temporarily. While this isn't an outright sell signal for equities, it does mean we could be in for a period of increased volatility in the coming days. Traders are therefore advised to be cautious for now and refrain from initiating new long positions until the market's immediate-term internal condition improves.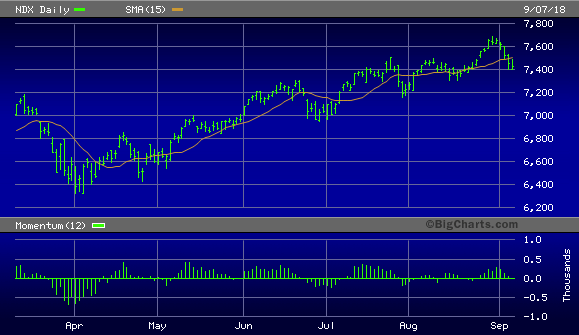 Source: BigCharts
One such indicator in need of improvement is the aforementioned new 52-week highs and lows on both exchanges, but especially for the NYSE. The cumulative new highs-low for the Big Board have been negative in the last three trading sessions. Moreover, there have been well above 40 new lows on each day of this week. This is a classic sign of increased internal selling pressure in some segments of the market. This segmented weakness should ideally be repaired before the broad market is ready to commence its next sustained rally.
In conclusion, while there is an increased possibility that we'll see some temporary weakness in the U.S. stock market in the immediate term, the technical and fundamental evidence we've discussed here suggests the market's intermediate-term (3-9 month) upward trend will remain intact.
On a strategic note, investors should continue to maintain longer-term bullish exposure to the stock market via ETFs and outperforming individual stocks in strong sectors. This includes in particular the retail, transportation, real estate, and tech sectors, which have all shown relative strength versus the S&P 500 Index this summer. I also recommend raising stop losses on existing long-term positions and taking profits in stocks and ETFs which have already had impressive upside moves.
Disclosure: I am/we are long XLK, IYR, IJR.
I wrote this article myself, and it expresses my own opinions. I am not receiving compensation for it (other than from Seeking Alpha). I have no business relationship with any company whose stock is mentioned in this article.