Welcome to our Weekly Cannabis Report, a reliable source for investors to receive the latest developments and analysis in the cannabis sector.
Trading Summary
Last week, the Horizons Marijuana Life Sciences Index ETF (OTC:HMLSF) gained another 5.7% and closed at C$22.57. The Horizons Emerging Marijuana Growers Index ETF (OTCPK:HZEMF) which tracks smaller growers reversed last week's gain and closed down 1.5% at C$8.58. The U.S.-listed ETFMG Alternative Harvest ETF (MJ) ended the week up 4.0% at US$34.81.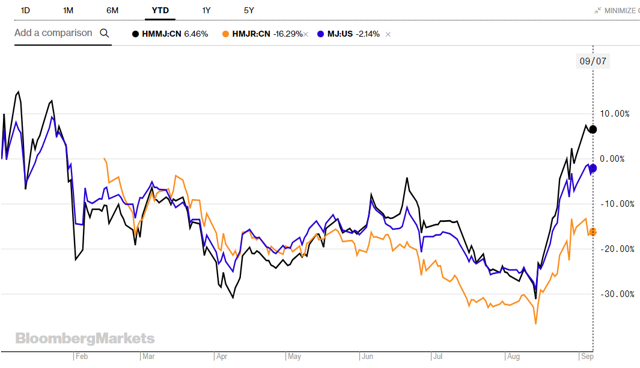 The large-cap group continued its gravity-defying performances with Canopy (CGC) up 12.7%, Tilray (TLRY) up 19.5%, Aphria (OTCQB:APHQF) up 20.0%, Cronos (CRON) up 21.4%, and HEXO (OTCPK:HYYDF) up 26.9%. Aurora (OTCQX:ACBFF) was the outlier with a 7.7% loss, the only stock that did not register a gain last week. What happened to Aurora? We think the stock is suffering from a bloated share structure and MedReleaf shareholders that are eager to sell. Note that Aphria also started to show life with a sizeable gain this week.
Mid-cap stocks continued to lag behind large-cap as most stocks declined to various degrees. Notable movers are U.S. cannabis stocks such as Green Thumb (OTCPK:GTBIF), which gained 29% and Liberty (OTCQX:LHSIF), which gained 12.2%. We think that the next leg of the global cannabis opportunities lies in the U.S., as the Canadian stocks have soared to unsustainable levels. A pullback is inevitable and the U.S. stocks offer the best growth potential for the next few years, as the market remains highly fragmented and undeveloped.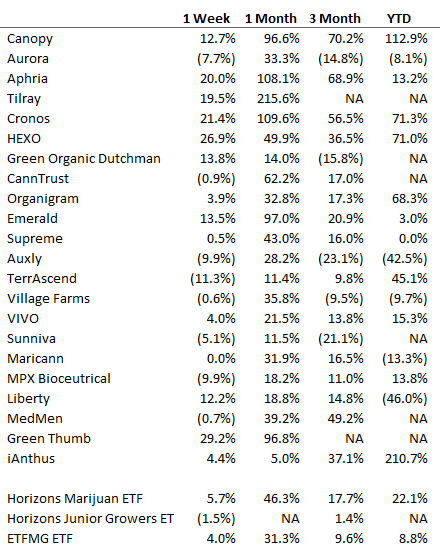 Sector Update
HEXO Faces Activist Pressure
HEXO became the subject of an activist campaign last week when Riposte Capital issued a public letter to the board articulating its frustration with HEXO's valuation. The small fund holds 2.5% of HEXO and arguing that the company should initiate a strategic review in order to close the valuation gap between HEXO and other large-cap names. The investor pegged HEXO's fair value at $18 per share, based on 8.1x 2020 consensus EBITDA.
We think the investor is likely agitated by the massive gains observed in Canopy and Tilray and is frustrated that HEXO hasn't experienced a similar run-up in its share price. However, HEXO has indeed gained a healthy amount in the recent months. In fact, its share price has gained 30% in the last month before the activist issued its demand. We will share our detailed views next week.

Canntrust Seeking Nasdaq Listing
Canntrust (OTC:CNTTF) is reportedly close to a Nasdaq listing, according to the company at an investor conference. The company has been noticeably low-key in its investor outreach but the shares have held up particularly well during the months before the current rally. The stock has gained more than 60% in the last month, despite a relatively muted response to the listing announcement. The stock finished the week essentially flat, which is unlike what happened in the past when companies would see their share price soar after announcing U.S. listing.
Anyhow, we think Canntrust is well-positioned in the new cannabis era as a sizeable producer with competitive production capabilities. The company also trades at relatively cheap valuations, especially when you compare to the likes of Canopy and Tilray. It is potentially possible for an outside pharma or tobacco companies to acquire Canntrust in an outright acquisition, as the purchase is much more manageable at around $1 billion.

(Twitter/Midas)
Aphria Completes Divestiture Of U.S. Assets, For Now
Aphria announced the closing of its previously-disclosed transaction to divest all of its remaining U.S. assets in the form of shares in Liberty Health. However, the caveat here is that Aphria clearly does not want to lose its control over the U.S. assets and have gone out of its way to keep its options open. The arrangement included an option for Aphria to buy back its Liberty shares in the next five years should U.S. federal laws change. The arrangement could also change or be extended, in our view.
The transaction marks a significant step undertaken by the company to comply with TSX listing rules and potentially paved the way for a U.S. direct listing. However, listing on the U.S. exchange could take months to complete, which means that Aphria is likely at least a year from a U.S. listing. We have observed that a direct U.S. listing could contribute tremendously to a stock's access to U.S. investors, which results in much higher volatility. The best-performing stocks in the recent weeks, Canopy and Tilray, are all U.S.-listed stocks.

Conclusion
Last week continued the momentum from prior weeks as large-cap stocks continued to edge higher while the mid-cap space saw a much divergent performance. Investors remain focused on the hottest stocks and the share price of Tilray and Canopy have reached unsustainable levels, in our opinion. It is only a matter of time before a correction hits and Tilray will be hit particularly hard when that happens. However, we want to clarify that our negative view on Tilray's share price is a function of the market speculation, not the management or company itself.
The company is doing nothing wrong and it is only investors and speculators that are underwriting this mania and pushing the share price to stratospheric levels. It is impossible to time the market but we would consider rotating out of Canopy and Tilray to stocks with more potential catalysts and room for further gains.
For our long-time readers, our top 3 picks Canopy, Aphria, and HEXO have all performed extremely well for investors, especially Canopy. However, we are turning a little cautious on Canopy in the short term due to the risk of a significant pullback but the stock remains one of our favorites in the long run, driven by its leadership position in the domestic cannabis market and adjacent industries (beverages, pharma, and edibles). We like Tilray a lot but its share price essentially made the stock uninvestable at current levels.
Looking ahead, we think investors should look to the mid-cap space and U.S. cannabis sector for opportunities of outsized gains. The mid-cap space has better valuations and potential catalysts while U.S. cannabis stocks are just getting started. We will continue to expand our coverage to provide better content on these two particular segments and introduce new ideas to our readers.
Author's note: "Follow us" to stay informed of the latest development and best ideas in the cannabis sector. We provide the most in-depth and comprehensive cannabis coverage on Seeking Alpha.
Disclosure: I/we have no positions in any stocks mentioned, and no plans to initiate any positions within the next 72 hours.
I wrote this article myself, and it expresses my own opinions. I am not receiving compensation for it (other than from Seeking Alpha). I have no business relationship with any company whose stock is mentioned in this article.
Editor's Note: This article covers one or more microcap stocks. Please be aware of the risks associated with these stocks.