With the Memorial Sloan Kettering Cancer Center as a shareholder and two Phase-2 product candidates intended for the treatment of Cancer, Y-mAbs (NASDAQ:YMAB) seems a name that institutions need to assess. In addition, the company has tons of cash, no financial debt and no convertible securities, which seems very beneficial. The only caveat to be kept in mind is that the FDA approval could arrive somewhat late, in 2020. Investors will need to wait for the stock catalyst.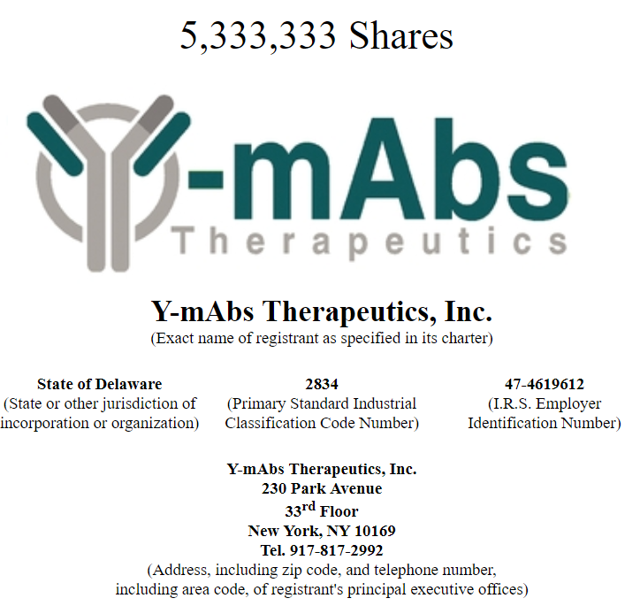 Source: Prospectus
Y-mAbs will retain the attention of many institutional investors after they check the investment banks running this IPO:

Source: Prospectus
Business And Product Candidates
Incorporated in New York, Y-mAbs is a clinical biopharmaceutical company with several product candidates for the treatment of cancer including two Phase-2 pivotal-stage candidates. Expecting to receive FDA approval in 2020, which may be a bit late for some investors, many biopharma investors will be interested in this name.
Naxitamab For The Treatment of Pediatric Patients With R/R High-Risk Neuroblastoma
The company's lead product candidate is Naxitamab, a recombinant humanized immunoglobulin G, or IgG1k, monoclonal antibody that targets ganglioside GD2. Its most promising application is intended for the treatment of Neuroblastoma, a type of cancer, which Y-mAbs has explained with the following words:
"NB is a rare and almost exclusively pediatric cancer that develops in the sympathetic nervous system and CNS/LM is a rare and usually fatal complication of NB in which the disease spreads to the membranes, or meninges, surrounding the brain and spinal cord in the CNS." Source: Prospectus
The results of an initial Phase 1 trial involving 30 patients with R/R high-risk Neuroblastoma having evaluable disease were promising. 11 patients achieved a tumor size reduction of approximately 73%, and five out of 12 patients achieved a reduction of approximately 42%. In the image below, the company provided further details:

Source: Prospectus

Source: Prospectus
In May 2018, Y-mAbs executed an expansion Phase 2 portion with 71 patients, which showed beneficial results. 87% of the primary refractory patients responded to the treatment, and 30 of the secondary refractory patients responded as well. Y-mAbs has already initiated a study 201 to form the primary basis for the company's planned biologic license application, which is expected in 2019. According to the company, the final goal is receiving approval by the FDA in 2020.
Omburtamab for the Treatment of Pediatric Central Nervous System/Leptomeningeal Metastases from Neuroblastoma
Omburtamab is the second most interesting product candidate of Y-mAbs. It is a novel murine monoclonal antibody targeting B7-H3, an immune checkpoint molecule widely seen in tumor cells of many cancers.
According to the prospectus, Omburtamab has been useful in treating Pediatric Central Nervous System/Leptomeningeal Metastases from Neuroblastoma. Trials on 93 patients showed overall survival of 47 months, which is much better than the historical median of approximately six months.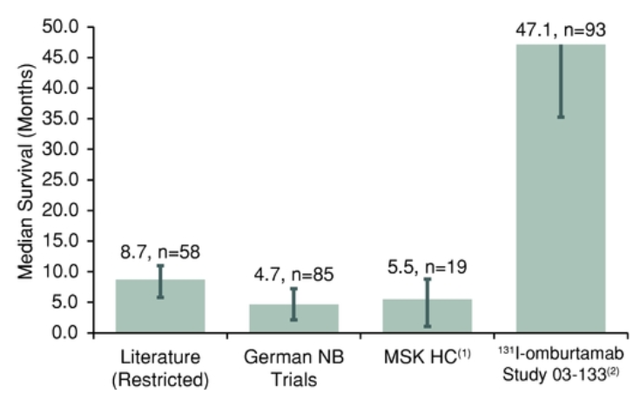 Source: Prospectus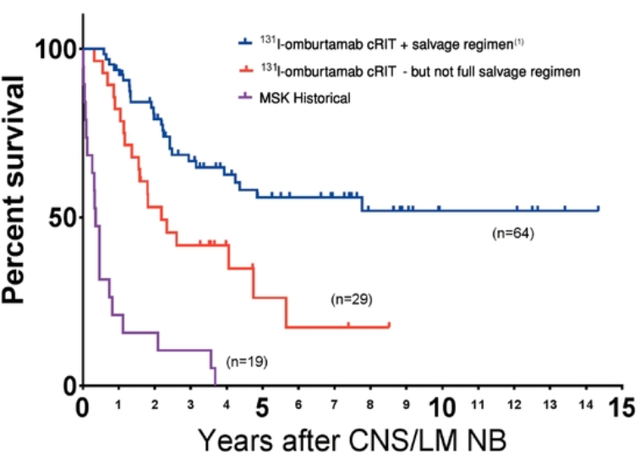 Source: Prospectus
Like the case of the previous product candidate, the company expects to submit a biologic license application in 2019 and expects to receive approval by the FDA in 2020.
Pipeline and Analysis of Stock Catalysts
In addition to the previous candidates, Y-mAbs has other candidates such as omburtamab-DTPA, huB7-H3, and huCD33-BsAb, which are still in a pre-clinical phase. Results from trials of these candidates are not expected to create significant market reaction since they are at an early stage. However, it is beneficial that Y-mAbs could offer other opportunities if Omburtamab and Naxitamab are not successful product candidates in 2020. The image below provides information on the company's pipeline: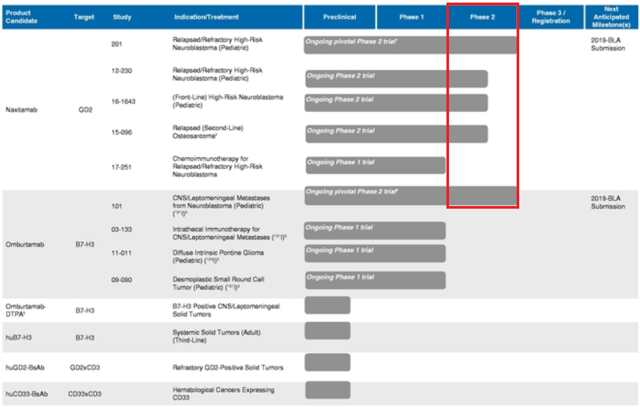 Source: Prospectus
How will the stock price move in 2018 and 2019? Investors will need to wait until 2019 to receive relevant information, which could move the stock price. With this time table in mind, Y-mAbs seems a name for long term investors since there will be no relevant stock catalysts in 2018.
Memorial Sloan Kettering Cancer Center
Y-mAbs seems very well connected with doctors and professionals of the healthcare industry. The Memorial Sloan Kettering Cancer Center licensed several patents to the company receiving a combination of shares and cash:

Source: my.mskcc.org
"The patents and patent applications covered by the MSK License are directed, in part, to the naxitamab and omburtamab antibody families, including humanized and chimeric antibodies, as well as MSK's rights in BsAbs, compositions, and their respective use for immunotherapy. Upon entering into the MSK License in 2015 and in exchange for the licenses thereunder, we paid to MSK an upfront payment of $500,000, issued 1,428,500 shares of our common stock to MSK and agreed to provide certain anti-dilution rights to MSK as further described below." Source: Prospectus
It seems beneficial that a well-known institution like the Memorial Sloan Kettering Cancer Center owns 8.45% stake and trusts those running Y-mAbs. Additionally, investors will also appreciate that a member of the Y-mAbs' Board of Directors is Gregory Raskin, M.D., The Vice President, Technology Development at Memorial Sloan Kettering Cancer Center.
A Lot Of Liquidity And Low Cash Burn Rate
Large amount of cash as of June 30, 2018 and small amount of liabilities seem to be another beneficial feature on this name. The company reported $70 million in cash, and only $7.7 million in total liabilities with no financial debt.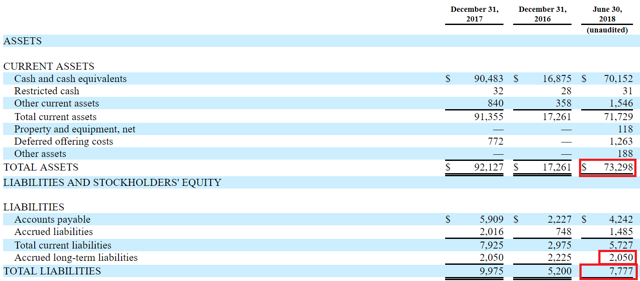 Source: Prospectus
In addition, it is also very beneficial that Y-mAbs does not only show any financial debt. Moreover, the company has no obligations or commitments at all:

Source: Prospectus
The income statements show that Y-mAbs is burning cash at about $17-$19 million a year. If this cash burn rate continues, with $140 million in cash after the IPO, Y-mAbs could have cash to operate for more than seven years.

Source: Prospectus
In this regard, the company notes in the prospectus that it will have sufficient cash to function until 2020:
"Based on our current plans, we believe that our existing cash and cash equivalents, together with the net proceeds from this offering, will be sufficient to enable us to fund our operating expenses and capital expenditure requirements through the fourth quarter of 2020." Source: Prospectus
The use of proceeds from the IPO is as follows:

Source: Prospectus
Please note that Y-mAbs expects to have money to finance the clinical trials for naxitamab and omburtamab. With this in mind, investors will need to remember that no money could be left to finish the trials of the other product candidates. In 2020, Y-mAbs may have to raise more capital to finance its R&D expenses, which may create share price declines.
No Convertible Securities And No Preferred Stock
The equity side on this name is quite simple. The company has not even issued preferred stock, and there are no convertible securities. With this in mind, investors will not need to worry about dilution risk in the near future.

Source: Prospectus
As said, Y-mAbs will have $140 million in cash after the IPO. Taking into account 32.6 million shares, the cash per share will be equal to $4.29, approximately one third of the expected IPO price, $15. Additionally, its book value per share will be $4.15.
Competitors And Valuation
MacroGenics, Inc. (MGNX) is also developing antibodies against B7-H3 and seems to be traded a bit undervalued as compared to Y-mAbs. With 330 employees, no debt and generating revenues of $177 million, MGNX trades at $21.5 with cash per share of $7.13 and book value per share of $7.39.
Another competitor, Daiichi Sankyo Co., Ltd. (OTCPK:DSKYF), is also researching on antibodies against B7-H3, but the company is too large. It shows a market capitalization of $24.9 billion, which does not make it a good comparable peer of Y-mAbs. Finally, United Therapeutics Corporation (UTHR), which commercializes dinutuximab, an antibody against GD2, is also too large to be a good comparable peer of Y-mAbs.
A Lot Of Institutions And An Independent Board Of Directors
It seems quite beneficial that the company was able to sell large stakes to different investors worldwide. The fact that the product candidates retained the attention of institutions tells a lot about the company. The image below shows further details in this regard:

Source: Prospectus
In addition, please note that directors control 40.57% stake in the company. With this number in mind, the float is expected to be low, thus be careful. Stock price volatility may be quite high after the IPO:

Source: Prospectus
Finally, it is beneficial that the Board of Directors is said to be independent. Shareholders will not have to fear that the Board may take decisions to benefit big shareholders of Y-mAbs:

Source: Prospectus
Conclusion
With results being expected for 2019 and 2020 and other competitors like MacroGenics, Inc. trading a bit undervalued as compared to Y-mAbs, the company does not seem a huge opportunity right now. This does not mean that Y-mAbs could not become interesting in 2019 when it will submit its biologic license application. In addition, the company could become interesting for bigger competitors, which may acquire it before its product candidates are approved by the FDA. Bear in mind that on October 4, 2016, EUSA Pharma acquired rights of the Neuroblastoma Treatment Isqette, which competes with Naxitamab.
Disclosure: I/we have no positions in any stocks mentioned, and no plans to initiate any positions within the next 72 hours.
I wrote this article myself, and it expresses my own opinions. I am not receiving compensation for it (other than from Seeking Alpha). I have no business relationship with any company whose stock is mentioned in this article.
Editor's Note: This article discusses one or more securities that do not trade on a major U.S. exchange. Please be aware of the risks associated with these stocks.