Introduction
The trade weighted US Dollar Index (DXY) has made a remarkable advance since mid-April of about 7.4% through to peak as shown below :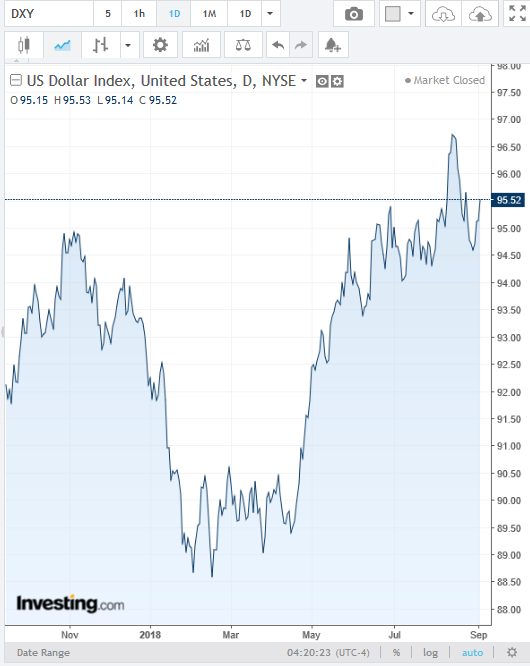 The DXY as the name suggests measures the value of the US Dollar relative to other currencies weighted by their importance in trade and adjusted for inflation, based on local consumer price indexes using the following formula :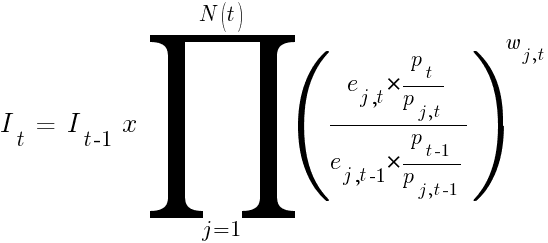 I(t) is the value of the index at a time t, N the number of currencies, e(j,t) the value of the Fx pair j at a time t and the ratio of P(T) to P(j,t) is equal to the ratio of US CPI to the CPI for currency j. W(j,t) refers finally to the trading weights which are updated annually and be found here
Plenty has been written about the causes and casualities so I will not repeat those, the case I'm making is that this is over and the USD will be at worst range bound if not lower which is my base case.
17 days ago, I had written a short bullish case for Gold where I highlighted the growing EU/US CESI (Citi Economic Surprise Index) spread. I also predicted that the FED would soon acknowledge the EM Jitters, US Housing weakness and labor participation increase. Powell did just that and gold had an outsized +2% day. I was about to close my $GLD position entirely but realized that the FED was even more dovish than i expected, prompting me to think if this could materialize into a multi-month trend instead of simply being a quick trade.
FED
The FED was indeed dovish beyond my best-case scenario. The minutes and subsequent speech by Powell highlighted nearly all possible downside risks. Going as far as to refute the #1 argument of the hawks:
On the upside, household spending and business investment could expand faster over the next few years than the staff projected, supported in part by the tax cuts enacted last year. On the downside, trade policies could move in a direction that would have significant negative effects on economic growth. Another possibility was that recent fiscal policy actions could produce less of a boost to aggregate demand than assumed in the baseline projection, as the current tightness of resource utilization may result in smaller multiplier effects than would be typical at other points in the business cycle.
They admitted the Trump Tax Cuts might not be as potent as the mainstream assumes. This is critical because if you follow the FED watchers closely you would know that this is the #1 argument of the hawkish camp.
They also add that they are leaning more towards the lower for longer thesis
The upside risk that inflation could increase more than expected in an economy that was projected to move further above its potential was counterbalanced by the downside risk that longer-term inflation expectations may be lower than was assumed in the staff forecast.
DXY (US Dollar Index) is always important, but today it is all the more so as it captures the attention of every trader given the current geopolitical background.
DXY is driven by different things and the set of drivers is dynamic. It's up to the trader to find out the current active model and then predict the direction and/or amplitude of each parameter and resulting implications for all asset classes.
My observation and experience lead me to believe DXY is currently driven by:
CESI spreads: for each of the economies included in the DXY, how is it performing relative to the US relative to expectations
Central bank outhawking or outdoving expectations
US/EU corporate credit valuations and supply differentials. We are entering a busy period for debt capital markets desks and credit investment is a main component of capital flows especially between EUR/US
EM Sovereign credit
We will limit our discussion to 1 and 2 because credit flows at this stage of the cycle can at best provide for timely trade opportunities.
The first two points are essential in forming a view of real rate differentials across the curve. Previously, for most time frames predicting short term rates was enough because the mechanics of the carry trade were mostly driven by central banks. Today you need to have a view of the whole curve.
US Labor market isn't tight.
There are legitimate reasons for the FED to reconsider their assumptions of where the US output gap is. US economy is still adding jobs at a steady pace and the labor market shows no sign of real tightening: Average Hourly Earnings (AHE) beyond 3.5% which characterized the late stages of all other cycles and at the same time we've even seen labor force participation increase. I've discussed this in a bit more detail in a previous article on the Nikkei 225

Policy makers are coming to grips with the reality that by controlling wages strictly, US corporations have been able to increase their net margins at the expense of wage inflation which led to a decrease of u*3 and an increase of the output gap and potential of the US economy. This same process happened previously in Germany during the 80s. Many forget that the great era of the Phillips curve in the US was sponsored by COLAs[Cost of living adjustments] and strong unions. Two factors that don't exist today.
3 u*:if you believe that the economy runs in cycles in which output runs either above or below a long run trend, then u* and r* which Powell referred to as "our guiding celestial stars" in his latest speech, stand for to the long run rate for these variables (resp.) unemployment and interest rates
Emerging Markets Jitters
The EM liquidity squeeze is also a real issue. It's not entirely clear if it is due to balance sheet reduction or the Trump tax repatriation incentive (I lean more towards the later) but there is a shortage of hard currency USD paper outside of the US. This puts pressure on the IOER1/EFF2 spread and has already prompted the FED to make a little tweak for the last hike. (they raised IOER less than EFF to avoid the EFF going higher than intended by the general framework). Many commentators have argued that the FED can and should ignore EM, this argument makes no sense to me. Plunging EM in deep recession will send a DEFLATIONARY shock across the world and it will not spare the US. At a time where the FED is normalizing but hasn't normalized enough it is absolutely in no place to deal with deflationary risk. Remember, deflation is worse than 3 or 4% inflation which is still a very remote possibility given where we are and how we got here: core inflation of 2% after QE 1/2/3 Operation Twist 1 and 2 over 10 years. It is good that the FED has put the matter to rest by acknowledging EM as a downside risk in the minutes and Powell's subsequent speech.
1 IOER: Interest On Excess Reserves - Introduced conceptually in 2006 but implemented during the GFC, the IOER was implemented as an alternative to the FED Funds wholesale funding market allowing banks with authorization to deposit funds with the FED to actually earn an interest from the FED (thus risk free) at a time where counterparty risk was a challenge.
2 EFF: Effective Federal Funds rate - An average of an interbank overnight uncollateralized lending rate. Banks/Credit unions who do not have access to the IOER need to go through this one if they want wholesale funding.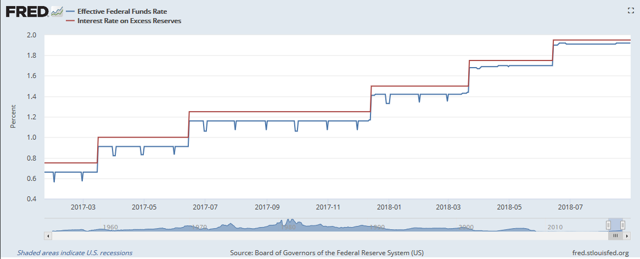 US Housing
Sales in new and existing homes have been surprising to the downside for a while. The situation is in contrast with soft surveys and some hard data painting the picture of a strong US consumer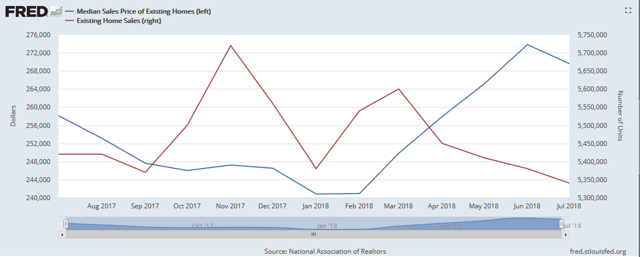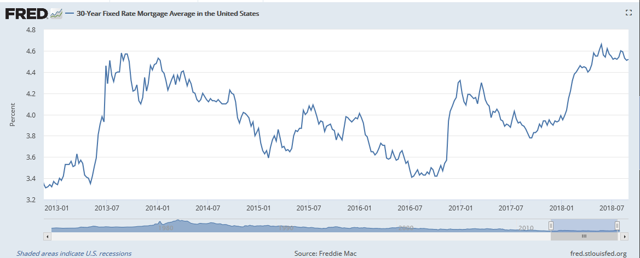 Higher rates are definitely biting here. Astute housing market watchers have pointed out that while rates are definitely contributing to the weakness here, supply might have more to do with it. The 08 crisis seems to have changed the spending habits of home-builders that are now a lot more conservative. Housing Starts suggest that if developers would step up capital spending plans and become more aggressive then they may alleviate the tightness of the housing market and remediate to the affordability of homes. However, in an environment where rates have increased this would require strong balance sheets so it's not a foregone conclusion. Nonetheless, the FED highlighted the weakness twice now and many voting members have also spoken about this so for the FED this is another downside risk to worry about.
Cycle Stage Determination update
Finally, a quick check on where we are in the business cycle: In July, I made the case that the bull market still had a lot of time and US equities would keep appreciating (which they did) in this article where I describe the methodology that I use to assess where we are in the business cycle
An update shows we are still comfortably mid-cycle. We just need the FED to recognize the lower u*. (And consequently, a higher r* but that's another story for another time)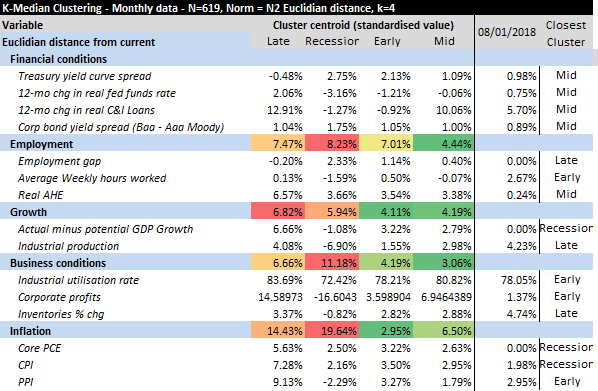 Source: FRED, Author calculations
CESIs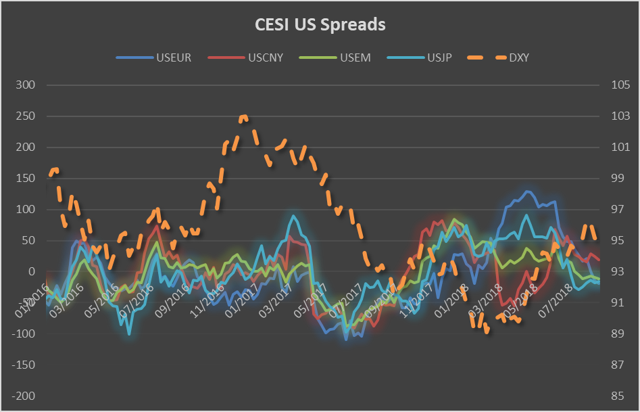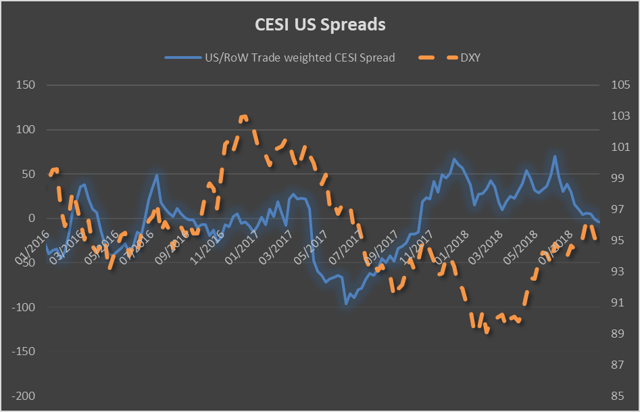 Source: Data from Bloomberg, Calculations by the author
As the name suggests, the CESI (Citi Economic Surprise Index) goes up when economic data for a country is outperforming expectations. The US/X spread thus goes up when US economic data is surprising to the upside relative to the economic data of country X. The trade weighted CESI I have made is a linear combination of US/X CESI spreads weighted by 2018 trade volumes. As I said previously, the current active model of any given market is dynamic and while the market may not have paid attention to this spread previously, it certainly does so now with the 3-month rolling correlation between my trade weighted US CESI spread and DXY being at the highest level at the moment: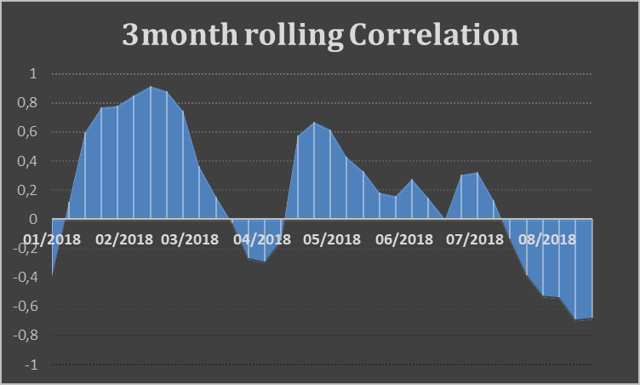 ECB
Not much is happening on the ECB front. There is a pretty high hurdle in economic data volatility for the ECB to change anything. Thus, no change on first hike timeline and CSPP (Corporate Sector Purchase Program). There was a hawkish play surrounding the successor of Draghi. In 2017, Weidmann, allegedly a super hawk (I don't believe he is), was the #1 on the list but he is definitely not at this point in time as Merkel has instead decided the European Commission was more interesting than the ECB and will push for a German to get that job. I suspect she also would rather not see some of those Bundesbank hawks at the helm of the ECB, a judicious choice.
The biggest black spot on Europe right now is the Italian government but my analysis of the situation is that nothing will come out of this. Salvini & friends are just bluffing and performing for their electorate. Italian/German yield spreads are catching up to this too because the marginal impact of rhetoric has been decreasing. Tria is always moderating what Luigi says. PoliticoEU provides all you need to know about these dynamics. I do not expect the ECB to intervene here.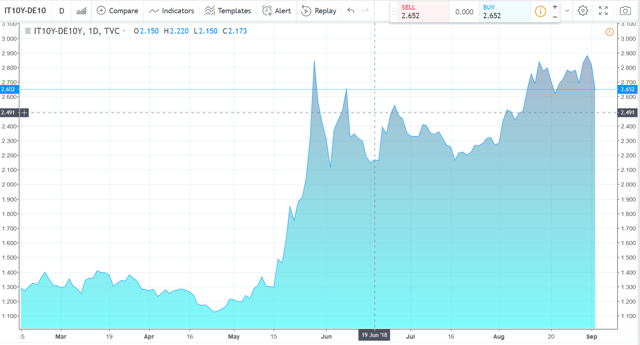 PBOC
PBOC and the Bureau have decided to tackle the growing debt bubble. This recap by DB summarizes the statistics that best illustrate the issue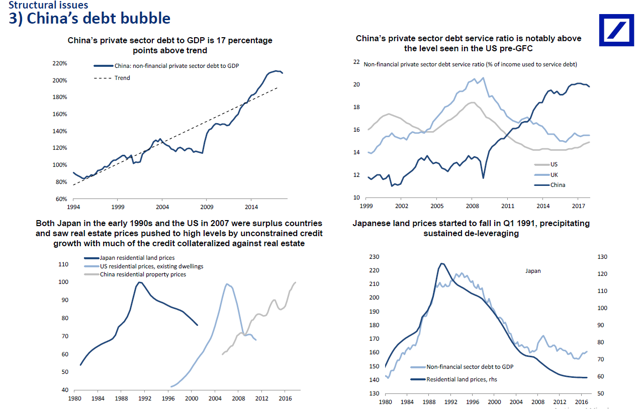 At the same time China growth is slowing as evidenced by Caixin PMI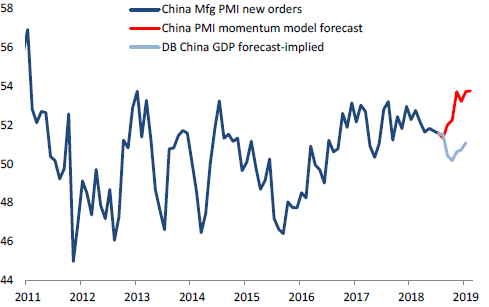 Source: DB Research
The good news is that this is not imposed. The rest of Asian economies are doing well and if they wanted, PBOC has ample leeway to provide stimulus through the credit impulse and by fixing the yuan where they need to. The bad news is that this risks infuriating the Trump administration. Thus, they will have to thread carefully until the dispute with the US is somehow settled. So far, they've been good at it not withstanding what the china A shares are up to. The price action is all valuation: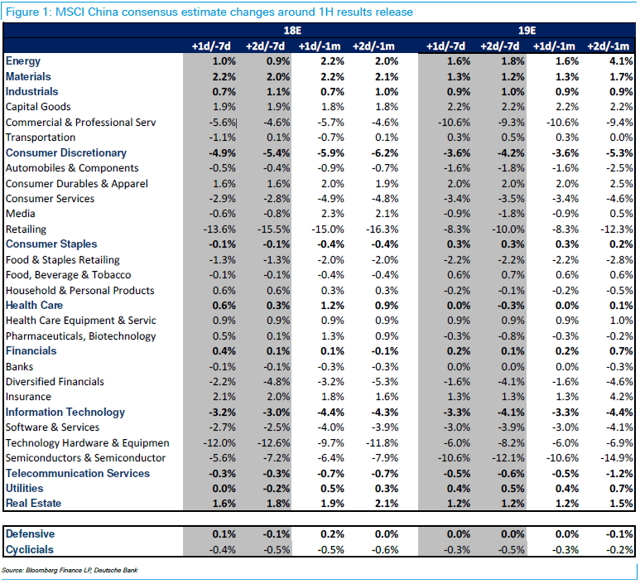 Earnings are holding up pretty well. If you look below in my valuation table you will note that HIS (HK) and China A shares (XIN9I) are very cheap by virtually every single valuation metric.
Trade ideas
Gold
First let us define what I believe is the actual model for gold: f(real rates,DXY, DM politics)
On real rates: If the FED continues on the path the minutes and Powell speech suggest, then the real rate will be capped here if not go lower as long as oil remains stable or even better, hovers near the 80 high mark we've seen during the current oil bull.
DM Politics: We are approaching the midterms and there are talks of Trump threatening a shutdown (again) over his wall. Gold performed really well last time this happened.
DXY: as you know by now, DXY is trade weighted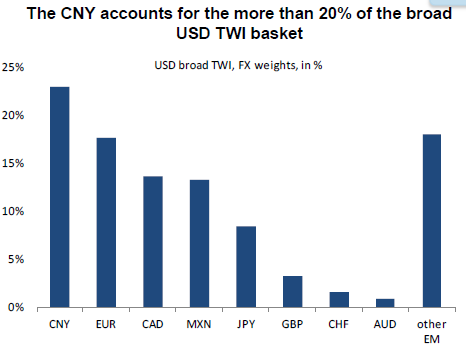 Source: NYFED
CNY: Trump has capped the CNY at around 6.9 making our job easier. The PBOC wants to stimulate the economy via Fx but has resolved itself not to do so when it put the CCF(Counter cyclical factor) back on the day before the Powell speech. A day Gold witnessed a nice recovery. This provides a nice way to time an entry if you're not in yet: whenever USDCNY is close to 6.9
EUR: See my argument on the CESIs, the only way that fails to lift the Euro over the near term is if Italy really goes rogue. So far, headlines are indicating that will not be the case.
CAD/MXN: CAD is all about NAFTA at the moment and my analysis of Canada's situation is that no deal, contrary to what Trudeau likes to say, is not an acceptable possibility. They have already agreed on the contentious rules of origins. All that's left is the dispute resolution mechanism. Canada can get that by offering concessions on the dairy supply chain. Minister Freedman and other sources are saying this will get done by the end of this month. It appears all of this has to be ratified before the incoming Mexican president takes his new job.
EM: Thankfully, the idiosyncratic stories making the headlines do not have much weight in the DXY given the trade volumes of Turkey, South Africa and Argentina with the US. Still the EM carry trade is usually deployed in diversified baskets making it ripe for contagion. What we require here is for the FED to follow my scenario. EM is really the #1 victim of the shortage of USD paper outside of the US. See the paragraph on liquidity.
All in all, I'm comfortable with saying that the DXY Top and Gold bottom are behind us.
Equities
Valuations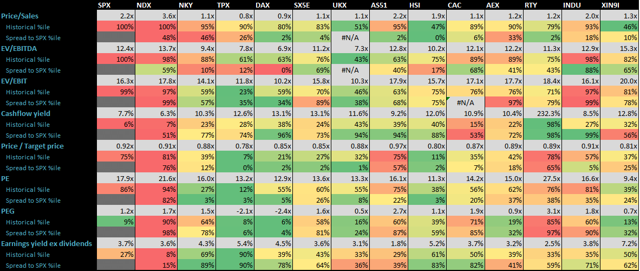 Source: Author's work, BBG. 05/09/2018
US Equities
As I've determined I am still convinced we are mid cycle at worst so I expect the bull market to continue. However, recent events have favored US Equities as a sort of safe haven which led to cycle high valuations, especially on the Nasdaq for every single valuation metric that I use. The whole column is red! S&P However is still actually cheap IF you exclude NASDAQ components from it. They represent a big chuck but valuation for SP500\Tech is probably a bit lower than the Dow's (INDU) which is at median valuations for nearly everything and cheap on a cashflow yield basis. Highlighting perhaps what has been a strong argument for this bull market: tons of cash generated each year that can be used for buybacks / capex / M&A.
Because of this and unless the Nasdaq valuations soften a bit, I will avoid it. Buybacks/Higher guidance or a good sell off would prompt me to go back in.
I'm not saying 4Q returns for Nasdaq will be negative, only that the outperformance we've witnessed will not last and is already stretched statistically.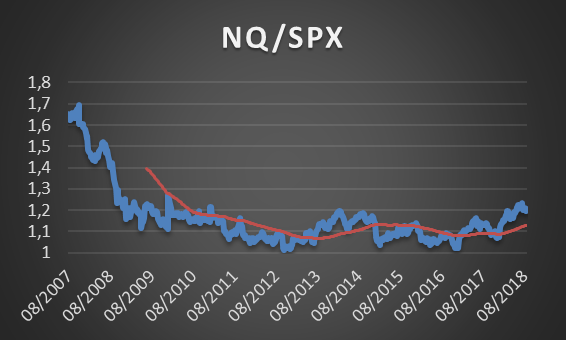 NQ/SPX Relative FPE Ratios. Source: BBG, Author's work
EU Equities
EU Equities have had a very rough year. Select pockets like French luxury have performed well but overall and especially at the index level it's a disaster. This is mainly attributable to that sharp slowdown in growth that we saw in mid 1H18. Cyclical euro equities do not perform well when Euro & China PMIs are doing poorly. Add the trade rhetoric in the mix and that was another excuse to sell Euro equities. But it was just an excuse; the reality is expected EPS growth has been negative.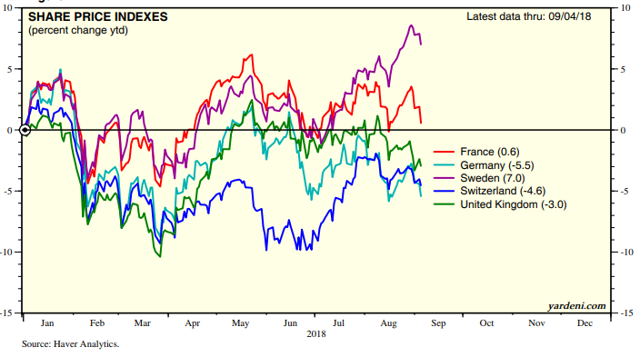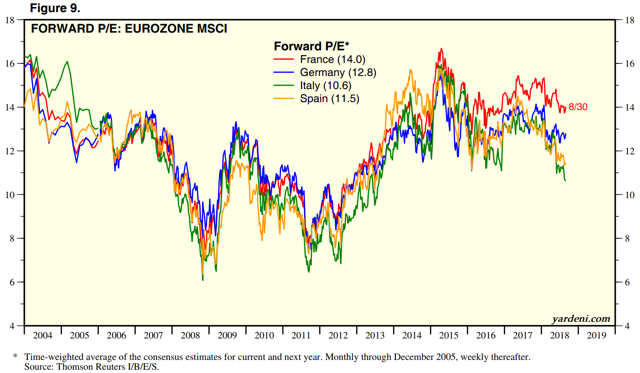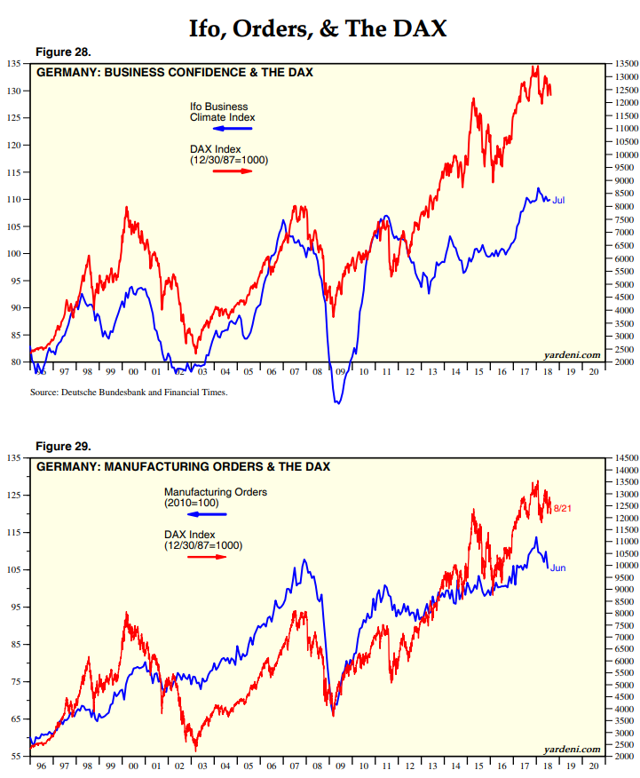 However, and if my USD scenario is correct, a rebound in Euro/China PMIs is attainable and that would prompt a strong rally in European cyclicals especially Mining (see Copper) and Banks.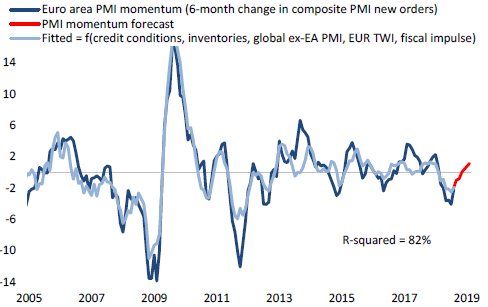 Source: DB
Conclusion
A benign if not softer USD caused by a recovery in European economic data momentum and FED moderation will lift risk assets providing a catalyst to mean revert some of the stressed statistical relationships we saw among asset classes. The biggest downside risk is if we witness a quick rise in average hourly earnings to above 3.2% yoy.
Key trade ideas:
Thank you for reading me. You can follow me on here for more articles or on my Twitter where I share my trades live.
Disclosure: I am/we are long GLD, SPY, EWG, EWJ.
I wrote this article myself, and it expresses my own opinions. I am not receiving compensation for it (other than from Seeking Alpha). I have no business relationship with any company whose stock is mentioned in this article.