The FX market is likely to keep swinging from short-term cyclical strength in the USD to a desire to look over the cycle to building longer-term weakness.For the most part, this year has been characterized by short-term cyclical factors boosting the USD as rising U.S. rates have contributed to more volatile global asset markets. But the market is again trying to see the U.S. economy peaking and reengaging in global assets.
U.S. 10-Year Treasury Note Yield
The break for the U.S. 10-year treasury yield above the 2017 indicates further upside potential into the end of Q3 2018 targeting 3.360(+/). Once completed, a multimonth corrective decline would then begin, pulling yields sharply lower.
Rising U.S. bond yields have not always fed through to a higher dollar in 2018, as U.S. political uncertainty and geopolitical tensions have sometimes caused a breakdown between interest rates and currency performance. But with the 10-year Treasury yield closing in on 3%, the dollar was bought across the board.
U.S. Dollar Index
Despite consensus opinion that the dollar would continue to trend lower during the coming year (2018), the completion of a five-wave impulse decline until February 2018 has, in contrast, opened the way for a multimonth corrective bounce to unfold.
The U.S. dollar has certainly strengthened from February's low confirming the reversal signature placed at 88.70, rejecting the level and pulling back, developing a five-wave impulse pattern into August's high. But this is only part of its second-wave correction - there's more to come once a shorter-term downswing has ended (wave (b); see daily chart below).
DXY Weekly Chart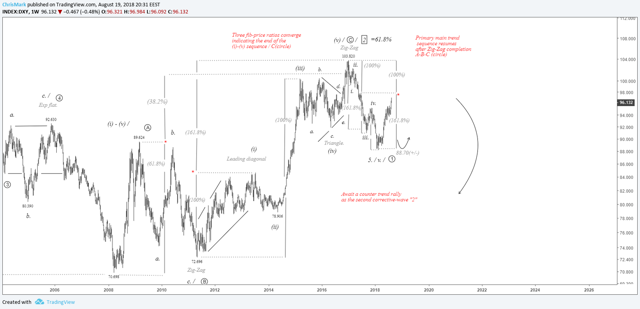 Source: Trader ChrisMark
It is on its recovery phase, developing the primary second corrective wave of the larger impulse (1-5). At the moment, the first wave (a) has developed making a high at 96.984 and pulling back. We're expecting to see some more dollar declines forming the corrective wave (b) of the Zig-Zag with targets at 92.00(+/-).
DXY Daily Chart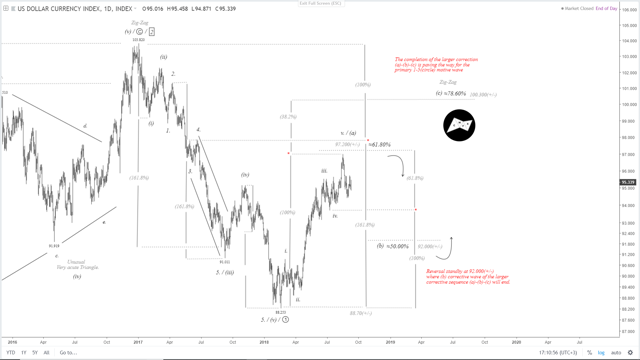 Source: Trader ChrisMark
Implementing Fib-price ratios and proportions model for this pattern, terminal price targets are highlighted where measurements converge projecting terminal price targets at 100.300(+/-) ending the (a)-(b)-(c) correction. This would indicate that price action diffuses, loses its momentum and energy, so at that point we create a "reversal signature." That's where a price rejection could be enough to validate the end of the corrective phase and the start of the next impulsive wave sequence, making the price of U.S. dollar collapse.
EUR Vs. USD
The decline from the February 2018 high of 1.2555 is identified as a countertrend pattern (a)-(b)-(c) that ended primary wave 1(circle) from the early January 2017 rally. Since then, prices dropped rapidly to the late August 2018 low of 1.1301 while unfolding into a five-wave expanding-impulse pattern (a). Evidence of a five-wave impulse is usually enough to confirm the larger uptrend has ended.
Wave (b) is acting as the counter trend to the preceding wave (a) developing into a Zig-Zag itself.
Using fib-price ratios and proportions, we are awaiting stage price-rejection and a subsequent reversal signature, projecting terminal price targets at 1.2040(+/-). The completion of the (b) wave is indicating that our target, wave (c), with downside projections at 1.0815(+/-), will be developed into a five-wave impulse pattern, and thus we will be able to add another overlay of fib-price-ratio measurements to test for convergence levels later.
EUR/USD Daily Chart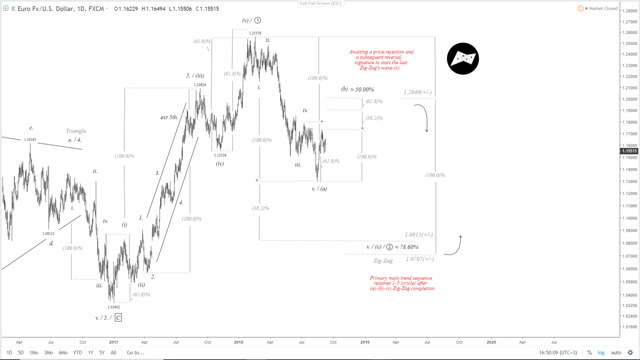 Source: Trader ChrisMark
Once the corrective phase completes, as primary wave 2(circle), EUR/USD gains will be impressive. That's definitely one to keep watching.
Disclosure: I/we have no positions in any stocks mentioned, and no plans to initiate any positions within the next 72 hours. I wrote this article myself, and it expresses my own opinions. I am not receiving compensation for it (other than from Seeking Alpha). I have no business relationship with any company whose stock is mentioned in this article.