Traditional physical retailer Tilly's (TLYS) has been on a huge upswing lately. Ever since dropping big on sub-par holiday quarter numbers earlier this year (a dip which we recommended buying), TLYS stock has rallied in an even bigger way, soaring nearly 70% in 6 months, versus a 15% gain for other retail stocks and a sub-5% gain for the S&P 500.
At one point, before announcing a secondary offering of 5.5 million shares at $18.50, TLYS stock was trading at $25 per share and was up 120% over the past six months on robust investor enthusiasm following excellent second quarter numbers. Although the secondary offering has depressed investor enthusiasm somewhat, we think that TLYS stock will bounce back from this recent sell-off. We believe fundamentals support a price tag north of $20, and also feel that technicals imply further strength in the near term. As such, we are buyers on the recent dip, especially ahead of what we feel will be a robust holiday season for all retailers.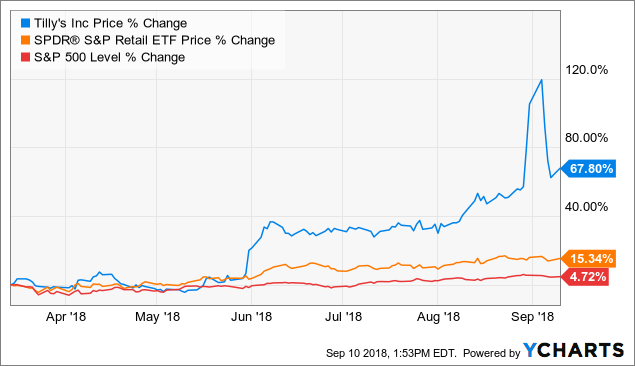 First, let's recap how Tilly's got here. Tilly's has long been one of the better-performing retailers largely due to its off-mall nature, premium pricing strategy, and niche dominance in the skate and surf apparel category. Over the past several years, comparable sales growth has been largely positive and margins have been largely stable, while other retailers have suffered from negative comparable sales growth and/or eroding margins. As such, even before the huge 2018 rally in TLYS and all retail stocks, TLYS was an over-performer.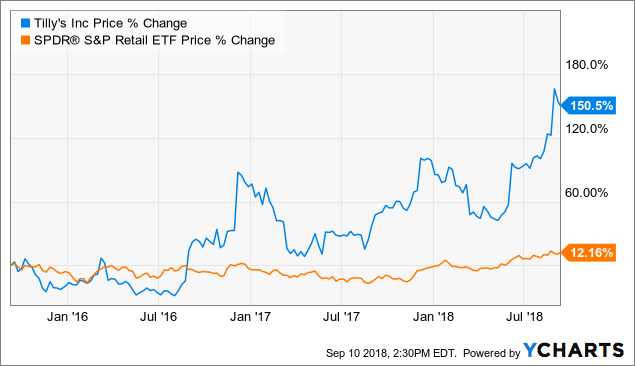 Now, all retail stocks are bouncing back thanks to robust consumer strength and improved e-commerce operations. As it turns out, physical retailers weren't dinosaurs that were sitting back and letting Amazon (AMZN) eat their lunch. Instead, they were reinventing themselves as omni-channel retailers, and those reinventions are paying off. Retail stocks are up in a big way so far in 2018.
This rising tide has lifted all boats, Tilly's included. Indeed, Tilly's numbers have actually been especially strong, headlined by recent second quarter numbers which blew estimates out of the water. Comparable sales rose 4.4%, the best mark since the third quarter of 2016, while physical comparable sales rose 3.8%, the best mark since the third quarter of 2011. Importantly, e-commerce sales rose 8.1% versus a 7.2% decline in the first quarter, a sign that this company's e-commerce business is back on track and ready to drive further gains.
Product margins were stable, and gross margins expanded 230 basis points due to occupancy leverage. The adjusted SG&A rate fell back 100 basis points due to opex leverage from robust sales growth. Adjusted operating margins doubled year over year from 3.5% to 7.0%. Earnings nearly tripled year over year from $0.11 per share to $0.29 per share.
Those are remarkable numbers, and they are the fuel behind the recent rally in TLYS stock. Unfortunately, that rally was short-circuited recently by a secondary offering of 5.5 million shares at $18.50. The market doesn't like secondary offerings, especially ones that happen at big discounts to the market value (the stock was trading at $25). As such, TLYS stock dropped in a big way and wiped out most of its post-earnings gains.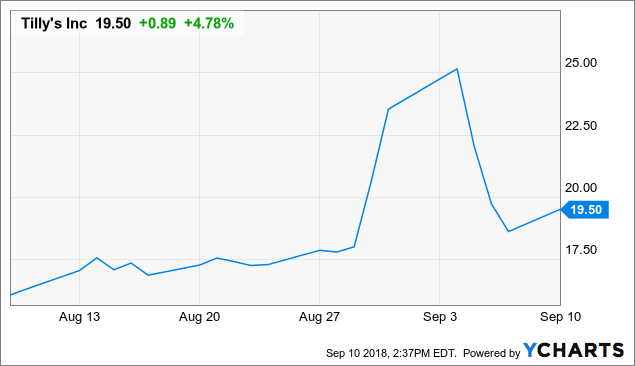 Now that we understand how TLYS stock got here, let's understand where TLYS stock is going next. To understand that, first, we need to understand where all retail stocks are going next.
By and large, retail stocks should head higher into the end of the year. The consumer backdrop is increasingly healthy ahead of the holiday season, with retail sales up big over the past 3 months and consumer confidence at essentially a 20-year high. Plus, the savings rate is still above normal, so consumers still have financial firepower to turn confidence into more shopping. Altogether, it looks like retailers are setting up for a big holiday season. Tilly's has consistently been a top performer in the retail sector, so this macro-retail tailwind will most likely provide a nice boost for the company in the back half of 2018.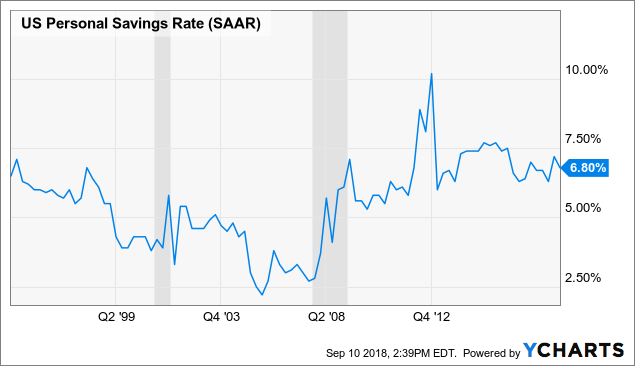 More specific to Tilly's, the company is firing on all cylinders right now with comparable sales growth running at multi-year highs and margins consistently expanding. A healthy consumer backdrop will allow these multi-year best operating results to continue. Moreover, the company appears to have finally turned a page on its e-commerce business. This was a physical retailer that had a declining e-commerce business due to technical hiccups which affected the company late last year and early this year.
But, those technical hiccups are in the rear-view mirror, and e-commerce sales are growing at a healthy rate (+8.2% last quarter). Considering e-commerce sales represented only 13% of total sales last year, Tilly's e-commerce business has a tremendous opportunity to grow by leaps and bounds over the next several years. With that big growth driver now ready to be unleashed, Tilly's comparable sales growth outlook over the next several years is quite promising.
During that stretch, margins should follow their historical trajectory and simply improve with better top line results. The combination of healthy comparable sales growth and margin expansion should drive fairly strong profit growth over the next several years. We believe consensus expectations are fairly reasonable when it comes to Tilly's, and realistically see this company doing about $1.50 in earnings per share in five years.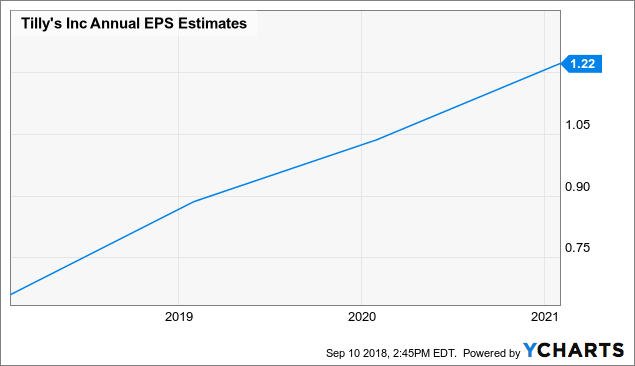 Due to its debt-free, cash-heavy balance sheet, this stock normally trades around 23X forward earnings. A 23X forward multiple on $1.50 in earnings implies a four-year forward price target of $34.50. Discounted back by 10% per year, that equates to a year-end price target of $26. Thus, we feel TLYS stock is fundamentally supported at prices above $20.
Overall, we think TLYS remains a winning investment in a resurgent retail sector. The recent secondary offering normalized sentiment in the near term, but in the medium term, we fully expect reinvigorated e-commerce growth and robust consumer strength to power TLYS stock back to $25 highs.
Disclosure: I am/we are long TLYS, AMZN. I wrote this article myself, and it expresses my own opinions. I am not receiving compensation for it (other than from Seeking Alpha). I have no business relationship with any company whose stock is mentioned in this article.