Equity Armor Advisors (EAA) uses 3 different quantitative models, GARP, Dividend and Defensive Earnings in building each month's portfolios. Each model selects the top 10 stocks delivering 30 equities to each month's portfolio. EAA weights these 3 models differently in each of the 4 lifestyle portfolios shown below to provide investors with Growth, Absolute Return, Dividend and Income options. Lastly, EAA uses a proprietary volatility overlay, which is always long volatility. The exposure to volatility protects the portfolio in times of high volatility to provide better risk-adjusted returns.
September 2018 Series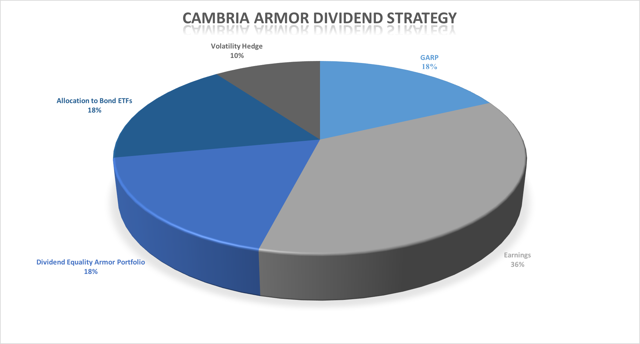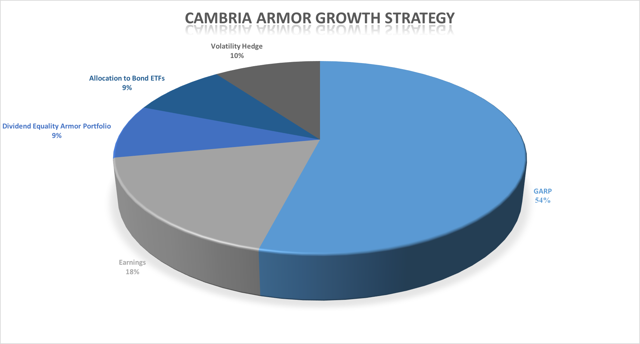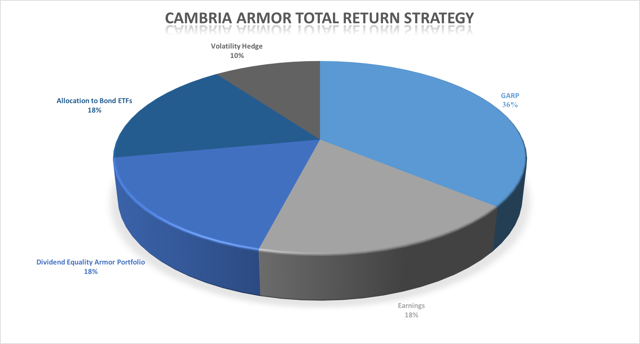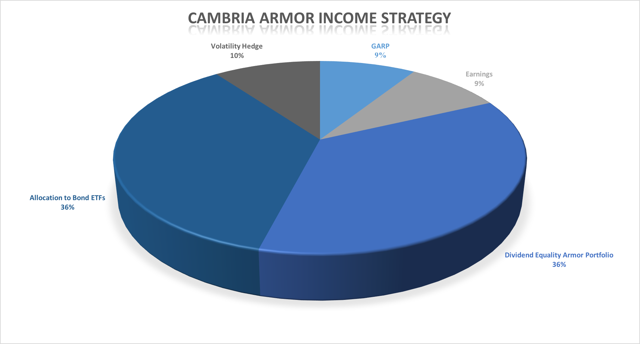 10 Dividend Stocks
Iron Mountain (IRM) 6.51%
BGC Partners (BGCP) 5.78%
AT&T (T) 6.28%
Enterprise (EPD) 5.94%
Cheniere (CQP) 5.82%
Valero Energy (VLP) 6.16%
Altria Group (MO) 5.41%
Verizon (VZ) 4.34%
Dominion (D) 4.61%
Qualcomm (QCOM) 3.54%
10 Defensive Earnings Stocks
Ares Capital (ARCC) N/A
AVX Corp. (AVX) 2.24%
Silgan Holdings (SLGN) 1.47%
Tapestry Inc. (TPR) 2.65%
Integrated Device (IDTI) N/A
Merck & Co. (MRK) 2.83%
FLIR Systems (FLIR) 1.01%
Sabre Corp. (SABR) 2.14%
Johnson & Johnson (JNJ) 2.69%
General Electric (GE) 3.82%
10 GARP Stocks
US Foods (USFD) N/A
Alleghany Corp. (Y) N/A
KLX Inc. (KLXI) N/A
Centene Corp. (CNC) N/A
Citizens Financial (CFG) 2.62%
Leidos Holdings (LDOS) 1.81%
Sabra Health Care (SBRA) 7.71%
Stifel Financial (SF) 0.86%
Conduent Inc. (CNDT) N/A
Carpenter Technology (CRS) 1.39%
EAA is proud to share the September 2018 equities used in the 4 lifestyle portfolios overlayed with a volatility hedge. As with every month, I would like to discuss, in more detail, one stock from each category.
Dividend
This month I have chosen to look at Iron Mountain Inc. As a dividend selection, the first statistic to review is the yield of 6.51%. IRM is one of the global leaders for storage and management services. Over 225,000 organizations around the world trust IRM with their most important data. It is quite nice to see a dividend stock growing revenues at 9.2% for 2018 and expected to grow sales another 4.5% in 2019. Combine the sales growth with operating margins of 19.12% and we start to get a feel for why IRM is such an attractive dividend stock.
IRM is -9.03% for 2018 but since 3/23/18 has formed a nice bullish chart pattern. A couple of the key criteria EAA uses in the quantitative models that make a selection like IRM reach the top is the dividend coverage, length of time paying the dividend and growth in the dividend payments. Since 2016, IRM has increased the dividend payout from $.485 to $.5875. Analysts have forecasted earnings growth of 10.4% in 2019 which could allow the dividend payout to increase and/or a continued rise in the per share price of IRM.
Another reason the per share performance has increased since March 2018 is that the company beat earnings in the first quarter by 4.3% and in the second quarter by 20%. The company maintained its 2018 full year guidance. The Company expects, on a constant dollar basis, Revenue growth of 7% to 9%, Adjusted EBITDA growth of 12% to 16% and AFFO growth of 5% to 13% for full year 2018. I like Iron Mountain in the EAA portfolios because it pays a nice dividend of 6.51% and has indications that the stock should continue the bullish pattern started in March 2018.
Defensive Earnings
So what makes a good Defensive Earnings stock at EAA? Companies with strong cash earnings, strong balance sheet, consistent earnings, high quality of earnings score and fairly valued. I would like to focus this month on Sabre Corporation, a provider of technology solutions for the travel and tourism industry worldwide. SABR has a market cap of 7.04B and an enterprise value of 10.22B, a trailing p/e of 19.98 and a forward p/e of 15.79, and EBITDA of $727M with cash flow of $736.88M. Additionally, SABR pays a 2.14% dividend.
In April 2018, Imperial Capital initiated coverage of SABR with an Outperform rating and in May 2018, Bank of America upgraded SABR from neutral to buy. SABR has beat earnings estimates the last 6 consecutive quarters and earnings are forecast to grow 7.7% annually over the next 5 years. SABR is also owned almost entirely by institutions. For all these reasons, SABR is a strong defensive earnings stock and has all the characteristics EAA looks for in this section of the diversified portfolio.
GARP
What is the most important factor in locating GARP (Growth At a Reasonable Price) stocks? We want to locate companies with the highest amount of earnings growth for the cheapest price to earnings we can get with the highest quality earnings. EAA uses a forensic accounting score to qualify the quality of the earnings a company is producing. Why is that important? Because higher quality earnings are more repeatable. With this in mind, I would like to look at the September 2018 GARP selection, Centene Corporation (CNC).
Centene Corporation operates as a diversified and multi-national healthcare enterprise that provides programs and services to under-insured and uninsured individuals in the United States Check out this chart for CNC. This is what happens when a company grows revenues and earnings consistently and beats estimates. The trailing P/E for CNC is 25.15 but forward P/E is only 17.73. Therefore, I don't believe CNC has become extended from a proper valuation perspective.
Revenues for 2018 are up 23% with earnings up 40.6%. Earnings are forecast to continue growing in 2019 and annually over the next 5 years at 18%. Barclays recently initiated coverage on CNC with a Buy. Additionally, CNC has delivered positive earnings surprises each of the last 4 quarters and nothing I see about CNC indicates anything will change soon. Stockscouter has a score of 10 (out of 10) and a grade of A for Fundamental, Technical and Valuation scores. CNC is exactly the type of company that EAA seeks to find for the GARP portion of the portfolios.
Lastly, EAA overlays a proprietary volatility trading model on 10-15% of the portfolio for superior risk-adjusted returns and lower peak to trough performance.
All in all, I like the 30 equities for September 2018. Some not so surprising names in defensive earnings like Johnson & Johnson and General Electric. The technology sector has the highest % inclusion in the 30-stock portfolio with AVX Corp., Integrated Device Technology, FLIR Systems and Sabre Corp. from the defensive earnings group. Qualcomm is a technology company in the dividend group and Conduent in the GARP grouping.
The overall yield for these 30 equities is 2.9%, which is lower than most months. However, if yield is what you seek then it is best to look at the Cambria Armor Income Strategy, which weights the Dividend Equity Armor Portfolio of 10 stocks the highest at 36%. The yield on the 10 Dividend stocks is 5.4%, which is quite good.
Have a great September and I will be back to discuss the October portfolios next month.
Disclosure: I am/we are long MOST ALL OF THE STOCKS LISTED.
I wrote this article myself, and it expresses my own opinions. I am not receiving compensation for it (other than from Seeking Alpha). I have no business relationship with any company whose stock is mentioned in this article.
Additional disclosure: EAA, as a practice, invests along side their clients.